Domestic
Permethrin market outlook is anticipated to depict a robust transformation due to rising incidence of scabies and growing awareness among people regarding treatment of the same. Scabies is one of the pervasive dermatological conditions known for effecting substantial proportion of population with skin disease in developing countries.
U.S. Liquid Form Permethrin Market, By Application, 2018 & 2025, (Tons)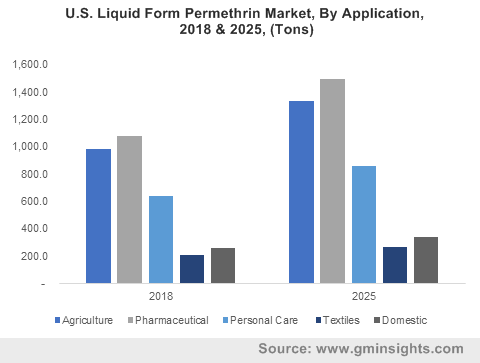 Globally, scabies is estimated to affect more than 200 million people at any time, a factor that will help to augment the revenue share of permethrin. Approximately, 300 million new cases of scabies occur each year in men, women and children of all ages and races. In 2015, it was assessed that the direct impact of scabies infestation on the skin alone led to 0.21% of disability-adjusted life-years (DALYs) from all conditions globally.
In India, during a case study follow up, 81% of inmates of an orphanage in rural area of Maharashtra, were found to be suffering from scabies. All the inmates were successfully treated with mass scabies treatment and health education. An epidemiological study conducted in rural community has reported the prevalence rate of scabies as 13%. The occurrence of scabies in India is common due to lack of awareness of the condition but due to the pharmaceutical usage of the product, permethrin market is expected to witness significant growth in the region.
Get a Sample Copy of this Report:@ https://www.gminsights.com/request-sample/detail/4146
Permethrin industry may observe commendable gains due to its pharmaceutical applications on account of its utilization as pediculicide, scabicide, and antiparasitic agent. Permethrin can be applied externally as cream, ointment, powder, and lotion which is likely to boost product demand. Powder form segment of permethrin industry may witness strong gains of 3.5% over 2019-2025.
Trend of wearing fabrics treated with insecticides is growing among armed forces including U.S. and British will promote permethrin market share. Actions to prevent arthropod exposure and mite bites are vital to protect the soldiers from diseases such as West Nile encephalitis (mosquito), mite infection, dengue (mosquito), malaria (mosquito), Lyme disease (tick), and others. For instance, dengue fever affects about 40% of population in the world. Malaria is one of the most common mosquito-borne diseases in the world. Personal protection approaches, like wearing insecticide-treated clothes, can be opted to reduce arthropod and mite bites and can be the first line of defense against vector-borne diseases for armies and population.
Several companies are also toiling to expand their share in permethrin market by launching new products. For instance, in 2018, Neogen added Fly-Die Ultra™ to its line of effective Prozap equine fly protection products with a long-lasting, sweat-proof formula. Fly-Die Ultra guards horses from horn flies, stable flies, house flies, deer flies, horse flies, ticks, face flies, gnats, mosquitoes, and lice including those which transmits the West Nile virus. Such products innovated by the industry players will considerably contribute to support permethrin market trends.
China has played a major role in permethrin industry growth as it has the world's largest textile sector. The rising exports and domestic demand for high quality apparels in China has efficiently added stimulus to permethrin market share. Permethrin is majorly used to eradicate insects such as silverfish, moths, and carpet beetle that causes textile degradation. In 2015, there were 4,632 enterprises reported in textile sector with assets of CNY 440.805 billion. The 2016-2020 development plan of the textile industry in China emphasizes that a large number of new technologies should be widely applied in energy conservation and consumption reduction. China permethrin market size may exceed $15 million by the end of 2025.
Permethrin is also majorly utilized in agriculture sector as an insecticide to protect wheat crops from insects including brown wheat mite, aphids, army worms, termites, and legume pod borer. In the year 2018, France's wheat production was noted to reach 36.9 million metric tons. Wheat production in France remains the largest within European Union with 27 percent of total production and wheat yields in France are among the highest in the region. Such a huge yield and production is expected to favor permethrin industry growth. France permethrin market size is forecast to surpass $8.5 million by 2025.
According to the prevalent research, pesticide use has seen a massive increase in the UK over the last 40 years. The pesticide active ingredients applied to three British crops, staples wheat, potatoes and onions, have increased between 6 and 18 times. Far from a 50% cut, increase in active ingredients applied to these crops range from 480% to 1,700% over the last 40-odd years.
With growing usage of insecticides, permethrin will be much in demand to protect crops, especially wheat, from insects and increase production. Global Market Insights, Inc. has compiled a research report which forecasts that permethrin market is likely to surpass a valuation of $200 million by 2025.
Author Name : Anchal Solanki
With automakers looking to offer a wide range of vehicle models to cater to varying customer demands,  global automotive logistics market is projected to experience substantial business growth over the forthcoming years. Apparently, a single car series model from a premium German vehicle brand can be available in approximately 1,017 possible variations. The unprecedented level of complexity, driven by product variety and the immense pressure exerted on industry players due to tough international competition makes it considerably difficult for automakers to ensure efficient logistics operations.
U.S. Automotive Logistics Market, By Vehicle, 2018 & 2025, (USD Billion)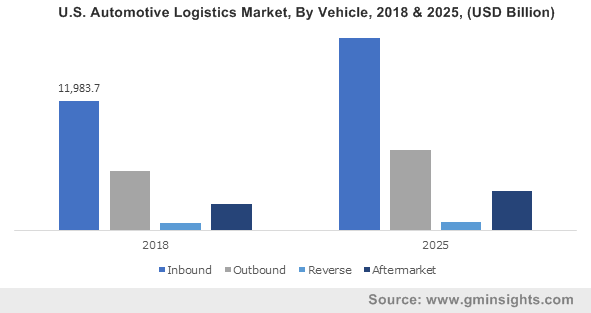 Supplying auto parts to global customers entail some of the prominent factors endorsing the importance of automotive logistics industry. It is also the reason why automobile manufacturers today maintain vehicle assembly plants across the world. Instead of manufacturing and shipping entire vehicles to regional markets overseas, automakers prefer to manufacture and ship vehicle components to local manufacturing facilities and then assemble the components into a vehicle. This practice delivers substantial savings on import duties, reinforcing global automotive logistics market share.
The benefits offered by automotive logistics service providers, while enabling automakers in creating an international footprint, also frees resources up to focus on any new opportunities and challenges. Subsequently, automotive logistics industry has become a major influence on domestic and international automotive sector, supporting the development of many small and medium enterprises.
Automobile and auto parts shipping services are typically hired by private owners, being a convenient means to transport customers' vehicle from one place to another. The entire process involves loading the vehicle on a dedicated truck and shipping it to its destination. In extreme cases vehicles can also be shipped on freight carriers or cargo planes, a prominent example being the UK's supercar season, annual phenomenon wherein wealthy individuals, especially from Gulf regions, ship their supercars to the UK for vacationing and exhibitions. Apart from licensing and custom fees, shipping a car using cargo planes costs approximately £20,000 per vehicle per trip.
Get a Sample Copy of this Report:@ https://www.gminsights.com/request-sample/detail/3286
Growing intensity of vehicle production would be further providing a sizable boost to the automotive logistics market. According to a 2019 report by Volkswagen, deliveries by VW Commercial Vehicles division in 2018 amounted to approximately 500,000 vehicles, an increase on the numbers from the preceding year. The positive growth which leading companies like VW are experiencing, even in a slowing market landscape, would be providing further growth opportunities to the automotive logistics industry players.
Asia Pacific is projected to emerge as one of the dominant customer base for auto parts, with the anticipated demand being credited to the domestic auto manufacturing sector and a strong presence of global automobile manufacturers. India, specifically, is estimated to contribute substantial revenues to automotive logistics market over the forecast timeframe. The Society of Indian Automobile Manufacturers stated that passenger vehicle sales increased by 2.70% over March-April 2019 in India. The nation's commercial vehicles segment also recorded a 17.55% growth in the quarter, as compared to the same period the previous year.
Japan will be a key market for domestic automotive logistics services and the country's contribution is being attributed to well-established automobile manufacturers such as Toyota, Nissan and Honda that call Japan their home. Toyota, for instance, has its parts and logistics division network spanning across 38 countries, with over 177 dedicated sites that are operated by more than 79 overseas business entities and subsidiaries. Such vast networks are exactly why Japanese automakers enjoy a strong presence in different countries and will drive the expansion of the regional automotive logistics industry.
Owing to a gradual increase in automobile production and the robust development of automotive sector in APAC, global automotive logistics industry is slated to record tremendous revenues in the imminent future. Key industry participants expected to lead the growth include DHL International, CEVA Logistics, SNCF Group, XPO Logistics and Imperial Logistics. Global Market Insights, Inc. has predicted that automotive logistics market size will exceed an annual valuation of $170 billion by 2025.
Author Name : Akshay Kedari