Door
Ultrahaptics' latest launch of a new gesture technology platform, STRATOS, is creating waves of anticipation in automotive gesture recognition market. Incidentally, this platform has the ability to create haptic sensations in mid-air. In the automotive infotainment system, mid-air haptic feedback and gesture recognition technology is collectively used for making the controls more intuitive and safer. In this regard, STRATOS is likely to gain traction in automotive gesture recognition market. The increasing use of high-quality HMI (human machine interface) for reducing easier integration and faster processing modules in automobiles will also majorly boost automotive gesture recognition industry share.
U.S. Automotive Gesture Recognition Market, By Product, 2017 & 2024, (Thousand Units)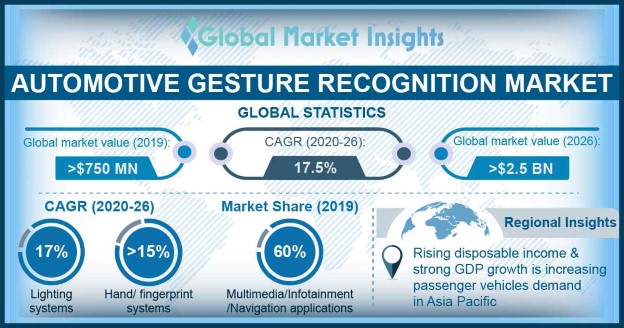 Considering the functionality benefits of infotainment systems, leading carmakers have been attempting to deploy new and advanced versions of gesture technologies. Some of the accomplishments of leading automakers that have contributed significantly toward product development have been enlisted below:
BMW
In 2015, the well-known luxury carmaker, BMW incorporated a gesture recognition and touchscreen to its next-generation human-machine interface. This highly advanced iDrive up-gradation could also help rear passengers to command infotainment system and control ventilation and positioning through a tablet. In addition, this enhanced technology provides ease of user-friendliness for drivers and passengers to operate infotainment & navigation systems as well as smartphones. In fact, for controlling the entire gesture system, BMW used a camera mounted on the roof, which permits users to control all the features just by rotating their hand in clockwise or anticlockwise directions. In this regard, it is prudent to mention that hand authentication systems will cover over 60% share of automotive gesture recognition industry share by the end of 2024.
Get a Sample Copy of this Report:@https://www.gminsights.com/request-samplea/detail/1459
Jaguar Land Rover
The subsidiary of the reputed Indian automotive company, Tata Motors, Jaguar Land Rover, in 2015, collaborated with the start-up firm Ultrahaptics to develop ultrasonic free-space haptic technology. This ultrasonic gesture recognition can be used for the functioning of in-car infotainment systems. The technology creates 3D objects in mid-air so that the driver can track any action very quickly without taking his eyes off the road. The growing acceptance of such haptic control systems by various luxury car manufacturers is poised to push automotive gesture recognition market size.
Continental
The leading German automobile manufacturing company, Continental, had planned to incorporate gesture control in steering wheels in 2016. Currently, in order to operate infotainment systems, drivers are required to take their hands off the wheel. However, with Continental's new gesture facility, the driver can minimize the distraction and improve passenger safety in a much better manner. Through the deployment of innovative human-machine interface in vehicles, automakers are looking forward to strengthening the intuitive communication between the vehicle and the driver. This new approach of Continental is likely to remove all touch-sensitive surfaces and buttons on the steering wheel. In fact, this design will help vehicle manufacturers to optimize the cost of the steering system. Continuous design innovations and system developments comprising gesture recognition system are thus slated to have a positive influence on automotive gesture recognition industry outlook.
As of now, gesture recognition is one of the upcoming research areas for automotive giants. The leading players in automotive gesture recognition market are continuously working on inventing advanced applications for making interactions convenient, natural, and easy. Automakers have also been prominently involving themselves in automotive gesture recognition industry, which is likely to augment product demand over the years ahead.
Author Name :Sunil Hebbalkar
This entry was posted in Automotive & Transportation and tagged AC Blower, Automotive Gesture Recognition Market, Automotive Gesture Recognition Market Analysis, Automotive Gesture Recognition Market Size, Door, Face, Fingerprint, Global Automotive Gesture Recognition Market, Hand, HCV, Infotainment, Iris, LCV, Multimedia, Navigation, PCV, Sunroof, Touch Based Systems, Touchless Systems, Vision, Window.