Drill Pipe Market – Global Drill Pipe Industry Size
The number of drilling activities and crude oil rigs have depicted a substantial surge across the globe lately, stimulating drill pipe market trends. Most of the countries across Middle East and North America have been involved in oil exploration activities on large scale in order to fulfil the surging requirement of crude oil that is prominently used for energy generation. Considering the rising demand for crude oil in tandem with the increasing investments in oil and gas exploration activities across the globe, drill pipe industry is likely to amass quite some returns in the years ahead.
U.S. Drill Pipe Market Size, By Product, 2017 & 2024 (USD Million)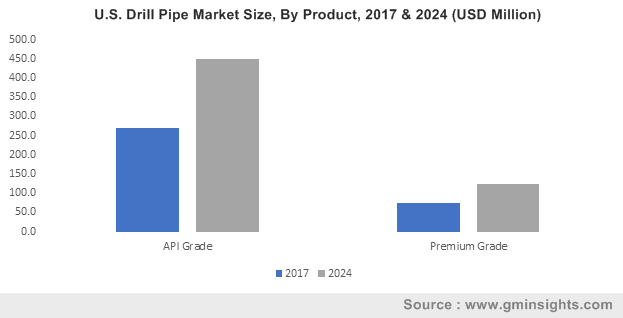 Having analyzed the potential of the oil & gas industry, drill pipe market players have been looking forward to improvising on the drilling capabilities of oil companies with the development of new drill pipe designs with which they might be able to stand a chance to consolidate their position in the industry. In 2017, the leading contributor of drill pipe industry, Vallourec revealed design of drill pipe connection that could be used in the critical and most challenging environments. In addition, the newly designed products would prove to be more effective to carry out exploration at remote hydrocarbon reservoirs. As oil and gas industries are struggling to overcome the limitation of drilling products and the costs and risks associated with drilling activities, research and development activities conducted by giants in drill pipe industry have proved to enhance the operational performance of the oil companies.
The increasing number of oil and gas drilling activities across the globe have been notably fueling the requirement of drill rigs. As per estimates, global rig count is poised for an increase since 2016 and is likely to fuel the demand for onshore drilling activities. This in consequence would have a transformational impact on drill pipe industry size from onshore applications.
Get a Sample Copy of this Report:@ https://www.gminsights.com/request-sample/detail/796
In the U.S., the shortage of drill pipes has unfortunately led to the closure of oil exploration activities at several remote locations, not to mention, the lack of transportation facilities and unavailability of pipe producing behemoths in the region have further impacted oil exploration negatively. For instance, one of the oil drilling companies located in U.S. shale region is planning to shut its wells within four months, owing to the shortage of pipes. It is to be noted however, that the companies which have their own transportation facilities have been continuing with oil exploration. In consequence, numerous drill pipe industry magnates are looking forward to setting up their own facilities across this country, specifically in the remote locations, so as to exploit the untapped potential. With the growing proactiveness depicted by renowned industry contributors, U.S. drill pipe market size will exceed an annual deployment of 13 million feet by the end of 2024.
The requirement of more and more investments in drilling programs across the globe has been encouraging drill pipe market firms to extend their regional reach and contribute toward the global investment mix. In accordance, numerous companies have already worked to establish new facility centers that would help them increase their customer base as well as minimize the need of heavy initial investments. For instance, recently, the leading manufacturer of drill pipes, Texas Steel Conversion (TSC) acquired Superior Drillpipe Manufacturing Inc. With this acquisition, TSC has strengthened its current product portfolio and customer base as Superior is renowned for its API and double shoulder oilfield drill pipes.
The prevalence of consistent mergers and acquisitions in drill pipe industry is poised to generate lucrative opportunities for the big shots over the years ahead. Powered by the ongoing product development strategies and increasing oil exploration activities across the globe, drill pipe industry will surpass a revenue collection of USD 1 billion by the end of 2024.
Author Name : Sunil Hebbalkar