Drum
The growing emergence of creative business models is one of the pivotal factors propelling e-commerce automotive aftermarket industry share. At present, the store, brokerage, and social commerce models have been intensely contributing toward the growth of online commerce. Taking into account the growing popularity of electronic commerce across the automotive sector, many giants in e-commerce automotive aftermarket have been making heavy investments to enhance their storage capacity by developing new warehouses. For instance, the U.S. e-commerce automotive aftermarket player, Turn5 has recently decided to invest USD 8 million to build a facility in Kansas. In addition, in 2017, the firm also expanded its distribution facility in Las Vegas to improve lead times and provide a faster shopping experience to customers. As of now, Turn5 is operating three aftermarket automotive websites, which are mainly devoted to the branding of popular automakers Jeep Wrangler, Ford, and Mustang. In this regard, the newly developed corporate headquarters will help company to gain more growth benefits through vehicle customization tools. It would thus be apt to state that the unique approach of players in e-commerce automotive aftermarket would impel this business vertical over 2018-2025.
U.S. E-commerce Automotive Aftermarket, By Consumer, 2017 & 2025, (million units)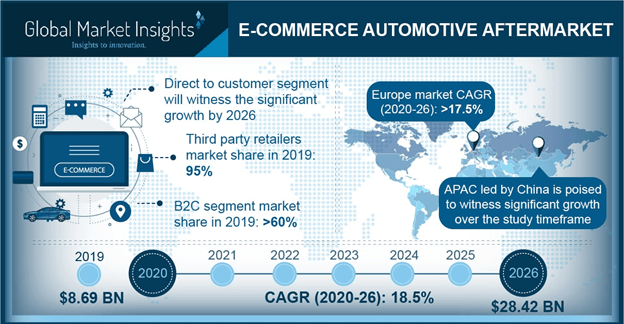 Considering the increasing adoption of internet-based commerce services, the biggies in e-commerce automotive aftermarket industry are developing new advanced e-commerce platforms with convenient tools for next-generation users. For instance, in 2017, Dana Inc. launched a new e-commerce platform comprising an enhanced e-catalog system. This added module has helped many customers and distributors to identify the required component of various automobiles rather quickly. Through the development of such advanced and digitally transformed e-commerce platforms, the players in e-commerce automotive aftermarket are looking forward to gaining more competitive benefits in the ensuing years.
Get a Sample Copy of this Report:@ https://www.gminsights.com/request-sample/detail/2382
Focusing on the growing competitiveness in e-commerce automotive aftermarket, several industry contributors including Denso Corporation, Flipkart, Advance Auto Parts, AliExpress, Amazon, Bosch, O'Reilly Auto Parts, E-bay, Auto Zone, and Napa Auto Parts have been entering into strategic joint ventures to enhance their product and service portfolios. For instance, an offline to online integrated social media platform operator, Moxian Inc., partnered with a leading offline to online automotive aftermarket e-commerce platform, Baoyanghui to improve its customer base mainly across China. Through this alliance, this e-commerce platform connects auto owners to the service center, auto dealers, independent mechanics, repair shops, and part stores. In addition, Baoyanghui will use Moxian's media partner, Xinhua News Media in order to promote its services. In fact, Baoyanghui's prominent presence in the automotive aftermarket vertical will help Moxian extend its regional presence across China e-commerce automotive aftermarket industry.
In the future, the increasing adoption of emerging technologies such as IoT and artificial intelligence is likely to stimulate e-commerce automotive aftermarket trends. The Germany based automaker, BMW, for example, recently launched its e-commerce pilot project to check the popularity of the brand outside Germany. Considering the fact that many automakers are now officially penetrating the aftermarket business, the intensity of competitive in e-commerce automotive aftermarket is slated to increase tremendously in the years ahead. As per estimates, the overall e-commerce automotive aftermarket industry is expected to surpass USD 30 billion by 2025.
Author Name : Sunil Hebbalkar
Automatic emergency braking market has been gaining increasing traction in the recent years, primarily due to the rising concern and awareness regarding the death toll due to traffic injuries. However, the surging emergence of autonomous vehicles has also been majorly responsible for the expansion of this vertical. For instance, at the 2019 Consumer Electronics Show, Intel's subsidiary that develops driver assistance systems, announced that it will be supplying two China based companies with tools that would help in the development of driverless cars. But for driverless cars to become a reality, automatic preventive braking, which is an enhanced version of automatic emergency braking, have to be fully functional and installed on driverless vehicles.
U.S. Automatic Emergency Braking Market, By Vehicle, 2017 & 2024, (USD Million)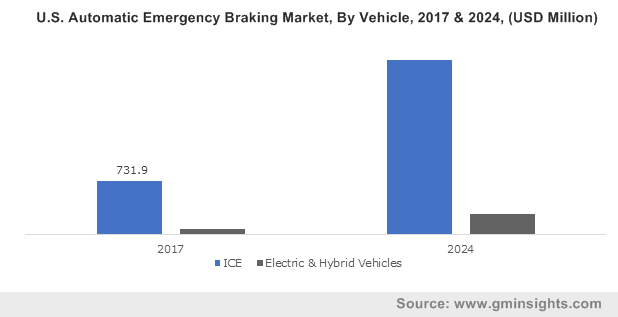 Apparently, automatic preventive braking will work by applying small preventive brakes that will increase the distance between two vehicles and maintain safe distance between vehicles rather than brake suddenly to avoid collision. Integration of such braking systems on autonomous vehicles as well as ordinary vehicles driven by humans will immensely augment the safety of passengers as well as pedestrians. Such considerations taken by automakers are certain to add a considerable boost to the growth of the automatic emergency braking market.
How has the rising intensity of road accidents encouraged the proliferation of AEB systems?
The substantial upsurge in the number of road accidents has occurred not only because number of vehicles on the road has been increasing exponentially but due to inattentive driving, drunk driving and speeding. In 2016, the National Safety Council of the U.S. estimated the chances of people dying in a car crash was 1 in every 114, which amounted to nearly 40,000 people losing their lives in motor vehicle mishaps. Naturally, the National Highway Traffic Safety Association (NHTSA) of the U.S. is working towards the promotion of road safety through the enhancement of vehicle technologies that can potentially reduce the number of crashes, thus helping to save thousand of lives each year, not to mention reduction of all the damage associated with a road accident.
Get a Sample Copy of this Report @ https://www.gminsights.com/request-sample/detail/1171
Enumerating how the expansion of the automotive sector has a role to play in AEB market growth:
The expanding automotive industry will also add a noticeable stimulus to the automatic emergency braking market. According to reliable statistics, the automotive industry was estimated to sell nearly 78.6 million passenger vehicles in 2017. In terms of production and sales, China and the United States are among the leading countries in the automotive industry with 6.9 million passenger cars having been sold in the U.S. alone in 2016.
While the automotive industry is led by such giants as Volkswagen, Daimler and Toyota, the automotive supplier industry, which also plays a major role in the automatic emergency braking market, is led by Bosch, Continental, Denso, Magna etc. Aided by initiatives like the Paris Agreement, electric and hybrid vehicles are expected to register 20% CAGR over 2018-2024, adding greater growth impetus to the overall market. As passenger vehicles witness explosive demand in the emerging economies, it is predictable that the automatic emergency braking market will also register a massive growth rate as traffic safety concerns will be rising with the increasing use of vehicles.
As the advantages of automatic emergency braking systems are coming to the forefront, governments are speedily putting regulations in place that are soon expected to make automatic emergency braking systems a mandate in all vehicles. With consumers themselves demanding increased safety in their vehicles, various safety measures like pedestrian automatic braking system, rearview camera, forward collision warning systems are becoming more common in vehicles while governments are pushing to make them mandatory in even the basic models and not only in the costlier ones.
In fact, in 2015, ten major U.S. car manufacturers committed to making automatic emergency braking a standard feature in all vehicles to increase vehicle safety. Electric car manufacturer Tesla added an automatic emergency braking system on its vehicles that uses a radar technology to bounce under vehicles to detect potential accidents up to 2 cars ahead and is activated even before the human driver has the chance to access the situation and react. Pedestrian automatic emergency braking systems are also becoming more commonly used in automobiles as autonomous vehicles are making their appearance in the market and it is of crucial importance that pedestrian safety is maintained in case of such vehicles.
In 2015, NHTSA and the Insurance Institute of Highway Safety made an announcement in which it was declared that ten of the major U.S. car manufacturers committed towards including automatic emergency braking as a standard feature in all new vehicles. Considering that the ten manufacturers constitute nearly 60% of the automakers in United States, their commitment to the inclusion of the feature is an important one and comprehensively indicates the future growth prospects for the automatic emergency braking market.
Author Name :Paroma Bhattacharya
Household Vacuum Cleaners industry size is expected to grow at a rate of 4.6% over the period of 2016-2024. Changing urban lifestyles and demand for precise & real time technologies will mainly drive the household vacuum cleaners market size over the coming timeframe. Tight schedule and active lifestyle makes time saving mandatory. Dual-earning families and middle income groups will face time-constraints to manage household chores. Therefore, accomplishing everyday domiciliary tasks besides the hectic work schedule will propel household vacuum cleaners industry growth.Rising living standards and enhanced consumer spending capacity on luxury appliances will further drive household vacuum cleaners industry revenue. Increasing awareness pertaining to time-efficiency, convenience and benefits derived due to vacuum cleaners use is expected to promote household vacuum cleaners market trends over the coming years. Moreover, swift advancements in technology supporting innovations will make it more energy efficient, economical, and user-friendly.
APAC Household Vacuum Cleaners Market size, by product, 2013-2024 (USD Million)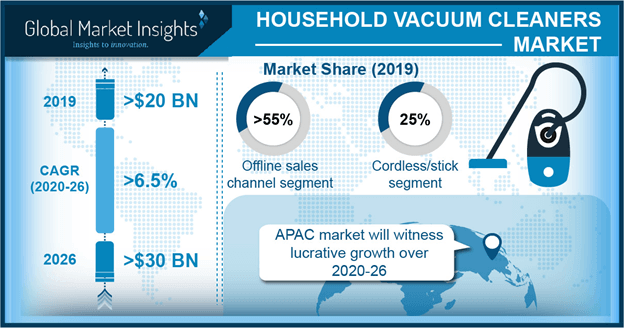 Major household vacuum cleaners comprise Upright, Canister, Central, Drum, Wet/Dry, and Robotic cleaners. Robotic household vacuum cleaners market share will reach USD 3.5 billion by 2024, owing to its innovative features such as acoustic sensors, automated mapping capabilities, self-charging, and sweeping brushes. High demand for mobile support applications is expected to drive its growth over the coming years.
Get a Sample Copy of this Report:@  https://www.gminsights.com/request-sample/detail/709
Upright vacuum cleaners led the product landscape, owing to its small size and high performance ratio. It is anticipated to contribute over 25% of the overall household vacuum cleaners industry share by 2024 and will register a CAGR of 3.2% over 2016-2024. The growth can be attributed to major features such as small size with high suction capabilities and large cleaning surface area which adds to its high performance.
Canister vacuum cleaners market is expected to register a CAGR of 4% over the timeframe of 2016-2025, owing to its user-friendly features.
North America household vacuum cleaners market is expected to witness a high growth over the next few years on account of rising time constraints for home-based cleaning along with heath & hygiene awareness among consumers. U.S. is expected to contribute significantly towards the regional share.
Asia Pacific household vacuum cleaners industry share worth USD 3.7 billion in 2015, is expected to grow at a CAGR of 5.2% over the coming eight years, owing to its high demand.  India, Japan, and China are predicted to boost the regional revenue.
Market players will try to grow their regional presence and ROI through mergers & acquisitions and product differentiation. They will try to compete in terms of price, product branding, technology, performance, energy consumption and quality. The key industry participants include TTI Floor Care, Oreck, Dyson, Stanley Black & Decker, Panasonic, Samsung, Royal Philips Electronics, Eureka Forbes, Haier Group, iRobot, and LG.


Author Name : Ojaswita Kutepatil