Dry Foods
With potentially growing interest in the improvement of digestive health through supplements, prebiotics market size has indeed observed a striking ascent in the last few years. Vital foods that have long since been a natural source for prebiotics, have now witnessed a decline in consumption, plausibly on account of the changing lifestyle habits. In consequence, this paradigm shift in meal consumption has manifested itself in the form of obesity, Alzheimer's, diabetes, cancer and myriad other diseases that are now widespread across the globe. Amidst this scenario, the importance of prebiotics that act as a type of fertilizer to the beneficial bacteria already present in the gut has been doubly stressed upon, which has indeed also had a major impact on the popularity of prebiotics industry. Prebiotics are naturally present in foods like leeks, onions, garlic, bananas, wheat grain, yogurt and biscuits. However, prebiotics are being added to an expanding array of food products that can be as varied as puddings to frozen chicken, owing to which prebiotics market has been gaining increased momentum since the last few years.
North America Prebiotics Market Size, By Ingredients, 2016 & 2024 (USD Million)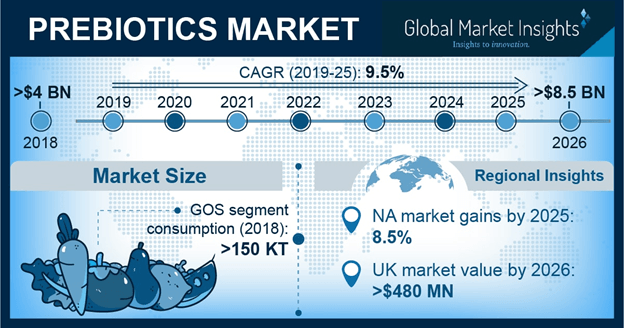 It is prudent to mention that prebiotics industry is also being propelled by the globally growing awareness about health and immunity, in tandem with – ironically, the rising demand for probiotics. These products provide improved gastrointestinal health to the host when administered in measured amounts. However, they are also very delicate and can often be rendered ineffective by stomach acids and heat even before they are digested, on account of which prebiotics are required to strengthen the functioning of probiotics. Currently, despite the probiotic industry having sustained for a longer duration, prebiotics market seems to be growing faster as prebiotics alone can contribute much as far as the improvement of gastrointestinal health and immunity is concerned, as opposed to probiotics that cannot function unaided. The fact that the gastrointestinal tract has different immunity functions as compared to the rest of the body has not been fully appreciated until recently. However, with the support of the medical community, this fact is now being emphasized that the gastrointestinal tract contains more than 80% of the antibody producing cells of the body. Consequently, prebiotics market has begun to witness unprecedented demand as consumers are paying more attention to maintain gastrointestinal health. Digestive immunity had long been considered vulnerable in infants and aging people. However, the growing health conscious population of all ages are now adopting various means of boosting digestive health thus stimulating the prebiotics industry.
Get a Sample Copy of this Report:@ https://www.gminsights.com/request-sample/detail/410
One of the most lucrative end-use domains of prebiotics market is the F&B sector. The rise in lifestyle diseases like diabetes and obesity, especially in Europe and the US has increased awareness among the regional and global populace, enabling them to have a renewed look at their diet. Subsequently, this changed outlook has augmented prebiotics market size from the sub-verticals of the F&B sector. Say for instance, subject to the increased demand of fermented meat owing to its effectiveness in improving fiber functionality, it has been forecast that prebiotic industry share from fermented meat applications will witness a CAGR of 13% over 2017-2024. Speaking along similar lines, prebiotics market has also found potential growth avenues through the animal feed sector. With the restriction of use of antibiotics and growth hormones in animal feed, use of prebiotics in the same has gained momentum as prebiotics enhance metabolism and enhance the overall health of livestock.
Gaining consumer confidence would be one of the many challenges faced by prebiotics market players. The concept of prebiotics has not become as popular as the concept of probiotics so far, and a large percentage of consumers are not only skeptical, but also refusing to compromise on appetizing products for the sake of healthy eating. However, as the digestive and immunity enhancing qualities of prebiotics are increasingly coming to light, it is estimated that the prebiotics market will witness exponential growth in the years ahead. As per estimates, prebiotics industry size will cross USD 8.5 billion by 2024, from a valuation of USD 3.5 billion in 2016.
Author Name : Paroma Bhattacharya
Owing to the extensive application spectrum across dietary supplements and functional food industries, the worldwide probiotics market is being increasingly referred to as one of the most promising business verticals around the globe. Apparently, the rising significance of functional foods can be attributed to the fact that these food additives are gradually and steadily acquiring a prominent position in the dietary profile of a sizeable number of health-conscious consumers.
U.S. Probiotic Ingredients Market Size, By Application, 2017 & 2024, (USD Million)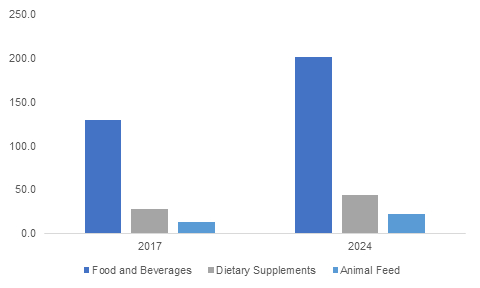 It goes without saying that this trend has, in turn, created a host of lucrative growth avenues for the leading probiotics industry participants which would eventually expand the market size of this business space. Furthermore, the growing awareness among customers pertaining to the health benefits that can be derived from the consumption of probiotic products is fueling the probiotics market progression. While interpreting the future growth prospects of the overall probiotics market space, it is quite imperative to bear in mind that the total valuation of this business arena stood at an impressive number in 2017, as per a report compiled by Global Market Insights, Inc.
Elaborating further, it is prudent to mention that the global probiotics market has been gaining traction due to a marked increase in the utilization of probiotic strains in various food applications. These probiotic strains, which predominantly include lactobacilli and bifidobacterial, actively develop resistance to bile, antimicrobial, and acid production which further assists in boosting the digestive and immune system, subsequently improving the overall human health.
Get a Sample Copy of this Report:@ https://www.gminsights.com/request-sample/detail/418
Citing an instance to highlight the rising prevalence of probiotic strains, the foremost probiotics industry giant, DuPont Danisco has recently claimed that the food products consisting of HN019, the firm's Bifidobacterium lactis strain, have been recognized as Food with Function Claims by Consumer Affairs Agency of the Government of Japan. Dietary supplements, drinkable yogurts, and other food products containing HN019 as an ingredient are said to enhance microflora and improve digestive health by addressing intestinal ailments. Moreover, HN019 is being considered as the first Bifidobacterium lactis strain that has ensured a probiotic manufacturer to establish a health claim on the product.
Apparently, the recent instances of recognizing the health benefits of probiotic products it will enable consumers to make more informed decisions, consequentially having far-reaching implications on the growth potential of probiotics market. For the record, in the U.S. alone, probiotics market size from food supplements is likely to cross USD 5 million by 2024.
To complement the aforementioned statements, the global probiotics industry has been witnessing a marked increase in research activities which has further expanded the market size of this business space. Strong clinical evidences have been apparently emerging which have offered new insights into the efficacy and effectiveness of the existing food products in probiotics industry in treating mental ailments and neurological diseases. As per reliable sources, a few researchers and doctoral candidates would present the results of pilot studies at the upcoming IPA World Congress + Probiota 2018, which would reportedly demonstrate the tolerability and safety of probiotic supplements that can be used to treat depression. Apparently, the findings received from recently conducted pilot studies indicate compelling evidence that would underline the importance of probiotic supplements, something that will eventually provide a massive boost to the efforts being put in by the major probiotics industry players to expand their business and consumer reach.
Concurrently, the rising technological innovation in medicinal industry to inculcate probiotic foods in treating bad gut bacteria, intestinal inflammation, urogenital infections, microbial balance by lowering pH level, mental illness/disorders, reducing heart disease risks, and diagnosing and treating a range of other physical and mental health complications would embellish the future growth prospects of the overall probiotics market, which is forecast to exceed a valuation of USD 3 billion by 2024.
Author Name : Saif Ali Bepari