Dry
The robust trend of industrialization is majorly responsible for stimulating the global
cooling tower market
over the coming years. While the industry is largely being fed by the massive number of thermal power plants, which have been actively running to meet the growing energy demands for decades, recently the industry has been witnessing a shift with the increasing adoption of a plethora of sustainable energy sources. This has effectively replaced conventional thermal power plants, creating a lucrative growth avenue for the expansion of the cooling tower industry.
Germany Cooling Tower Market Size, By Product, 2018 & 2025 (USD Million)
The cooling tower market is projected to accumulate sizable growth from this ongoing shift, which is primarily being driven by the rising consumer & environmental awareness, with sustainable power generation techniques such as cogeneration technologies at the helm. Meanwhile, as global temperatures continue to rise the market is also expected to witness increased demands from the world's HVAC sector with different industries attempting to control internal temperature to maintain a conducive work environment for their employees as well as their equipment & machinery.
Global cooling tower market | Anti-Microbial cooling towers to witness increased adoption
Being an essential part of the heating, ventilation, & air conditioning (HVAC) systems, cooling towers have witnessed extensive capacity demands from a plethora of different sectors. While industrial cooling towers are utilized without any problems inside power plants, petrochemical facilities, petroleum refineries and other industrial facilities, other cooling tower application sectors face a major issue that may make the system a significant health risk to individuals.
The issue is a harmful lung infection called Legionnaires' Disease. The disease is caused by the Legionella bacteria, which thrives in warm water conditions and could affect humans if they inhale the mist or water vapor containing the bacteria. While, the disease was the matter of concern back in the 1970's, the problem still persists today. In fact, according to Becker's Clinical Leadership & Infection Control, a study conducted in 2016 discovered that more than 84% of cooling towers in the U.S. contained Legionella.
Get a Sample Copy of this Report @ https://www.gminsights.com/request-sample/detail/3023
This has prompted many industry players to develop anti-microbial cooling towers, which contain ant-microbial additives that work on a cellular level to continuously prevent & disrupt the uncontrolled growth of such microorganisms. This advancement coupled with the ageing infrastructure & strict workplace safety rules are expected to considerably stimulate the overall cooling tower market growth over 2019-2025
Global cooling tower market | Expanding data center domain to add momentum to the industry growth
The technology cosmos is getting more concerned about the heat produced in data centers on a daily basis. These facilities require an extremely reliable system to efficiently maintain the power, cooling as well as support systems that are extremely crucial for ensuring continuous flow of information across these mission-critical facilities. Achieving close to a 100% availability or uptime at data centers has become a necessity as loss of power in data centers could cost the organization millions of dollars, thus making cooling towers extremely crucial for the future of data storage & cloud computing.
Moreover, according to the U.S. Department of Commerce, the hyperscale trend has recently taken the data center industry by a storm. Data center projects in the 150,000 sq. foot and $120 million range, are now considered small while facilities in the 600,000 to 1,000,000 sq. foot and $1 billion range are now becoming the industry norm. This significant boost in scale coupled with the ongoing rise in the number of data center facilities is expected to one of the primary growth inducing factors for the global cooling tower market in the coming years.
Speaking of the regional spectrum, it is vital to mention that the U.S. is bound to be one of the most proactive hubs for the growth of the cooling tower market. Powered by a highly favorable regulatory spectrum, U.S. cooling tower market was worth USD 250 million in 2018. In the years ahead, the U.S. cooling tower industry is anticipated to garner substantial returns, driven by the paradigm shift in the administrative policies and the robust expansion of the regional manufacturing sector.
It is quite apparent from the aforementioned trends that the global cooling tower market is primed for drawing in sizable growth over 2019-2025. Propelled by the expansion of the industrial sector and the hefty adoption of sustainable resources, the global cooling tower industry size is projected to surpass a valuation of more than $3 billion by 2025.
Author Name :Akshay Kedari
Rising emissions from marine engines & growing environment concerns owing to degrading air quality will drive marine emission control system market growth in the years to come. Reportedly, oceanic vessels contribute to a majority of the pollution in the coastal environment – around 8%-12% of the global NOx emissions and around 40% of global NOx emissions from transport of freight mean. Having taken into consideration these alarming statistics, in 2008, the International Maritime Organization (IMO) launched a directive for controlling emissions from diesel engine vessels, built or installed on and after 1st January 2016. The directive also specifies a global sulfur limit for reducing the sulfur content in fuel to 0.5%, that will go into effect from 1st January 2020. The presence of a strict regulatory landscape will thus prove to be one of the preeminent driving factors of marine emissions control system market.
Europe Marine Emission Control Systems Market Size, By Application, 2017 & 2024 (USD Million)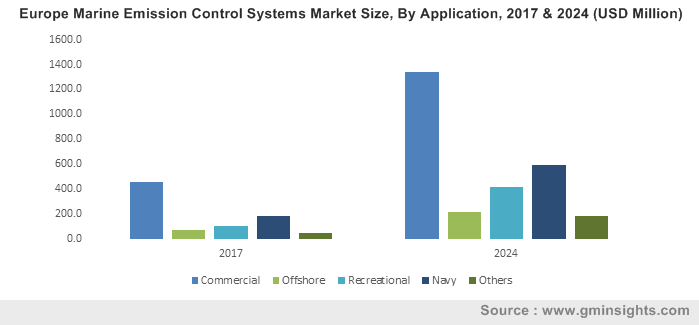 The growing number of trade activities along with advancements in emission control technology will also serve to boost the demand for marine emission control systems. Globally, around 85% of goods are transported using maritime routes. In almost 70% of the cases shipping is carried out within 400 km from the coastline, influencing the air quality within several hundred kilometers from the coast. The most widely adopted propulsion systems used by these ships are two or four strokes diesel engines, which apparently consume large amount of heavy fuels.
Estimates from the U.S. Energy Information Administration, 2011, cite that the merchant navigation sector alone accounted for about 1.75% of the total energy demand and about 5% of the global crude oil consumption back then. Also, ships were recorded to manufacture around 15% of the global NOx (the world's buses, cars, and trucks combined), 2.5% – 4% of greenhouse gases, and between 3% – 7% of global SOx output and 5% of black carbon emission. Quite overly, these figures reveal the overall impact of the maritime segment on global atmospheric pollution, which has led to a spike in the demand for marine emissions control systems.
Get a Sample Copy of this Report:@ https://www.gminsights.com/request-sample/detail/2542
Reportedly, in a bid to reduce the environmental footprint of ships, the IMO has also tightened the regulations on NOx and SOx emissions from marine engines. As measures to reduce NOx emissions, emission control systems like exhaust gas recirculation (EGR) and selective catalytic reduction (SCR) have been adopted. For reducing SOx emissions however, scrubbers have been intensively deployed to lessen the sulfur content of fuel oil.
Scrubber marine emission control systems market to thrive over 2018-2024
Scrubber units are typically used for high dust configurations and are more efficient when coupled with fuel switching. By mounting an exhaust gas cleaning system like a SOx scrubber, ship-owners can efficiently operate on low-priced, heavy fuel oil and still be compliant with IMO's SOx emission regulations. Sources suggest that, from 2020, the demand for exhaust gas cleaning systems, like SOx scrubber, will increase as to compliment stringent SOx regulations that exhibit a global 0.5% limit on SOx and 0.1% limit on ECA emission.
The ability of hybrid scrubber systems in particular, to treat high temperature and gas streams along with increasing R&D initiatives toward green shipping will also positively impact the scrubber-based marine emission control system market share.
Speaking of the geographical penetration, marine emission control system market has been touted to amass substantial returns from China. This is prominently on account of the newly imposed regulations favoring the installation of these products. Reportedly, to improve the quality of domestic shipping and endorse environment friendly development of marine transport within China, the Chinese Ministry of Transport, on 3 July 2018, published new requirements for controlling nitrogen oxides (NOx) emission. The standards will be applicable to both newbuild vessels (after July 2020) and ships in operation (after July 2021) and will further be imposed on ships particularly involved in Chinese domestic trade.
Powered by moves such as the aforementioned and the rising number of cross-border tax inversions and M&As, the demand for these systems has been considerably rising in this APAC economy, thereby augmenting China marine emission control systems industry.
A plethora of marine emission control systems including SCR, EGR and scrubber are sulfur, nitrogen & particulate matter abatement technologies, are lately being deployed across engines & boilers to restrain emissions. The implementation of scrubber systems specifically, will observe an upsurge in demand owing to reduced payback period and long-term operational flexibility. The growing demand for sustainable systems along with stringent government initiatives will thus positively impact marine emission control systems market size, slated to cross USD 14 billion by 2024.
Author Name : Mateen Dalal
Endorsing a wide application scope in fodder business space, the profitability quotient of non-protein nitrogen in feed market is projected to substantially upscale in the coming years. Over the past few years, animal nutrition has managed to grab a bigger role than anticipated. Manufacturers across the world have been increasingly investing in R&D activities to develop a palate of new protein sources which expectedly would widen up the non-protein nitrogen in feed industry opportunities. In this regard, it is prudent to mention that protein-rich leguminous fodders are usually not extensively grown in many areas, which are prone to attack by ruminants, as they are comparatively more expensive than non-protein nitrogen sources. The growth of non-protein nitrogen in feed industry can be fundamentally credited to this factor. Global Market Insights Inc., forecasts the overall non-protein nitrogen in feed market size to record a valuation of over USD 1 billion by 2024.
U.S. Non-protein nitrogen in feed market, By Product, 2013-2024, (Kilo Tons) 
Speaking of commercialization potential of non-protein nitrogen in feed industry, it is nothing but enormous. The increasing consumption of meat bears an evidence to the fact. As per estimates by WHO, annual meat production will surpass 376 million tons by the end of 2030, which is an exceptional rise from that recorded in the year 1999- 218 million tons. The world population presently consumes 75 pounds of meat per person annually, as cited by the Organization for Economic Cooperation & Development. The sharp incline in the meat consumption has undoubtedly left a perpetual impact on the demand for non-protein nitrogen in feed market. A recent report brought forth by U.S. Food and Agriculture Organization claims that global meat production will be 16% higher in 2025, from that what it recorded over 2013-2015. These statistics quite profoundly depicts the increasing pressure on livestock breeding to address the increasing demand for animal nutrition, indirectly leaving a subsequent impact on non-protein nitrogen in feed market share.
Get a Sample Copy of this Report @ https://www.gminsights.com/request-sample/detail/2134
The most common non-protein nitrogen source which is extensively deployed in ruminant feeding is urea. Though there are other sources that have been experimentally and commercially deployed, urea holds quite a prominent position in the global industry landscape. Estimates depict, overall non-protein nitrogen in feed market share from urea accounted for a revenue of USD 550 million in 2016. Some of the prime factors that have driven non-protein nitrogen in feed market share from urea include higher nitrogen content of almost 46.7%, reduced live weight loss, low cost, and increased intake of dry roughage. In addition to this, being the building blocks of non-protein sources, it can be easily fed to ruminants as a replacement for a part of protein in a ration. The ability of micro-organisms present in the rumen of sheep and cattle to utilize these non-protein sources or urea eradicates the requirement of imported protein supplements, with no hazardous impact on animal health. Having procured almost 75% of the overall non-protein nitrogen in feed industry share, urea is slated to drive the product landscape in the coming years. However, urea toxicity and stringent regulatory framework pertaining to its production in some areas might hamper the industry growth to some extent.
However, changing healthcare dynamics and food preferences are some of the pivotal factors providing a significant push to the global non-protein nitrogen in feed industry trends. In this regard, Asia Pacific has established a strong foothold in the worldwide fraternity, with increasing proliferation of advanced technology for effective synthesis of protein from non-protein sources. In fact, estimates claim a humongous portion of urea to be consumed in Asian countries like India, China, and Japan, to maintain and boost livestock health and nutrition, particularly ruminants. A subsequent rise in research investments from international producers as well as spreading awareness regarding the usage of nutritious forage has led APAC non-protein nitrogen in feed industry size to record a valuation USD 400 million in 2016. The exponential rise in the livestock population over the past couple of years will certainly propel the regional market demand to great heights in the years ahead.
Worldwide, non-protein nitrogen in feed industry encompasses a host of renowned biggies including Yara International ASA, Incitec Pivot, Archer Daniels Midland Company, The Potash Corporation of Saskatchewan, and Borealis. The marketplace seems to be pretty much consolidated with leading giants' relentless effort in strengthening their business position by underlying various growth strategies such as joint ventures, product differentiation, production capacity expansion etc. An upswing in global meat production, subject to its increased consumption undeniably remains one of the principal factors driving non-protein nitrogen in feed market size. Moreover, the expansion in supply chain and technological advancements with regards to product manufacturing are further expected to carve a lucrative roadmap for non-protein nitrogen in feed industry over the ensuing years.
Author Name : Satarupa De