E-Learning Market
The developments and innovations in learning tools, delivery methods, and digital technology have revolutionized global e-learning market with regards to its revenue and profitability quotients. Increasing numbers of e-learning programs coupled with the growing prevalence of online education across a myriad range of geographies is set to carve out a lucrative roadmap for e-Learning market outlook in the ensuing years. With an appreciable value holding to boast of, the global e-learning industry is expected to hit a remarkable valuation of USD 300 billion by 2025, claims Global Market Insights, Inc. Emerging corporate trends and the escalating popularity of online or internet-based learning programs are some of the pronounced factors fueling the e-learning market demand globally.
U.S. e-learning market, by application, 2018 & 2025 (USD Million)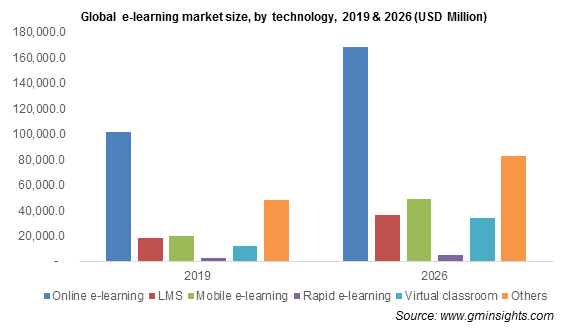 Instances validating the increasing penetration of e-learning tools include the CityCab's launch of web-based training programs to provide linguistic training to taxi drivers in order to improve their communication with the commuters. Another such move was recorded when Infosys Ltd. entered in an agreement with three firms including Udacity Inc., EdX Inc., and Coursera Inc., to train their personnel on Artificial Intelligence via e-learning tools. Reportedly, The Indian Department of Electronics and Information Technology is also embracing e-learning centered research and development activities in some of the renowned institutions including IIT and C-DAC.
Gamification is one of the recent trends characterizing the innovation landscape of e-learning industry, as this category of education has recorded a rather high rate of engagement by the learners along with providing a better understanding of the related concepts.  The recent implementation of this trend was through McDonald's, when the company partnered with City & Guilds Kineo to provide the till training on how to use a cash register. Reportedly, the process turned out to be highly effective and purposeful. The training involved real-time situations that required the learner to take customer orders in timed environment. As per reliable sources, over 85% of the users believed that learning via gamification learning helped them in better understanding new systems and improved their overall performance.
Get a Sample Copy of this Report@ https://www.gminsights.com/request-sample/detail/215
With such series of groundbreaking events, global e-learning market is certain to witness a rather substantial momentum in the coming years. Speaking of the geographical landscape, with significant rise in the enrollment of online programs and advanced learning methodologies, countries such as U.S., UK, India, China, and Australia are projected to be some of the most profitable avenues for the e-Learning industry growth.
Speaking along similar lines, North America, being one of the mature regions pertaining to the e-learning market penetration, is expected to be one of the most remunerative grounds for the global industry landscape over the coming years. Escalating adoption of m-learning and e-learning tools, which are becoming a preferred and viable choice for the corporate training programs, is one of the major factors driving the regional trends. Moreover, having an upper hand with regards to technological innovations, the region will further procure a major chunk of the global e-learning market share. As a matter of fact, North America, aided by the escalating product adoption by numerous organizations that intend to provide effective training to employees for high productivity, captured an appreciable 40% of the e-learning market share in 2018.
However, taking into consideration the future scope, where niche markets will witness a strong growth potential, Asia Pacific is deemed to be another significant region to exhibit a high demand for e-learning models. Industry analysts speculate that the widespread governmental initiatives to boost literacy and educational programs especially in the rural areas have rapidly escalated e-Learning market size in the region. An example supporting this fact is the initiative taken by HRD Ministry of Government of India with regards to launching NPTEL program as an e-learning approach to pursue courses in science, engineering, and humanities. Furthermore, increasing popularity of mobile technology in the region has further provided a major push to Asia Pacific e-learning industry size.
Speaking of the competitive and strategic terrain, most of the e-learning market players are vigorously working toward bringing technology and education under one roof. M&As, partnerships, and product & solution innovations are few of the major growth tactics adopted by the industry participants. Over the coming years, the fraternity is expected to witness a highly intense competitive landscape, where technology innovations will be one of the most renowned success parameters. With these trends, it is rather overt for the e-learning industry to be coined as one of the most innovative business domains, with a huge potential for developments in the coming years.
Author Name : Saipriya Iyer