ECU
Electronic stability control system market trends are poised to gain immense momentum over the forecast years, owing to rise in fatal car crashes and serious vehicle accidents causing large-scale damage to the masses. Since the last few decades, the automotive industry has shifted its focus towards implementation of more active safety features like traction control system and antilock braking system which reduce the chances of crashes to a large extent during acceleration and in harsh driving conditions. This increasing demand to improve transport efficiency has undeniably impelled the expansion of the electronic stability control system market size.
India electronic stability control system market size, by vehicle type, 2018 & 2025 (USD Million)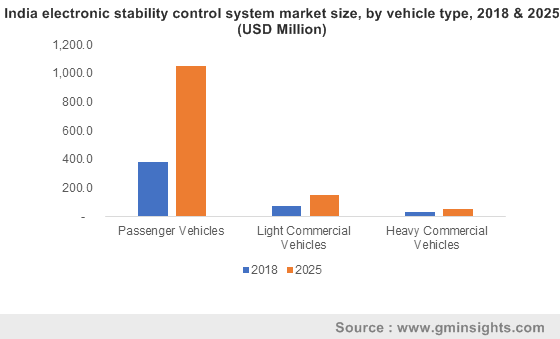 Commercial vehicles are consistently becoming the leading mode of road transportation in the Asia Pacific region. As compared with other transportation vehicles, commercial vehicles exhibit greater safety risks and several performance limitations because of their features including unstable roll motion at higher speeds and poor maneuverability at low speeds. With the advent of the electronic stability control in cars, next-gen driver assistance concepts have taken root, and have played a significant role in contributing towards increasing safety on the roads.
A 2018 report by the U.S. National Highway Traffic Safety Administration (NHTSA) suggests that with the introduction of electronic stability control (ESC) systems, there has been a considerable reduction in passenger vehicle crashes by 34% and SUV crashes by 59%. ESC systems also substantially reduce rollover accidents. Nowadays, commercial vehicles are already incorporated with ESC systems and these vehicles are specifically designed to mitigate understeer and oversteer conditions as well as reduce untripped crashes.
The Asia Pacific market is likely to emerge as a strong contender due to increasing implementation of road safety gears and the design and development of vehicles equipped with safety features. According to International Organization of Motor Vehicle Manufacturers, in 2018, India had witnessed 8% growth in automobile production. China is also a prominent automotive market, the expansion of which will augment APAC ESC market outlook in the forecast years.
Get a Sample Copy of this Report:@ https://www.gminsights.com/request-sample/detail/3410
Of late, India-based multinational automotive manufacturing companies have been working to launch medium and heavy commercial vehicles with electronic stability control with an aim to make Indian roads safer and more secure. The growing adoption of ESC systems and increasing number of safety innovations in several vehicles will further strengthen the regional ESC industry size.
The robust implementation of the intelligent vehicle systems in the automotive sector has enhanced safety protocols while driving and has created an efficient transportation system for vehicle users. From high-tech sensors to vehicle roll rate sensors – everything is being implemented by the manufacturers in the latest vehicles to maintain the stability of the vehicles and reduce any kind of mishap in the future.
In order to fortify their stance in ESC industry, several companies are adopting different growth strategies to move ahead of their rivals. In June 2019, ZF Friedrichshafen, a German car parts manufacturer and partner 2GetThere had launched autonomous shuttles in the Middle East and Europe. The main aim of the company is to improve vehicle handling, reduce motion sickness and deliver safe, clean transportation options that are competitive and comfortable as well. Innovative launches such as the aforementioned will create a positive influence on the product demand and augment the Europe industry share.
The massive deployment of technological advancements across the automotive industry will have a favorable influence on the ESC market. Moreover, the involvement of prominent companies in designing vehicles with advanced safety features are likely to fuel the industry growth in the ensuing years.
The enforcement of favorable government policies are likely to impact the industry outlook. In 2018, the Ministry of Road Transport & Highways of India had announced that by 2023 all Indian vehicles should be compulsorily equipped with safety breaking features like autonomous braking and ESC.  This will further generate lucrative opportunities for automotive players in the ESC industry.
Major companies that have captured a prominent proportion of electronic stability control system market share include ZF Friedrichshafen, General Motors (StabiliTrak), Johnson Electric, Robert Bosch GmbH, Autoliv, IAV Engineering, Denso Corporation and Johnson Electric. Global Market Insights, Inc., estimates electronic stability control system market size to reach US $ 45 billion by 2025.
Author Name : Deeksha Pant
The increasing awareness among car manufacturers and regulators about the need of vehicle safety systems has been fueling occupant classification system market. Increasing prevalence of road accidents and growing number of fatalities associated with them is one of the major factors accelerating industry trends. According to the World Health Organization (WHO), road accidents are the major cause of deaths across the globe accounting nearly 1.25 million mortalities per year.
U.S. occupant classification system market size, by product, 2018 & 2025 (USD Million)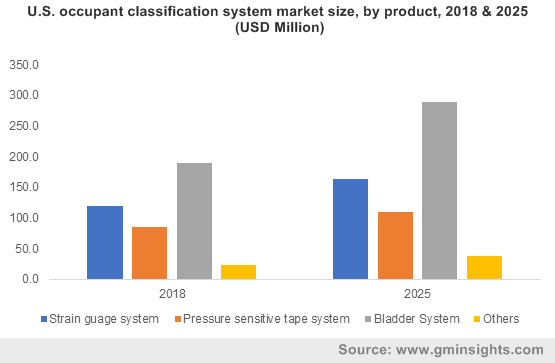 Though vehicle manufacturers have integrated air bags in vehicles for safety purpose, they do not provide total security. As per the National Highway Traffic Safety Administration, since 1990, around 300 people have lost their lives due to airbag impact, majorly due to the over sensitive airbag system. Most of the casualties were among children or people of short height who were found to be occupying the front seats. Occupant classification system (OCS) identifies people occupying the passenger seat and regulates airbags on/off switch.
Considering safety requirement, automakers have been equipping certain vehicles with innovative occupant classification systems. Growing development of sensor assisted OCS and its role to improve air bag system safety will help to expand the OCS market size over the years ahead. According to a research report by Global Market Insights, Inc., occupant classification system (OCS) market share is set to exceed USD 3 billion by 2025.
Ongoing advancements in sensor technology have been making the OCS highly accurate, fueling the future incorporation of OCS in the automobile sector. Growing research & development on other alternatives like 3D video cameras, optics-based system, and ultrasonic sensors is very likely to stimulate the occupant classification system market outlook over 2019-2025. For instance, a leading market player like ZF Friedrichshafen AG is working on developing the 3D interior observation system for occupant sensing.
Get a Sample Copy of this Report:@ https://www.gminsights.com/request-sample/detail/3254
The U.S. and Europe have emerged as leading regional revenue pockets transforming occupant classification system market outlook. The strict regulatory scenario across these regions mandating the use of OCS is one of the prominent factors fueling regional growth. For the record, in the U.S., the National Highway Traffic Safety Administration (NHTSA) had deployed vehicle safety standards to mandate safety requirements for occupant's protection. As a result, most of the automobile manufacturers like Ford, Chevrolet, Dodge, and Honda have started to integrate these systems in most of their mid-range & flagship models.
Speaking about Asian continent, the countries including India and China are poised to account for a significant business share, owing to the implementation of rules related to airbag safety. The deployment of such norms has promoted vehicle manufacturers to install OCS in economy class vehicles mainly across India. Improving standards of living in these countries will help fuel the regional car market and in turn will support the occupant classification system market landscape over the forecast period.
Though the OCS market is expected to register an appreciable growth rate, restraints comprising high price of OCS integrated vehicles and technological defects may hamper the market share. However, growing initiatives pertaining to new product development are slated to overcome the business restraints over the years ahead. In addition, the leading automakers like Honda and Hyundai have been adopting innovative installation technologies to curb the changes of airbag failure.
The consistently expanding automobile sector and the rising demand for passenger safety regulations across developing nations will drive the growth trends of occupant classification system industry. Growing emergence of collision repair services across the globe will further accelerate the product demand noticeably. Some of the market players in the occupant classification system (OCS) industry include Delphi Technologies, Aisin Seiki, Denso, Mayser, Flexpoint Sensor Systems, and Hyundai Mobis.
Author Name : Amol Kothekar