EDA Market
Over the recent years, the electronic design automation market share has witnessed a drastic upswing owing to a vast expanse of applications. Numerous engineering firms operating across a variety of industrial domains including automotive, telecommunications, aerospace & defense, and consumer electronics have been extensively utilizing the advanced softwares manufactured by electronic design automation industry players. Out of these business verticals, the enormous growth of the automotive sector has necessitated the semiconductor component and system designers to meet the most rigorous regulatory guidelines to ensure vehicle safety.
UK EDA market, by application, 2016 & 2024 (USD Million)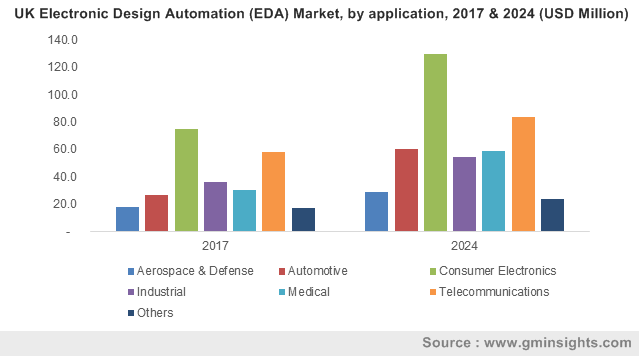 Bearing this in mind, one of the foremost electronic design automation market participant Synopsys, Inc., has recently released a thorough and independent functional safety assessment and certification, ISO 26262. The latest certification would enable all the tools of Synopsys Design Platform to be deployed more efficiently in the development of automotive designs meeting the safety requirements of Automotive Safety Integrity Level (ASIL) A to D. Furthermore, the new assessment and certification spans the broadest and the most comprehensive portfolio of almost 40 ISO 26262 certified design tools across the overall electronic design automation industry.
A brief overview of how acquisitions would characterize electronic design automation industry landscape
Owing to the rapidly evolving automation design requirements and intense rivalry to offer cutting-edge solutions to the expanding consumer base, prominent electronic design automation industry players have been proactive in acquiring smaller firms. Following are a few instances of the recently concluded acquisitions which might majorly influence the overall growth dynamics of electronic design automation market in the near future:
In order to accelerate the delivery of design tools for a highly productive characterization flow and standard cell library, the US based electronic design automation industry giant Silvaco has recently acquired NanGate. Apparently, the latest takeover would assist Silvaco to extend its existing product portfolio given that the Library Creation Platform of NanGate has been increasingly recognized as the gold standard to design numerous system on chips (SoC). Moreover, the standard cell library optimization technology of NanGate complements Silvaco's methodology and IC design flow that meets the current high-sigma requirements. Needless to mention, the massive efforts that are being deployed by electronic design automation market players to revamp their product portfolio would undeniably prove to be immensely beneficial for the growth of this business space.
After acquiring Mentor Graphics for about USD 4.5 billion in early 2017, the German conglomerate Siemens has now taken over the reins of a well-known electronic design automation industry participant, Solido Design Automation. The latest purchase would apparently assist Siemens to expand its reach in the automation design arena, cite experts. Harnessing the prowess of its characterization and variation-aware softwares, Siemens is likely to merge Solido's operations with Mentor's IC verification solutions unit. This would, in turn, strengthen the presence of Siemens in the electronic design automation market over the forthcoming years.
Get a Sample Copy of this Report@ https://www.gminsights.com/request-sample/detail/2426
In its persistent efforts to provide an enabling environment for automation designers, Synopsys, Inc., has recently declared to have acquired the leading high-speed SerDes technology provider, Silicon and Beyond Private Limited. Reportedly, this acquisition would aid Synopsys in accomplishing large amounts of data transfer between backplane, chips, and extended range optical interconnects. It would also add a team of highly-experienced R&D engineers that would help the electronic design automation industry leader to implement faster connectivity in high-end computing applications.
In addition to the humongous increase in acquisition activities, the trend of miniaturization of semiconductors has propelled the growth prospects of electronic design automation market. Furthermore, the rising awareness and acceptance of smart fitness products has encouraged electronic design firms to invest heavily in order to develop enhanced devices. This has, in consequence, swamped the electronic design automation industry space with unique and innovative products. Considering the aforementioned aspects, it is quite undeniable that the overall electronic design automation market is bound to establish itself as one of the most lucrative niche verticals of electronics and media industry over the ensuing years.
Author Name : Saif Ali Bepari