Edge Data Center Market
Increased deployment of edge computing and the need for having a greater control on data has enhanced the edge data center market penetration across numerous industry verticals worldwide. Establishing a data center close to the source of information allows for a faster access and real-time analysis of data, complemented with reduced network traffic and lower cost for operating and maintaining the infrastructure. The edge data center industry has enabled organizations and cloud-based service providers to reach smaller cities, locations where large data centers do not have a presence but represent considerable data generation.
U.S. edge data center market, by application, 2017 & 2024 (USD Million)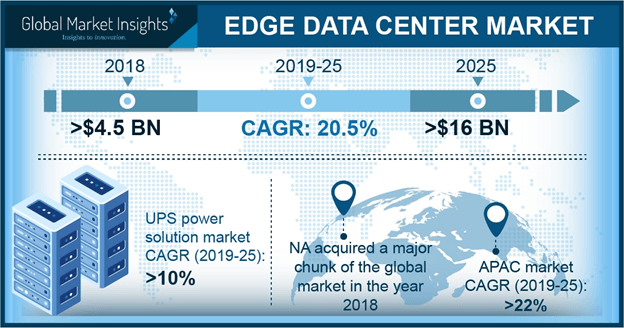 Continuous growth of the IT and telecommunications, healthcare, banking and energy segments have gradually propelled the edge data center market revenue over the last few years. These sectors generate enormous amounts of information which are used by enterprise customers and businesses to enhance consumer experience. Growing popularity of online streaming services has also benefited the edge data center industry, as caching web application or content on servers nearer to the market allows for high-quality and high-bandwidth services. Companies like 365 Data Centers and EdgeConneX have tapped into these opportunities and expanded their edge data centers around the globe.
Elaborating further, EdgeConneX had earlier in the year announced its plans to add up to 50 MW capacity in North America, cover tier-2 cities like Atlanta, Phoenix, Denver, among others, and had already opened its second center in Atlanta by August. It later unveiled an edge data center in Toronto as well, bringing its total number to 40 such centers spread over North America, South America and Europe, becoming a key player in the edge data center market. More recently, it had confirmed the acquisition of an edge data center in Warsaw, Poland, encouraged by the nation's rising adoption of cloud, favorable data regulations and ease of access for nearby countries.
Get a Sample Copy of this Report:@ https://www.gminsights.com/request-sample/detail/2421
Widespread expansion activities undertaken by the company is representative of the overall edge data center industry trends, driven by the unparalleled rate of development in the telecommunications sector. The growth of IoT and the increasing number of connected devices globally has created a need for communicating captured valuable data quicker. It is projected that by 2022, the number of connected devices in the world will reach 29 billion, indicating the massive amount of data that will be gathered, inadvertently strengthening the edge data center market.
The propagation of 4G LTE networks has allowed consumers to access and use various online services, with LTE downloads averaging around 19.4 Mbps in the U.S. over the last quarter of 2017. Fast developing economies have also witnessed an accelerated growth rate in terms of IoT and data usage, with average 4G consumption in India reported to be around 11 GB per month in December 2017. Telecom firms are leaning more towards edge computing to gain the ability to store immense data accumulated from devices and direct it straight to a central center or cloud platform, minimizing the backhaul traffic.
Additional reports have indicated that by 2021, global mobile data traffic will reach nearly 49 exabytes per month, which would be a seven-fold increase from 2016 figures. 5G, the latest generation of communication networks, is expected to grow steadily over the period and can become the key network utilized for most applications over the following years. Experts insist that without edge computing, 5G will not be able to meet its intended goals of very low latency and colossal broadband services. Subsequently, as the implementation of 5G proceeds steadily throughout the world, fulfilling the network's huge potential will necessitate the advancement of the edge data center market.
All in all, the rising network consumption in the telecommunications industry consumers and the augmented utilization of edge computing in other sectors will fuel the global edge data center market, with its valuation estimated to cross USD 13 billion by 2024. Fast-growing companies like Anixter, Cisco Systems, Dell, EdgeConneX, 365 Data Centers, Panduit Corp, Schneider Electric, and many others offer the required edge data center infrastructure, equipment and third party services.
Author Name : Pankaj Singh