Elastomers
Pertaining to the surging importance of soybean pertaining to its many medicinal benefits, soy chemicals market has emerged as one of the most profitable spheres of the healthcare cosmos. Experts assert that the consumption of soy can lead to a reduction in cardiovascular diseases, breast cancer, as well as cosmetic and dermatological problems. In addition, soy injections help patients with diabetes mellitus to improve metabolism. Considering the nutritional benefits of soy, most of the nutritionists have been encouraging the consumption of soy and its food derivatives that has resulted in the demand upsurge for soy-based drugs and food products on a large scale. On these grounds, several medical companies have been developing soybean oil-based medicines, providing a push to soy chemicals market trends.
U.S. Soy Polyols Market Size, By Application, 2017 & 2024, (Kilo Tons)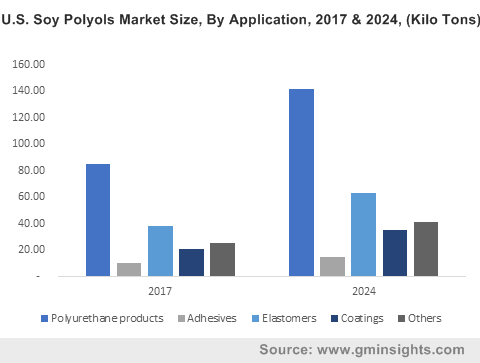 Nowadays, several restaurants and food companies have been making tall claims about having incorporated heart-healthy oils in their products such as dressings, bottled oils, baked goods, snacks, and dips to attract more consumers who have been trying to reduce the inclusion of saturated fat in their diet. The U.S. is one of the largest producers of soybean, accounting for more than 30 percent of worldwide production.  In America, soybean is one of the most used ingredients owing to its health potential. In this regard, the U.S. Food and Drug Administration (FDA) has been providing suitable support to pharmacies and biomedical companies that have been involved in the development of soybean oil-based medicines for reducing the risks associated with coronary heart disease and cancer.
Get a Sample Copy of this Report:@ https://www.gminsights.com/request-sample/detail/2973
Recently, the agribusiness and food ingredient company, Bunge North America received an approval from the U.S. FDA for its claim related to the consumption of soybean oil and its connection to coronary heart diseases. With its versatile portfolio, Bunge is continuously striving to disseminate the importance of soybean oil and its health benefits. Moreover, facilitated with in-depth scientific and clinical research, Bunge is looking forward to strengthening its business with strategic acquisitions and joint ventures. The growing North America soy chemicals industry is slated to generate such attractive business opportunities for players such as Bunge over the years ahead. Indeed, driven primarily by Canada, U.S., and Mexico, North America soy chemicals market, claim estimates, will register a CAGR of more than 5% over 2018-2024.
In order to target the leading consumers of soybean and its food products, globally renowned companies have been establishing suitable partnerships to commercialize their activities by reducing import costs. Validating the aforementioned fact, on February 2018, Cargill and Archer Daniels Midland company formed a JV to supply soybean meal and oil across Egypt. This JV has also acquired the crush plant of the Egypt based oil company located in Borg Al-Arab. In addition, Cargill also has been investing to expand its daily crush capacity from 3000 metric tons to 6000 metric tons with which it will decrease the soybean meal imports in Egypt. This strategy will help Cargill to expand its business across Egypt and North Africa to enhance its customer base by supplying affordable, safe, and healthy food. With the adoption of such business tactics, the players in the soy chemicals market are aiming to utilize their existing facilities and infrastructure in order to meet the growing regional product demand.
The increasing popularity of soybean oil and its byproducts among the manufacturers of consumer and industrial products over petroleum and other hazardous ingredients is slated to stimulate the industry trends over the years ahead. In addition to medicinal usage, the deployment of soybean products for manufacturing coatings, plastics, solvents, adhesives, rubber, and lubricants will also have a positive influence on business growth. Driven by the rising number of facility expansions, soy chemicals market size is anticipated to be pegged at USD 44.5 billion by the end of 2024.
Author Name : Sunil Hebbalkar
Sodium silicate market, an inherent vertical of the specialty chemicals space, has already established its name in the billion-dollar league, owing to the extensive demand of the chemical compound across myriad end-use domains. Pertaining to the product's low cost and ease of use, it has been deployed as a detergent, adhesive, cleaning compound, cement ingredient, binder, coagulating agent, and anticorrosive agent in numerous sectors, propelling sodium silicate market size. Indeed, the compound's widespread and almost all-encompassing presence has facilitated sodium silicate industry to maintain a steady growth graph. The compound is also used as a catalyst, thus generating another profitable growth avenue for sodium silicate market. With continuous research and development programs being conducted to expand the area of application of the compound, it is certain that sodium silicate industry will continue to uphold its profitable position over 2017-2024.Detergents are one of the prime application arenas of sodium silicate industry since decades. This chemical compound is rather to incorporate into the detergent paste and helps in maintaining the viscosity and desired density of the detergent. The product is highly effective in removing spots, neutralizing acidic stains, dispersing proteins and suspending greasy particles in the wash liquid, thus impelling sodium silicate industry size from the detergent manufacturing sector.
U.S. Sodium Silicate Market Size, by Application, 2013 – 2024 (USD Million)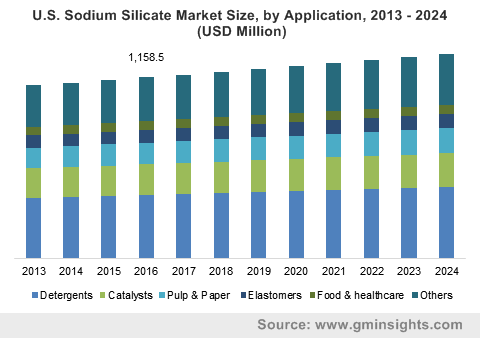 It has been observed that among the varied uses of sodium silicate, the compound is known to efficiently function as a good adhesive. The subsequent deployment of this product as an adhesive has led to a major impetus in the growth graph of sodium silicate market. Sodium silicate adhesives have the inherent ability to easily expand and make contact, forming a rigid layer that is permanent, resistant to tears, and even possesses the capacity to withstand water and heat. The compatibility of sodium silicate adhesives on a varied range of substances like paper, metal and wood besides other materials, has spurred the sodium silicate market share further.
Get a Sample Copy of this Report:@ https://www.gminsights.com/request-sample/detail/2396
Of late, sodium silicate has found extensive application as an effective catalyst for the synthesis of biodiesels that have gained popularity as a sustainable fuel. Currently, amidst the backdrop of a scenario where the lookout for alternative fuel sources has become a race against time, manufacturing biodiesels through the transesterification of organic materials has become rather commonplace. In a bid to simplify the process, sodium silicate is used as an effective catalyst, thereby stimulating sodium silicate industry outlook. The ease of procuring the chemical compound has reinforced its position as a catalyst in the transesterification process. As biodiesels will continue to attain increased application in energy generation and alternative fuel source, sodium silicate market trends will continue to witness a dynamic transformation in the ensuing years.
Sodium silicate is used widely in other application domains such as water treatment, casting, coating, textiles, agglomeration, chemical injection, paper treatment and more. In consequence, this would prove to be a rather beneficial for the commercialization graph of sodium silicate market over the next few years. With numerous chemical companies working toward expanding the application scope of this compound, in addition to innumerable research & development programs being conducted to unearth further prospective product uses, sodium silicate market has been forecast to garner commendable profits over 2017-2024.
Author Name : Paroma Bhattacharya