Electric Chillers
The global district heating and cooling (DHC) market is poised to witness an accelerated growth in the consequent years, primarily owing to growing environmental concerns. Driven by the urgent need to curb carbon emissions, global and regional governments have enforced suitable regulatory measures that have further upheld this industry. As per estimates, the global DHC market was valued at approximately over $200 billion in 2017 and is anticipated to double its remuneration by 2024, given that emerging economies are increasingly investing in the development of various commercial and residential establishments that have a centralized heating and cooling system.
Sweden District Heating & Cooling Market Size, by Application, 2017 & 2024 (USD Million)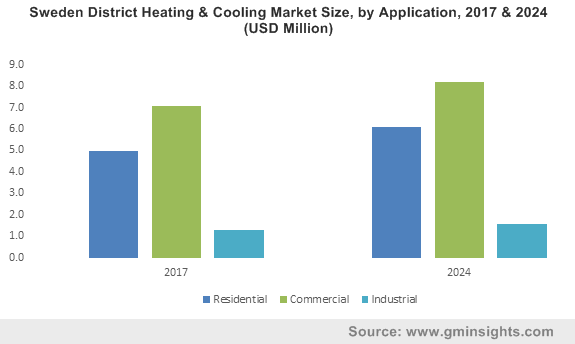 An outcome of economies of scale, the centralized system of DHC is often extremely cost-efficient when compared to the conventional de-centralized systems. However, an obstacle in the growth of this vertical would be the initial investment required for planning and establishing a distribution infrastructure for the installation of a DHC system. The system's cost-effectiveness also depends on whether there exists a pre-established distribution infrastructure which could be employed to deliver the DHC services. In case of an existing network, centralized generation costs 40% less than a de-centralized capacity.
Unveiling global DHC market trends with respect to the different energy sources deployed
District heating & cooling market size from combined heat and power (CHP) market is slated to grow by approximately 6% over 2018-2024. According to the International District Energy Association, traditional power plants are extremely inefficient when it comes to generating power as they only extract and convert only about 35%-40% of the energy from the fuel to generate electricity and the remaining 60%-65% of energy is turned into heat which is then released into a local waterbody or into the atmosphere through a smokestack. The association deems this extreme inefficiency to be a massive problem. However, this obstacle also provides a massive opportunity for CHP plants to effectively harvest the immense heat byproduct to produce steam, to heat or to chill water and then effectively cool or heat the surrounding residential or commercial complexes through a DHC network.
According to the association, CHP plants witness fuel efficiencies of around 75%-80% on a regular basis. Additionally, they significantly boost operating efficiencies while decreasing the carbon footprints, thereby providing a massive scope for the expansion of DHC industry from the CHP energy source. The rapid shift from traditional power generation plants to CHP plants is thus slated to augment CHP-based DHC market.
Get a Sample Copy of this Report:@ https://www.gminsights.com/request-sample/detail/2877
While CHP has garnered commendable traction, DHC industry players have also been tapping the solar energy source rather prominently. As more and more developed and developing economies turn to renewable sources of energy to fulfil their annual energy needs, it is anticipated that the global DHC market will also experience substantial momentum with the adoption of solar power as an energy source. According to a report by the International Energy Agency the only factor that would limit the development of SHC is the scarcity of viable rooftops and ground space that would house the solar collectors at a location that is accessible to the DHC network. However, even with this constraint, it is being speculated that most of the nations across the globe will come to adopt solar power as an energy source to fuel DHC systems across residential, commercial, and industrial establishments.
According to a 2017 report on SHC by the International Solar Energy Society, over 30 GWth of new solar thermal capacity was authorized in 2017 alone, boosting the global capacity to over 470 GWth. Global Market Insights, Inc., claims that the overall DHC market share from solar power was pegged at $4 billion in 2017, primarily driven by the low operating costs, environmental viability, and ease of installation. Solar power is likely to be majorly adopted across developed as well as developing nations, especially across Europe. Indeed, the European Commission has targeted a deployment of SDH systems across Denmark, Italy, Czech Republic, and Germany, with plans to extend a capacity of 8 GWth by 2020.
Although the global DHC market entertains the deployment of fossil fuels like gas and coal to power the centralized DHC hub, there is a significant untapped potential to upgrade the systems to enable them to employ renewable energy sources like solar, solid bio-fuels, different geothermal technologies, low ambient temperatures and waterbodies. The availability of these cost-competitive clean energy sources makes DHC becomes an extremely worthwhile, cost-effective, and viable service, the rising adoption of which would impel DHC market trends. According to Global Market Insights, Inc., the overall DHC market is expected to exceed an annual energy consumption of 19,000 PJ by 2024.
Author Name : Akshay Kedari
Emirates Central Cooling Systems Corporation, one of the pioneers of district cooling market, recently generated a heavy momentum in this fraternity with the news of connecting almost 40 buildings with its district cooling services in the first half of 2018. The total connected load in this period was more than 52000 RT (refrigeration tonnes). Reportedly, the company has further awarded the suppliers and contractors with 25 contracts on new projects across various areas in Dubai, in which the company currently operates 73 district cooling plants. For the record, Empower started its operation in the year 2014 by providing district cooling services to only two buildings and the company set a record of providing services to more than 1000 buildings by the end of 2017. Empower's initiative not just reflects the company's strengthened position in Middle East district cooling market, but also depicts the growing consumer awareness regarding the importance of energy efficient cooling technologies.
China District Cooling Market Size, By Production Technique, 2017 & 2024 (USD Million)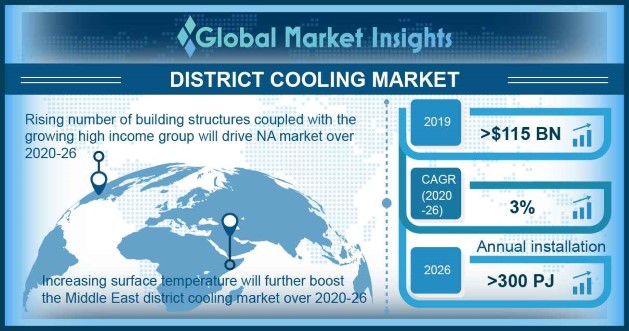 For the uninitiated, district cooling technology bears inherent advantage for areas with dense demographic pattern and huge demand for efficient air conditioning. This is the fundamental reason why district cooling industry observes a massive growth scope across GCC countries. In a bid to unlock the potential of the technology, regional governmental bodies are taking significant initiatives that has immensely contributed in the business share.
The Dubai Supreme Council of Energy, a couple of years back, declared its plans to improve the regional district cooling operations by increasing its investment in the technology from 20% to 40% by 2030. Reportedly, this is in sync with the Dubai Clean Energy Strategy 2050 that aims to transform Dubai into an International hub for clean energy. The initiative was touted as a part of the implementation of the demand side management strategy for the energy sector.
Get a Sample Copy of this Report @ https://www.gminsights.com/request-sample/detail/2672
Another gulf country that has emerged to be a profitable growth avenue for district cooling industry is Saudi Arabia. Increasing construction spending in major cities like Macca and Riyadh in tandem with favorable regulations promoting adoption of district cooling systems are two of the interlinked factors that are expected to push Saudi Arabia district cooling market to reach USD 1 billion by 2024.
From the economic point of scale as well, district cooling market is indeed a viable investment spot for GCC countries. Air conditioning across these regions is deemed to be highly cost intensive. As per estimates, the cooling capacity installation across GCC belt approximately costs around USD 50 billion. Accounting for almost 50% of annual electricity consumption and an annual fuel opportunity cost of USD 20 billion, air conditioning presently is the chief determinant of the region's increasing power requirements. It has been claimed that the cooling demand in this belt would nearly triple by the end of 2030, due to extreme climatic conditions. Meeting this requirement would cost GCC nearly USD 100 billion for installing new cooling capacity and an additional USD 120 billion for new power capacity, if it continues to maintain the existing cooling technology pattern.
District cooling market, however, makes economic sense in areas of highly cooling density. According to estimates, district cooling consumes nearly 40 to 50% less energy for every refrigeration ton-hour that traditional in-house building technologies. In fact, as per experts' opinion, these sustainable services under favorable circumstances offer significant operational efficiency as well as cost gains.
It is imperative to mention that the full potential of the district cooling market can only be achieved via effective governmental interventions. Its long-term potential capacity & fuel saving alone justify the immediate need for sufficient governmental involvements in making this technology mainstream. By incorporating district cooling in urban planning, governments can allow this ecofriendly technology to play a vital part in the overall economic growth. With a strong regulatory backup and unprecedented technological advancements, overall district cooling market is certain to attain remarkable proceeds over the ensuing years.
Author Name : Satarupa De