Electric Insulation
Growing application in electrical & electronics appliances as well as in the textile industry will drive decabromodiphenyl ether market growth. Decabromodiphenyl ether (decaBDE) is an additive flame retardant that has wide applications in plastics, sealants, textiles, adhesives, coatings and many other products. It is used to protect items like electronic equipment, furniture cushions, upholstery textiles, mattresses, carpet backings, vehicles, aircrafts and building materials from the risk of fire.
U.S. 83% Purity Decabromodiphenyl Ether Market Size, By Material, 2018 & 2025, (Kilo Tons)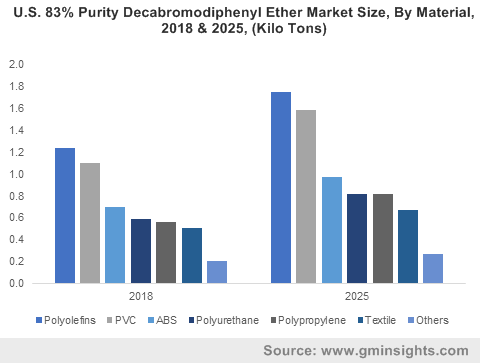 In the past, commercial decabromodiphenyl ether (decaBDE) constituted 75%-80% of the global production of PBDEs (Polybrominated diphenyl ethers), while the total production of c-decaBDE over  1970-2005 was recorded around 1.1 million to 1.25 million tons. DecaBDE consumption peaked in the early 2000's and continues to be used worldwide.
In the building industry, decaBDE is used to develop paper foil laminate, home insulation, hot melt adhesive and architectural foam. In the rubber industry, decaBDE powder is used to manufacture flame retardant rubber conveyor belts that are used in underground coal mines, and to manufacture ventilation bands used as air ducts sealants in mine ventilation systems.
DecaBDE is also found in plastics used in electrical appliances and equipment such as computers, circuit boards, cable insulations and casings. Other uses in the transportation sector include fabrics of automobiles and aircrafts. Driven by a widespread application spectrum, decabromodiphenyl ether industry size may register significant growth over the coming years.
Based on material, decabromodiphenyl ether market is segmented into acrylonitrile-butadiene-styrene (ABS), polyolefins, polyvinylchloride, polyurethane, polypropylene. ABS is often used in automotive and electrical equipment. It exhibits excellent mechanical properties, thus offering good impact strength.
ABS offers good electrical insulating properties, on account of which it finds applications in products like electrical connections, light switches, power points and more. Control housing covers are also made using ABS. Additionally, ABS resins are used in injection molding of parts for medical devices, domestic electrical appliances, and automotive casings. Rising inclination toward the product owing to its superior surface appearance and fire-retardant properties will impel ABS-based decabromodiphenyl ether market share.
Get a Sample Copy of this Report:@ https://www.gminsights.com/request-sample/detail/3414

Surging ABS demand in electrical & electronics appliances and in the construction industry will also fuel the overall acrylonitrile butadiene styrene (ABS) market, a marginal impact of which will be felt across decaBDE industry.
Decabromodiphenyl ether market has registered considerable growth from textile industry. DecaBDE is used to treat a wide range of synthetic, blended and natural fibers. It is used in products like upholstery, window blinds, curtains, mattress textiles and more. It may also be used in synthetic latex foam in protective clothing, carpets, upholstery fabric, tents, and interiors fabrics used in cars, trains and aircraft.
DecaBDE is commonly applied using back coating process in the textiles industry. Padding processes and printing processes are also used to apply this flame retardant chemical. Increasing disposable incomes along with changing lifestyles have enhanced consumer spending on household fabrics, which is anticipated to accelerate product demand in the textile industry.
APAC decabromodiphenyl ether industry is growing on account of high-production demand for flame retardant, especially across China and India. Indeed, the demand for flame retardants has increased exponentially in China, mainly as the country produces large volumes of electronic devices for global markets. According to reliable reports, China's electronics production volume grew from 10% in 2016 to 14.5% in April 2017.
Demand for improved fire retardant and durable plastics for consumer electronics should foster decaBDE demand. Moreover, rapid urbanization has led to increased demand for decaBDE in the residential and commercial building sectors, accelerating the APAC decabromodiphenyl ether market share.
Decabromodiphenyl ether is a flame retardant used to enhance the strength, durability and chemical resistance of numerous end-user products. Increasing application in the automotive, textile and construction industries has accelerated industry growth in recent times. Global Market Insights, Inc., estimates decaBDE market size to exceed USD 430 million by 2025.
Author Name : Mateen Dalal
In the recent years, global aerospace insulation market has been witnessing an exponential growth owing to the surging demand for light weight aircrafts equipped with lower thermal conductivity and enhanced safety. As per the recently published estimates of the International Air Transport Association (IATA), the worldwide demand for air travel incremented by 7.2 percent in October 2017 and the airline capacity increased by 6.2 per cent. To add to it, the foremost trade organization, representing some 275 airlines of the world, has predicted that the global airlines industry is set to garner a record profit in the year 2018, courtesy the recent upswing in developed economies and the burgeoning tourism sector, which would eventually contribute immensely to aerospace insulation market.
U.S. Aerospace Insulation Market, By Product, 2017 & 2024, (Tons)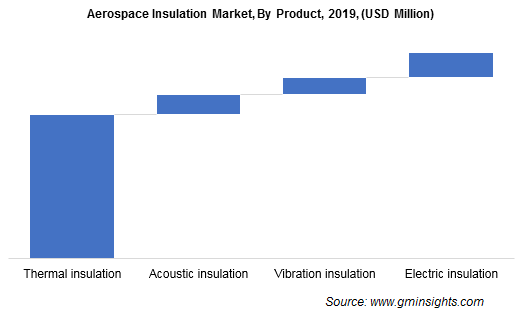 Apparently, the rapid escalation in air passenger traffic has compelled the aerospace regulating authorities across various nations to prescribe stringent laws regarding the utilization of insulating materials by aircraft manufacturers to enhance the operational safety of the aircrafts. Consequentially, it goes without saying that the aforementioned factors are bound to impel the overall aerospace insulation industry over the forthcoming years.
Ceramics to emerge as a robust investment hub for aerospace insulation market contenders:
Concurrently, while contemplating upon the growth trajectory of aerospace insulation industry, which held a total remuneration in excess of 3 billion in the year 2017, it is rather imperative to cite the significance of insulating materials utilized in this business space. The insulating products utilized across various types of aircrafts include mineral wool, foamed plastics, fiber glass, and ceramic materials. Out of these, ceramics are anticipated to emerge as the most popularly used material, courtesy their high tensile strength, steep melting temperature, and impressive chemical inertness.
Get a Sample Copy of this Report:@ https://www.gminsights.com/request-sample/detail/2084
According to estimates, ceramics are expected to account for more than 50% of the overall aerospace insulation market share by 2024. Elaborating further, this material has been witnessing remarkable research activities of late. With humongous resources being poured in the research and development of advanced ceramics, there's no denying the impact ceramics would have on the aviation, space exploration, commercial, and defense sectors, which would further accentuate the growth prospects of global aerospace insulation industry. Following are a few instances that underline the prominence of ceramics in the overall aerospace insulation industry space:
As per recent news reports, researchers from Harbin Institute of Technology, Lanzhou University and Purdue University in collaboration with the U.S. Air Force Research Laboratory, have cited the development of a new flame resistant, light weight, and ultra-elastic ceramic material which blends the nanolayers of aluminum oxide (a ceramic) with graphene. The latest ceramic, being called as "metamaterial", is said to consist of an innovative honeycomb microstructure that equips the material to combine high tensile strength with enhanced thermal insulation and electrical conductivity, remnant of extensive applications that would impel the aerospace insulation industry share over the forthcoming years.
Citing another instance, scientists of Tsinghua University, China and Brown University, Rhode Island have jointly developed a new ceramic material which is said to possess an exceptional capability to rebound back to its original form after compressing up to 50 percent. Furthermore, the latest ceramic can endure a high amount of temperature which makes it an ideal alternative to be utilized as a heat-resistant and flexible insulating material in aerospace insulation industry.
Speaking of the regional growth potential of aerospace insulation market size, Asia Pacific region is set to emerge as one of the most lucrative spaces owing to the rising demand for commercial aircrafts in countries like India, China, and Thailand. In addition, various governments of the region are strengthening R&D efforts by investing heavily in defense aviation sector. To cite an instance, the Indian government is estimated to invest approximately USD 35 billion in the upcoming few decades, as it attempts to fortify its military aviation might.
All in all, these global trends coupled with the exponential increase in the number of commercial aircrafts are certain to provide a slew of commercialization opportunities to the global aerospace insulation industry. According to a research report collated by Global Market Insights, Inc., aerospace insulation market is forecast to exceed USD 5 billion by 2024.
Author Name : Saif Ali Bepari