Electric Motorcycles & Scooters Market Size
Powered by depleting fossil fuel resources & rising increasing concerns on CO2 emissions, electric motorcycles & scooters market has witnessed quite an exponential growth graph lately. Renowned superbike manufacturers like Benelli, Honda, and many more have been involved in myriad research and development activities to launch innovative and effective e-motorcycles. Validating the aforementioned fact, in 2017, Honda launched its future electric and hybrid technology at the Tokyo Motor Show. The technology can apparently be used for the deployment of cleaner, emission-free scooters, as it is endowed with easy battery swapping, enabling users to change batteries any time and get back on the road.
Honda's initiative is remnant of incredible efforts undertaken by prominent electric motorcycles and scooters market giants to contribute toward a greener future. Taking into account the environmental benefits of using electric vehicles, many regional governments have also been implementing strict regulatory norms that would prompt a surge in the adoption of e-vehicles. In accordance, vehicle manufacturers have been found to consistently implement new technologies for attracting end-users.
U.S. Electric Motorcycles & Scooters Market, By Battery, 2017 & 2024, (Units)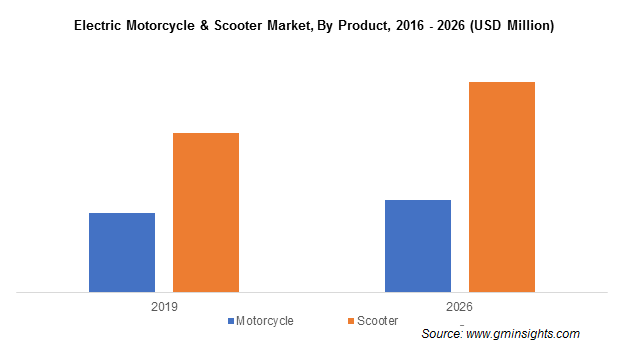 Speaking along the same lines, the governments of several countries have been striving to reduce the ever-lasting, hazardous issue of air pollution. In order to reduce the sale of fuel-powered vehicles for an emission-free future, government bodies have been providing subsidies and incentives to electric motorcycles and scooters industry firms. This alone has proved to be a commendably attractive force for renowned car manufacturers to penetrate the expanding electric motorcycles and scooters industry.
The leading two-wheeler manufacturer, Harley Davidson recently made it to the headlines for announcing its intention to launch its fully electric motorcycle, mainly designed for the reckless youth populace. Harley Davidson's initiative may encourage numerous other companies to introduce fully electric motorcycles that would transform urban transportation. Aided by the increasing popularity of these vehicles by the day and their subsequent deployment, electric motorcycles and scooters industry trends will witness a dynamic transformation in the years to come.
Get a Sample Copy of this Report @ https://www.gminsights.com/request-sample/detail/218
As startups have now begun to penetrate electric motorcycles and scooters industry, the vertical seems to be on the verge of witnessing a ferocious competition. For instance, in the U.S., many skateboard manufacturers have been investing in development of electric scooters. Popular skateboard manufacturing companies such as Bird, Spin, and LimeBike have deployed dockless electric scooters on West Coast and other bigger cities across U.S. In order to generate substantial remuneration, these scooter manufacturers are increasingly investing in research and development activities. With the launch of advanced versions of e-vehicles, U.S. electric motorcycles and scooters industry is slated to register a CAGR of more than 16.4% over 2018-2024.
The shifting trend toward green and emission-free resources will generate lucrative opportunities for potential new investors in electric motorcycles & scooters industry. The launch of innovative and advanced vehicles will help new entrants suitably augment their product portfolios over the years ahead. Regional governments have also been standardizing a set of regulatory norms that are expected to help vehicle manufacturers attract more customers. Lately, reducing vehicle cost has also emerged as one of the strategies adopted by the already established manufacturers in electric motorcycles and scooters market, to further strengthen their consumer pool. Driven by a slew of sustainability goals charted out by regulatory agencies with regards to energy efficiency, electric motorcycles and scooters industry size is anticipated to be pegged at USD 22 billion by 2024.

Author Name :Sunil Hebbalkar