Electrical Steering Column Lock Market Size
Electrical steering column lock market has been witnessing a profitable growth rate since the last few years, pertaining to the growing popularity of the electric power steering (EPS). The EPS technology is lately being preferred in automobiles for its ease of use and the fuel efficiency. Also, there has been a paradigm shift in the deployment of automotive components from mechanical to electronic solutions, which has led to electrical steering column lock (ESCL) market carving out a positive growth trajectory. By 2024 ESCL market size is predicted to surpass a valuation of USD 31 billion, driven by innovations in the automotive sector and the existence of a favorable regulatory landscape that mandates the adoption of EPS in new automobiles. As electrical steering column locks make vehicles much more resistant to thefts, there has been an increase in consumer demand for purchasing cars embedded with these products, thereby augmenting ESCL industry share.
U.S. Electrical Steering Column Lock Market, By Vehicle, 2016 & 2024, (USD Million)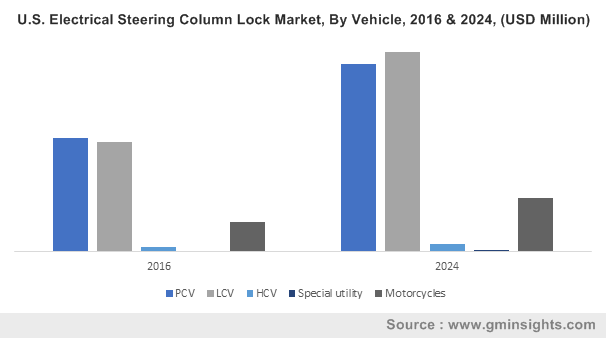 With the emergence of new economies and the rising affordability of vehicles, global automobile manufacturing and sales are expected to soar higher in the years to come. This in consequence, would lead to a robust rise in the sales of automobile integrated with security features, which in turn would impel ESCL market. With security being one of the consumers' principal concerns, cars incorporated with anti-theft features will make them highly viable choice, which will boost the overall electrical steering column lock market size.
A shift of conveyance preference has also been noted with the rise of connectivity and online shopping alternatives. Many consumers nowadays prefer to have goods and services delivered at home – a trend that has provided an impetus to the commercial vehicle industry. In order to make these vehicles more fuel-efficient, the deployment of electric power steering has been made mandatory, which inevitably indicates the implementation of electrical steering column locks in these vehicles to ensure security. In consequence, the commercial vehicle sector would prove to be a lucrative avenue for ESCL market. As per estimates, LCV-based ESCL industry size alone is expected to register a CAGR of 6% over 2017-2024. Significant growth will also be registered in the special utility vehicle segment as customers are leaning towards tailored solutions for specific purposes. Electrical steering column lock market share, as per statistics, is estimated to record a 4.5% CAGR over the next seven years from the special utility vehicle sector.
Get a Sample Copy of this Report:@ https://www.gminsights.com/request-sample/detail/2178
Original equipment manufacturers (OEMs) and traditional automotive players, in recent times, are under continuous pressure to bring about advanced technologies in vehicles that will improve fuel efficiency, reduce emissions and be more capital-efficient. OEMs stand to gain the most advantage with the growth of electrical steering column lock industry, as customers prefer relying on OEMs for their process expertise and reliability. On the other hand, aging vehicles will impact electrical steering column lock market size from the aftermarket domain, as these vehicles are the ones that did not have an installed lock at the time of manufacture, but would now be forced to have one installed or security purposes.
Due to the robust progress of the automotive sector in countries such as China, India and Indonesia, APAC electrical steering column lock market is expected to witness a substantial growth rate over 2017-2024. China alone, in 2016, accounted for 48% of the global SUV shares. In fact, estimates claim Asia Pacific to dominate the overall electrical steering column lock industry by 2024, with a revenue projection of USD 13 billion.
Government directives for better vehicle security has been the driving force for the growth of North America electrical steering column lock market. The National Highway Traffic Safety Administration (NHTSA), for instance, a traffic regulatory body of U.S. has mandated the use of electrical steering column locks in all vehicles. Uniform provision for performance and layout of all vehicle systems as authorized by the European directives will also ensure the implementation of these security products in all vehicles, giving Europe electrical steering column lock market a commendable boost over 2017-2024.
One of the key threats that electrical steering column lock industry will face in the ensuing years is the introduction of fully autonomous vehicles which come essentially without a steering wheel, a fact that will make the electrical steering column locks redundant. However, security risks, lack of consumer understanding and slow rate of market penetration of autonomous vehicles will not make them commercially viable before 2030, which would prove to be an advantage for ESCL industry. For now, OEMs and other major ESCL market players are focusing on making the electrical steering column lock systems in vehicles much better, ensuring not only security but also attracting a wider customer base with better and innovative safety technologies.
Author Name : Paroma Bhattacharya