Electrical
Stakeholders envisage facilities management market share to proliferate at a robust pace in the wake of unprecedented surge in smart city projects. Smart cities—integrated, powered and enabled by digital technologies—have propelled commercial spaces, transportation sector, namely. In recent years, awareness of facilities management has heightened owing to expanding tourism and hospitality industries.
Palpable surge in investments in construction and real estate is expected to underscore robust-looking facilities management market size. For instance, the Canadian government issued an additional funding of US$ 81.2 bn in 2017 across five main funding streams, including green infrastructure; public transit; social infrastructure; trade & transportation projects and meeting the 'unique' needs of rural and northern communities. Apparently, the unique needs include facilities to underpin food security, improved broadband connectivity and local access roads.
The Investing in Canada plan propounded in Budget 2016 and expanded on in Budget 2017, aims to build advanced economic cities. With burgeoning construction projects, demand for various services, including maintenance, construction, electric, operation and mechanical work has soared in recent times.
Get a Sample Copy of this Report:@ https://www.gminsights.com/request-sample/detail/4403
Facilities management market size is projected to surpass US$ 2 trillion by 2025, according to the latest research report by Global Market Insights, Inc.
Despite companies in the late 2000s focused on insourcing, of late there has been notable surge in outsourcing consumption. Companies tend to streamline their operations by embracing outsourcing that reduces business risks, expands profitability, grows competitiveness, enhances productivity and lets companies focus on their major business and competitive advantage.
As such, the outsourced services segment is slated to expand profoundly during the forecast period. That said, seemingly tepid adoption of outsourced FM services may dent the growth of the industry. Meanwhile, given that outsourcing apparently enhances operational efficiency, the outsourced services will underscore facilities management market size.
Popularity of smart homes and offices, including HVAC systems, fire safety systems, elevators, mechanical equipment has augured well for hard services segment that is set to hold significant share during the forecast period. As such, potential dominance of hard service segment is slated to bolster facilities management market share by 2025.
North America facilities management market is anticipated to expand robustly against the backdrop of proliferating tourism industry. With huge revenue at stake, governments globally are vying to woo would-be travelers to their countries led by aggressive marketing and favorable policies.
According to International Trade Administration (ITA), the U.S. travel and tourism industry garnered an economic output of over US$ 1.6 trillion in 2017. The dramatic upsurge witnessed in the number of tourists has been instrumental in rendering facilities management services across shopping malls, airports, amusement parks, and large food centers.
Leading companies are grappling to secure a government deal for FM services to augment their profitability and expand facilities management market size. In Q1 2019, Madrid City Government inked a four-year contract worth 18.62 mn with the facility management company ACCIONA. Reportedly, the Madrid City picked ACCIONA to enhance energy efficiency in 400 municipal buildings, including sports centers, schools, social and cultural centers, among others.
Author Name : Sunil Jha
Owing to a widespread application portfolio along with the increase in pyrotechnic activities, the global strontium market has been observing a remarkable growth over the last few years. Numerous research studies have revealed that strontium plays a crucial role in keeping bones healthy. It slows the rate of bone loss, assists in calcium absorption, prevents bone pain, helps in restoring alkaline state, enhances resistance to fracture, regulates bone breakdown, and boosts bone formation. Natural strontium has proved to be helpful in relieving the bone pain in patients with metastatic bone cancer, as per reliable sources.
U.S. Strontium Market Size, By Application, 2014 – 2025 (USD Million)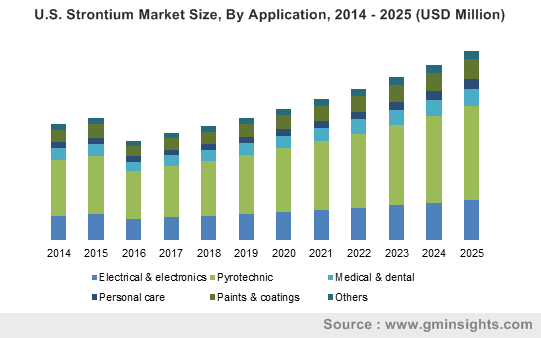 It has also been found that supplementation with strontium deposits the mineral in the bone lesions, essentially suggesting a possibility of utilizing the element to mineralize areas in which cancer-associated bone loss has occurred. Owing to all the superior properties and benefits mentioned above, strontium is being widely used in medical and dental applications in the recent times. In fact, as per the research report by Global Market Insights, Inc., the medical and dental application segment is slated to account for nearly a tenth of the overall revenue share of the global strontium industry by the end of 2025.
Speaking along similar lines, several biotech and pharmaceutical majors have focused on developing products fortified with strontium chloride to mitigate cancer bone pain in patients suffering from painful skeletal metastases. The biotechnology acceleration development firm Q BioMed Inc., for instance, recently filed a supplemental regulatory application with the U.S. FDA to receive the approval to construct its new production unit, which would develop non-opioid injectable named Strontium Chloride Sr89 Injection USP.
Get a Sample Copy of this Report @ https://www.gminsights.com/request-sample/detail/1291
For the record, FDA has already approved the drug which reduces bone pain in patients suffering from bone metastases. The survival rates of patients with prostate and breast cancers, which are at high risk of developing bone metastases, would witness an uptick owing to the development of superior drugs and injectables such as Strontium Chloride Sr89 Injection USP. This would, in turn, fortify the medical and dental applications segment of the strontium industry in the upcoming years.
Increasing usage of strontium in pyrotechnic across the APAC nations set to boost the valuation of global strontium industry
The increasing usage of firecrackers on festive occasions in Asian nations such as China and India have resulted in strong demand for pyrotechnic operations in this region. In this regard, it would be prudent to mention that the colors of most modern fireworks involve metal chlorides – one of the most prominent being strontium chloride. These pyrotechnic operations are majorly deployed in several entertainment activities along the likes of sports events, concerts, and various ceremonies, essentially boosting the Asia Pacific strontium industry share which is estimated to register an annual growth rate of 6.5 percent over the projected time frame.
While the growth in pyrotechnic activities is on the rise, the usage of synthetic strontium is likely to decrease as stringent government regulations are being implemented to curb pollution across several nations. Moreover, steps are being taken by prominent research organizations to develop eco-friendly firecrackers (devoid of strontium nitrate) to reduce air and noise pollution.
In this context, it would be imperative to take note of the less polluting firecrackers recently developed by CSIR, the premier national R&D organization of India. Needless to mention, the development of green crackers, e-crackers and less polluting firecrackers would diminish the demand for strontium for pyrotechnic activities, essentially limiting the growth prospects of strontium industry in the times to come.
Companies such as Chemalloy Co, NOAH Technologies Corporation, Shenzhou Jiaxin Chemical Co., Prochem Inc., Joyieng Chemical Limited, Canteras Industriales, Química del Estroncio, BassTech International, Solvay, and Sakai Chemical Industry Co., constitute the competitive landscape of strontium market. Driven by strong growth in medical and dental applications segment along with the increasing usage of strontium in pyrotechnic activities, the strontium industry is set to garner substantial proceeds in the years ahead.
Author Name : Saif Ali Bepari
The rapidly escalating demand for uninterrupted & reliable electricity in tandem with the rising trend of urbanization will stimulate busbar market size in the years ahead. A major shift from the traditional sources of energy toward renewable energy resources has been observed lately – a trend that will extensively contribute toward impelling busbar industry outlook over the forecast period.
Russia Busbar Market Size, By Power Range, 2018 & 2025 (USD Million)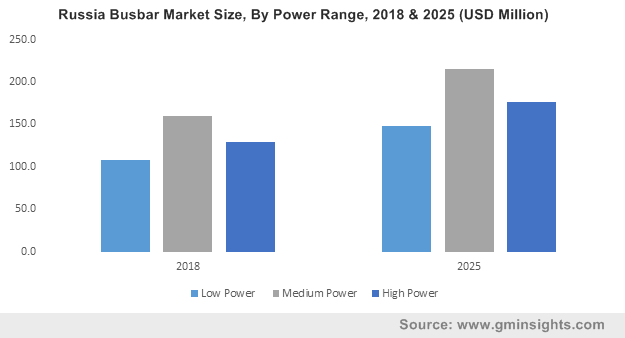 With the application of busbars increasing majorly across the commercial, residential, and industrial arenas, it is indeed undeniable that busbar market share will register a commendable CAGR over 2019-2025. The onslaught of modern technological changes and the need for increasing energy efficiency will lead to a general rise in the refurbishment of already established substations, further stimulating busbar market size.
The demand for electricity has witnessed an exponential upsurge in the emerging economies. In response, the governments of these countries have been making it their priority to strive and provide electric power to all. It is thus rather overt that this would demand the necessity of busbars to ensure proper current flow between the power source and integrated circuits, capacitors and resistors, which would have a commendable impact on busbar industry trends.
Emerging economies have indeed become the focal point for exponential urbanization. Most of these urban centers harbor a population that exceeds several millions and are packed with high-rises, well-lit roads and a lifestyle that requires extensive deployment of electricity. In consequence, this would have a commendable impact on busbar industry size.
Get a Sample Copy of this Report:@ https://www.gminsights.com/request-sample/detail/2399
Since busbars are depended upon for the reliable and long-term supply of electricity, the material of the busbar is a very important consideration. Due to its high conductivity, low electrical resistance, high mechanical strength, high resistance to fatigue failure and ease of fabrication, copper has been found to be a highly favorable material for the construction of a busbar, thereby impelling copper-based busbar market size.
Aluminum comes as a close second as a favorable material for busbars, owing to its cost effectiveness and easy availability. As compared to aluminum, copper has been found to be more advantageous to be used in busbars as most switches and terminals are made of copper and corrosion and jointing problems between dissimilar metals is greater than that between similar metals.
Robust industrialization is a major factor fostering busbar industry growth. Statistics validating the aforementioned fact claim that in 2018, industrial applications accounted for 40% of the global busbar industry share in terms of volume. The use of busbars in industrial buildings has evidently been more advantageous than the use of traditional conduits and cables, as they are easier to install and easily adaptable to changing business needs.
Refurbishment of already existing transmission grid and the replacement of cables with busbars due to their higher power distribution efficiency and space saving capabilities will also positively influence the busbar industry.
As far as refurbishment of existing gird network is concerned, U.S. and Europe have a pivotal share in busbar market, as government support for enhancing power efficiency in these regions has caused a major shift from use of cables to upgrading the power grid network. Evolving electrical product designs have also contributed toward the upgrading of the power grid network, consequently stimulated the busbar market size.
An instance of power grid upgradation and the commendable expansion of the busbar market can be credited to the implementation of energy transition plan in Germany called "Energiewende" that aims at producing 80% of Germany's power through renewable energy resources. For this transition project, a large-scale upgradation of German substations is underway which will directly affect the regional busbar market. In the ensuing years, a rapid shift toward renewable energy sources is indeed inevitable across major end-use domains, which would undeniably drive global busbar market size over 2019-2025.
Author Name : Sunil Hebbalkar