Electronics & IT
In recent years, silver nanoparticles market has emerged as one of the most lucrative business spheres pertaining to the increasing product acceptance across the healthcare and food processing sectors. Silver nanoparticles are prominently integrated into medicines used to treat various infectious diseases including influenza, diarrhea, cholera, and so on. An upsurge in disease burden has been observed across the global economies lately, owing to the surging prevalence of infectious diseases. In order to prevent such outbreaks of infectious diseases, most of the healthcare service providers have suggested the deployment of silver nanoparticles owing to its unique property such as high antimicrobial activity.
North America Silver Nanoparticles Market, By Application, 2017 & 2024, (Tons)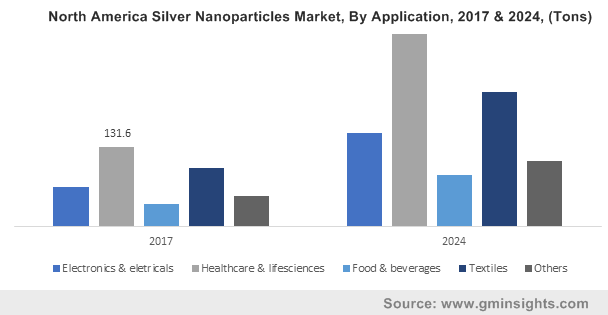 Though toxic in nature, the use of silver nanoparticles is still being researched, to increase their applicability for infectious outbreaks. The rising involvement of the scientific community in discovering the effective usage of silver nanoparticles in biomedical devices is slated to boost the product demand over the years ahead.
Recently, Russian scientists carried out a study to find the eco-toxicity of silver nanoparticles. Since it is vital ingredient is various medicinal formulations and other industrial applications, experts are continuously studying the safety characteristics and risk factors associated with the use of silver nanoparticles. In addition, some of the pioneering biotech companies have been putting their efforts to increase the number of research and development activities to manufacture high-grade cosmetics and nutraceuticals.
Taking into account the primary use of silver nanoparticles in drug formulations, leading medical product manufacturers have been looking forward to acquiring research organizations that have been involved in the development of new formulations. For instance, recently, Apotheca Biosciences unveiled a plant to purchase Nano Creaciones S.A. P.I. de D.V. Research LLC, also known as Nano, which is known for its patented work in the formulations of several medical remedies. Currently, it has been developing cutting-edge nanotechnology that would be used for the development of cotton fiber gauze with silver nitrate nanoparticles which can be deployed for the tissue generation process.
Get a Sample Copy of this Report:@ https://www.gminsights.com/request-sample/detail/1118
This acquisition is also slated to emerge beneficial for Apotheca Biosciences to strengthen its knowledge and level of expertise in the development of CBD products. In addition, it will also enhance its delivery technologies and product portfolio comprising sublingual and transdermal solutions. It is rather discernible that with the adoption of various strategies like mergers and acquisitions, silver nanoparticles market contenders have been attempting to consolidate their stance in the industry. Driven by the product's versatile usage in medical applications, Global Market Insights, Inc., forecasts silver nanoparticles market size from healthcare & life science applications to be pegged at an appreciable USD 1 billion by 2024.
Over the last few years, numerous start-up companies have invested in this business vertical, considering the product's remarkable use in textile applications. The New Jersey-based PurThread is also one of the startup companies that had invested USD 9 million in the development of silver nanoparticle-based solutions to destroy microorganisms in the textile fibers. This technology has been extensively used across military, healthcare, and athletic applications for processing used clothes and textile fabrics. Reportedly, in 2017, textile application accounted for a 25 percent share of silver nanoparticles industry. The continuously increasing adoption of silver nanoparticles across the textile industry will further fuel the market trends remarkably.
In addition to the medical and textile applications, silver nanoparticles have also gained popularity across the food packaging sector. The shifting trends toward the consumption of packaged food along with the prevalence of strict regulations related to packaged food hygiene have also been promoting the usage of silver nanoparticles. In the U.S., the federal government has implemented food hygiene regulations and food safety standards to ensure consumers' safety. The strict initiative taken by the U.S. government has encouraged most of the food processing industries to use silver nanoparticles commercially, which has had a positive impact on the product demand. For the record, with increasing importance for hygienic packaging trends, food and beverages application is poised to generate a revenue of more than USD 300 million in silver nanoparticles industry by the end of 2024.
It is noteworthy to mention that despite having toxic properties, silver nanoparticles have emerged as one of the most massively demanded specialty chemicals. Significant use of nanoparticles in most of the medical formulations will further augment the industry share over the years ahead. The rising efforts by the industry magnates to gain dominance across myriad regions will further expedite silver nanoparticles market. As per estimates put forth by Global Market Insights, Inc., silver nanoparticles market is poised to surpass a revenue collection of USD 3 billion by the end of 2024.
Author Name : Ojaswita Kutepatil