Electronics
​Enhanced productivity and the ability to facilitate manufacturers an optimal supply chain has propelled assembly machine market size significantly. Both manual and automated assembly lines improve productivity, efficiency and quality of manufacturing while reducing labor costs and cycle time. Major application segments like packaging, aerospace, pharmaceutical, military/defense and electronics have proliferated through the deployment of suitable machines on production lines, stimulating technological development.Government initiatives designed to improve a nation's economic status will substantial drive assembly machine industry forecast, for instance in India which has initiated 'Make in India', an effort to help expand manufacturing businesses in the country. The Indian government is pushing for the share of manufacturing segment to increase up to 25% of GDP by the year 2025 from the 16% in 2018.
Manufacturing units across developing economies will be adopting Industry 4.0 technologies like artificial intelligence, machine learning and robotics to transform operations with the help of semi or fully-automated assembly machinery for achieving cost efficiencies without quality compromises.
Need for automatic and semi-automatic assembly machines
Semi-automated assembly machines will be witnessing a major growth in forthcoming years owing to a steady increase in the production of new and greener automobiles, that will in turn stimulate the demand for automotive components like radiators made on use semi-automatic assembly lines.
TQC Automation & Test Solution offers semi-automatic assembly machines in order to allow a manufacturer to test automotive radiators and enable quality control. Semi-automatic machines are essentially preferred over manual machines owing to the time saving functions. These machines are mostly used by small or medium enterprises for improving the manufacturing process under decent budget, while raising productivity and reducing the operational costs.
Get a Sample Copy of this Report:@ https://www.gminsights.com/request-sample/detail/4287
Fully automatic assembly machines will gain favorable traction and influence the business outlook due to use of smart technologies with the combination of cyber-physical systems that help factories become much more productive and energy-efficient. Automated assembly machines eliminate concerns for manual handling entirely and increases output in less time, fostering assembly machine market share globally.
Expansion of automobile and cosmetic manufacturing sectors
Major advances in the robotics technology have initiated the deployment of robotic automation in the automotive segment. Across automotive component plants, assembly machines comprising robots like high speed Delta machines help assemble small components such as motors and pumps. Car assembly involves windshield installation as well as wheel mounting that require automated assembling.
The European Union produced 19.2 million motor vehicles in 2018, which account for around 20% of the total motor vehicle production globally in the year. Companies in the region use advanced technologies for the manufacturing of automotive parts, considerably fueling Europe assembly machine industry size.
With regards to cosmetics packaging applications, equipment like pump priming and leakage testing machines, thin shape lipstick tube assembling machine, finish assembling machines and high-speed mascara bottling equipment run successfully in several multi-national companies. Several such automatic assembly machinery are imported by manufacturers based in Italy, United States, Switzerland and France that have helped the users to enhance their efficiency.
Surging consciousness among people about personal care and perception of beauty standards have increased the demand for cosmetics. Japan is one of the leading markets for beauty products and generated a revenue worth USD 36 billion in the year 2017.
Impact of growing demand in Asia Pacific region
Asia pacific region accounted for nearly 40% of global assembly machine market share in 2018, with countries like India and China reportedly looking to achieve lower manufacturing costs along with less technically skilled labor. Rapid digitization in the region has helped manufacturers expand and scale businesses economically.
Several countries have initiated Industry 4.0 projects for the improvement of manufacturing sectors, including Thailand, Malaysia and Indonesia, each having their own economic agendas.
Companies like Norwalt Design Inc., Hindustan Automation, FANUC Corporation, Kawasaki Heavy Industries Ltd, Humard Automation SA, Haumiller, Extol, Intec Automation and Bystronic Maschinen AG are some of the prominent equipment manufacturers comprising the competitive hierarchy of global assembly machine market.
Players are extensively involved in collaborations and look to acquire other companies to expand their portfolio. For instance, ABB had recently entered into a partnership with Cochin Shipyard, a government owned shipping corporation of India, to be able to provide automated assembly solutions.
Author Name : Riya Yadav
Increasing awareness with respect to volatile organic compound emission (VOC) has propelled adsorption equipment market share, along with the need to maintain indoor air quality standards across varied industrial segments. Symptoms of nausea, difficulty in breathing, irritation in nose, eyes and throat are some of the indicators of excess exposure to VOC caused to humans. These conditions can usually be observed in manufacturing, printing and furniture operations worldwide, presenting a massive need for countering these emissions.
U.S. Adsorption Equipment Market Share, By Application, 2014 – 2025 (USD Million)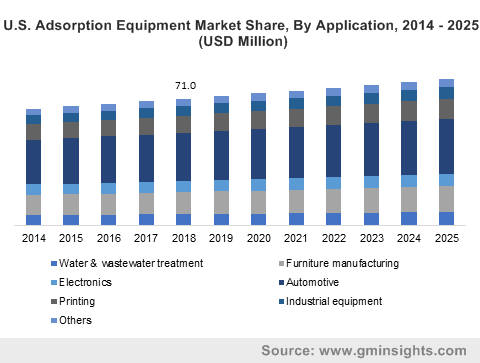 Booming automobile sector across developed and developing nations has strengthened the adsorption industry size. Paints used in the automotive industry emit high levels of xylene, acetic acid, butyl ester and ethyl acetate either during intermediate, top coating and baking process of automobile parts. The growing automobile industry in India, which had witnessed a 9.5% increase in sales to reach 4.02 million units in the year 2017. Widespread application across the auto manufacturing sector will evidently create a substantial demand for controlling VOC emission from paints, magnifying global adsorption equipment industry outlook.
Disposable or rechargeable canisters segment accounts for a substantial share of adsorption equipment utilized worldwide, and is expected to surpass USD 65 million in revenues over the forecast period. These canisters are widely used in the water purification process. According to a report by United Nations, by 2030 over 700 million people globally could be displaced owing to intense water scarcity.
Existence of water pollution in terms of organic pollutants let out by domestic sewage, agricultural wastewater and industrial wastes has added to increase in toxic waste in water. Toxic pollutants can lead to severe environmental issues and can prove to be extremely hazardous to living beings. Adsorption equipment market size will expand notably while becoming an integral part of wastewater management techniques.
Get a Sample Copy of this Report:@ https://www.gminsights.com/request-sample/detail/4206
R&D in the field of vapor adsorption equipment has enhanced the overall industry scope remarkably. For instance, the development of Brayton cycle heat pump that facilitates VOC recycling and recovery has magnified the deployment of adsorption equipment, invariably driving the industry trends. Vapor phase segment in adsorption equipment industry is anticipated to hold a significant share, registering a steady CAGR of around 2.5% from 2019 to 2025.
Owing to the rising automobile sector coupled with stringent regulations related to VOC emissions. the use of adsorbers in the automotive sector has accelerated. Reportedly, the gross turnover generated by the auto sector in EU represents 7% of its GDP. Moreover, governments have introduced an Integrated Pollution Prevention and Control Directive (IPPC) that requires all new installations to comply with its standards in order to control air, water and environmental pollution. The proliferation of automobile, electronics, water treatment and printing sectors in the region will positive steer Europe adsorption equipment market outlook.
Demand for adsorption equipment is clearly driven by the growing need for industries to preserve environmental, water and air quality. With expanding industrial establishments across the globe, governments and other regulatory authorities are discovering the need to control the VOC emissions in order to protect the future of economies. Simultaneously, increasing innovations in the adsorption equipment sphere to suited varied industrial applications is providing impetus to global adsorption equipment industry.
Emissions are an inevitable part of many crucial sectors such as automobile, painting, printing, water treatment, among others, in order to adhere to the government rules and regulations and to contribute to the growing CSR activities by the companies. Several key players offering critical adsorption equipment include Tigg LLC, Monroe Environmental Corp, Munters Corporation and Eisenmann SE, as well as several others. Global Market Insights Inc. has estimated that global adsorption equipment market share will exceed annual valuations of USD 340 million by 2025.
Author Name : Shreshtha Dhatrak
Touted as an essential component across a slew of household and industrial applications, glycol ether market size has increased with concurrent expansion of the chemicals, cosmetics, personal care, paints and pharmaceutical sectors worldwide. As a vast number of products manufactured in these segments are water-based, effective solvents are needed to ensure their stability, shelf life and performance. Supposedly, a variety of product formulations and element combinations would not be possible without the presence of glycol ethers to support their reactions.
U.S. Ethylene Glycol Propyl Ether (EGPE) Market Size, By Application, 2018 & 2025, (Kilo Tons)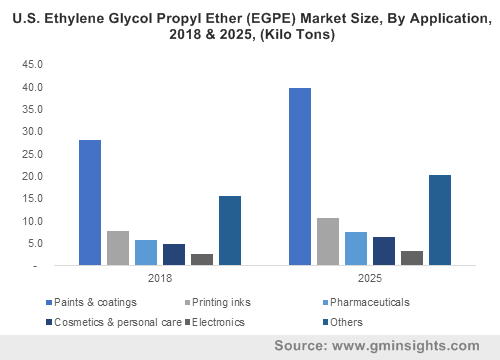 Glycol ethers are applicable in the production of electronics and rubber products, while paints and coatings utilized by automotive OEMs represent a vital segment where glycol ether industry share could witness steady expansion in the years to come. Painting of vehicles represents one of the most critical coating applications, with end products ranging from passenger cars and bikes to all kinds of trucks. Basecoats or clearcoats and topcoat enamel finishes are applied by OEMs during assembly using various paint systems, and glycol ether-based solvents are now being preferred due to their high solvency and evaporation rates.
Suitable coatings provide various aesthetic benefits like enhanced shine and color, along with protecting against UV rays which can fade the exterior paint of a vehicle. Considering few other advantages of these solvent-based coatings and the number of vehicles produced each year, glycol ether market is poised to witness steady demand over the coming years. Evolving automotive sector, which is highlighted by increased preference towards more eco-friendly production processes, will further strengthen the industry outlook.
Get a Sample Copy of this Report:@ https://www.gminsights.com/request-sample/detail/3269
Asia-Pacific (APAC) region boasts of the largest population base as well as some of the fastest growing economies in the world. Not only has the region produced many leading automakers, but car companies form Europe and North America have also established a significant operational presence in the area. Unsurprisingly, auto manufacturing has provided a major boost to the economic growth and created tremendous opportunities for other business verticals, including glycol ether industry.
Referring to data released by the OICA, in 2018 China, India and Indonesia had manufactured more than 34.3 million vehicles combined, indicating the vast prospects benefiting the supportive industries in the region. Driven by rising disposable incomes and the development of more fuel efficient vehicles, the automobile segment in the region can be expected to grow at a considerable pace, in turn generating increased demand for effective paints and coatings. Subsequently, the segment could lead to augmented consumption of glycol ether solvents in APAC over the forecast period.
China's state-owned automobile company, SAIC, had confirmed in late 2018 that a new $2.5 billion plant in Shanghai would be built under its joint venture with Volkswagen AG, where the German carmaker's Audi branded vehicles will be produced. Production at the facility, having a 300,000 annual capacity, is likely to commence from 2020. In addition, SAIC had unveiled recently that it could invest nearly $350 million in India for setting up another manufacturing unit in the country for its MG brand. Similar expansion plans will drive glycol ether market outlook favorably from the paints & coatings segment.
The advent and growing popularity of electric cars (EVs) could reinvigorate glycol ether industry trends, since these vehicles are fast replacing their combustion engine predecessors on assembly lines and on the roads. Accelerated production of EVs globally will simultaneously propel the demand for glycol ether-based solvents to ensure that high-performance and efficient coatings are applied to them, which additionally provide other chemical benefits. For instance, Chinese firm BYD recently signed a deal with an Australian company to build EVs in Adelaide by 2020.
Evidently, a broad application scope and a fast growing automotive sector will significantly foster the consumption of glycol ether based paints and coatings. Globally, glycol ether market size is predicted to exceed $8.5 billion in annual revenues by 2025, outlined by the presence of key industry participants like Exxon Mobil, BASF SE, Dow Chemical, SABIC, Shell and HanNong Chemicals.
Author Name : Pankaj Singh
Owing to a widespread application portfolio along with the increase in pyrotechnic activities, the global strontium market has been observing a remarkable growth over the last few years. Numerous research studies have revealed that strontium plays a crucial role in keeping bones healthy. It slows the rate of bone loss, assists in calcium absorption, prevents bone pain, helps in restoring alkaline state, enhances resistance to fracture, regulates bone breakdown, and boosts bone formation. Natural strontium has proved to be helpful in relieving the bone pain in patients with metastatic bone cancer, as per reliable sources.
U.S. Strontium Market Size, By Application, 2014 – 2025 (USD Million)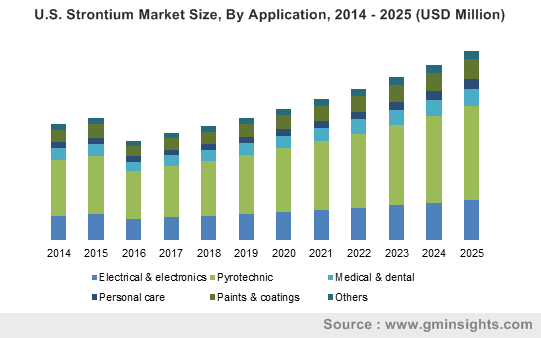 It has also been found that supplementation with strontium deposits the mineral in the bone lesions, essentially suggesting a possibility of utilizing the element to mineralize areas in which cancer-associated bone loss has occurred. Owing to all the superior properties and benefits mentioned above, strontium is being widely used in medical and dental applications in the recent times. In fact, as per the research report by Global Market Insights, Inc., the medical and dental application segment is slated to account for nearly a tenth of the overall revenue share of the global strontium industry by the end of 2025.
Speaking along similar lines, several biotech and pharmaceutical majors have focused on developing products fortified with strontium chloride to mitigate cancer bone pain in patients suffering from painful skeletal metastases. The biotechnology acceleration development firm Q BioMed Inc., for instance, recently filed a supplemental regulatory application with the U.S. FDA to receive the approval to construct its new production unit, which would develop non-opioid injectable named Strontium Chloride Sr89 Injection USP.
Get a Sample Copy of this Report @ https://www.gminsights.com/request-sample/detail/1291
For the record, FDA has already approved the drug which reduces bone pain in patients suffering from bone metastases. The survival rates of patients with prostate and breast cancers, which are at high risk of developing bone metastases, would witness an uptick owing to the development of superior drugs and injectables such as Strontium Chloride Sr89 Injection USP. This would, in turn, fortify the medical and dental applications segment of the strontium industry in the upcoming years.
Increasing usage of strontium in pyrotechnic across the APAC nations set to boost the valuation of global strontium industry
The increasing usage of firecrackers on festive occasions in Asian nations such as China and India have resulted in strong demand for pyrotechnic operations in this region. In this regard, it would be prudent to mention that the colors of most modern fireworks involve metal chlorides – one of the most prominent being strontium chloride. These pyrotechnic operations are majorly deployed in several entertainment activities along the likes of sports events, concerts, and various ceremonies, essentially boosting the Asia Pacific strontium industry share which is estimated to register an annual growth rate of 6.5 percent over the projected time frame.
While the growth in pyrotechnic activities is on the rise, the usage of synthetic strontium is likely to decrease as stringent government regulations are being implemented to curb pollution across several nations. Moreover, steps are being taken by prominent research organizations to develop eco-friendly firecrackers (devoid of strontium nitrate) to reduce air and noise pollution.
In this context, it would be imperative to take note of the less polluting firecrackers recently developed by CSIR, the premier national R&D organization of India. Needless to mention, the development of green crackers, e-crackers and less polluting firecrackers would diminish the demand for strontium for pyrotechnic activities, essentially limiting the growth prospects of strontium industry in the times to come.
Companies such as Chemalloy Co, NOAH Technologies Corporation, Shenzhou Jiaxin Chemical Co., Prochem Inc., Joyieng Chemical Limited, Canteras Industriales, Química del Estroncio, BassTech International, Solvay, and Sakai Chemical Industry Co., constitute the competitive landscape of strontium market. Driven by strong growth in medical and dental applications segment along with the increasing usage of strontium in pyrotechnic activities, the strontium industry is set to garner substantial proceeds in the years ahead.
Author Name : Saif Ali Bepari
With the increased popularity of the attractive fragrance of citrus fruits, especially oranges in personal care products, dipentene market has registered considerable expansion lately. Dipentene or limonene is the colorless liquid hydrocarbon that adds the distinct citric flavor and fragrance in many processed foods, beverages and cosmetic formulations of hygiene and personal care products. Owing to the versatile characteristics of limonene, dipentene market is expected to cater to a widespread range of applications – indeed, the product even finds deployment as an alternative to mainstream pesticides.
U.S. Dipentene Market Size, By End-user, 2013 – 2024 (USD Million)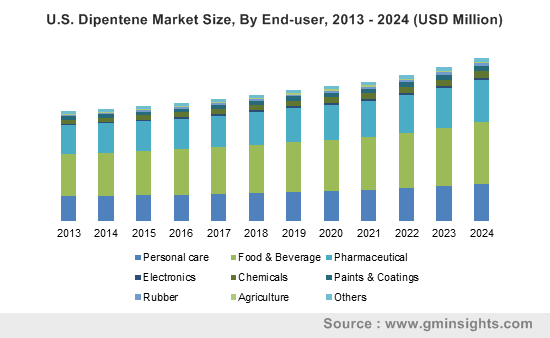 Limonene market has also been expanding rapidly on the grounds of the fact that the product is an alternate solvent to replace petroleum-based ones in several industrial applications such as paints and coatings where VOC emission and low biodegradability of solvents has become a major cause of concern for the wellbeing of the planet.
Global cosmetics and personal care industry statistics clearly point out that the said industry has been earning record revenue as beauty and self-care to preserve a youthful appearance is becoming one of the chief concerns for consumers all over the world. International beauty product companies that offer superior quality products as compared to local products have gained a commendable portion of the cosmetics and personal care industry in emerging nations as income levels of such nations continue to rise. Since limonene is expansively used in beauty products to add a freshening citrus odor, dipentene market is expected to garner major profits in Asia Pacific where the cosmetic market size is projected to surpass USD 126 billion by 2020 and where multinational companies are rapidly establishing a significant foothold. In fact, Asia Pacific has been forecast to be the fastest growing region in the limonene market over 2018-2024.
Get a Sample Copy of this Report:@ https://www.gminsights.com/request-sample/detail/2526
It will be prudent to mention here that dipentene, due to its colorless constitution and fresh, natural fragrance is used in various health care and cosmetic products like suntan products, bath products, cleansers, aftershave lotions, bubble baths, eye shadows, haircare products, lipsticks, perfumes, moisturizers and shampoos.
Rising levels of income is playing a subtler role in the growth of the limonene market as with more disposable income, consumers are opting for more effective ingredients in their products rather than cheaper ones. Manufacturers are therefore touting their products for greater efficiency rather than competitively pricing them which is adding to the enhanced inflow of revenue into the dipentene market. Diversification of distribution channels for cosmetic brands such as online shopping, vending machines, television infomercials, spas and home shopping are adding impetus to cosmetics market and consequently boosting growth of limonene industry.
Dipentene market will diversify its growth avenues beyond the cosmetic industry as research has found that chemicals obtained from orange peel could be utilized as a means of breaking the modern world's reliance on crude oil by being the building blocks in products ranging from plastics to paracetamol. Due to various adverse environmental effects, global industries had been trying to cut down on their dependence on the chemicals and materials that are obtained from fossil fuels, which are rapidly diminishing. As the world is increasing its focus on the development of renewable chemicals from an assortment of sustainable resources such as sugarcane and fatty acids in the production of biofuels, essential oils obtained from waste citrus peels have rapidly come to the forefront as a source that is being investigated with real zest as limonene shares many similarities with the chemicals obtained from fossil fuels.
Though limonene has been recognized as an important component of a bio-based chemical industry it will take the limonene industry considerable time to become a fully commercial means of plastics or polymer production. Issues hindering limonene market include the lack of reliable and greener supply of limonene. As research and development programs exert appreciable focus in bringing petroleum alternatives to the market, it is expected that dipentene industry will massively profit from such endeavors.
Author Name : Paroma Bhattacharya
Growing emphasis on consumer satisfaction and safety has proliferated testing, inspection, and certification (TIC) services market size as governments worldwide have implemented stringent quality regulations on almost every industry vertical. Whether it is construction, automobile, energy, healthcare or other segments, continuous advancement in products and components have necessitated upgraded testing and certification requirements.
What are the factors that will drive TIC services market trends over the forecast period?
Improvements in management, product quality, manufacturing processes, supply chains and service value have become imperative for the growth of any business, imposing the need for TIC services, which would eventually augment the industry outlook. Existence of recognized certifications such as ISO:9001 or ISO/TS 16949 make it easier for customers to search for companies that provide excellent product quality, better customer service and new, innovative solutions.
The global TIC services market share is anticipated to exceed USD 260 billion by 2025, driven by the obligation of companies towards meeting specific product requirements and to comply with international quality standards.
How will transportation application segment help propel the TIC services industry share?
Besides helping to control the quality, effective testing and inspection processes aid in minimizing rejections, reduce manufacturing costs and identify reasons for a defective output. The transportation segment, in general, constitutes a major part of the global manufacturing industry where thousands of components or auto parts go through daily quality checks.
Get a Sample Copy of this Report:@ https://www.gminsights.com/request-sample/detail/2318
As governments and international agencies are constantly raising the weight, material and other standards of automobile components to enhance the safety and efficiency of vehicles, the TIC services industry is subsequently gaining massive popularity. OEMs as well as small auto component vendors are striving to achieve high level of quality and get certified, to get documented and provide validity to their proficiencies and expertise.
Frequent inspection and evaluation of manufacturing processes by in-house or third party services to maintain a grip on the quality level will continually boost the TIC services market.
Will the life sciences segment help drive TIC services market outlook?
The TIC services market is rapidly witnessing demand from the healthcare and life sciences segment, with test and inspection reports of pharmaceutical equipment being critical in assessing whether the international standards are met. TIC companies are trying their best to evolve with technological developments and remain up-to-date with new regulations pertaining to safety and quality.
Products, apparatus and supply chains are subject to quality testing activities regularly, as pharmaceutical companies are responsible for providing vital therapeutic solutions. Even other parties involved in the supply chain must go through intense inspection by assigned representatives to be eligible to acquire critical certifications.
Author Name : Pankaj Singh