Energy Management
The growing concerns about greenhouse gas emissions along with rapid industrialization will propel energy management system (EMS) market trends over the period of 2016 to 2024. As per the report by Global Market Insights, Inc., "Global Energy management system (EMS) industry will witness an annual growth rate of more than 13% over the coming seven years." The depleting non-renewable energy sources has threatened the environment sustainability. Governments across various countries are taking vigorous steps towards the use of renewable energy sources and are emphasizing on energy conservation, which will in turn boost the demand for energy management system.
Europe Energy Management System Market size, by component, 2013 – 2024 (USD Billion)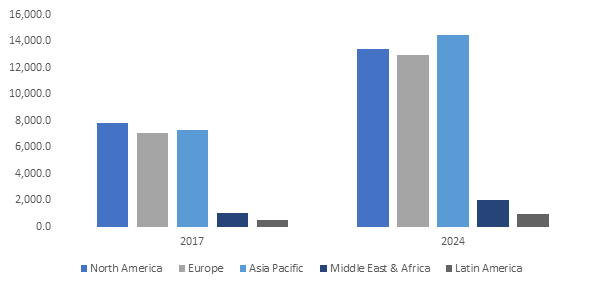 Energy management system component comprises software, hardware, control system, metering & field equipment, sensors, networking device. Sensors accounted for more than 10% of the overall energy management system market share in 2015 and is anticipated to grow noticeably over the coming years. In 2015, metering & field equipment EMS exceeded a revenue of USD 2 billion. Following usage and application of metering & field equipment will generate heavy revenue over the coming timeframe,
To measure total electricity consumption along with consumption pattern and operating cost
It balances the total supply with consumption, thereby improving total network efficiency
Furthermore, control EMS industry will surpass a revenue of USD 3 billion by 2024, mainly driven by its capability to maintain essential environment factors such as pressure, temperature, ventilation, and humidity in a cost- effective manner.
Get a Sample Copy of this Report:@https://www.gminsights.com/request-sample/detail/1115
Buildings, industries, and homes are the some of the major service segments of the energy management system market trends. Building energy management system (BEMS) market collected more than 19% of the total industry share in 2015. Some of the factors will impact positively on BEMS industry growth as mentioned below,
Increasing demand for smart buildings, owing to the rising awareness about carbon footprints
Extensive use of this system in the buildings to control, monitor, and manage energy consumption
Industrial energy management system (IEMS) market surpassed a revenue of USD 9 billion in 2015 and will grow notably over the coming years, owing to its mounting usage to monitor & analyze load fluctuation, real time consumption, and equipment performance.
Home EMS industry size will exhibit an annual growth of more than 16% over the period of 2016 to 2024. The growth can be attributed to government support in terms of financial subsidize to purchase trademark products.
Based on the regional landscape, Japan EMS market share contributed towards 20% of the global revenue in 2015 and is predicted to grow considerably over the coming timeline, due to the rising awareness about GHG emissions coupled with shifting dependency on imported fuel.
U.S. energy management system industry will exhibit a substantial growth rate of over 11% over the coming seven years, owing to government initiations towards energy conservation across this region. China EMS industry is expected to grow noticeably, surpassing a revenue of USD 2 billion by 2024. The attributing factor towards the regional market growth is surging demand for reliable electricity and escalating industrialization.
As per the study, Europe energy management system market share will surge significantly, mainly contributed by Germany, UK, and Italy. The government initiatives regarding energy efficiency will boost Germany EMS market size over the coming years. UK accounted for more than 20% of the overall regional share in 2015 and will observe substantial growth, driven by the fuel scarcity.
Brazil EMS market worth over USD 300 million in 2015 and is expected to register eye-catching growth, which can be attributed to the growing adoption of smart technologies to conserve energy.
Qatar accounted for over 5% of the total regional revenue of the Middle East energy management system industry in 2015. The growing population and rapid industrialization will affect considerably on the regional growth.
The mounting demand for reliable electricity will generate heavy opportunities for market players over the coming years. Few notable industry participants include General Electric Corp., Honeywell International Inc., Schneider Electric, Eaton Corporation, ABB, Emerson Electric, Siemens AG, and Johnson Controls.
Author Name : Sunil Hebbalkar
A slew of advancements in geospatial technology has been instrumental in adding impetus to aerial imaging market lately, to such as extent that government organizations to commercial businesses, have now found ways to utilize the technology to their own advantage. Hurricane Harvey is one of the most iconic examples that demonstrates the progress of aerial imaging industry. The prompt intervention of EagleView Technologies had then restored some relief to the hurricane affected victims, while simultaneously increasing the popularity of aerial imaging.
Aerial Imaging Market Size, By Application, 2017 – 2024 (USD Million)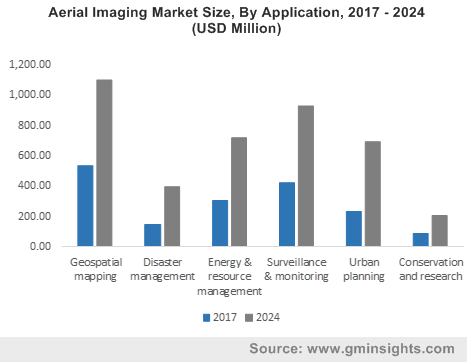 Elaborating further, when Harvey flooded Texas and Louisiana with 27 trillion gallons of water in 2017, it turned out to be one of the most devastating natural disasters in the US history. Besides, it also happened to be one of the most expensive catastrophes which cost approximately $190 billion. Amidst a scenario where thousands of people were displaced from their homes and thousands of others did not know if they had any home left to go back to, the Henrietta based aerial imaging company EagleView Technologies presented a possible means of relief to the victims of the destruction Harvey left in its wake. The company launched a website that depicted aerial views of the streets ravaged by the hurricane. Users could enter a street name and view before and after images to access the extent of damage. EagleView Technologies has so far collected almost 350 million images of over 90% of the most populated areas of the U.S. on behalf of clients which comprise local and state governments as well as insurance companies, that may benefit the hurricane victims.
Get a Sample Copy of this Report @ https://www.gminsights.com/request-sample/detail/105
However, aerial imaging industry is not limited to amassing millions of pictures alone. The vertical is now focusing on collecting images and teaching machines to look at images and generate a report if something of crucial importance is being reflected in those images. For instance, when an electric utility company requires aerial imaging, they do not just want thousands of images of power lines, what they want is to discern which poles are damaged or have broken conductors and need to be repaired. Machine learning facilitates this process by analyzing each image and producing a report for the repair crew with the location of the problem spots. Information collecting companies that are mainstream end-users of aerial imaging market are heavily dependent on this technology to access damage of personal and public property after natural catastrophes. Since it is not possible to send out claim adjustors to every place right after the disaster despite the crucial importance to assess damages as quickly as possible, aerial imaging market has received a considerable boost from the insurance industry.
As such implications clearly point out, disaster survey and management is expected to become one of the most lucrative growth avenues for the aerial imaging industry. In fact, aerial imaging market size from disaster management is expected to register a CAGR of 16% over 2018-2024. Most governments have regulations dictating the pilot of an aerial imaging vehicle to be in the visible range of the vehicle. But as climate change has increased the incidence of natural disasters, such restrictions are being slowly lifted. Advancement of technology is also ensuring that human pilots can be replaced with self-flying drones. This not only decreases the chance of harming human life while they are out in disaster zones but also helps in better assessment as machines can be taught to fly straight and maintain constant altitude. The advent of advanced technology will thus play a pivotal role in aerial imaging market expansion.
Recently Airbus Aerial and DroneBase announced a partnership that will deliver a multi-source data service solution for aerial imaging from a single provider. Such an initiative will enable companies to use a single service provider for all their data and imagery insights. With an international leader and pioneer in aerospace industry like Airbus and DroneBase which has 100,000 commercial missions flown in over 70 countries making a significant investment, other investors are also expected to join in the battle. As the contributions by prominent contenders strengthens the case for this vertical, aerial imaging industry size is expected to cross USD 4 billion by 2024.
Author Name : Paroma Bhattacharya