Energy market
Touted as offering one of the most reliable and eco-friendly heat delivery methods, the district heating market allows the flexibility to tap into multiple sources for generating heat, including renewable energy, and supply it to residences as well as commercial spaces. Government mandates across all the regions are indicative of the efforts to reduce the use of energy sources which emanate high ratios of green house gases and adopt alternatives with low CO2 emissions. The district heating industry segment has evolved to supply heating that is more efficient as compared to traditional systems and more pocket-friendly than having individual boilers. Further, the worldwide upsurge in energy demand alongside the massive urbanization and industrial development being observed will stimulate the expansion of district heating market.
Denmark District Heating Market Size, By Source, 2017 & 2024 (USD Billion)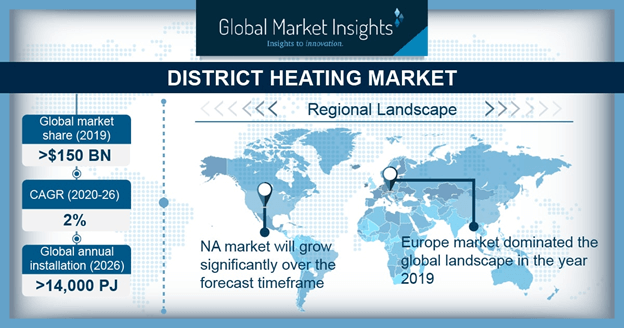 With the potential to achieve considerable reduction in energy wastage and bills for consumers, the district heating market reached an estimated valuation of over USD 180 billion in 2017. The facility to incorporate diverse energy sources into a centralized heat generation and distribution network has presented vast opportunities for governments to decarbonize heat sources in the long run. Such a network can be supplied with surplus energy from power plants, industrial processes, waste management facilities, geothermal sources and gas-based or biogas fueled CHP units. Consequently, a large quantity of valuable energy will not be lost without cause and can be used to generate heat for utilization in homes and businesses. Even unused energy obtained from sustainable sources like wind or solar installations can now be routed to a district heating facility. In addition, not being dependent on a solitary heat source will ensure substantial reliability and service continuity, a key factor in the impulsion of the district heating market.
To outline the present scenario of the district heating industry, U.K. is a prominent region having a magnitude of facilities set up to supply cost-effective, environment-friendly and quick heating services. As per records, there are more than 17,000 heat networks in the U.K., with approx. 91% located in England and 6% in Scotland. Governments in the U.K. are ramping up efforts to encourage the district heating market, with a latest example being the Glenrothes Energy Network in the Glenrothes town of Scotland.
Get a Sample Copy of this Report @ https://www.gminsights.com/request-sample/detail/1401
Providing further details regarding the Glenrothes Energy Network project, it is a GBP 24 million (USD 31.72 million) community heating scheme being developed with the collaboration of Fife council, RWE and the Scottish government. The Fife Council had revealed its target to reduce carbon emissions by 42% by 2020, and the new heat network will help in attaining that mark. The energy center will be using heat sourced from RWE's biomass CHP plant in Markinch, for supplying low-carbon heating to commercial establishments and households in the area. It is slated to lower utility bills, avoid fuel poverty and contribute towards climate change. The plant is fueled by wood waste and generates up to 53MW electricity along with heat. The Glenrothes Energy Network represents the lucrative prospects of CHP based district heating market, which is expected to grow with a rate of over 4% over 2018-2024.
Moving to the district heating industry in Europe, Denmark is a leading contributor to renewable energy development and district heating processes. The country had introduced the Heating Supply Act under which substitution of traditional heating systems with new district heating systems was made obligatory for upcoming buildings. It was reported that over 63% residential population used district heating in 2017. Elaborating Denmark's accomplishments in the field, the Smørum Kraftvarme power plant in Smørum gave a contract to Aalborg CSP in 2017, to build an 8MW solar field spanning an area of 11,312m2 and capable of producing 5,568MWh of heat annually. The solar plant will undercut carbon emissions by at least 1,100 tons per year and give a significant boost to the district heating capabilities of Denmark, which already has multiple heat networks across its kingdom. Several government aided schemes to propagate the importance of a centralized heating system in other parts of Europe are certain to bolster the Europe district heating market share in the coming years.
To summarize, the characteristics that give the district heating industry a distinctive advantage are economies of scale, harness of waste energy, low cost operations and the capacity to reach a large number of consumers. The competitive landscape of the district heating market consists of eminent players like RWE AG, Fortum, NRG Energy, Dong energy, Hafslund, among others that offer comprehensive heating solutions for communities and businesses.
Author Name : Pankaj Singh
Multi Pad Drilling Market has witnessed an impressive growth, owing to development of new techniques that have led to higher efficiencies in natural gas production.  Multi pad drilling is the method that involves drilling of multiple wellbores from only one drill site. These advancements in drilling techniques has resulted into reducing overall drilling time and enhancing shale wells economics. Global multi pad drilling industry is gaining traction as this technique can save operators time as well as a large capital. According to Global Market Insights Inc., "Multi Pad Drilling Market size worth USD 90 billion in 2015, is set to register an annual growth rate of 15% over the period of 2016-2024."
Based on applications, onshore and offshore are the two types of drilling activities carried across the globe. The onshore multi pad drilling industry is anticipated to grow at an annual rate of 15% over 2016-2024. Obtainable conventional and unconventional resources are likely to offer huge untapped opportunities for projects development, which will favor the industrial expansion. Offshore multi pad drilling market will also observe high growth prospects, owing to intensive spending and resource abundance in these locations.
     U.S. Multi Pad Drilling Market size, By Pad Size, 2014 to 2024 (USD Billion)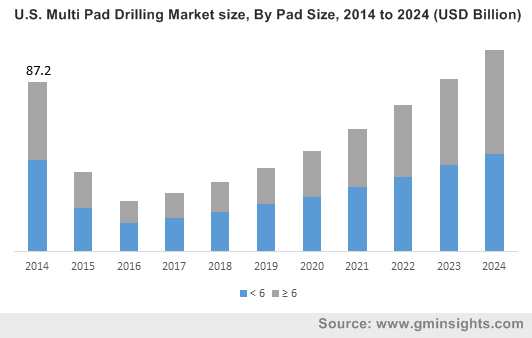 The global multi pad drilling industry comprises two pad sizes (<6 and ≥ 6 pad) based on lateral length and operability. The <6 pad size is foreseen to grow at a rate of 13% over the period of 2016-2024, while the ≥ 6 pad size is set to generate revenue over USD 90 billion by 2024. The easy operability and less supervision property will stimulate the <6 pad size market.
Get a Sample Copy of this Report @ https://www.gminsights.com/request-sample/detail/1199
Strict government regulations to reduce air toxin discharge from oil & gas production facility will augment the multi pad drilling market. The multi pad drilling technique will reduce the negative environmental impact and improve drilling efficiency. For example, 10 wells/pad walking rig is likely to save near 35.8% of the drilling cost per well, while a conventional 4 wells/pad walking rig can save about 26.4% drilling cost.
Geographically, Argentina multi pad drilling industry share is estimated to surpass USD 2 billion by 2024. The country is also emphasizing on providing subsidies to the production of natural gas at new wells by 2020.
China market is projected to record a significant growth subject to abundant access to shale gas resources.
Rising shale gas E&P activities in U.S. and heavy spending in oil & gas projects will favor the regional growth of multi pad drilling industry.
High capital expenditure on oil infrastructure in the Middle East will stimulate the industry growth in the coming years. Middle East multi pad drilling industry is set to record a CAGR of over 7% over the period of 2016-2024.
Russia multi pad drilling industry share is also witnessing a noticeable surge due to increasing offshore drilling actions. Growing undertaking of gas field development projects by Rosneft and DEA will complement the industry growth.
Companies accumulating significant share in the multi pad drilling industry include Earthstone Energy, Trinidad Drilling, Hess Corporation, ExxonMobil, Encana, Pioneer Natural Resources, Marathon Oil Corporation, Consol Energy, Cairn India, Nostra terra, ExxonMobil, Nabors, Chesapeake Energy, Devon Energy, Chevron, and Continental Resources.
Author Name :Ojaswita Kutepatil
High electricity deficit across rural areas of Africa plus escalating requirement for clean energy will stimulate Africa Off Grid Solar Lighting Market expansion. Nearly, 590 million of the African population, encompassing 130 million urban base, are facing power supply problems. As per Global Market Insights, Inc., "Africa Off Grid Solar Lighting Industry revenue is forecast to hit USD 1.4 billion by 2024." Furthermore, plummeting prices of off grid renewable energy systems, owing to technological innovations and growing economies of scale are predicted to further drive the industry trends. Even today, a major chunk of the African population depends on non-renewable energy sources such as candles and kerosene, which are responsible for greenhouse effects. Thus, growing concerns over fossil fuel emissions causing climatic changes as well as fluctuations in seasonal cycles is forecast to benefit market over the years to come.
Ghana Off Grid Solar Lighting Market Size, by application, 2013-2024 (Million Units)
Large Solar Home Systems, Solar Lanterns, and Solar Home Systems are the major products of Africa Off Grid Solar Lighting Industry. Solar Lanterns, which dominated the product landscape in 2015, are predicted to favor Africa Off Grid Solar Lighting market development over the coming years. High urge for inexpensive products and clean energy sources will support the growth. Solar Home Systems are projected to push Africa Off Grid Solar Lighting Market value over the coming seven years, by recording a CAGR of 17% over 2016-2024. High demand for mobiles and smart phones is expected to enhance the popularity of solar home systems.
Get a Sample Copy of this Report @ https://www.gminsights.com/request-sample/detail/623
Off Grid Solar Lighting Systems find major applications across Residential, Industrial, and Commercial sectors. Residential application, worth USD 240 million in 2015, is projected to elevate Africa off grid solar lighting market revenue over the coming timeframe. Growing awareness about the benefits of solar lights usage over kerosene lamps will fuel the growth. Africa Off grid solar lighting market share in the commercial sector is expected to grow at a rate of 16% over the coming seven years, driven by its rising application across retail outlets to promote their business. Industrial application will hit USD 130 million by 2024, driven by continuous power supply demand for small firms to perform everyday business activities/functions.
Below are the regional trends impacting Africa Off Grid Solar Lighting market over 2016-2024:
Rwanda off grid solar lighting industry is projected to record a CAGR of 18% over the coming timeframe, driven by favorable government initiatives along with the presence of many retail stores.
Kenya industry, which dominated Africa off grid solar lighting market in 2015, is projected to grow substantially over the next few years. Supportive government policies inclusive of incentives, tax benefits, and subsidies will push the regional share.
South Africa off grid solar lighting industry will hit USD 65 million by 2024, owing to enhanced use of large solar home systems.
Market players will try to increase their ROI through product development, product benchmarking, introduction of new technologies, and heavy R&D investments. SunnyMoney, WakaWaka, Koninklijke Philips N.V., Suntech Power, BBOXX Limited, BareFoot Power, Nuru Light, ASE, and D. Light are the major players of Africa Off Grid Solar Lighting Industry.
Author Name : Dhananjay Punekar