Energy & Power
Rapid industrialization and technology developments transforming the global manufacturing sector have enabled smart factory market to emerge as a highly lucrative investment avenue over the forthcoming years. Several advancements in the field of automation, communications and computing power have turned intelligent manufacturing facilities into a feasible reality. Today, several manufacturers are looking to bring more efficiencies in production process while gaining the ability to supply a wider range of products to consumers, driving the expansion of smart factory industry.
U.S. smart factory market, by application, 2018 & 2025 (USD Million)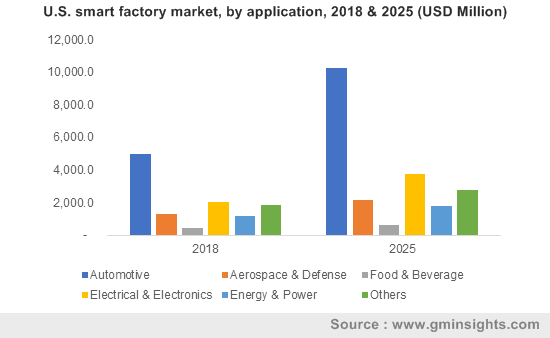 Manufacturers require their production lines and operational processes to be integrated as well as flexible to adapt and enable quick configuration changes to lessen lead times. This helps them to retain a competitive edge in a constantly evolving segment. Smart factories have the ability to address these needs without compromising on quality and safety, positioning the industry in a favorable spot to experience business growth. Not only is building smarter facilities by investing in Internet of Things (IoT) is a massive undertaking, it is also a key component in promoting efficient scalability in the era of Industry 4.0.
Factories that leverage smart manufacturing technology offer a number of benefits to manufacturers including increased productivity, enhanced efficiency and long-term cost savings. Growing awareness of modern manufacturing technologies owing to these advantages will reinforce global smart factory market share. Although high initial investment in smart factories are keeping small to medium sized enterprises at bay, expected rise in affordability of the technologies in the next few years would open up the landscape for these businesses, fueling the adoption of solutions offered by smart factory industry players.
Get a Sample Copy of this Report:@ https://www.gminsights.com/request-sample/detail/1436
The automotive industry is expected to emerge as a prominent growth avenue for the smart factory market over the forecast timeframe. In 2016, multinational automobile company Audi unveiled its Smart Factory 2035 vision in which it envisioned a facility without any assembly lines, instead deploying intelligent, flexible and modern production stations.
Last year, the company had already implemented the proposed vision to manufacture electric motors, wherein vehicle assembly takes place at a production station with automobile components being transported between stations by driverless systems that are controlled by smart IT control systems.
Through this production method, Audi estimates that the factory can produce approximately 400 electric drives with just 100 employees. Audi's initiative offers a proof of the benefits in establishing a smart factory. Several key industry players are expected to follow suit and make investments in their own visions regarding advanced manufacturing plants, significantly boosting smart factory market outlook.
The global food & beverage segment will certainly emerge as a major revenue contributor for smart factory industry due to consistent demand for packaged and frozen food products. A large global population base, that is estimated to hit 9 billion by 2050, tightening regulatory demands around food safety & quality and environmental concerns, as the food & beverage sector consumes 5% of the world's energy, are putting immense pressure on profit margins of producers.
Food and beverage product manufacturers are increasingly looking towards new ways to build flexibility into the inventory management and production process. Adoption of data integration, automation, analytics, energy sourcing and simulation could help companies in transforming their existing factories into intelligent manufacturing facilities to better handle these challenges without severely impacting company margins.
In terms of the regional spectrum, Europe is expected to retain its position as a lucrative market player over the projected period. In fact, Europe accounted for over $25 billion of the global smart factory market share in 2018. The region is home to a number of global automotive firms and according to the European Automobile Manufacturers Association, Europe automobile sector brings in over €90.3 billion in the form of trade surplus. Moreover, the industry is the biggest private investor for R&D in Europe, investing approximately €54 billion annually.
With growing adoption of automation technologies in the food & beverage and automotive sectors, smart factories will undoubtedly become a common trend among large and medium enterprises in the imminent future. Global Market Insights, Inc., has estimated that global smart factory market share will exceed $155 billion in annual remunerations by 2025.
Author Name : Akshay Kedari
The global industrial communication market has thrived successfully in the recent decade as growing adoption of these components in Industry 4.0 has effectively helped increased productivity in major industries. Labor reduction, waste reduction, repeatability, enhanced quality control, and integration with existing business systems have given companies an added advantage by lowering long-term costs, which could indirectly increase product output and revenue.
U.S. Industrial Communication Market Revenue, By Component, 2018 & 2025, (USD Million)

An industrial communication network is the backbone for any automation system architecture as it can offer powerful means of data exchange, controllability and flexibility to connect to various devices. The use of digital communication networks in industries can also lead to improved end-to-end digital signal accuracy and integrity.
Communication networks like LAN (Local Area Network) or WAN (Wide Area Network) can communicate large amounts of data via limited number of channels. Whereas industrial networking enable implementing various communication protocols between field devices, digital controllers and several automation related software tools and external systems. Therefore modern industries have demonstrated increased adoption of industrial communication networks over traditional LAN and WAN. This has led to industrial communication market size depicting a substantial increase lately.
For instance, according to renowned automation conglomerate ABB, and one of the notable players in industrial communication market, the firm's revenue increased by 5% to $7,395 million in 2018. This has been credited to the strong growth in robotics & motion, robust performance achieved from electrification products and a steady result owing to industrial automation.
Some of the trends that industrial communication market is being defined by are mentioned below:
Long-term application of industrial communication in the industrial automation sector
Growing demand for increased data processing speed will foster industrial communication market size in the automation sector. As industrial operations are becoming more complex and variable, the market has registered immense growth over recent years. Indeed, a greater number of network-based programmable controllers and mechanisms are required within modern industries to attain faster decisions and increased productivity and efficiency.
With network-based automation, companies can also attain increased saving in work force, energy, raw material, better control on product quality and enhanced plant availability and operational safety. In fact, the technology can help in raising the levels of process control & continuity with improved efficiency, eventually bringing potential production figures to the nominal plant capacity by cutting downtime, corrective maintenance and the lack of raw material supply to minimum.
With efficient real-time communication system like PROFIBUS-DP or PA, Fieldbus and more, distributed peripherals such as Input/output (I/O) modules, transducers, drives, valves and operational panels can also communicate with automation systems more accurately.
Thus, with the advent of the automated systems that are based on advanced industrial communication and technology, the automation sector will attain enhanced benefits in terms of maintenance, and increase plant productivity, further augmenting industrial communication market size.
Get a Sample Copy of this Report:@ https://www.gminsights.com/request-sample/detail/3367
S. to emerge as a pivotal revenue pocket for industrial communication market in the forthcoming years
Being a major producer of automation equipment, U.S. is anticipated to drive massive growth in industrial communication market. Citing International Trade Association (ITA) reports, the country is the leading producer of hardware components that are used in automated systems as well as a major supplier to manufacturing or production industries across the globe.
In fact, in 2015, U.S. exported nearly $10.5 billion worth of automation equipment to foreign markets, claims ITA. Sources suggest that supportive government policies and the presence of global automation players like General Electric, Honeywell, Rockwell, Emerson Electric and more will pave the way for industrialization in the region. Additionally, the increasing adoption of Industry 4.0 will boost the demand for the industrial communication technologies in the coming years, successfully proliferating U.S. industrial communication industry size.
Wireless communication technologies to enhance industrial operations
Advancements in wireless communication along with growing adoption of advanced tech-based devices will drive the industrial communication industry. The key advantage of wireless systems is that they can be installed in remote locations in an efficient and cost-effective manner. As battery-powered transmitters don't require wired infrastructure or power supply, they can be installed across areas that are far away from power wiring and wired fieldbus.
They can also be installed in sites where setting up power and cabling systems would be dangerous or too expensive. This flexibility allows use of wireless in both Greenfield projects and ongoing Brownfield projects.
Owing to the low-power nature of Wireless HART devices, users can also operate such equipment for several years without replacing the battery. Moreover, engineering, procurement, and construction contractors and plant owners can increasingly shift to wireless communication technology as it is beneficial in terms of reducing physical fixed infrastructure, managing schedule risk and cost escalation, and reducing space requirements and weight.
According to reports, adopting wireless solutions have reduced commissioning time by 50% for some contractors. The technology further helped in streamlining the design and engineering process, maintaining project schedule and improving user's ability to manage change on their project. The prominence of this technology is rather overt from the estimate that wireless charging market size is slated to cross $14 billion by 2024.
Moreover, with industry-leading process plants installing wireless infrastructure, industrial communication market size from the wireless communication protocol is estimated to grow at a CAGR of over 22% over 2019-2025.
In a nutshell, it would not be incorrect to quote that industrial communication industry is likely to come up as a highly profitable vertical of the overall electronics cosmos. As per estimates, global industrial communication market size is anticipated to exceed USD 160 billion by 2025.
Author Name :Mateen Dalal
The revenue graph of operator training simulator market is projected to foresee exponential growth owing to the continuous improvement in these products and rising emphasis on recruiting skilled workforce. Skill development helps to enhance productivity, safety, profitability, controllability, and stability of the enterprise operations. The increasing focus to reduce injuries and fatalities to maintain safe operations across various business verticals is expected to aid the market growth.
Brazil operator training simulator market, by application, 2018 & 2025 (USD Million)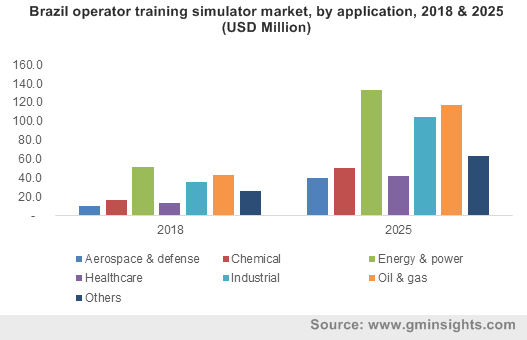 Industry professionals are training their operators to tackle life-threatening situations which has led to increased emphasis on safety of workers, optimization and efficiency of simulators – a factor that is likely to impel the operator training simulator market share in the times to come.
Operator training simulators improve decision making of the operators at critical times while increasing familiarity with the operations. Pilots are required to develop skills like decisiveness, quick thinking, confidence and situational awareness which can be enhanced by simulator trainings. Operator training simulators strengthen confidence to tackle the unfavorable situations. To underscore the significance of simulators, the recent instance of fatal aircraft crash of Ethiopian Airlines can be considered. The crash killed all 157 on board just five months after a similar crash on a Lion Air flight which killed all 189 passengers and crew.
After the accident, the Allied Pilot Association has demanded training on simulators which includes scenarios like those experienced by the pilots of Ethiopian Airlines and Lion Air and additional computer training for 737 MAX to cement the lessons of failure modes in the minds of pilots. Apparently, the deployment of advanced simulators would be crucial in building confidence among pilots, essentially boosting the growth of operator training simulator market.
Get a Sample Copy of this Report:@ https://www.gminsights.com/request-sample/detail/1285
Apart from aviation industry, the railway sector has also emerged as a major end-user to deploy operator training simulator for realistic and robust training to avoid fatalities. For instance, in the year 2018, Indian railways had announced to invest INR 350 crore in operator training simulators to train 1.5 lakh loco pilots and assistant loco pilots to bridge the gap between theoretical and practical learning. The investment is meant to make drivers learn how to navigate rail tracks, curves, signals, bridges and any other situation as if they are driving a real train.
Over 12,000 diesel and electric locomotives daily run on a 66,000-km network across the country. There are about 86,000 train drivers and the simulator training with real feel experiences will assist these drivers to run locomotives efficiently. Apparently, the Indian government's program is a testimony to the increasing prominence of governmental support to high-end simulator training across various geographies – a vital factor that will enhance the growth prospects of the operator training simulator industry.
Notably, defense academies have also been proactive in adopting operator training simulators for public safety and enhancing the overall skill-set of cops. As the police department is responsible for the safety of citizens and maintenance of peace across any country, cops face highly stressful situations on a regular basis which requires high level of patience and panic control. In this regard, simulator training has proved to be of immense help and numerous police academies are deploying these simulators on their premises.
For instance, the New Britain Police Academy has recently adopted simulator trainings to train police to manage stressful responses and make decisions under pressure. The Milo Simulator – chosen by the academy – is an advanced simulator in the state which combines driving an emergency vehicle in highly unfavorable situations such as armed encounters. The human reaction under pressure is unpredictable but this training simulator can help police officers to calmly handle stressful situations.
Operator training simulators have found usage in aviation, railways, police trainings and have applications in several other industries, including healthcare, energy, and chemicals. Operator training simulators play a vital role in training operators in manufacturing and industrial plants. The simulators enhance familiarity with the operations by creating a visual and real-time experience to cement the learnings by experiencing high-risk situations.
Retiring experienced workforce and the increasing demand for quality training of young staff will also contribute in proliferating the operator training simulator industry trends. According to a research report by Global Market Insights, Inc., the operator training simulator market is expected to surpass a remuneration portfolio of USD 20 billion by 2025.
Author Name : Anchal Solanki
The increasing intensity of climate change and the subsequent issue of water scarcity have led to zero liquid discharge systems market gaining substantial significance. Indeed, the system has become an integral component of numerous industrial sectors, consolidating the market into a lucrative investment ground.
U.S. Zero Liquid Discharge Systems Market Size, by End-user, 2014 – 2025 (USD Million)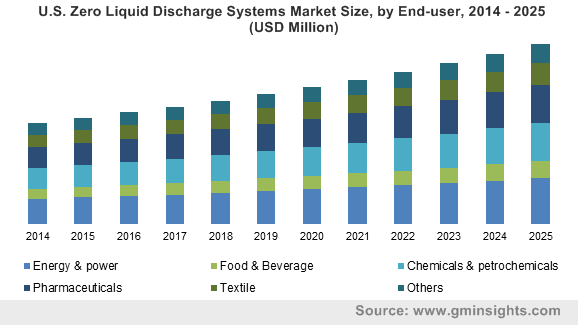 According to a research by the World Resources Institute, climate change is rampant, turning the world's hottest regions even hotter. Meanwhile, as the planet warms, clouds are moving away towards the poles from the equator, further depriving equatorial regions such as Central America, sub-Saharan Africa and the Middle East of rainwater. According to the United Nation's UN Water, the issue of water scarcity is being further exacerbated as rapidly expanding urban areas are placing heavy pressure on water resources nearby, further straining the relationship between water demand & world development.
As these challenges continue to proliferate across the globe, the zero liquid discharge (ZLD) process of water treatment is expected to witness a substantial rise in adoption rates. With more and more enterprises looking to purify & recycle wastewater to dampen their impact on the environment, ZLD systems industry is expected to garner commendable traction ahead..
Role of Europe's environment protection directives on ZLD systems market
In 2018, the European Commission proposed new rules to promote and facilitate water reuse across the European Union for agricultural irrigation. These steps were introduced with the sole purpose of alleviating the pressure of water demands on natural water sources.
The Numbers: According to a recent infographic posted by the European Commission, the challenge currently grips approximately 11% of the European population, severely impacting over 17% of the European Union's territory.
Get a Sample Copy of this Report @ https://www.gminsights.com/request-sample/detail/1961
Moreover, the challenge of water scarcity is no longer confined to a select number of regions across Europe and has started to rapidly become a major concern across the EU. In fact, water scarcity & stress is slated to affect approximately 50% of Europe's river basins by 2030.
The Potential: The European Commission has identified that the EU needs to manage its water resources in a more efficient manner and an effective way to achieve that efficiency is to treat recycled water from ZLD systems as an alternative water supply source. In 2018, the Europe ZLD systems market raised over $1.5 billion in revenues, having treated more than 40,000 million m3 of waste water, however, the continent only reuses 964 million m3 of the treated wastewater.
The potential for additional uptake is quite massive, as the region could reuse more than six times the volume of recycled water that is used currently, presenting a substantial opportunity for the growth of the regional ZLD systems market.
Impact of APAC's developing economies on ZLD systems market
The Asia Pacific is home to a majority of the earth's population & houses two of the world's fastest growing economies; China & India. Apart from these two countries, the region is also home a number of developing nations.
According to a report by China Water Risk (CWR), the adoption of ZLD systems in China is being fueled by the unlikeliest of factors – the nation's thermal power air pollution reduction process, which produces complex and extremely hard to treat wastewater as a byproduct. Moreover, unless a power plant is air cooled, water is by far the most prominently used cooling solution in China, which accounts for approximately 70% to 80% of wastewater volumes.
Driven by such copious availability of waste water, ZLD systems are gaining considerable traction across many industrial sectors across the nation, providing further growth opportunities for the regional ZLD systems market players.
According a report by Global Market Insights, Inc., propelled by severe environmental challenges and the ongoing economic development of several nations like India and China, the global ZLD systems market is projected to surpass the $9 billion renumeration mark by 2025.
Author Name : Akshay Kedari
Rapid industrialization and increased demand for electronic components has propelled the automated optical inspection (AOI) system market expansion, with rise in consumption of automotive and consumer electronics. AOI systems have gained immense momentum for fast and accurate inspection of electronics assembly lines to facilitate the production of only the highest quality PCBs and surface-mount devices. Constant innovations in smartphone technologies and automotive electronics has reinforced the need for lowering time and cost of production, necessitating the involvement of the AOI system industry. Estimated to have recorded earnings of more than US$500 million in 2017, the global AOI system market will experience an accelerated growth rate from augmented industrial automation.
U.S. automated optical inspection (AOI) system market, by end-use, 2017 & 2024 (USD Million)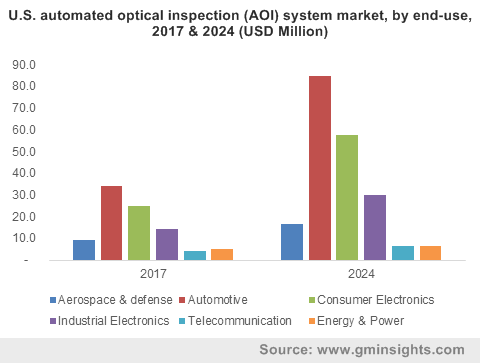 Automation has been a trending process among manufacturers around the world, and more factories are expected to be completely automated in the near future with advancements in communication and robotics. As the field of electronics production get more competitive, achieving the balance between manufacturing speed and quality through automation is considered to be a major factor for success. The AOI system industry is crucial in providing powerful solutions to help manufacturers monitor processes and greatly improve their overall quality. AOI systems can now be integrated with robots, pneumatics and other process components to offer precision quality control.
Increasing focus on consumer protection and the need for reducing the costs involved in 100% inspection process will further bolster the AOI system market. 100% inspection is critical for segments where a human life could be put at risk, for instance medical devices, portable electronics and automobiles. A while back, certain smartphone product launched by Samsung was under scrutiny due to exploding batteries which endangered the users while being charged or operated. It was found out that the leading cause of explosions was improper assembly of batteries, stressing the importance of inspection in automation. Experts believe the company could have avoided this fiasco by adopting quality inspection systems, such as AOI, for inspecting all batteries and not just samples.
Get a Sample Copy of this Report:@ https://www.gminsights.com/request-sample/detail/2969
Speaking further on the significance of the AOI system market, electronic components are becoming smaller in size, making it difficult to perform accurate and fast checks manually. PCBs for different applications require hundreds of parts to be soldiered or mounted on them in a short period of time, needing AOI systems to inspect each and every part, either in pre-manufacturing stages or post-production. Many global industries are adopting fully-automated manufacturing processes for not only PCB production but also cars and consumer electronics. Subsequently, the AOI system industry will witness robust demand over the coming years.
To elaborate, Volkswagen recently announced that it would be construction its electric vehicle manufacturing facility near Shanghai, China, where fully-electric SUVs and other e-vehicles will be made. The company said the new facility will consist mainly of robots, around 1,400 of them, and will be operational by 2020. The expected 300,000 per year capacity of the factory represents extremely high
levels of automation that will be implemented and signifies a key application area for the AOI system market. Government rules and international standards regarding vehicle quality and safety have boosted the demand for advanced AOI systems, as they can match the complexity and speed of automated manufacturing.
Over the years, AOI systems have been optimized to collect data and provide feedback so that the manufacturing process can be improved, and any suitable adjustments are made. When used during the assembly or soldering process, AOI helps to inspect the quality of the product as it is being made, which considerably lowers the need for post-production inspections. The AOI system industry can benefit from the tremendous development in optical sensors and miniaturization of inspection cameras. The enormous opportunities for the implementation of AOI can be surmised from industry estimates which peg the global process automation segment to be valued at nearly USD 50.3 billion by 2020.
As more companies look towards AOI for ensuring a fast, reliable and cost-efficient quality control in manufacturing and process automation, the AOI system market is anticipated to register a 12% CAGR between 2018 and 2024. Viscom AG, Cyberoptics Corporation, AOI Systems, Nordson, ASC International, Omron Corporation and Kurtz Ersa, are some key players outlining the AOI industry dynamics. Compliance with evolving engineering standards and demand for higher quality of products will drive innovations in AOI technology.
Author Name :Pankaj Singh
A highly pivotal space of the smart technology vertical, industrial ethernet market has garnered commendable acclaim in the last few years. Industrial ethernet protocols are known to establish a flexible, scalable, and ubiquitous network that conveniently connects components as and when required.
Canada Industrial Ethernet Market Revenue, By Service, 2018 & 2025 (USD Billion)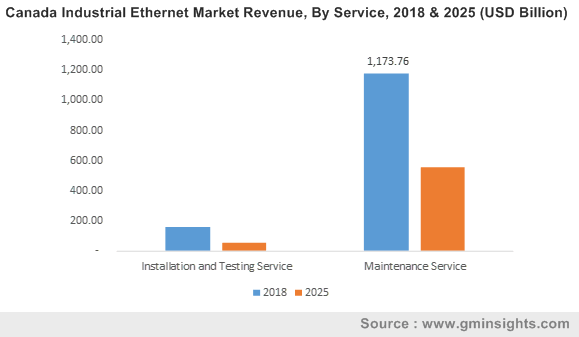 The demand for this software is exponentially high among myriad end-use sectors on account of the rising expenditure on infrastructure and the increasing requirement to enhance performance and network flexibility. Indeed, companies have even been upgrading their already existing Ethernet protocols for performance improvisation, strengthening their stance in industrial ethernet industry.
Citing an instance of the aforementioned statement, recently, The CLPA declared that Renesas Electronics plans to incorporate a gigabit physical layer in its R-IN32M4-CL2 IE communication system-on-chip, through which R-IN32M4-CL2 will now be able to support the CC-Link IE network connectivity with reduced external components. In addition, it would be able to automation system developers embed the CC-Link IE into variable speed drives, PLCs, robots, and motion controllers.
How has IoT proliferation helped increase industrial ethernet industry size?
Industrial Ethernet market has essentially risen to prominence due to the extensive integration of IoT in numerous fields. Technically, industrial ethernet is an improvement over the traditional ethernet in terms of the use of rugged cables and connectors and better determinism. Enhanced determinism in fact, is one of the major factors that is expected to drive industrial ethernet market as industrial environments have a key requirement for determinism.
Packets of data have to be delivered and received with precision every time, while data delay may end up in disasters – may be an unacceptable flaw in production process. Certain protocols of industrial Ethernet such as EtherNEt/IP, PROFINET, TCP/IP have been deployed for achieving better determinism, thus impelling industrial ethernet market growth.
Get a Sample Copy of this Report @ https://www.gminsights.com/request-sample/detail/2437
Rising prominence of smart automobiles to drive industrial ethernet market size
The emergence of the industrial Internet of Things has opened new growth avenues for the expansion of industrial communication market, as IoT will increasingly utilize the higher bandwidth and real time capabilities provided by industrial ethernet. IoT is being majorly deployed in the automobile industry to produce smarter cars in the future – quite overtly, the automotive sector will come to emerge as a prime growth avenue for industrial ethernet market.
Smart automobiles, besides having more streamlined on-board functionality, are expected to have futuristic features like traffic light recognition system, lane departure warning system and advanced driver assistance system. Automobile based industrial ethernet market is expected to grow due to the reliability and versatility of industrial ethernet which will in turn gravitate automobile manufacturers. Experts assume that the cars of the future will be equipped with 60 to 100 Ethernet nodes.
Surging demand for efficient wind turbines to fuel industrial ethernet market outlook
Besides the automobile industry, the energy industry has also largely adopted the use of industrial Ethernet to establish reliable, cost effective and fast communications systems. The wind power generation industry can be considered as an instance if the growth of the industrial ethernet market is to be evaluated through the energy industry.
Communication equipment used in wind power generation operations is required to be hardy and able to withstand fluctuating temperatures. Wind turbines house a complex control and automation system that must communicated with other wind turbine systems to achieve a viable alternative source to traditional energy. Industrial ethernet facilitates this flawless communication thus forging growth avenues for the industrial ethernet market with the rising prominence of wind power industry.
As the demand for Ethernet in the energy sector depicts a rise, the consumption graph of other lucrative business spheres such as power over ethernet (PoE) solutions market is also expected to show an incline, which inevitably will impact industrial ethernet industry size.
The competitive spectrum of industrial ethernet industry comprises a host of biggies such as Honeywell, Cisco, ABB, Siemens, Schneider, and the like. These companies have been striving to enhance the scope of industrial ethernet market via tried-and-tested growth tactics such as establishing partnerships with automation solution vendors. As the demand for automated and smart solutions increases, industrial ethernet market is expected to chart out a highly lucrative growth map over 2019-2025.
Author Name : Paroma Bhattacharya