Energy & Utility
As organizations embark on their digital transformation journey, the global digital twin market size is showing a consistent increase in consort with advancements in the Internet of Things, cloud, machine learning, artificial intelligence, and Industry 4.0 technologies. Digital twin market trends are primarily driven by the technology's ability to dramatically enhance product performance while mitigating the risk and cost of new product introduction. Additionally, this newfangled technology can boost product realization time by eliminating some of the most time-consuming aspects of real-world product development.
Germany Digital Twin Market Revenue, By Application, 2018 & 2025 (USD Million)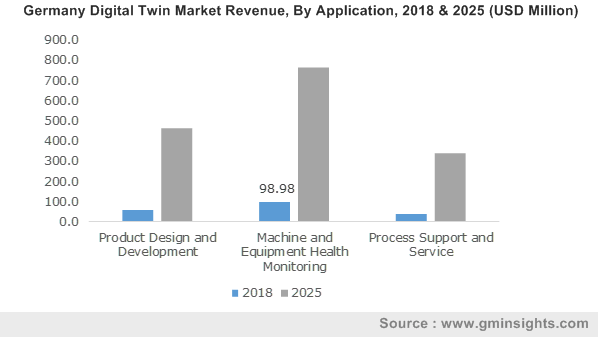 With the rapid proliferation of the Internet of things, a slew of opportunities are knocking the doors of leading players operating in the digital twin market space. Moreover, with digital twins, it is possible that the data which is transferred between blocks can be highly protected and made universally transparent through the blockchain paradigm, thus inspiring global digital transformation. Speaking of the future outlook of this industry, digital twin market statistics by Global Market Insights, Inc.. indicate that the industry valuation is projected to exceed USD 20 billion by 2025.
The fields of application for digital twins are diverse and not confined to a specific domain or industry. Having said that, digital twin market analysis reports claim that automotive, manufacturing, energy & utility, healthcare, aerospace and defense, infrastructure, retail, and consumer goods are the leading end-users of this unconventional technology.
A brief overview of the latest digital twin market trends:
In a bid to create solutions for a better future, the healthcare market has lately become a leading contributor to the digital twin industry revenue. The increasing use of machine learning in medicine and augmented and virtual reality in healthcare market for streamlining hospital processes & operations, augmenting customer experience, and generating real-time analytics, has fueled the demand for digital twins in the healthcare domain. For instance, efficient data entry and location of assets can speed up the patient admittance procedure and save significant waiting time.
With the advent of Internet of things, there has been a rapid increase in smart construction and connected spaces. Digital twins are these days deployed in connected buildings to stimulate building settings based on historical data to detect changes in the design of the building, as well as locate rooms that are wasting power or are rarely used. As smart construction becomes more popular across global economies with growing disposable incomes, the digital twin industry size is slated to rise significantly.
Get a Sample Copy of this Report:@ https://www.gminsights.com/request-sample/detail/2196
3 Biggest business challenges digital twin can overcome:
Accurate inventory to avoid overstocking:
The global inventory management software market space has lately been brainstorming the possibilities of digital twin to reduce cost and revenue leakages, for gargantuan warehouses and supermarkets, where managing optimum inventory level is the biggest challenge. Digital twin market analysis suggests that the availability of real-time consumption data can lead to a quicker replenishment of supplies and avert over-inventorying, which can cause product spoilage. Hence, the fast-paced adoption of digital twin in the inventory market offers lucrative growth opportunities for the digital twin industry.
Addressing the shortcomings of aerospace fleet management:
Some of the biggest challenges in fleet management in the aerospace industry are poor data integrity, slow turnaround time, aging systems, high maintenance costs, and antiquated manual processes. The utilization of digital twin is poised to bring about a paradigm shift in the traditional approaches, by filling the gap amid the physical and the digital worlds. This innovative technology can offer predictive and prescriptive analytics which can reduce unplanned downtime for engines and cut maintenance, repair & overhaul costs, thereby enhancing fleet performance.
Amplifying testing & product development capabilities:
Digital twins can potentially help industries in reducing product development and testing expenses. Companies depending heavily on destructive testing for developing products can use the virtual replica of the real-world scenario for significant portion of the product testing. Say for example, automotive industry can employ digital twin for crash testing prototype vehicles. Likewise, enterprises creating giant models and prototypes for feasibility analysis can save money with digital twins during product development. Digital twin market is slated to advance at a rapid pace in the coming years, given the above backdrop.
Currently, the term digital twin looks like a future concept surrounded by a lot of marketing hype from some top-notch technology companies like Amazon, Microsoft, IBM, and the like. But, considering the unparalleled growth of the digital twin market share in recent years, it can be alleged that this disruptive technology will ensue a broad and deep impact on a plethora of industries in 2019 and beyond.
Author Name : Nikita Chaurasia
The rapidly growing demand for connected devices across the globe is one of the pivotal factors driving enterprise networking market, given that these devices help facilitate real-time communication. In an effort to cope with and overcome the rapidly rising bandwidth bottleneck & network traffic issues, organizations worldwide are embracing network management solutions that keep the traffic flowing while also ensuring network security. The exponential surge in the number of IoT-enabled devices has drastically increased security risks, on the grounds of which organizations are rolling out enterprise network security solutions to obtain visibility of endpoints and unsecured applications & devices.
Europe Enterprise Networking Market Size, By Product, 2017 & 2024 (USD Million)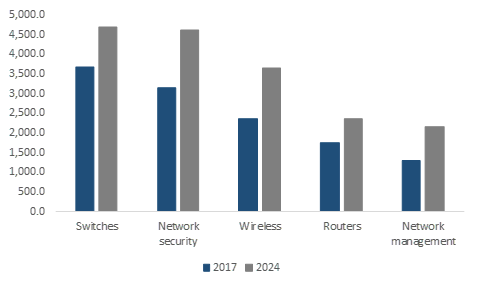 According to a 2018 Enterprise Networking Trends report by Cisco, the company in 2017 had redefined networking with the launch of the first intent-based networking system in the world. The company anticipates that going further, intent-based networking would be the future of networking and would also be responsible for fundamentally changing the way companies think about networks & empowering IT and help the firms with disruptions caused by IoT & cloud.
Enterprise networking market trends are also expected to witness a transformation on account of changing customer preferences toward converged network architecture as well as the network virtualization technology to strengthen the network functions. Shifting user inclination has further enabled organizations to enhance network efficiency at reduced operational costs, which would provide renewed growth prospects for enterprise networking market.
Get a Sample Copy of this Report:@ https://www.gminsights.com/request-sample/detail/2978
Unveiling Asia Pacific enterprise networking market trends:
APAC enterprise networking market is primarily driven by the large-scale adoption of cloud-based infrastructure in the region as the organizations are actively transferring their workloads onto the public cloud. According to a report by the not-for-profit organization, Cloud Security Alliance (CSA), in APAC, Japan, South Korea, Singapore & China are some of the primary nations that have witnessed the highest cloud adoption rate in 2017. The rising prominence of the cloud computing environment has further enabled network architectures that are disparate in nature to contribute to the increasing operational burden. These circumstances have led to a significant rise in demand for virtualization technology which makes the computing environment more agile, effectively addressing the growing network demands.
According to a research report by IT security company, Barracuda Networks, approximately a third of enterprises in the APAC region have already rolled out SD-WAN on a majority of their sites, while more than 55% organizations in the region are in the process of adopting SD-WAN. Propelled by the robust deployment of advanced networking solutions, APAC enterprise networking market is expected to depict the fastest growth rate of 8% over 2018-2024.
Analyzing enterprise networking market trends in terms of switch sales:
In an effort to keep up with the rising need for organizations to facilitate secure & real-time communications while effectively managing network traffic & bandwidth bottleneck issues, enterprises heavily rely upon high-speed ethernet switches. Switching is a crucial networking technology that is used across several organizations' premises to construct their local area networks (LANs) and also across vast distances to facilitate wide area networks (WANs) making switches one of the most widely used networking equipment across the world. According to a 2017 annual report by Cisco Systems, the company witnessed a 5% increase in revenue (approximately $452 million) from the sales of LAN fixed-configuration switches. The increase in the revenue was primarily due to the boost in sales of the company's Nexus & Catalyst series of switches.
According to a 2017 report by Forbes, in 2016 Cisco System's network switches division was responsible for approximately 40% of the product sales, representing more than 30% of the company's net revenue. Switches, having accounted for more than 25% of the enterprise networking market share in 2017, are expected to continue adding momentum to the industry growth, given the surging demand for high-speed data services that has fueled the adoption of network switching technology.
Attributing to the increasing network capacity needs across several global enterprises, the growth graph of enterprise networking market is projected to witness an exponential incline in the years ahead. According to Global Market Insights Inc., enterprise networking market size is expected to be pegged at a mammoth $90 billion by 2024.
Author Name : Akshay Kedari
The surging implementation of IT in several end-use sectors including banking, retail, and telecom is likely to fuel data center cooling market. Currently, data centers play a pivotal role in the functioning of several business enterprises, given that any failure in data center operations can have a rather negative impact on business growth. In fact, data center heat removal is one of the essential back strategies to maintain data centers. The growing priority for precise cooling and heat rejection facilities in order to collect unwanted heat from data centers is slated to stimulate data center cooling industry share. The ongoing innovations in cloud computing and data center platforms has also been favoring the growth of this business vertical. In addition, the emergence of IoT and artificial intelligence has also positively influenced the revenue potential of data center cooling market size, pegged at USD 8 billion in 2016.
China data center cooling market size, by service, 2016 & 2024 (USD Million)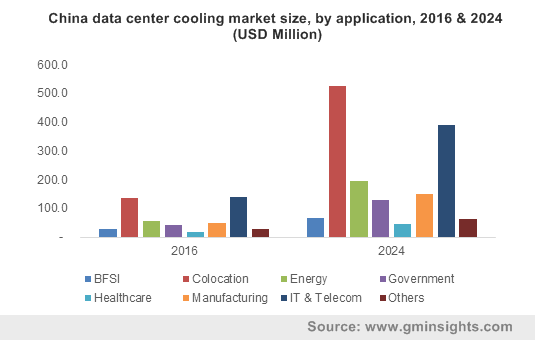 Data center cooling is one of the primary challenges ahead for data center users, owing to the adverse effects of excess heat and high temperature on the performance and lifespan of date centers. In order to enhance operational performance, many organizations are deploying more blade servers, which however results in high electricity requirement. The rise in electricity and cooling demand not only hampers the productivity of data centers but also increases the cooling costs. In this regard, several business enterprises are investing heavily in the development of efficient cooling and heat management facilities, which would considerably impact data center cooling industry trends. For instance, well-known internet giants Facebook and Google have declared an investment plan of USD 700 million to construct data centers in Iowa across U.S, which would help impel the commercialization scope of the regional data center cooling market. Thus, the rising number of investments in data center infrastructure development by leading tech behemoths is likely to influence data center cooling market outlook positively over the years ahead.
Get a Sample Copy of this Report @ https://www.gminsights.com/request-sample/detail/423
Traditionally, in order to construct a new data center, nearly 35% of overall expenditure should be invested on cooling equipment. In fact, the increasing usage of emerging technologies such as Internet of things (IoT) and AI are fueling the requirement of powerful and larger data centers. In this regard, many of the giants in data center cooling market including Black Box Corporation, Schneider Electric SE, Rittal GmbH & Co. KG, Nortek Air Solutions, AdaptivCOOL, and Airedale International Air Conditioning are investing heavily in research and development activities to develop efficient and cost-effective cooling technology. As of now, most of the business organizations are primarily giving preference to liquid cooling systems, pertaining to its capability to consume lesser energy as compared to other systems. Some of the pointers supporting the deployment of these systems have been enumerated below.
Reduction in required floor space: Liquid cooling system takes 50% to 75% less floor space, which may help to install a new data center within available space.
Simplified infrastructure: Pertaining to the removal of components such as ducting, chillers, small PDUs and CPS, LCS's simple infrastructure allows data centers to fit more IT facilities within the same space, thus augmenting data center cooling industry trends.
Safety: Liquid cooling systems offer complete safety when used alongside electronic components.
The robust growth in digitalization across the globe and the increasing demand for big data and cloud computing are likely to have a tremendous influence on data center cooling market. More importantly, increased application development and the fierce competition may help generate lucrative opportunities for data center cooling industry players, thus favoring the growth of the overall business vertical.
Author Name : Sunil Hebbalkar