Engineering
One of the most swiftly progressing verticals of the global smart technologies space, light field market has come a long way since its inception owing to pathbreaking inventions to capture the 3D and 4D light fields. The gradually rising popularity of light field cameras across several business verticals such as industrial, healthcare, retail, entertainment and media, and automotive has certainly propelled the product demand in the recent years. As light field cameras are equipped with thousands of micro lenses between the main lens and the sensor, it lets the user shoot first and focus later which ensures an improved image resolution. Numerous companies appear proactive in adopting light field technology and are developing high-grade products – a factor that would widen the horizon of light field industry in the years ahead.
Japan light field market, by application, 2017 & 2024 (USD Million)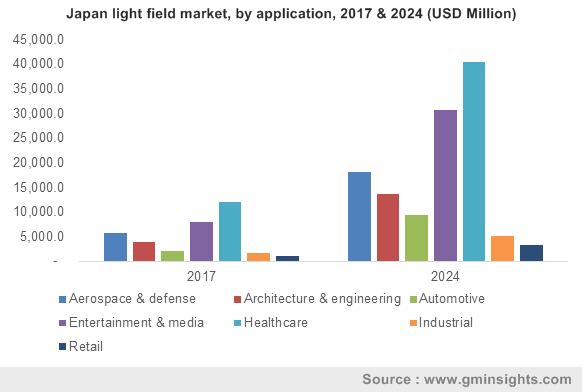 Adoption of light field technology in the entertainment and media sector is altering the contours of the overall industry
One of the major factors that has provided a significant impetus to the light field industry progression is the rapidly expanding entertainment and media application of this technology. In fact, as per a research report prepared by Global Market Insights, Inc., the entertainment and media application apportioned more than 25 percent of the total revenue share of the industry in 2017 – impressive statistics that signify the extensive future growth of this application. This technology is being increasingly incorporated in numerous entertainment medias including amusement parks, theaters, gaming, museums, and apps, predominantly through virtual reality (VR) headsets. Apparently, the light field technology has seemingly demonstrated a new level of how convincing VR experiences can be.
A recent instance lending credibility to the claims of using light field technology effectively in VR is of Google, who has been experimenting with this technology over the last few years. In 2018, the search engine giant released a free application, named 'Welcome to Light Fields', mainly to exhibit the potential of this technology. Notably, the application has been made available on Steam VR for Windows, Oculus Rift, and HTC Vive VR headsets.
Get a Sample Copy of this Report:@ https://www.gminsights.com/request-sample/detail/2664
Speaking along similar lines, it has also been recently reported that Google acquired Silicon Valley-based imaging startup Lytro, which is best known for developing the world's first light field camera and has numerous patents to its name in VR-related imaging technology. With this acquisition, it is being speculated that the company might be looking to strengthen either its VR gaming initiatives or its camera offering in Pixel phones, which is quite unsurprising as prominent players operating in gaming sector are improving customer experience by integrating VR into games. Considering the impact of the top of the line acquisitions and innovative products being unveiled by major tech magnates like Google, the entertainment and media application of the light field industry is undoubtedly set to escalate at an exceptional pace in the ensuing years.
Latin America to emerge as a major revenue pocket for light field industry
Anticipated to register an annual growth rate of more than 16 percent over the forecast timeframe, Latin America has gradually emerged as a lucrative investment avenue for potential stakeholders. The rapidly expanding retail sector in Latin American nations has compelled the major retailers to adopt and leverage new technologies to gain competitive advantage. In this regard, it would be prudent to mention that the proliferation of AR and VR technologies has been assisting the retail sector to improve customer experience and brand engagement ratio.
The brick-and-mortar retail outlets are launching interactive experience devices such as mixed reality headsets to enhance the shopping experience, essentially fueling the growth potential of Latin America light field industry. In addition to the retail sector, the light field technology is being increasingly utilized across other business verticals such as automotive and hospitality, which would, in turn, strengthen the product demand in the times to come.
With light field technology being increasingly used in imaging solution processes along the likes of layout & animation, image construction, 3D scanning, 3D rendering, and 3D mapping and modeling, it remains to be seen how this technology impacts the future of mixed-reality products. However, it is quite imperative to mention that the growth trajectory of light field market appears highly-promising owing to the technology's potential to drastically change the product portfolio of several business verticals. For the record, the commercialization scale of the global light field industry is slated to surpass USD 1.5 billion by 2024.
Author Name : Saif Ali Bepari
With an escalating upsurge in the demand for 3D imaging solutions, the growth graph of LiDAR market is poised to remain exponential in the forthcoming years. The application of LiDAR spans a stream of sectors such as the automobile, construction, archeology, land surveying, and river surveying industries. Perpetual advancements in automation, construction, flood modelling, cartography, navigation, meteorology etc. have also been driving the demand for LiDAR technology. The augmented use of LiDAR technology by governments for different activities, like topographical surveys, pollution modelling, flood modelling, mapping and surveillance, is expected to majorly propel LiDAR market growth ahead.
U.S. LiDAR Market Revenue, By Product, 2018 & 2025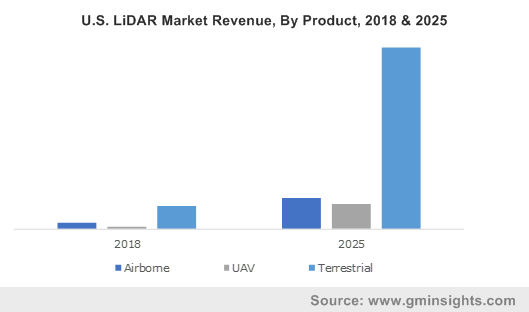 In initial times, heavy scanners were used for surveys, which called for an airplane with an entire managing team to compile the survey in question. The whole process was expensive and required a lot of manpower to complete the survey in a week. Only major government agencies could afford to conduct airborne LiDAR surveys, while the others had to rely on the data compiled by these official agencies.
Now however, with the advent of lightweight, low-cost scanners, equipped with advanced technological developments, the picture of the global LiDAR market has changed considerably. Many companies are incorporating LiDAR technology in their operations to embark on their own surveying activities. The continuous demand for LiDAR is bound to enhance its adoption, thereby fueling LiDAR market growth.
Back in day, companies struggled to procure detailed data for tropical surveys and other purposes due to scarce reliable alternatives. LiDAR however, has documented a revolution in terms of geospatial data and mapping. Currently, companies have started using LiDAR systems mounted onto a UAV for detailed and steadfast 3D mapping. Formerly, large historical sites used to take years for surveying, but now, entire cities can be mapped in 3D in a matter of minutes leveraging UAV aided with LiDAR technology. Versatility and ease of use, and the lure of accurate and visible details with effective mapping will further propel the expansion of LiDAR industry in the years ahead.
Get a Sample Copy of this Report:@ https://www.gminsights.com/request-sample/detail/421
Consumer demands have undergone a major upheaval in the last decade or so. Many leading companies – specifically automakers are seen striving to come up with something innovative by the day for expanding their consumer base. Say for instance, of late, automotive companies have been working tirelessly to manufacture efficient self-driving cars. These autonomous cars are incorporated with LiDAR technology to deliver a high-definition inch-precision map of the area where the vehicle is driving.
Specifically, automakers are known to incorporate mechanical LiDAR devices in the vehicles, given their excellent efficiency. This has also been attracting investments from many automotive companies, expediting the growth of the global mechanical LiDAR industry. As a matter of fact, the continuous spate of R&D activities to commercialize this technology in cars is expected to propel mechanical LiDAR market size, slated to record a CAGR of 32% over 2019-2025.
LiDAR technology has also found its deployment in environment applications. Airborne LiDARs are used to detect and map vegetation, deep waters and dense clouds. LiDAR is being used in oceanography to estimate general biomass and phytoplankton fluorescence in the surface layers of the ocean. LiDAR also enables scientists to determine the biodiversity of the forest helping to preserve ancient trees. This in consequence, is expected to drive LiDAR market share from environment applications, projected to register a CAGR of 32% over 2019-2025.
Boasting of numerous applications across several industries, LiDAR industry is slated to gain commendable traction across the globe. Core companies are focusing on enhancing their existing LiDAR portfolio and several other have been adopting LiDAR in their base operations as well. Driven by the escalating demand to collect highly accurate data across various project sites, LiDAR market valuation is expected to exceed USD 10 billion by 2025.
Author Name : Anchal Solanki