Enterprise
The growth graph of wearable artificial intelligence market has remained exponential since the last few years, primarily driven by the explosive demand for AI across a spate of verticals. Wearables have been a part of the mainstream for a while now, however, they have registered increased prominence in recent times, driven by the rapid advancements in AI technology.
U.S. Wearable AI Market Share, By Product, 2018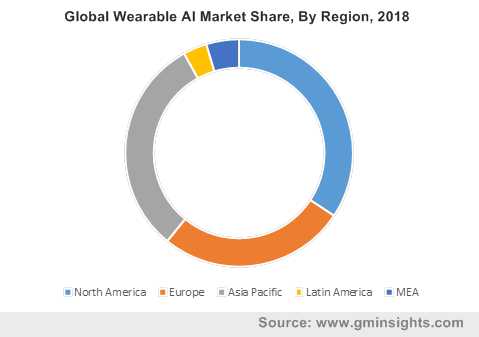 An extremely convincing litmus test of the potential held by wearable AI is the fact that it is gaining significant traction in the impenetrable healthcare industry. According to the Brookings Institution, this potential stems from wearable AI devices' innate ability to record medical data in a substantially reliable manner than their non-AI predecessors, allowing medical professionals to use the data to diagnose & treat diseases in their early stages. Despite being at a somewhat nascent stage, wearable AI industry seems to have garnered massive mainstream popularity.
How have Apple's innovations helped add momentum to the global wearable AI market?
Apple holds a pivotal position in the global wearables space, having pioneered its first Apple Watch back in 2015. According to The Yale Tribune, however, while the Apple Watch was not a complete failure, it did fail in living up to expectations and did not make a significant impact on the industry.
The Rise: According to the Harvard Business School, Apple's reputation surrounding the smartwatch changed when the company started to show significant potential in the field of wearables in 2017 with the release of Apple Watch Series 3. The launch elevated Apple to a leading position in the wearable AI industry, a business vertical expansively characterized by the presence of other smartwatch enterprises.
Get a Sample Copy of this Report @ https://www.gminsights.com/request-sample/detail/3245
The Accolades: Apple smartwatches boasted of being not only the world's most popular smartwatches but also the most popular 'watches' worldwide. Their shipments surpassed Swiss watch exports, reaching the 8 million mark during the fourth quarter (Q4) of 2017 against Swiss watches' 6.8 million.
The Potential: Apple has been instrumental in helping the wearable AI market foray in the lucrative healthcare industry, given that the company's new smartwatches are aimed at incorporating an FDA approved electrocardiograph. The EKG will be able to monitor the wearer's heart's electrical activity and look for signs of arrhythmia, thereby bringing considerable growth prospects for wearable AI market in the coming years.
Impact of expanding AR/VR gaming industry on wearable AI market
The gaming industry is quickly becoming a major business space, holding an edge over mainstream avenues of entertainment. According to the Association for UK Interactive Entertainment, global video game audience is estimated to range between 2.2 billion to 2.6 billion people.
The Potential: According to Fortune, fueled by the release of an array of highly anticipated videogames in 2018, the gaming industry recorded its largest sales over the previous seven years. In 2018, apparently consumers spent an overall $43 billion on video games – an increase of 18% against the 2017 numbers.
AR/VR: The gaming industry has always been a pioneer in incorporating latest technologies in video games to enhance a game's entertainment quotient. The advancements in augmented reality (AR) or virtual reality (VR) have thus facilitated a substantial opportunity for wearable AI market players.
The Projection: VR games facilitate a highly immersive gaming experience that, through more advancements, is expected to interact with all of the user's sensory inputs, actually tricking the mind into thinking that the experience is quite real. Driven by such advancements in AR/VR, the wearable AI market size from gaming applications, is projected to record a CAGR of 35% over 2019-2025.
On account of the expanding smartwatch industry and the exponentially flourishing gaming space, AI-based wearables are expected to command substantial attention in the years to come. According Global Market Insights, Inc., wearable AI market size is slated to surpass the $180 billion renumeration mark by 2025.
Author Name : Akshay Kedari
The telecommunication sector is probably embarking on a transformational shift in recent years. Software Defined Networking (SDN) market is deemed to be a major stipendiary of this transition. Telecommunication networks, apparently, have migrated from traditional hardware and appliance centric deployment to cloud based model, with software playing a pivotal role in network functionality. The increasing popularity of SDN industry can be majorly attributed to this fundamental aspect.
Software defined networking emerged as an advanced architecture paradigm, amalgamating different technological capabilities applied to management of network functions, design, and service platforms. Pertaining to these benefits, numerous IT service companies have been feverishly changing their perspective toward adoption of software-based solutions for resolving several business challenges, which in a way is impelling SDN industry share. It had been stipulated by Cisco in one of its Cloud Index reports, that over 65% of all data centers would adopt SDN technology partially or fully by the end of 2021, a sharp rise from the 2016 records.
U.S. Software Defined Networking Market Share, By Solution, 2018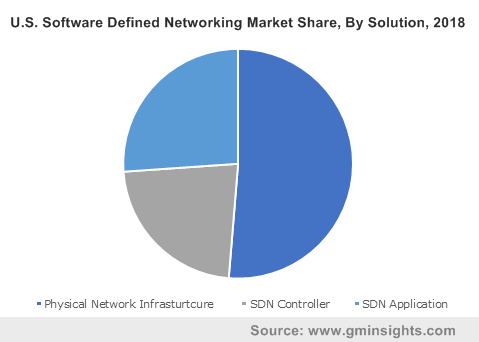 Cradlepoint, one of the formidable players dealing with SDN services, made it to the headlines a while ago, with the launch of its NetCloud service package, that reportedly includes advanced IBR1700 mobile router. Reportedly, this newly designed solution package for its NetCloud platform, brings the benefits of SD-WAN (Software-Defined Wide-Area-Network) to LTE mobile networks for transit operators, first responders, and other fleet-based organizations. As claimed by the cloud-4G network service provider, the new solution is in compliance with the security and performance requirements of FirstNet, the independent authoritative entity under NTIA within U.S.
In a bid to reinforce its position in SDN market, Orange Business Services signed a collaborative agreement with Cisco a while back. Apparently, in consequence of this deal, the former is planning to showcase the onboarding of Cisco's SD-WAN virtual network function on Cisco ENCS (Enterprise Network Compute System). In fact, with the aforementioned platform under its belt, Orange Business Services' customers would gain a fully functional visualized solution for their network services, as a part of Orange universal CPE offering.
The U.K. based telecommunications behemoth, Colt Technology Services, had apparently declared its plan of expanding its On Demand SDN service across APAC belt. Powered by Colt IQ Network, the firm's On Demand SDN services are characterized by high flexibility, real-time bandwidth variation, and agility. Making a profound headway in APAC SDN market share with the successful launch of these services in Japan, Colt had also planned to introduce the same On Demand SDN services in Hong Kong and Singapore as well.
Get a Sample Copy of this Report:@ https://www.gminsights.com/request-sample/detail/2395
Tremendous technological interventions in the telecom sector have evidently narrowed the gap between developing and developed nations, giving SDN industry players lucrative opportunities to extend their geographical reach. However, considering the immense investments by U.S. telecom service providers in software defined networking, the regional SDN market has undoubtedly turned out to be hotbed for potential investors. For instance, American telecom giant AT&T has recently poured in USD 200 million to support startups that mainly focusses on promoting SDN technology and connected services. These kinds of hefty investments toward integrating new age software facilities in the existing telecommunication network is certain to leave a positive impression on U.S. SDN market size.
Speaking of its commercialization potential at the global scale, overall SDN industry size is forecast to exceed a valuation of USD 100 billion by 2025. With incessant efforts undertaken by the tech giants to unlock software-based technology potentialities in telecommunication industry, which has, of late, become more insight driven, SDN market demand is claimed to be on a robust incline. In fact, looking at the pace of advancements and expansion in its application spectrum, this particular business vertical is deemed to be one of the most fascinating spheres to watch unfold, claim analysts.
Author Name : Saipriya Iyer