Entertainment & Media
Rising digitalization and use of e-payment platforms are driving cloud POS market growth. Cloud-based POS is an adaptable, easy to implement and cost-effective solution compared to traditional POS systems. It is integrated with features like inventory management, customer relationship management, loyalty programs and more. For small-to-medium sized businesses (SMBs), a cloud POS system can ensure enhanced customer experience whilst coping up with rapidly upgrading technology.
U.S. SMEs cloud POS market, by application, 2018 & 2025 (USD Million)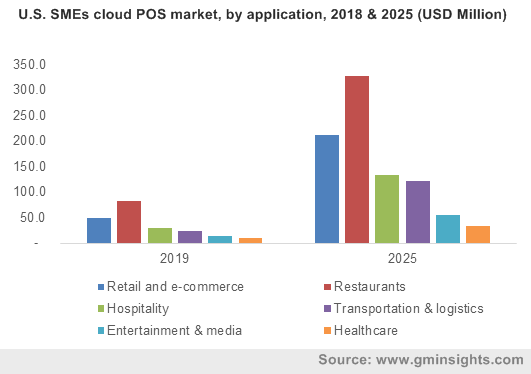 With cloud POS, SMBs can quickly, safely and securely access information using their mobile device. Using tools like data monitoring, inventory tracking, transaction history and more, cloud-based systems can offer enhanced profitability and become an invaluable resource for SMBs.
Notably, cloud POS can be integrated into existing system, increasing security and visibility of restaurant or retail store information. Additionally, it can easily be upgraded, and can track application growth and essential business needs. Product lines, features or stores can also be added to its software. Aided by such profound features, product demand has increased significantly over recent years, expanding cloud POS market size.
Cloud POS market is gaining massive proceeds from the restaurant and hospitality sector. A restaurant cloud POS system is an integral part of daily operations as it helps conduct tasks like billing, ticketing, tax management, invoicing and more. The system aims on delivering superior customer experience and cost control while further growing store revenues and overall profitability.
It enables restaurants to manage orders, make payment, and conduct promotions, and even supports the latest cashless and e-payment platforms that consumers use. The robust use of the system is rather overt from the extensive growth of restaurant POS terminals market as well. Indeed, with growing technological advancements, cloud POS has become a complete restaurant management system providing features like stock and inventory management, detailed reporting and analytics customer relationship management, marketing and more.
Get a Sample Copy of this Report:@ https://www.gminsights.com/request-sample/detail/3418
Growing demand and use of e-payment transactions will augment the cloud POS industry share in the restaurant sector. Furthermore, according to a recent study, the number of credit card payments have reportedly grown by 10.2% in the year 2016 to 37.3 billion with a total value of $3.27 trillion, while digital wallets such as Apple Pay and Android Pay are expected represent $503 billion in transactions by 2020. These instances aptly prove that cloud POS market is here to stay.
APAC cloud POS market is growing robustly on account of rapid digitalization and increased use of cashless payments. India's foodservice sector in particular, continues to grow rapidly on account of rising number of restaurant dining and foreign tourists. Increasing consumer income has made restaurant dining more accessible. International hotel brands have also been expanding their presence in the continent, that has further fostered the regional cloud POS industry size.
With cloud POS, restaurant outlets can acknowledge orders directly to these aggregators. Moreover, with growing technological advancements, the APAC cloud POS is poised to register increased demand in the forthcoming years. Indeed, it has been speculated that the Asia Pacific region will observe a commendably high adoption of restaurant POS solutions, on account of the increase in the usage of POS systems for food delivery. As per estimates, APAC cloud POS market size will register a CAGR of 27% over 2019-2025.
Cloud POS systems are web-hosted solutions that store information on remote servers which can be accessed online. The system is increasingly used in restaurants and retail stores for recording data, taking orders, making bills, managing inventory and more. Reports from Global Market Insights, Inc. estimate cloud POS market to surpass USD 6 billion by 2025.
Author Name : Mateen Dalal
One of the most swiftly progressing verticals of the global smart technologies space, light field market has come a long way since its inception owing to pathbreaking inventions to capture the 3D and 4D light fields. The gradually rising popularity of light field cameras across several business verticals such as industrial, healthcare, retail, entertainment and media, and automotive has certainly propelled the product demand in the recent years. As light field cameras are equipped with thousands of micro lenses between the main lens and the sensor, it lets the user shoot first and focus later which ensures an improved image resolution. Numerous companies appear proactive in adopting light field technology and are developing high-grade products – a factor that would widen the horizon of light field industry in the years ahead.
Japan light field market, by application, 2017 & 2024 (USD Million)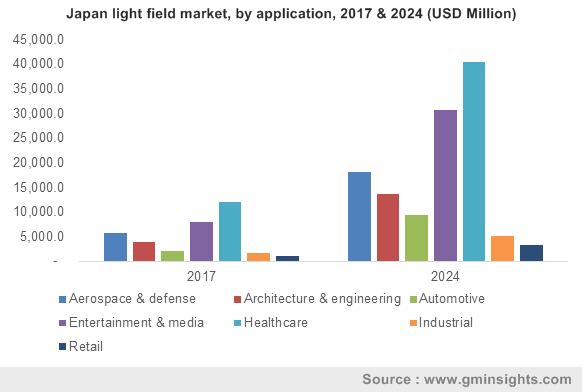 Adoption of light field technology in the entertainment and media sector is altering the contours of the overall industry
One of the major factors that has provided a significant impetus to the light field industry progression is the rapidly expanding entertainment and media application of this technology. In fact, as per a research report prepared by Global Market Insights, Inc., the entertainment and media application apportioned more than 25 percent of the total revenue share of the industry in 2017 – impressive statistics that signify the extensive future growth of this application. This technology is being increasingly incorporated in numerous entertainment medias including amusement parks, theaters, gaming, museums, and apps, predominantly through virtual reality (VR) headsets. Apparently, the light field technology has seemingly demonstrated a new level of how convincing VR experiences can be.
A recent instance lending credibility to the claims of using light field technology effectively in VR is of Google, who has been experimenting with this technology over the last few years. In 2018, the search engine giant released a free application, named 'Welcome to Light Fields', mainly to exhibit the potential of this technology. Notably, the application has been made available on Steam VR for Windows, Oculus Rift, and HTC Vive VR headsets.
Get a Sample Copy of this Report:@ https://www.gminsights.com/request-sample/detail/2664
Speaking along similar lines, it has also been recently reported that Google acquired Silicon Valley-based imaging startup Lytro, which is best known for developing the world's first light field camera and has numerous patents to its name in VR-related imaging technology. With this acquisition, it is being speculated that the company might be looking to strengthen either its VR gaming initiatives or its camera offering in Pixel phones, which is quite unsurprising as prominent players operating in gaming sector are improving customer experience by integrating VR into games. Considering the impact of the top of the line acquisitions and innovative products being unveiled by major tech magnates like Google, the entertainment and media application of the light field industry is undoubtedly set to escalate at an exceptional pace in the ensuing years.
Latin America to emerge as a major revenue pocket for light field industry
Anticipated to register an annual growth rate of more than 16 percent over the forecast timeframe, Latin America has gradually emerged as a lucrative investment avenue for potential stakeholders. The rapidly expanding retail sector in Latin American nations has compelled the major retailers to adopt and leverage new technologies to gain competitive advantage. In this regard, it would be prudent to mention that the proliferation of AR and VR technologies has been assisting the retail sector to improve customer experience and brand engagement ratio.
The brick-and-mortar retail outlets are launching interactive experience devices such as mixed reality headsets to enhance the shopping experience, essentially fueling the growth potential of Latin America light field industry. In addition to the retail sector, the light field technology is being increasingly utilized across other business verticals such as automotive and hospitality, which would, in turn, strengthen the product demand in the times to come.
With light field technology being increasingly used in imaging solution processes along the likes of layout & animation, image construction, 3D scanning, 3D rendering, and 3D mapping and modeling, it remains to be seen how this technology impacts the future of mixed-reality products. However, it is quite imperative to mention that the growth trajectory of light field market appears highly-promising owing to the technology's potential to drastically change the product portfolio of several business verticals. For the record, the commercialization scale of the global light field industry is slated to surpass USD 1.5 billion by 2024.
Author Name : Saif Ali Bepari