Entertainment
Fueled by rapid technological advancements in embedded systems and growing demand for compact, power-efficient products, system on module market outlook has effectively transformed in recent years. Essentially, the product is a fully featured single board computer comprising a single microprocessor, RAM, input-output controller and many other components, and is designed specifically for integration into embedded applications.
Germany system on module market size, by application, 2018 & 2025 (USD Million)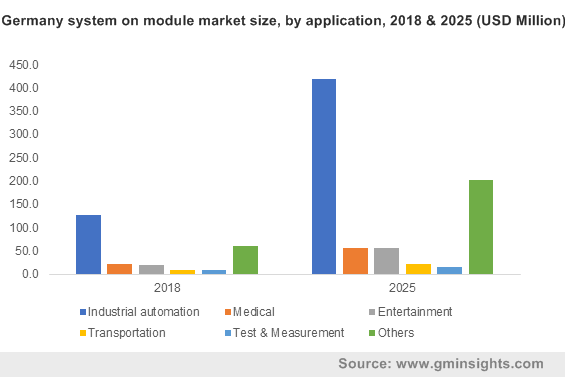 With multiple embedded wireless solutions like 802.11a/b/g/n/ac and Bluetooth, the product can offer cellular connectivity and mobility as well as offer device security for connected IoT applications. With such profound features, manufacturers are increasingly opting for system on modules (SoM) to significantly reduce development efforts and time to market (TTM) by eliminating the challenges associated with designing boards with complex microprocessor, further offering a more reliable and cost-effective embedded platform for building end-products.
Designed by British semiconductor giant ARM Holdings, ARM is one of the major processor architectures used for SoM modules. In an era of proliferating IoT and industrial automation sectors, the processor holds a significant market share and is projected to exhibit high growth rates in the coming years. It offers a wide range of features like low cost compared to other processors in the market, higher battery life, faster operational speed, and compatibility for numerous end-user application.
Get a Sample Copy of this Report:@ https://www.gminsights.com/request-sample/detail/3224
Moreover, rapid technological advancements and growing demands have led manufacturers to develop newer versions of SoM offerings. For instance, in 2018, chip designer Arm unveiled its new Cortex-A76 CPU, claiming it would deliver 35% better performance than its predecessor. Advances such as this will enable development of more power-efficient end-user products, supplementing SoM market size.
Portable medical devices are increasingly gaining traction by improving health care for millions of patients worldwide. With products like blood glucose monitors, heart rate monitors, pain-blocking implants, ingestible gastrointestinal (GI) tract monitors and several other devices, the technology has effectively enhanced patient's quality of living in recent years. Notably, these clinical aids are integrated with miniature SoMs that enable high-level integration of analog components, offering more enhanced capability in smaller spaces.
By using portable medical equipment, patients with chronic diseases can easily and quickly monitor their own vitals and look for abnormalities that can eventually help them call for medical services as well as further help doctors better diagnose their condition and take necessary steps.
In addition to such profound benefits, device manufacturers are also developing more compact, battery-powered products like smart patches, health monitors, and even inhalers that use machine learning technology to effectively allow clinical diagnosis, delivery or monitoring conditions remotely. For instance, Respiro smart inhaler, an Arm-based clinical device, can effectively track and record parameters like inhalation technique & frequency, inhalation flow rate, volume, flow acceleration and inspiration time, allowing doctors to gain a deeper understanding of patient's varied conditions.
Considering the SoMs play a vital role in making these devices functional, a trend of proliferation of such devices will lead to increased system on module industry revenue.
The Europe system on module market trends are garnering traction due to soaring demand for powerful & efficient embedded systems in industrial automation. According to the International Federation of Robotics (IFR) reports, Germany is one of the most automated countries in Europe and ranks third worldwide with 309 units. Further, in 2016, the country's operational stock and annual supply of industrial robots had a share of 41% and 36% respectively. Moreover, between 2018 and 2020, the annual supply in Germany is anticipated to grow by at least 5% on average per year due to the increasing demand for robots in the region's general industry and in its thriving automotive sector.
Escalating demand for automated technologies in operations like assembly, manufacturing, logistics and supply chain support has led to the widespread integration of embedded computing solutions. Additionally, the rising demand for energy-efficient, smart electronic products for automation applications has led to rapid consumption of embedded systems, in turn driving the SoM market trends.
Author Name : Mateen Dalal
With the recent advent of smart socks, smart shirts, & even smart jackets, smart clothing market has been gaining momentum in the category of smart and future wearables technology. Smart clothing or e-Textile is steadily becoming a reality, as sensors, electronic, and digital technologies have blended seamlessly to offer the functionality of smart devices to textiles & clothing. This convergence of textile and digital industries is set to bring huge commercialization and standardization to the worldwide smart clothing market. As per a report compiled by Global Market Insight, Inc., smart clothing market is projected to grow at a healthy CAGR of 50% over 2017-2024 in terms of shipments.
Germany Smart Clothing Market Share, By Product, 2016 (USD Billion)

Smart clothing market: Enumerating the drivers and challenges
Smart clothing industry has been forecast to face certain challenges at its initial stages, notwithstanding the predictions made about it being one of most lucrative businesses in recent times. Some of these constraints lurk along the lines of high product prices, unreliability, and personal security threats. Moreover, on the technical front, the present-day challenges of smart clothing industry such as limited battery life, wireless technology, huge capital investment, wash ability, and complexity of data analysis remain consistent.
Data security and processing speed play a crucial role in healthcare, military & defense, and sports, on the grounds of which they can be classified as the prominent application arenas encompassed by smart clothing industry. The on-going research and advancements in sensor technology, the Internet of Things, and big data analysis, will prove to be reliable sources that can help smart clothing technology go mainstream. Industry experts foresee smart clothing market to move in a positive direction, as this technology holds immense growth potential across myriad application sectors. Companies are expected to pour in huge investments to develop this technology and expand its application spectrum. Moreover, with more and more players planning to harness the power of smart technology in the clothing industry, it is quite obvious for the wearables sector to witness a slew of product innovations. For instance, Google has been working with Levis on smart jackets that would allow the users to interact with their devices and control applications like music player, camera, and navigation. As technology evolves, it is expected that the global smart clothing market will facilitate colossal growth opportunities in healthcare, sports & fitness, military, and industrial applications.
Get a Sample Copy of this Report@ https://www.gminsights.com/request-sample/detail/2016
An insight into the application landscape of smart clothing market
Healthcare
Smart clothing is seen as a way to revolutionize and transform the healthcare sector, as it offers a huge potential for helping to improve an individual's health. Smart clothing industry players are focusing on the idea of weaving electronics into a fabric like a shirt, or cap, or blanket that could perform specific patient care functions. Moreover, many medical device manufacturers and healthcare providers are actively monitoring smart clothing pilot projects and research that can track chronic diseases, help patients feel comfortable during hospital stays, track their health status, and boost health insights.
Military & defense
Several government institutions are investing in smart clothing industry to develop military uniforms that are technologically advanced and can also provide insights on the health of soldiers, injuries, the impact of bullets, explosions, and the like. This would generate lucrative growth prospects for smart clothing industry expansion in the military sector. As per estimates, the military and defense application within smart clothing market is estimated to witness the highest annual growth rate of 55% over 2017-2024.
The prominent players partaking in smart clothing industry share have been emphasizing on building partnerships with tech-giants & clothing firms, in conjunction with targeting their focus on diversifying their service spectrum. Recently, a Japanese startup firm Xenoma has launched a motion and gesture-tracking smart shirt called as the e-skin. Having been integrated with stretchable wires, sensors, and textile, e-skin is set to provide a larger platform for fitness and health monitoring. Ralph Lauren, Athos, and Catapult Sports are some of the other industry giants, who are actively investing in commercializing smart clothing technology in the coming years, which would undeniably create a profitable growth map for smart clothing market.
Author Name : Ojaswita Kutepatil
Global explosives and pyrotechnics market has recorded a commendable growth graph due to increasing mining activities, military spending and greater demand for recreational fireworks. Rapid industrialization has created massive demand for mined commodities which has resulted in increased mining activities in countries such as South-Africa, China, Indonesia, the U.S. etc. adding to the demand for explosives used in mining industry.
U.S. Explosives & Pyrotechnics Market Size, By End-user, 2014-2025 (USD Million)

Mounting government spending on the defense sector in various countries including the U.S., India, China, France, Saudi Arabia, U.K. and Russia will positively impact explosives market size. On the other hand, pyrotechnics (fireworks) market is forecast to gain traction with rising cracker shows on occasions, festivals and sports events.
Pyrotechnic articles are not only used for entertainment but are also utilized in technical & military cases for illumination and signaling, as pesticides and for various other purposes. Pyrotechnics are designed to give out specific effects, such as whistling, illumination, smoke formation, detonation, propulsion, shooting and disintegration.
The APA (American Pyrotechnics Association) predicted an exceptional year for fireworks sale in 2019. According to APA, consumer fireworks revenue has increased from $407 million in 2000 to $945 million in 2018. The APA estimates that fireworks revenues could exceed $1 billion during the 2019 fireworks season. On days like New Year's Eve, almost every nation celebrates with elaborate firework shows. For instance, in 2017, the German Pyrotechnic Industry Association reported €137 million in sales in the final four days of the year. In 2019, New Year's Eve fireworks sale in Netherlands amounted to €70 million, which is €2 million more than 2018 figures. Such a trend will ultimately prove beneficial for increasing  explosives and pyrotechnics market share.
Get a Sample Copy of this Report @ https://www.gminsights.com/request-sample/detail/828
In spite of the ongoing trade war between U.S. and China, tariffs were not raised on the import of fireworks from China to U.S. as imports of fireworks have long surpassed domestic production in the United States. In 2018, China exported $325 million worth of bottle rockets, Roman candles and other fireworks/pyrotechnics to the U.S., accounting for 90% of pyrotechnic imports of the country, clearly underlining the growth of explosives and pyrotechnics industry in the region.
With record-breaking growth in backyard fireworks usage and liberalization of consumer fireworks laws, the number of fireworks-related injuries have dramatically declined. Currently, the fireworks-related injury rate is 56% lower than what it was in 2000. There is no such consumer product in the market that has an exceptional consumption growth and declining injury rate – which will encourage more expansive use of fireworks and add indirect impetus to explosives and pyrotechnics industry.
Another factor significantly augmenting explosives and pyrotechnics market size is ongoing political unrest between countries, which has resulted in increased military spending. The top five spenders in the world in 2018 included U.S., China, Saudi Arabia, India and France, which accounted for approximately 60% of world military spending. The total world military spending has risen by 2.6% to reach USD 1,822 billion over 2017-2018, according to SIPRI (Stockholm International Peace Research Institute). Military segment accounts for approximately 45% in explosives and pyrotechnics market share. The segment growth is majorly influenced by political clashes in African countries, Middle East and Europe.
North America and Asia-Pacific are the major regions having maximum growth rate in the explosives and pyrotechnics market. In 2018, Asia Pacific accounted for 35% share in the global explosives and pyrotechnics market.
Explosives are majorly used in mining. Growing technological expenditure for enabling effective exploration, sustainable processing of low grade and complex minerals are fueling mining activities. For instance, countries such as Indonesia have stringent government policies to generate up to 50% of power from domestic coal which is resulting in increased mining operations. Such initiatives are expected to positively influence explosives and pyrotechnics market growth over 2019-2025.
With major coal producing countries such as China, India, Indonesia and Australia, Asia Pacific is a region that is largely concentered on mining industry. The growth trends recorded by mining industry in Asia Pacific has added impetus to explosives and pyrotechnics market outlook. For instance, National Energy Agency of China has approved 7 major coal mining projects adding up a capacity of 22.5 million tons in 2019. Additional activities in mining sector not only due to the demand for coal but also other valued commodities like iron ore and copper are expected to fuel explosives and pyrotechnics industry trends during the forecast timeline.
Rapidly growing mining sector, increased political tensions leading to greater military spending and trends encouraging fireworks display will together augment revenue share of explosives and pyrotechnics market in the coming years.
Author Name : Aakriti Kakkar
The growing technological advancements in IoT coupled with the rising demand for smart connected devices will drive single board computer (SBC) market in the years to come. Basically a compressed, low-cost version of a typical computer, an SBC comprises similar components such as microprocessors, memory, input/output (I/O) and other features all embedded on a tiny circuit board.
China single board computer market size, by processor, 2018 & 2025 (USD Million)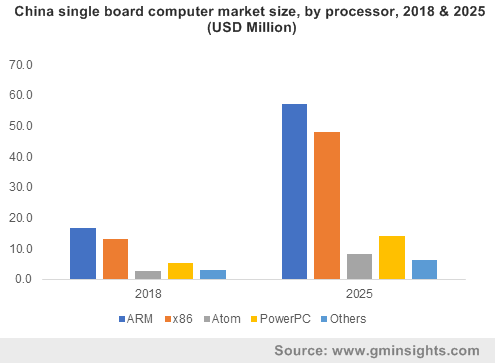 The product has become significantly important for developers seeking ways to design products with greater intelligence, performance and connectivity while reducing power consumption, costs and size. Indeed, the product continues to evolve in sophistication, while its range of possibilities expand. For instance, nowadays SBCs come with features like Bluetooth and Wi-Fi compatibility making them ideal in applications associated with IoT (Internet of Things).
The deployment of the Internet of Things (IoT) in almost all industrial applications will significantly boost the growth of the SBC market in the years to come. By using SBCs, manufacturers are now able to offer efficient IoT solutions to customers. The product has certainly propelled the growth of the IoT sector in the last few years, offering a much smoother commercialization. According to reports, business infrastructure and operations professionals are rapidly shifting towards IoT, while studies indicate that a major proportion of decision-makers are already using IoT-enabled applications from building connected products to transforming operational processes. With rising IoT adoption, IoT software providers like IBM, Cisco, Amazon, GE, and other giants are now developing solutions that simplify the design, creation, integration, and management of IoT infrastructure and enterprise data. This in consequence will majorly propel the product demand, eventually pushing SBC industry trends.
Technological advancements in embedded technology will boost the SBC market
Semiconductor processors, being the core of any SBC, are rapidly evolving to match the capability of modern day applications. To attract the vast tech-savvy customer base, engineers are constantly adopting advanced embedded technologies to gain a competitive edge. For instance, the neural processing unit (NPU) is anticipated to be the next focus for chipmakers as it helps speed up computer-vision applications, such as object and image recognition, and offers enterprises and manufacturers a more powerful platform for developing products used from smart building applications to driverless vehicles.
Get a Sample Copy of this Report @ https://www.gminsights.com/request-sample/detail/1570
Prominent companies are investing heavily in the development of these new technologies. The Chinese tech giant Huawei, in collaboration with Linaro, recently launched its new SBC called HiKey 970 AI computing platform which uses the world's first AI mobile processor, Huawei's Hisilicon Kirin 970 chipset along with a dedicated Neural Processing Unit (NPU). This is quite vividly, an instance that demonstrates how product innovation and investments in technological advancements will add momentum to the expansion of the SBC industry.
Powered by rapid technological developments, single board computers have paved their way into medical sector as well. Medical devices are increasingly being integrated with SBCs to perform and monitor a wide range of clinical processes. The product's reliability, power and versatility have made it ideal for developing customized medical electronic devices, medical monitoring systems, fault-tolerant wearable computers and more. Strategic partnerships between tech giants and medical healthcare firms will thus majorly augment the growth graph of SBC industry.
While SBC market has quite appreciable consolidated itself worldwide, the APAC is said to emerge as a prominent revenue pocket for this industry in the years to come. This may plausibly be the case on account of the expanding electronics industry in the region. With the presence of several consumer electronics and tech firms, the APAC SBC industry is anticipated to depict considerable growth over 2019-2025. Growing government support toward building in-house consumer electronics, such as smartphones, tablets and other gadgets in countries like India and China, will also boost the APAC single board market demand.
Being highly-scaled versions of traditional PCs and laptops, SBC are expected to continue finding long-term application in IoT-driven verticals and consumer electronics. Powered by rapid technological advancements in semiconductor processors and AI, single board computer market is forecast to chronicle itself in the billion-dollar business sphere by 2025.
Author Name :Paroma Bhattacharya
Ezetap's recent acquisition of FortunePay is a vital indicator of the growth in (Point of Sale) POS Terminals market. Similar to the growth strategies adopted by most markets, mergers & acquisitions and novel product launches primarily form the strategy landscape of POS terminals industry as well. In June 2017, Bangalore based POS firm Ezetap had acquired FortunePay, an online payment & physical payment service provider to banks in India. This deal is anticipated to help Ezetap avail the latter's infrastructure and become a sole payment service provider for the traders in India. Earlier in June 2014, Ezetap had also collaborated with SBI (State Bank of India) to install 500,000 point of sale terminals across India over the coming five years. With more and more companies undertaking strategic tactics, POS terminals market is sure to carve out an appreciable growth map over 2018-2024.
UK POS terminals market, by application, 2017 & 2024 (USD Billion)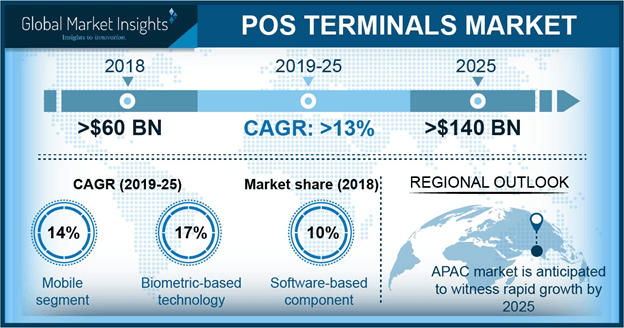 An outline of the POS terminals market trends in terms of contributions by the industry veterans:
In January 2017, Fujitsu, a Japanese multinational IT equipment & service firm, launched Fujitsu TP8TM, a family of retail POS terminals, which was developed to optimize and improve the online payment performance across supermarkets, department stores, drug stores, and mass merchant stores. The new product also enhances the shopping experience of the customers across retail stores through its exceptional modularity. These new product innovations are expected to result in the robust expansion of POS terminals market.
In February 2017, OMA Emirates Group, a UAE based payment service provider, purchased MobiSwipe, one of the leading mPOS service providers. The acquisition will help OMA to expand its service portfolio across APAC, Middle East, and East Europe. MobiSwipe permits traders to make use of smartphones and tablets as POS terminal devices to accept payments via debit or credit cards. In a vital breakthrough, MobiSwipe, now a part of the OMA Emirates Group, in April 2017, announced the setup of more than 50,000 mPOS terminals in India within nine months. This is an instance of how major firms have been taking key initiatives to promote cashless deals in the country and explore new business growth avenues across India (Point of Sale) POS terminals industry.
Get a Sample Copy of this Report@ https://www.gminsights.com/request-sample/detail/390
In May 2017, Mswipe, a startup firm in the  mPOS terminals industry,  formed a joint venture with PayU India, a digital payment service provider, to expand its online payment business through the purchase of the latter's offline merchant acquiring business. As per the reports from reliable sources, PayU had acquired more than 9000 offline traders across India, who, along with their point of sale business will be moved to Mswipe. Dealers transacting with Mswipe can now use PayU India's online payment options. According to expert opinions, the strategic alliance between the online payment service providers will benefit both in terms of revenue generation as well the consolidation of their positions in POS terminals market.
In July 2017, ScanSource Incorporation, a leading service provider of point-of-sale, barcode, networking, and data solutions, acquired POS Portal Incorporation, distributor & renter of POS devices, for USD 144.9 million to extend and improve its POS payment services across the globe. This is ScanSource's sixth acquisition since last three years, with its recent purchase being Intelisys, a technology service distributor and master agent of carrier, telecom, & cloud solutions, for USD 83.6 million in June 2017.
The same year also witnessed NEXTEP SYSTEMS, a provider of self-order POS services, form a strategic alliance with LevelUp, the largest mobile payment platform developed by Massachusetts-based startup firm SCVNGR. The alliance will enhance the service efficiency of both the firms by offering more effective and user-friendly online payment options. Speedy   self and mobile ordering operations, ensuring a seamless and personalized experience for the users are expected to spur the business expansion and ROI of both these firms, thereby providing a boost to POS terminals industry. Global Market Insights, Inc., claim POS terminals market share to surpass USD 125 billion by 2024.
POS terminals industry is an evolving business sector with big players investing heavily in R&D activities to develop new technologies and products for gaining competitive edge. It is more likely that rapid expansion of POS terminals market will encourage new service providers and manufacturers to enter the business further encouraging the existence of fierce competition in the industry.  VeriFone Systems Inc., Panasonic Corporation, Ingenico Group, PAX Technology Inc., and Toshiba Corporation are some of the major brands of POS terminals industry.
Author Name : Saipriya Iyer