EO/IR System
With significant advancements in artificial intelligence and wireless technologies, high altitude platform market is expected to witness remarkable growth in the coming years. The emerging market for broadband data provision and multimedia are highly impacting the growth of projects – that are launching terrestrial and satellite systems for enhancing wireless and internet services. Airships, tethered aerostat systems, unmanned planes, and so-called pseudo satellites are some of the most significant high altitude platforms that are been used to enhance global communication, wireless technologies, and surveillance applications. Statistically, it has been observed that the application scope and involvement of special deep-pocketed proponents have significantly led high altitude platform market to cross the billion-dollar frontier in 2016. According to the estimates provided by Global Market Insights, Inc., high altitude platform market size was over USD 1 billion in 2016 and is expected to surpass a valuation of USD 1.5 billion, expanding at 5% CAGR over 2017-2024.
U.S. HAP market size, by application, 2016 & 2024 (USD Million)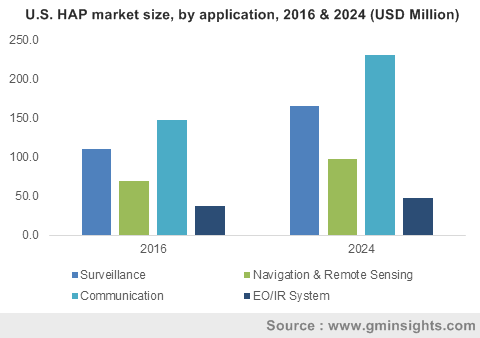 Speaking of the prominent companies expanding their reach in the high altitude platform industry, the social media giant Facebook and leading aerospace manufacturer Airbus are teaming up to develop their separate solar powered unmanned airships. As per reports, these systems are designed to fly above the height of 70,000 feet to provide the broadband internet service in the remote areas. Another recent development witnessed across high altitude platform market is of Google, who has successfully launched HAP projects such as Loom and Skybender to beam internet services to the underserved and rural location across the globe. These instances clearly validate the recent developments spanning the installations and commercialization of UAVs, satellites, and drones, that, in turn, is certain to boost the revenue stream of overall high altitude platform industry.
Get a Sample Copy of this Report:@ https://www.gminsights.com/request-sample/detail/683
Interestingly, telecommunications and wireless networks are not the only thriving application segments of high altitude platform market. Analysts deemed that surveillance application of HAPs dominated the business sphere, on account of its rising demand from the military and public safety sectors. The profound significance that these high altitude platforms hold in identification of criminals, terrorist attacks, and tracking activities have remarkably uplifted the demand of HAPs in surveillance applications. The recent instance of the sniper attack in the Las Vegas accounted for more than 59 deaths and 527 injuries, which has drastically impacted the business operations of HAP market. It is noteworthy to mention that, such situations demand strong surveillance, wherein the HAP plays an important role in providing clear and concise images of objects from distance. In this scenario, several governments of countries including U.S., UK, and India have initiated grants for companies operating in the high altitude platform industry to enhance the research and development of these platforms for defense purposes.
Reports claim North America and Western Europe to be the leading regions witnessing high adoption of HAPs in military and naval forces.  For the remote sensing purpose, HAPs have an important advantage of low orbits and longer timespans over satellites. This has favored HAPs to permit better resolution images on account of being comparatively closer to the covered areas. High penetration of UAV aircraft coupled with strong spending on other LTA systems are identified as the prime factors responsible for surging growth of high altitude platform industry. As per reports, U.S. is anticipated to be a major region dominating the regional high altitude market landscape. Also, considering the worldwide demand for HAPs, Asia Pacific is projected to be another lucrative growth ground for HAP market expansion. The rising adoption of the technology, especially in the emerging countries of South-east Asia, for telecommunication and remote sensing purpose, is expected to drive the APAC industry demand. The region is further expected to observe strong foothold in the global high altitude platform industry, owing to the rapid involvement of regional governments in tackling foreign & internal conflicts, smuggling, and terrorist activities.
Given the extensive adoption of HAP technology on the global level, it is prudent to mention that these systems will be a prominent part of the modern-day infrastructure developments. Driven by the diversified application matrix and rising participation of tech giants to harness this technology, analysts affirm the global high altitude platform market to witness a rather profitable roadmap down the line.
Author Name : Ojaswita Kutepatil
This entry was posted in Electronics and Media and tagged Airships, Communication, EO/IR System, High Altitude Platform Market, High Altitude Platform Market Report, High Altitude Platform Market Research, High Altitude Platform Market Share, High Altitude Platform Market Size, High Altitude Platform Market Trends, Navigation, Remote Sensing, Surveillance, Tethered Aerostat Systems, UAV.