Epoxy
​
Growing application across the construction and transportation industries is driving spray adhesives market size. The key benefit of spray adhesives is the convenience of application which speeds up the jobs and thereby improves the overall efficiency. Each type of spray adhesive has its own set of distinct characteristics which ensures high quality despite the task variations.The increasing demand from the furniture industry owing to the property of spray adhesives to bind a wide number of substrates will also propel market demand. Spray adhesives market outlook is currently driven by a number of significant trends, mainly pertaining to the robust application landscape that this industry boasts of.
Robust urbanization trends to augment spray adhesives market size from construction sector:
The rapid growth of construction industry is attributed to the improving standard of living and increased migrations from rural to urban areas. As the construction industry continues to expand, innovative technologies like heavy duty construction adhesives will come into play. Spray adhesives find several applications across the construction industry across insulation, flooring, walls, roofs, doors & windows, etc.
High strength spray adhesives can hold extreme temperatures and are used to replace nails and machinal fasteners spray which simplify the workflow with very little or no training required for the laborers. Newly developed spray adhesives not only improve the sustainability of the construction products but also optimize the processes by the faster curing times.
For instance, Sika has come up with a new innovative spray-applied insulation adhesive which reduces the installation times by up to 20 per cent.  The high foaming adhesive is suitable for both refurbishment and new build projects which strongly binds the insulation boards and the substrate, within a very less time enabling rapid project completion.
In this context, it is also pivotal to mention that the Asia Pacific region is expected to hold a substantial proportion of the market share due to rapid urbanization and industrial development. The growing construction activities across countries including China and India will also positively impact market growth.
Expansion of transportation sector to add impetus to spray adhesives industry outlook:
Considerable growth in global transportation sector will be a primary driver for spray adhesives industry size expansion. The transportation industry serves as the backbone for a country's economy – seamless transportation functioning can be credited majorly for a nation's rising economic growth. accounts for a majority of the transportation systems. For instance, the U.S transportation industry represents over 8% GDP in the country's economy.
Get a Sample Copy of this Report:@ https://www.gminsights.com/request-sample/detail/4311
Spray adhesives are majorly used for various manufacturing and maintenance activities of aircrafts, automobiles, rails, etc. Their characteristics like durable bond strength which resists vibrations and provides chemical & thermal resistance will foster the product demand.  Automotive adhesives are now widely used for replacing the conventional methods of joining parts, such as welding, riveting, or screwing, which speeds up the assembly line.
Besides the curing time, the bond strength is a central constraint for any robust adhesive. The ongoing R&Ds in line with the technological advancements in adhesive science will lead to the manufacturing of enhanced adhesive products in the years to come.
For instance, Delo, a manufacturer of industrial adhesives just broke the world record for the heaviest lift using an adhesive material. A crane lifted a 17.5-ton truck on a bonded aluminum cylinder creating world record, beating the previous of 16.3 tons. Such achievements by leading market contenders will augment the spray adhesives industry outlook.
The increase in number of car ownerships due to rise in per capita income is also expected to fuel product demand from the transportation end-user segment. As the transportation infrastructure undergoes a massive overhaul, global spray adhesives market will achieve significant gains in the years ahead.
Rising demand for aesthetic furniture to drive the industry trends over the forecast period:
The booming furniture industry is going through a transition currently owing to changing consumer preferences which creates a necessity of advanced adhesives. Polyurethane spray adhesives are highly preferred for manufacturing diverse furniture products. The improvement in consumer lifestyle has propelled intense demand for modular and attractive furniture which includes wide range of materials such as wood, laminates, iron, leather, and many other upholstery materials.
Appealing furniture designs enhance the aesthetics of an office or a house, and consequently, the rise in sales of commercial and residential properties will in turn fuel demand for new furniture. The furniture sector in UK specially witnessed an annual growth rate of +8% in 2018, which represents a positive future for the industry. According to the Furniture Industry Research Association, total consumer spending on furniture increased by +24% between 2012 and 2016.
Leveraging the widespread application spectrum, spray adhesives market size is driven by the growing product demand across the globe. A sudden surge in the construction and automotive industries will also positively impact the market share. According to a research report by Global Market Insights, Inc., spray adhesives market size is anticipated to exceed USD 9 billion by 2025.
Author Name : Amol Kothekar
​
Having gathered the attention of several academic and industrial researchers over the past few years, shape memory polymer market is expected to emerge as a prominent investment avenue for global manufacturers. The material holds the potential to bring fundamental transformation to a number of high-revenue industrial sectors. Shape-memory polymers (SMPs) are essentially stimuli-responsive materials that can be molded into other permanent shapes with relative ease, however, when exposed to an external stimulus, are capable of reverting back to their original shape.
A diverse array of SMPs are available in the market that are stimuli-responsive to different external stimulus such as pH, light, moisture, electricity and thermal heat. Today, SMPs find applications in several fields owing to their unique and special properties. Supposedly, SMPs can also be used in fabric materials to facilitate a number of fascinating and enhanced properties like improved aesthetic appeal, enhanced comfort, smart and controlled medicine administration, wound monitoring, intelligent wetting properties and elevated protection against volatile changes in environmental conditions.
U.S. Shape Memory Polymer Market Size, By End-user, 2014 – 2025 (USD Million)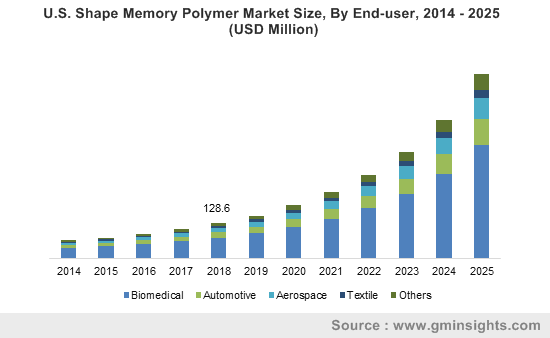 SMP based textiles are commonly used to make SI suits for sailors deployed at sea. These SMP suits are even capable of adapting to temperature fluctuations and maintaining the wearers body temperature at a stable level. Over the forthcoming years, this application could enable shape memory polymer market size to increase substantially from the global textile industry, especially from the continuous increase in ocean travel and exploration activities.
SMPs are gradually finding vital applications in the field of biomedicine, where the material could play a role in innovating technology for future healthcare services, further diversifying the revenue stream for shape memory polymer market. SMPs are already being used to manufacture sutures for use in surgeries that involve stitches inside the patient's body. Previously patients had to undergo secondary surgery to remove these internal stitches, whereas bio-compatible materials have now rendered the need for another surgical procedure unnecessary.
A large number of surgical clinics and healthcare organizations are using biodegradable SMP-based sutures that gradually dissolve overtime within the body. This effectively eliminates the requirement for a second surgery, giving shape memory polymer industry outlook a strong foothold in the global healthcare sector.
Get a Sample Copy of this Report:@ https://www.gminsights.com/request-sample/detail/3355
Aerospace sector is emerging as a promising application segment to raise the global SMP market size due to highly suitable properties of the material that meet the challenging requirements of aircraft and spacecrafts. In fact, NASA Langley Research Center is actively conducting research and development to enhance the adhesive strength between metal alloys and shape memory polymer composites (SMPCs) to develop adaptive wing structures, smart medical devices and intelligent armors.
In 2018, NASA started an initiative that aims to mitigate the issue of acoustic emissions that are produced by jet engines. The aviation industry's initial solution of increasing the engine's bypass ratio at the expense of increased engine size has hit its limit. Furthermore, the numerous slats and flaps that are incorporated into the wings to alter its surface area and structure as and when required also contribute substantially to acoustic noise pollution.
To adhere to increasingly tightening noise pollution regulations, the organization has come up with a novel series of SMPCs known as LaRC-SMPC. Given that all airlines are required to adhere to these regulations, the global aviation sector can be expected to account for a considerable shape memory polymer market share.
Europe and North America are projected to become prominent growth contributors of the SMP industry. The presence of several well-established and flourishing aviation as well as automotive companies in the regions would ensure steady and consistent demands over the coming years. Automakers like GM have already made progress in the development of automotive smart memory materials comprised of shape memory alloys and polymers.
Owing to the ability of SMP industry to penetrate into a varied number of business sectors, it is certain that the materials would be witnessing elevated demands from several high-revenue application segments in the coming future. In fact, Global Market Insights, Inc. has predicted that annual revenues for global shape memory polymer market would be surpassing $1.4 billion by 2025.
Author Name : Akshay Kedari
With building developers becoming more conscious about the strength, ductility, and toughness of construction material, polymer concrete market has observed a renewed traction lately. This material is widely preferred on account of its benefits such as improving adhesive characteristics of old surfaces, tensile strength, freeze durability, and flexural strength. In addition, heavy investments in the global construction sector are being made lately, increasing the demand for various types of polymer concretes for providing impermeable toppings over the bridge decks, additives for plasters, and filling for installing tile. The growing involvement of public and private firms in infrastructure development across residential, commercial, and industrial sectors will thus have a significant impact on the polymer concrete industry share.
U.S. polymer concrete market size, by application, 2014 – 2025 (USD Million)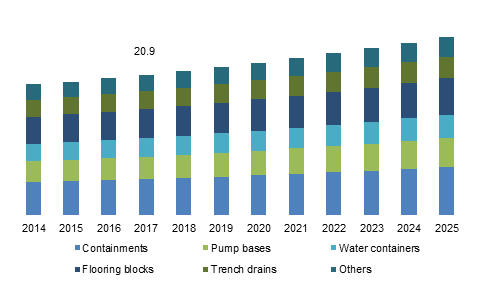 In line with the growing construction activities and rising focus on the surging use of polymer concrete materials, the giants in the polymer concrete market are looking forward to investing in capacity expansions. The countries across the Middle East for instance, have been rapidly expanding their existing facilities. In addition, regional governments have been making substantial investments on infrastructure development across this region, further generating lucrative opportunities for the market players.
Validating the aforementioned fact, one of the leading contributors of polymer concrete industry, Sika has expanded its regional reach across United Arab Emirates recently with the establishment of a new concrete admixture production plant in Dubai. The development of a local polymer production facility is slated to reduce the production cost that will become beneficial for customers across the GCC (Gulf Cooperation Council) to fulfil their concrete admixture requirements considerably. In addition, owing to the depletion of fossil fuel resources, the UAE government is shifting its focus on tourism rather investing in oil and gas exploration to diversify the economy. The increasing development of logistic centers and surging deployment of green technologies will propel Middle East polymer concrete market share over the years ahead.
Get a Sample Copy of this Report:@ https://www.gminsights.com/request-sample/detail/2873
The rising concerns about the carbon dioxide emission is one of the causes fueling the polymer concrete industry outlook. The surging use of cement in road construction activities has led to an increase in carbon dioxide emissions across the globe. On this note, efforts are being made to utilize polymer concrete on a large scale. Reportedly, in Australia across the Victoria region, pavements, roads, and freeways have been developed with the help of geopolymer concrete. Geopolymer is a long molecule that can improve the strength of concrete effectively. The research community, on these grounds, has also been attempting to invest in research and development activities for the betterment of geopolymer concrete. The involvement of regional governments in the development of smart roads for controlling the emissions will thus generate significant business opportunities for the giants in polymer concrete market.
In several earthquake prone regions, to build foolproof earthquake resistant buildings, engineers have been focusing on the use of effective alternate materials. On this note, it is imperative to mention that the researchers from the University of British Columbia have invented new concrete that would be able to withstand tremors. This newly invented eco-friendly ductile cement comprises polymer based fibers that could increase the malleability of concrete instead of letting it crumble under pressure. The increasing importance for lightweight, intelligent, energy producing, and innovative concrete structures across the globe will thus have a positive influence on polymer concrete industry size over the years ahead.
The robust shift in the focus of building developers toward constructing eco-friendly infrastructure over the last few years will push the use of polymer concrete on a large scale. The stand taken by regional governments to improve the economy with considerable investments in roads, buildings, bridges, and renovation of old monuments is also poised to fuel polymer concrete industry trends significantly. For the record, by the end of 2025, polymer concrete market will surpass a revenue collection of USD 600 million.
Author Name : Sunil Hebbalkar
In the last few years, advanced polymer composites market has witnessed a remarkable growth graph with the increasing requirement for composite materials across the aerospace, automotive, and construction sectors. With the favorable advancements in the material science technology, researchers have successfully come up with a new range of products that have become alternatives for already existing metallic materials. These composite materials have nearly similar properties to that of metallic materials, but have far less weight density as compared to metal composites.
U.S. Advanced polymer composites market size, by application, 2014 – 2025 (USD Billion)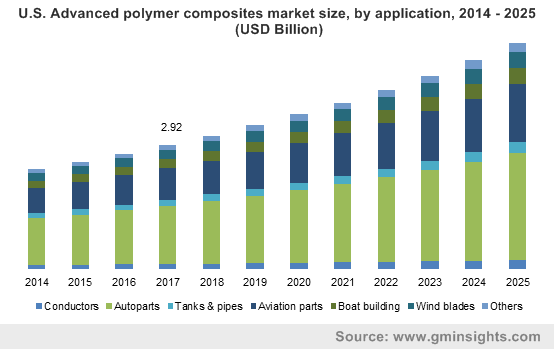 In this regard, the aircraft and automotive manufacturers have been giving preference for these materials for achieving higher fuel efficiency. Taking into account the demand for advanced polymer composites, key industry players have been looking forward to extending their product portfolio and regional reach. Tried-and-tested as well as out0of-the-box tactics adopted by companies to consolidate their position in the market is slated to expedite the advanced polymer composites industry size.
Recently in May 2018, the well-known aeronautical company, Airbus offered a long-term contract to Teledyne CML Composites to supply composite wings components and assemblies to its commercial airliner. In this contract, the UK based composite manufacturer will provide long range of composite parts for Airbus' A350-900 and A350-1000 aircraft wings. In order to manufacture both – the wings structure and fuselage of the A350 series aircraft, it has used a carbon-fiber reinforced polymer that will reduce the maintenance cost and improves components' resistance to corrosion. After receiving the long-term contract from Airbus, Teledyne CML Composites has considerably improved the quality of its composite parts that will help it to gain access to new business opportunities from several other end-users.
Get a Sample Copy of this Report @ https://www.gminsights.com/request-sample/detail/1175
As of now, numerous companies have been replacing metals with polymer composites for reducing the overall weight of the product assembly. In line with the increasing demand for polymer composites, polymer manufacturers have been focusing on new product developments, capacity expansions, and mergers & acquisitions. Validating the aforementioned fact, in the middle of 2018, Mitsui Chemicals Inc. decided to establish its long glass fiber reinforced polypropylene (LGFPP) production facility in the U.S. pertaining to the growing demand for fiber-reinforced resins across North America. This would considerably augment the commercialization potential of North America advanced polymer composites industry, which as per estimates, held 35% of the overall market share in 2017.
Speaking along the same line, Mitsui Chemicals will start its commercial operation by October 2019 with the production capacity of 3500 tons per year that will turn out to be rather beneficial for leading automakers. Owing to the excellent impact resistance, lightweight, better appearance, and hardness, LGFPP is preferred for automotive applications. In the last few years, with the increasing popularity of electric vehicles along with the deployment of strict environmental norms, the demand for LGFPP has increased remarkably. Reportedly, in line with the surging demand for automobiles across India and China, APAC advanced polymer composites market will register a CAGR of more than 8% over 2018-2025.
In addition to capacity expansions, several other contributors in the advanced polymer composites industry have been looking forward to enhancing their product portfolio with the strategic mergers and acquisitions. For instance, in June 2018, global provider of specialized polymer material, PolyOne has acquired leading manufacturer of high-performance and advanced composites, PlastiComp. This deal will become fruitful for PolyOne to improve its existing portfolio, aided by PlastiComp's expertise in the long fiber technology. In the future, PolyOne is planning to launch unique and long fiber technology composite formulations to expand its customer base. The strategies adopted by the players in the advanced polymer composites market to focus on the diverse application scope is poised to boost the industry growth over the years ahead.
The collaborative approach undertaken between the OEMs and product suppliers in line with the on-going product innovation and design changes is likely to impel advanced polymer composites industry trends. The shifting trends toward the development of lightweight components for improving the fuel efficiency and curbing emission also will have a positive impact on the product demand. Reportedly, advanced polymer composites market will surpass a revenue collection of USD 17 billion by the end of 2025.
Author Name :Sunil Hebbalkar