Equipment
Global Mining Equipment Market is witnessing many twists and turns since the past decade with the constant involvement of modern technology to enhance the quality of operation. Machine failure detectors, real-time monitoring, and open pit mining are the some of the hi-tech integrations fueling the smart mining solutions. The growing trend of using multifunction machinery instead of single function counter parts is also expected to positively influence the overall market expansion. As per a report by Global Market Insights, Inc., "Mining equipment market in 2015 generated a revenue of more than USD 69 billion, and is poised to grow lucratively at a CAGR of 4.7% over 2016-2024."
China Mining Equipment Market size, by application, 2013-2024 (USD Billion)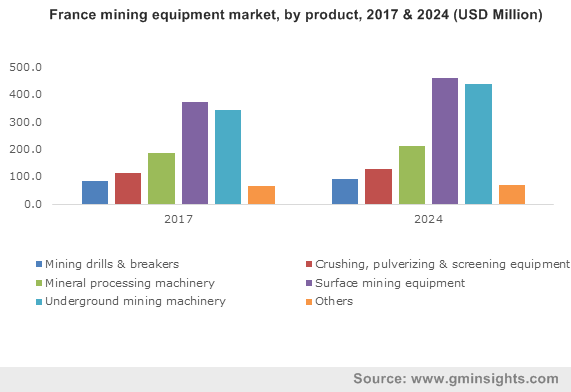 Another vital factor which is pushing mining equipment industry worldwide is the surging need to extract mines from lower grade ores and to cope with the remote locations. The constant effort by the key market players to address these major issues for enhancing the productivity and overall efficiency has resulted in automation and product innovation.
Metal mining applications to bring lucrative business opportunities for the global industry
Mining equipment industry has observed significant growth in two application sectors-metal mining and coal mining. In 2015, metal mining equipment market surpassed a revenue of USD 29 billion and is anticipated to grow exponentially in the upcoming period with an annual growth rate of 5% over the timespan 2016-2024.The heightening global demand for precious metals especially gold, as it supports the financial, emotional, as well as cultural values of the consumers, is augmenting the industry in metal mining.
Get a Sample Copy of this Report @ https://www.gminsights.com/request-sample/detail/793
Mining equipment industry from coal mining has also developed over the recent years, in the transition from manually extracting the coal on carts to economical open cut long wall mines. The massive progression can be credited to the rising electricity requirement to feed the growing population.
Surface mining and underground mining are two basic techniques adopted for extraction. Today, surface mining being more predominant, surface mining equipment market has evolved robustly. It had a revenue share of more than 35% of the total volume in 2015 and is slated to show heavy growth at a CAGR of 3.4% over 2016-2024. Rising trend of exploration of untapped resources specially across developing nations is expected to offer ample opportunities to the market over the years ahead.
Mining drills and breakers market will also benefit from the increase in demand for sub surface mining of metals, minerals, and coals with the incorporation of effective hi-tech solutions.
Asia Pacific, driven by China, to witness heavy gains over 2016-2024
Asia Pacific is one of the prominent regions propelling the overall market with a collected revenue of more than USD 40 billion in 2015. Increasing concerns toward worker's safety, strong demand for energy efficient technologies, and environmental considerations are the key factors driving the China mining equipment industry over the 2016-2024.
Furthermore, the recent market trend of using lease-based equipment is also encouraging industries to use more of advanced machinery. For instance, barcode technology helps in tool tracking, therefore various manufacturers are now incorporating digital barcode in hand tools as well as power tools to favor effective monitoring.
Another niche region driving the market is U.S. Key players in this region are investing continuously on energy efficient techniques, to reduce pollution.  U.S. mining equipment industry is set to cross over USD 11.5 billion by 2024, with a projected CAGR of 3.2% over the period 2016-2024.
Product diversification without increasing the overall cost is the prime focus of the industry participants. Prominent players of mining equipment market include Sandvik, Caterpillar, Atlas Copco, and Joy Global.
Author Name :Satarupa De
Regarded as a one of the rapidly progressing fraternities of life science domain, cell line development market has established itself as a major business sphere of recent times. With tissue and cell-based assays rapidly swapping animal studies, researchers are increasingly becoming dependent on cell study to demonstrate greater biological relevance. As per the data put forth by the World Health Organization, neurological disorders and their consequences are anticipated to affect more than one billion people worldwide.
U.S. Cell Line Development Market, By Product, 2013 – 2024 (USD Million)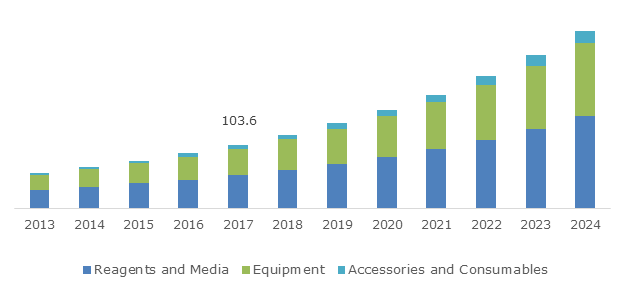 This data is evident from the rising aging population and lack of effective treatments – a factor also underpinning the necessity to develop new assays to advance research to develop know-how with regard to mechanism of these diseases. Given the fact that both industrial and research concerns are demanding advanced & better cells for developing novel vaccines, biosimilars, drug, and therapeutic proteins it comes as no surprise that the global cell line development market has bright growth prospects. A conjecture substantiating the same is of a report compiled by Global Market Insights, Inc., that claims the global cell line development market to become a massive 7.5-billion-dollar industry by 2024, a substantial up from USD 2.9 billion in 2016.
When it comes to the vast utilization of the cell line development technology, Berkeley Lights Inc., is one protuberant industry magnate who has developed a platform to address the unmet research needs in Cellular Immuno-Oncology, BioPharma, and Autologous T-cell Therapies. Introduction of Beacon platform by this company has undeniably changed the overall competitive dynamics of cell line development industry. In fact, it has been observed that several other market players are leveraging Berkeley Lights' state-of-the-art technology to further dive deeper into cell line research.
Get a Sample Copy of this Report:@https://www.gminsights.com/request-sample/detail/429
Impact of Berkeley Lights, Inc's Beacon platform on the competitive landscape of cell line development market
According to reliable reports, Berkeley Lights, Inc. (BLI) launched its first commercial platform – Beacon™ OptoFluidic Platform in December 2016. This platform is ideally suited for direct B-cell antibody discovery and cell line development workflows. Experts deem that the flexibility of this platform has allowed researchers to automate biological processes and develop new applications to align with specific requirements. In short, the Beacon platform has enabled efficient monitoring, visualization, and tracking of cell to cell interaction and single cell manipulation across thousands of cells into a nanofluidic chip. As a result of this breakthrough technology, customers and other cell line development industry players could accelerate the delivery of actionable results and reduce hands-on time. Taking into account the Beacon platform's ability to interact with cells in novel ways, BLI's prominence in cell line development industry has indeed strengthened.
Leading biotechnology company Shire adopts BLI's Beacon OptoFluidic platform
Recently in January 2018, BLI announced that Shire is implementing the Beacon Platform to accelerate their CLD process. Reports reveal that the company's decision was based on an experiment and study that equated their existing cell line development workflow to the workflow results obtained using Beacon.
Daiichi Sankyo to work with BLI's Beacon™ OptoFluidic
BLI in October 2017 announced that it will be working with the global pharmaceutical industry player Daiichi Sankyo to focus on creating CLD workflow efficiencies and fast tracking the drug development process. According to sources, the program includes evaluating and predicting the stability of clones, establishing monoclonality, and screening a pool of recently transfected CHO cells.
Pfizer to invests in mAb discovery with BLI's Beacon tech
In a recent news snippet released in January 2018, it has been reported that Pfizer is leveraging BLI's Beacon platform to advance its gene editing programs and monoclonal antibody discovery.
Other large pharma companies implementing Beacon technology
Teva Pharmaceuticals Australia, recently announced that it will be installing Beacon for its CLD and antibody discovery programs. Bayer Inc., is another in the line that has announced a strategic project with BLI to innovate and accelerate research. The pharmaceutical giant Novartis is also not far behind in implementing the Beacon platform. In fact, reports reveal it to be an earlier adopter of this technology and to consequently have secured its position in the dynamic cell line development market.
Overall a common thread that runs through all the aforementioned trends is BLI's rising preeminence in the global cell line development industry. The flexibility of the Beacon platform has not only allowed BLI to strengthen its roots in this industry by continuously aligning with its partner's requirements but has also significantly aided other emerging cell line development market players. What is noteworthy about these prospective trends is that they are deemed to be extremely important for other cell line development industry players in designing their growth tactics to sustain in the competitive terrain. For the record, other prominent companies partaking in cell line development industry share include GE Healthcare, Thermo Fisher Scientific, Lonza Group, Sigma-Aldrich, Sartorius AG, Progenitor Cell Therapy, LLC, and Samsung Biologics Co., Ltd.
Author Name : Ojaswita Kutepatil