Equipment
Prominent mining equipment market players have lately been looking forward to developing multi-tasking, durable, fuel-efficient mining machinery for lowering operating costs, reducing service time, and improving mine quality. Currently, various underground specialist mining equipment including diggers, loaders, and trucks are used extensively to excavate metals. However, mining activities across the globe, in the last few years, have increased remarkably owing to the surging involvement of companies in advanced exploration programs.
France mining equipment market, by product, 2017 & 2024 (USD Million)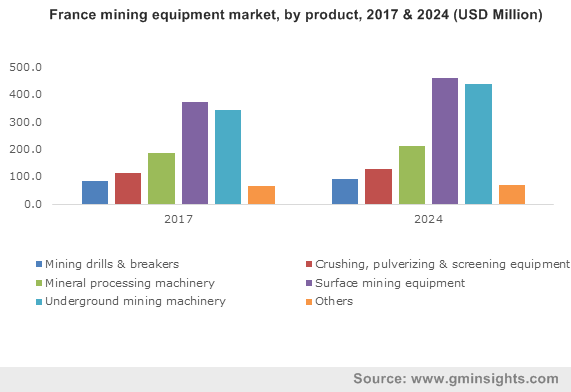 The excavation of a large amount of underground materials has led to a rise in air pollution which has become one of the major causes of the upsurge in the prevalence of respiratory diseases. Taking into account the surging need to curb the air pollution, mining equipment manufacturers have been thus investing in the development of cleaner and safer mining machinery, which has led to most of the companies establishing partnerships to come up with advanced versions of mining equipment.
Recently, the International Council on Mining and Metals revealed a plan to make mining vehicles safer and cleaner at the International Mining and Resources Conference held in Melbourne. At the conference, numerous renowned truck and mining equipment suppliers came together to accelerate the invention of next-gen mining equipment. In addition, the Innovation for Cleaner Safer Vehicles (ICSV) is also planning to launch GHG emission-free surface mining vehicles by the end of 2040. The increasing concerns about the depleting fossil fuel resources along with growing importance of emission-free vehicles are thus poised to observe a positive impact on the mining equipment market share.
In line with the ambitious clean vehicle development programs, in October 2018, Hitachi Construction Machinery signed an agreement with KTEG Kiesel Technologie Entwicklung GmbH to develop electric construction machinery. With this strategic agreement, it also looking forward to expanding its business across European countries owing to the deployment of strict regulatory norms for curbing GHG emission across Europe. KTEG will help Hitachi to commercialize electric construction equipment in the Europe mining equipment market.
Get a Sample Copy of this Report:@ https://www.gminsights.com/request-sample/detail/793
Aided by years of intense experience in the development of electric machinery, Hitachi is aiming to decrease life cycle costs of equipment and the burden they pose on the environment. The shifting focus of equipment manufacturers toward the development of highly innovative and fuel-efficient products is likely to proliferate the mining equipment industry size over the years ahead.
Over the last few years, in order to deal with the increasing number of mining activities, most of the countries have been planning to procure advanced mining equipment. The initiatives taken by the regulatory bodies have opened up new business opportunities for mining equipment industry players. Validating the aforementioned fact, in July 2018, Coal India Ltd has unveiled its plan to procure mining equipment of worth USD 2 billion over the coming three years. With the procurement of numerous mining equipment, it is looking forward to meeting the growing demand for coal in India. Coal India has also set an aim to produce 630 million tons of coal in 2018-19 and one billion tones in the coming years.
Similar to Coal India, the Zimbabwe Consolidated Diamond Company also has invested USD 100 million in the design and installation of complementary mining equipment. With the deployment of advanced equipment, the Zimbabwean diamond company aims to produce the best quality diamonds across the globe. In order to increase FDIs and contribute to strengthen the country's economy, most of the diamond-producing companies have been investing heavily in the mining sector. The surging participation of the regional governments in the development of the mining industry for the betterment of economy will have a positive influence on mining equipment market size from metal mining applications.
The collaborative approach of mining companies and regulatory bodies to accelerate the number of mining activities will have a significant influence on the mining equipment industry growth. With the deployment of ambitious product development programs, global mining equipment industry is likely to traverse alongside a positive growth path. Driven by the growing investments in the mining and metal exploration activities, mining equipment market size will surpass USD 95 billion by the end of 2024.
Author Name :Sunil Hebbalkar
Regarded as a one of the rapidly progressing fraternities of the life science domain, cell line development market has established itself as a major business sphere of recent times. With tissue and cell-based assays rapidly swapping animal studies, researchers are increasingly becoming dependent on cell study to demonstrate greater biological relevance. As per the data put forth by the World Health Organization, neurological disorders and their consequences are anticipated to affect more than one billion people worldwide.
India cell line development market, by product, 2013 – 2024, (USD Million)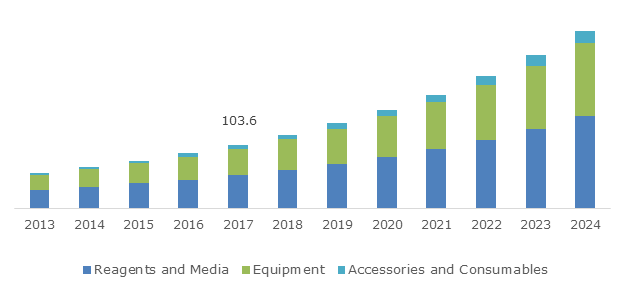 This data is evident from the rising aging population and lack of effective treatments – a factor also underpinning the necessity to develop new assays to advance research and develop know-how with regards to the mechanism of these diseases. Given the fact that both industrial and research concerns are demanding advanced & better cells for developing novel vaccines, biosimilars, drug, and therapeutic proteins it comes as no surprise that the global cell line development market has bright growth prospects. A conjecture substantiating the same is of a report compiled by Global Market Insights, Inc., that claims the global cell line development market to become a massive 7.5-billion-dollar industry by 2024, a substantial up from USD 3.3 billion in 2017.
When it comes to the vast utilization of the cell line development technology, Berkeley Lights Inc., is one protuberant industry magnates that has developed a platform to address the unmet research needs in Cellular Immuno-Oncology, BioPharma, and Autologous T-cell Therapies. Introduction of Beacon platform by this company has undeniably changed the overall competitive dynamics of cell line development industry. In fact, it has been observed that several other market players are leveraging Berkeley Lights' state-of-the-art technology to further dive deeper into cell line research.
Get a Sample Copy of this Report:@https://www.gminsights.com/request-sample/detail/429
Impact of Berkeley Lights, Inc's Beacon platform on the competitive landscape of cell line development market
According to reliable reports, Berkeley Lights, Inc. (BLI) launched its first commercial platform – Beacon™ OptoFluidic Platform in December 2016. This platform is ideally suited for direct B-cell antibody discovery and cell line development workflows. Experts deem that the flexibility of this platform has allowed researchers to automate biological processes and develop new applications to align with specific requirements. In short, the Beacon platform has enabled efficient monitoring, visualization, and tracking of cell to cell interaction and single cell manipulation across thousands of cells into a nanofluidic chip.
As a result of this breakthrough technology, customers and other cell line development industry players could accelerate the delivery of actionable results and reduce hands-on time. Taking into account the Beacon platform's ability to interact with cells in novel ways, BLI's prominence in cell line development industry has indeed strengthened.
Leading biotechnology company Shire adopts BLI's Beacon OptoFluidic platform
Recently in January 2018, BLI announced that Shire is implementing the Beacon Platform to accelerate their CLD process. Reports reveal that the company's decision was based on an experiment and study that equated their existing cell line development workflow to the workflow results obtained using Beacon.
Daiichi Sankyo to work with BLI's Beacon™ OptoFluidic
BLI in October 2017 announced that it will be working with the global pharmaceutical industry player Daiichi Sankyo to focus on creating CLD workflow efficiencies and fast tracking the drug development process. According to sources, the program includes evaluating and predicting the stability of clones, establishing monoclonality, and screening a pool of recently transfected CHO cells.
Pfizer to invests in mAb discovery with BLI's Beacon tech
In a recent news snippet released in January 2018, it has been reported that Pfizer is leveraging BLI's Beacon platform to advance its gene editing programs and monoclonal antibody discovery.
Other large pharma companies implementing Beacon technology
Teva Pharmaceuticals Australia, recently announced that it will be installing Beacon for its CLD and antibody discovery programs. Bayer Inc., is another in the line that has announced a strategic project with BLI to innovate and accelerate research. The pharmaceutical giant Novartis is also not far behind in implementing the Beacon platform. In fact, reports reveal it to be an earlier adopter of this technology and to consequently have secured its position in the dynamic cell line development market.
Overall a common thread that runs through all the aforementioned trends is BLI's rising preeminence in the global cell line development industry. The flexibility of the Beacon platform has not only allowed BLI to strengthen its roots in this industry by continuously aligning with its partner's requirements but has also significantly aided other emerging cell line development market players. What is noteworthy about these prospective trends is that they are deemed to be extremely important for other cell line development industry players in designing their growth tactics to sustain in the competitive terrain. For the record, other prominent companies partaking in cell line development industry share include GE Healthcare, Thermo Fisher Scientific, Lonza Group, Sigma-Aldrich, Sartorius AG, Progenitor Cell Therapy, LLC, and Samsung Biologics Co., Ltd.
Author Name : Ojaswita Kutepatil