Ethylene-Vinyl Acetate
Highlighting the rapid developments across the global flexible foam market, it would be pivotal to state the mention the Germany-based global leader in flexible foams, Armacell. Apparently, the firm has recently opened its new manufacturing facility in Bahrain. According to news reports, the facility has an annual operational capacity of 60,000-cu m of technical insulation foam, in turn providing a wide range of insulation solution for the domestic market including elastomeric insulation & high-density materials for HVAC (heating, ventilation, and air conditioning) systems. Industry analysts deem that Armacell's move to open flexible foam manufacturing facility will not only cater to the strong product demand in the Gulf region, but will also strengthen its foothold in the global flexible foam industry space.
Asia Pacific flexible foam market, By Type, 2018 & 2025, (Million Tons)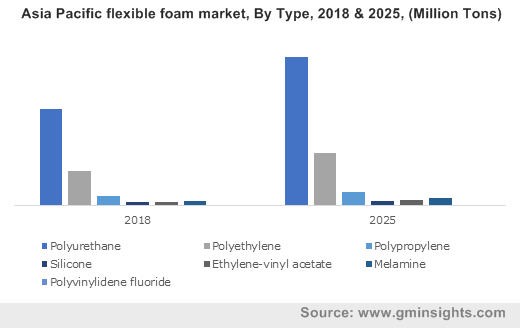 This German company, however, is not the only major flexible foam industry player that's seizing the growing product demand from myriad applications including packaging, construction, furniture & upholstery, bedding, pillows, carpet cushion, mattresses, consumer goods, and automotive interiors.  FRX Polymers Inc., recently for instance has introduced its Nofia non-halogenated polyphosphonates that will be used in UL 94 V-0 high-temp polyurethane flexible foams used in the transportation & electronic industries. For the record, Nofia phosphonate oligomers act as a flame retardant & heat stabilizer in polyurethane flexible foam products and retain mechanical performance.
A statement by FRX claims that the Nofia FR enabled the fire retardant polyurethane foam to conveniently handle higher temperatures – with respect to both, the continuous use temperature and peak temperature. FRX's launch of Nofia is an apt instance validating the significance of polyurethane as a vital type of flexible foam. The material apparently, is characterized by outstanding features such as light weight, lower installation time, enhanced resiliency, improved cushioning, lightweight, increased shelf life, and durability.
Get a Sample Copy of this Report @ https://www.gminsights.com/request-sample/detail/1735
Elaborating on the extensive deployment of polyurethane for introducing light weightiness in vehicles, it would be prudent to mention that high-density polyurethane foam components can be effectively coated to seem like the original product, and can be manufactured with a closed-cell structure that boasts of being water-tight. Ergo, the component is not susceptible to rotting, delaminating from water intrusion, or warping. PU foam is also equipped with exceptional self-skinning properties, making the product ready for painting or coating. This has consequently increased the deployment of PU foams in myriad automotive and aerospace applications, thereby driving the PU flexible foam market share.
Powered by its excellent characteristics, polyurethane foam is widely used across a spate of industry verticals. As a matter of fact, polyurethane dominated the overall flexible foam market in 2018, with a share of over 60% of the demand. Driven by its innumerable applications in lightweight automotive parts, as thermal insulation products in buildings, in automotive interior components, and as cushioning in beddings, upholstery, etc., polyurethane-based flexible foam industry is slated to traverse alongside a highly profitable growth path in the years ahead.
Speaking of the regional spectrum of flexible foam market, the APAC undeniably, has emerged as a forerunner, a feat that can be credited to the expanding automotive and consumer goods industries in the region. As a matter of fact, the continent boasts of increased expenditure on luxurious consumer goods coupled, thereby fueling the demand for memory foams in mattresses and beddings. The region's construction industry has also been undergoing a robust expansion of sorts, that has considerably increased the demand for flexible foams in the continent.
Powered by the expanding hospitality industry, specifically across the South-East Asian nations of Thailand, Singapore, Malaysia, Vietnam, and Indonesia, on account of supportive FDI policies, APAC flexible foam market share is anticipated to depict a commendable rise in the years ahead. Indeed, as per estimates, Asia Pacific led the overall flexible foam market share in 2018, accounting for more than 30% of the demand.
As the demand for flexible foams exhibit an incline across a slew of prominent industry verticals, the global flexible foam market is anticipated to gain quite some traction in the years ahead. The industry is also characterized by the launch of highly innovative products by numerous industry contenders. Say for instance, Deacom, Inc., the popular developer of a comprehensive ERP solution, recently concluded an implementation for an innovative PU foam chemical technology manufacturer, Foam Supplies, Inc., with Ecomate®, its patented blowing agent. The new system is expected to provide the technology foundation to manage Foam's production operations. Aided by a ferocious competitive spectrum and a widespread application landscape, the global flexible foam industry size is set to be pegged at USD 65 billion by 2025.
Author Name : Saipriya Iyer