Europe Biogas Market
Growing concerns over depleting fossil reserves coupled with the rising environmental impacts from burning conventional fuels will drive global biogas market growth. Increasing awareness about biogas technologies across the globe will encourage the deployment of these technologies.
Government initiatives to promote biogas across end-use industries along with enactment of stringent environmental laws curb GHG emissions will also positively influence the global biogas market trends throughout the forecast timeframe. As per the latest study by Global Market Insights, Inc., biogas market size will exceed USD 110 billion by 2025.
Increasing penetration of biofuels across the transportation sector will create favorable business scenario for the market. Growing initiatives toward the utilizing industrial and municipal waste for energy generation will complement the biogas demand. There have been rising efforts toward the deployment of sustainable energy technologies promoted by several incentives and subsidy schemes.  Moreover, governments are bound to reduce the dependency on fossil fuel sources for power generation which will enhance the industry outlook.
Get a Sample Copy of this Report:@ https://www.gminsights.com/request-sample/detail/1238
Biogas market from sewage sludge substrate will witness significant gains on account of increasing shift toward utilizing domestic sewage for biogas production which can be further used for electricity generation. In addition, the local bodies have been planning for large scale development of sewage treatment facilities owing to growing environmental concerns from disposing the sewage in the water bodies. Huge availability of sewage from the urbanized areas should accelerate product deployment to sustain the growing electricity demand.
Electricity applications will continue to be a consistent driving factor for the global biogas market in the upcoming years, pertaining to growing awareness toward climate change and ever-increasing electricity prices. 500 kW – 3 MW biogas plants should witness increasing deployment over the study timeframe because of the favorable conditions created by intensifying regulations to minimize energy-related carbon emissions.
Rapid urbanization from the increased migrations from rural areas will surge the residential energy needs. In addition, the ongoing smart city trends should foster the business landscape over the forecast timeline. Furthermore, burgeoning energy demand from the manufacturing units due to proliferating industrialization will enhance the industry outlook.
Global biogas market from commercial application will showcase indispensable growth on account of space heating applications. Availability of abundant feedstock and high energy density makes it a viable option deployment in the commercial sector.
Pre-hydrolysis technology in the biogas industry is projected to account for significant growth owing to rising demand for sludge stabilization. The technology features prominent benefits including minimal production of biosolids, low costs of the process and enhanced energy recovery giving it an edge over other alternatives.
Biogas market size from anaerobic digestion process hit USD 45 billion in 2018 and is further anticipated to achieve a CAGR of over 6% through 2025. The process of anaerobic digestion extracts the energy in the form of biogas and leaving behind the biofertilizer. Growing need for replacing chemical fertilizers with the organic alternatives for improved soil health should drive the segmental growth, given the dual advantage of producing energy and fertilizers.
Asia Pacific biogas market will display commendable gains owing to rising adoption of renewable energy technology and increasing electricity demand. High count of electricity deprived remote location and ongoing modernization of grid infrastructure will fuel the installation of biogas systems in the region.
Increasing awareness toward conservation of agricultural land coupled with growing initiatives for improvement of local economies will foster the development of biogas plants across the emerging economies. Furthermore, high availability of cheap feedstock coupled with increasing carbon emissions will drive the industry growth.
Author Name : Amol Kothekar
The shifting trends toward the anaerobic digestion of organic wastes and generation of energy from biogas are all set to impel biogas market in Europe. Having garnered a reputation of making substantial contributions toward the maintenance of green environment & energy conservation, biogas has found immense penetration across the food & beverages, waste-to-energy, power, and technology industries. Regional governments in Europe are encouraging the use of biogas across the region by providing tax benefits, feed-in-tariffs, and rebates to the end-users. Earlier this year, Germany has announced its goal of lowering carbon emissions by 40% till 2020 and by 95% up to 2050. It has been projected that renewable energy would account for 60% of the country's overall energy consumption by 2050, thereby creating a favorable growth path for the country in Europe biogas market. Biogas power stations have also accounted for a major portion of Germany's bio energy industry. The region possessed nearly 8900 of biogas power stations in 2015, which is another positive indicator that Europe biogas market would accrue lucrative gains in the ensuing years.
 Germany Biogas Market Size, By Feedstock, 2016 & 2024 (USD Million)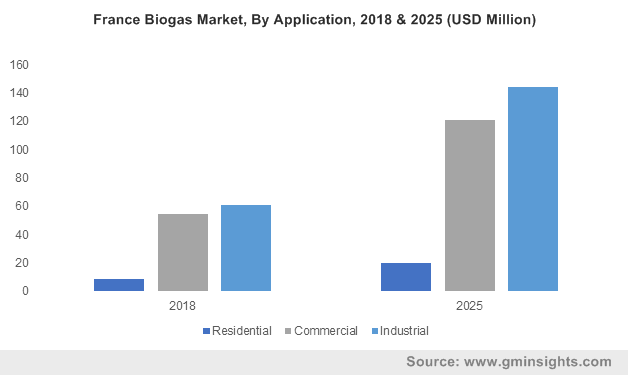 Firms such as Geotech and Ansyco have firmly established their presence across Europe biogas market through the launch of novel gas analysis technologies. Recently, in a bid to expand their product portfolios, both the firms have collaborated to develop an innovative system referred as BIOGAS 3000 capable of effectively & constantly monitoring and analyzing of biogas production processes. In an important breakthrough witnessed across the biogas industry in Europe, DuPont and Bock UK Limited have also made a strategic pact that will help the latter depict DuPont's new biogas enzyme technology referred as OPTIMASH® AD-100 for its commercial sale across the U.K, which would certainly augment Europe biogas market.
Get a Sample Copy of this Report @ https://www.gminsights.com/request-sample/detail/2070
Biogas is inherently deployed across the residential, industrial, and commercial arenas. The mounting demand for power supply, environmental awareness, and the rising preference for renewable energy sources have resulted in commendable demand & large-scale deployment of biogas manufacturing plants in Europe. As per estimates, biogas applications across the industrial sector in Europe will surpass an annual installation of 600 MW by 2024. The escalating requirement for low-power & cost-efficient technologies for treating biodegradable wastes is slated to impel Europe biogas market from commercial applications.
With the rising trend of using sustainable energy across the continent, Europe biogas industry is expected to have bright growth prospects in the ensuing years. Effective government measures such as providing tax concessions and rewards for the biogas applications are expected to impel the growth of this business sphere in Austria, which would considerably augment the revenue graph of Europe biogas market as well. Germany, on the other hand, is expected to surpass 300 MW by 2024, subject to the rising need for curbing carbon emissions and maintaining a green environment. The numerous efforts undertaken by member countries are certain to stimulate the growth of Europe biogas industry.
Rising economies of scale are expected to encourage companies to make heavy investments across Europe biogas industry. With the continent touted to be the hub for renewable energy in the future, it comes as no surprise to note that Europe biogas market has been forecast to surpass a revenue of USD 2 billion by 2024.
Author Name : Dhananjay Punekar