Europe Pea Protein Market
The global pea protein market is set to traverse alongside a highly lucrative growth chart, particularly on account of the ongoing trends toward vegetarianism, veganism and flexitarian habits. It is prudent to mention that millennials are the main drivers of this plant-based movement, with everyone from celebrities, athletes, social media influencers to major corporations supporting the same.
U.S. Pea Protein Market Size, By Product, 2017 & 2024, (Kilo Tons)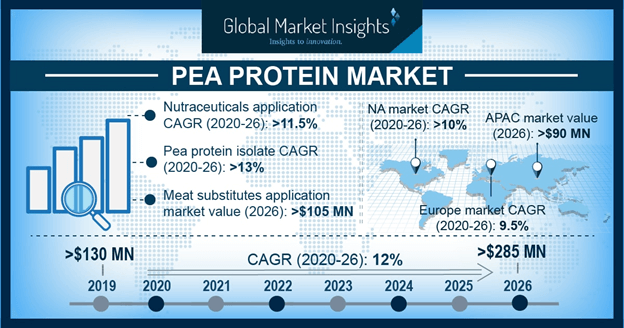 According to the latest research, there's been a worldwide increase in veganism from 2014 to 2018, including top regions like Australia, New Zealand and Canada. The United States has witnessed a 600% increase in people identifying as vegans over the last three years. The number of people identifying as vegans in the UK has gone up by 350% and vegetarianism in Portugal surged by 400% over the last decade. Given the worldwide shift away from consuming animal products, the global pea protein market will witness a hefty demand as the consumption of vegan protein sourced from peas will increase.
The rising popularity of veganism and its contribution toward pea protein industry expansion:
Plant-based diets are growing across the world and are immensely supported by small-scale as well as major food and beverage corporations who are positively responding to consumer's changing food preferences. For instance, in August 2018, coffee giant Starbucks launched its first-ever vegan protein cold brew drinks. The drinks were made with slow-steeped Starbucks Cold Brew and alternative plant-based proteins made from pea and brown rice.
Get a Sample Copy of this Report @ https://www.gminsights.com/request-sample/detail/362
Another instance worth mentioning is Dubai-based airline Emirates using over 170 vegan recipes to suffice increasing vegan meal requests. Their efforts even earned them the Best Airline for Vegan Meals title in a poll by Vegan News.
In addition, the emergence of modern vegan restaurants will further boost product demand. For example, the Etsy Headquarters in Brooklyn is about to receive a 4,500 square foot vegan eatery. Meanwhile, Tokyo International Airport, which is the world's fourth most traveled airport got its first 100% vegan café to meet the growing demand for plant-based food and beverage by tourists visiting Japan.
As more and more restaurants and businesses adopt vegan recipes, the demand for pea protein will surge owing to its use as protein content for vegetarian meals, which will in return fuel the global pea protein market growth.
Pea protein industry trends from sport supplement applications:
The demand for proteins across the sports sector has also been complementing global pea protein market growth. Lately, several professional athletes including renowned names like Venus Williams, Tom Brady, and some NBA players are proving that a plant-based diet can fuel excellence.
For instance, Kyrie Irving, player for the Boston Celtics of the National Basketball Association chose a plant-based diet over the offseason in 2017 to improve his performance. He later revealed his positive health and performance updates from switching to a plant-based diet.
The growing popularity of veganism among sports personalities is bound to drive the demand for vegetarian sports supplements or protein powders. The increasing use of pea protein in sports nutrition products will thus drive the industry trends across myriad geographies in the years to come. A report by Global Market Insights, Inc., claims that Germany pea protein market size from sports supplement applications is anticipated to record a CAGR of 11% over 2018-2024.
The growing demand for milk alternatives is another significant factor augmenting the pea protein market, particularly due to rising cases of lactose intolerance and increasing demand for plant-based milk.
As per Genetics Home Reference, about 65% of humans have a reduced capability to digest lactose post infancy. Lactose intolerance is most prevalent among East Asian adults, affecting over 90% within this community. The condition is also common in certain European nations like Finland, where it affects 1 in 60,000 newborns.
A survey conducted on 2,006 adults unveiled that 48% of Americans purchase both vegan and dairy milk varieties. However, over 51% believe that vegan variety offers more, or equal protein quality compared to dairy. Meanwhile, UK's sale of dairy-free milk surged by 30 percent between 2015 and 2017. Owing to the rising demand for plant-based milk, Whole Foods recently unveiled that it will be introducing the first range of pea milk products in the UK by Mighty Society.
Shifting food and beverage consumption trends such as the aforesaid are expected to massively drive the pea protein market growth in the years ahead. Indeed, it comes as no surprise that the pea protein market size is estimated to cross $160 million by 2024, driven mainly by paradigm shift toward vegan and vegetarian diets.
Author Name : Krithika Krishnan