Extruded PMMA Market
The global PMMA market for construction application has been experiencing significant growth lately, due to the increasing demand for shatterproof & weathering resistant materials as a viable replacement to glass. Numerous construction enterprises are continually looking for a suitable glass alternative to be utilized across a number of different applications that range from greenhouses, aquariums, worktops to facades and car ports, which would help augment PMMA market for construction application in the years ahead.
U.S. PMMA Market for Construction application, By Application, 2017 & 2024, (Kilo Tons)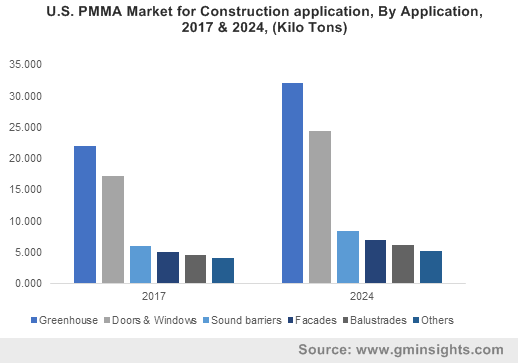 Apart from being shatterproof & weather resistant, PMMA also boasts of another considerable advantage over glass, which is the material's transparency; PMMA is significantly more transparent than glass, and as opposed to it, maintains this transparency even when the panels are made too thick. Moreover, the trend of increasingly promoting natural lighting in architectural designs – to the point that enterprises across the world when posting job perks also list out 'access to natural light' as an added advantage, would be ensuring sustained product demand. This is because the more a building design ensures natural light access, the more area there is for the installation of windows. Quite overtly, the global PMMA market for construction application would be significantly benefiting from this trend. A further elaboration of the same has been enlisted below:
PMMA market for construction application | Impact of the natural light trend that is gripping enterprises
According to the Harvard Business Review, a new survey conducted by Future Workplace revealed that even though enterprises boast of a number of employee perks, which include nap pods, treadmill desks, bring your own device, fitness centers and onsite cafeterias, a majority of employees crave something that is significantly more fundamental & essential to basic human needs as access to natural light. More than 1,614 employees who were surveyed claimed that access to natural light & an open view of the outdoors triumphs almost all of the employee perks the company gives them.
The survey also discovered that the lack of natural light & an open view of the outdoors has a sizable detrimental effect on employee experience. Over a third of the surveyed employees feel that they don't get enough exposure to natural light inside their workplace with 47% of the employees admitting to feeling moderately to acutely fatigued due to the lack of natural light in their respective offices. More than 43% claimed that they felt gloomy due to the absence of natural lighting.
With a growing importance being given to employee comfort and wellbeing in recent years, the global PMMA market for construction applications would be witnessing a surge in business demands on account of a number of enterprises attempting to improve the company's employee experience by constructing, renting or modifying existing work premises to incorporate more natural light into the building. The fact that this trend also helps enterprises save significant amounts on their electricity bills will further help propel the growth prospects of the PMMA market for construction application in the forthcoming years.
Get a Sample Copy of this Report @ https://www.gminsights.com/request-sample/detail/3150
PMMA market for construction applications | Impact of the increasing plastic usage in Europe's real estate industry
The modern European construction industry is increasingly adopting plastics in their practices to make construction activities and the building structures more affordable & energy efficient. The accelerated adoption of plastics and the incorporation of new plastic technologies are expected to majorly upscale the demand for PMMA in the continent's construction segment, which incidentally is one of the largest employers in the European Union.
According to PlasticsEurope, Europe's construction & building sector accounts for more than 19.7% of the approximately 49 million tons of plastics annually consumed across Europe, which is one in every five tons. With the demand for plastics on a continually escalating graph, Europe PMMA market for construction application is anticipated to record immeasurable growth in the ensuing years.
Among the regional grounds, Germany, especially, is slated to establish itself as a prominent marketplace for Europe owing to the extensive utilization of PMMA in the construction of carports. The material's shatterproof & durability properties make it an ideal raw material in the construction of the said carports, which are witnessing increasing demands owing to the growing vehicle sales across the country. This would consequently help augment the commercialization portfolio of the Germany PMMA industry for construction application, that is slated to cross $125 million by 2024.
It is rather vivid that owing to the emerging trends in the construction industry, the global PMMA market for construction application would be experiencing sizable growth over the forthcoming time period. In fact, a Global Market Insights, Inc., report projects that the overall PMMA market size for construction application is expected to surpass the $3 billion renumeration mark by 2024.
Author Name : Akshay Kedari