Face
Increasing adoption of technology in the security vertical and the confluence of organizations to meet authentication standards has added a renewed dynamism to biometrics market. With the biometrics technology having marked its presence across the security landscape, it is now rapidly penetrating its way into consumer, government, and industrial systems. Based on the concept of statistical analysis of biological data, the biometrics technology is proclaimed to be less prone to cybercrimes and hacking. Recently, Mexico's National Banking and Security Commission has announced a new regulation in the country that would require all the banks to deploy fingerprint scanners for the clients by 2018. Another instance is of FacePhi Biometria, where the company is seen signing deals to bring its selfie-based authentication system especially in the financial sector. Similar moves are likely to materialize in the coming years, in turn, propelling biometrics industry size.
U.S. Biometrics Market Size, By Product, 2013 – 2024 (USD Billion)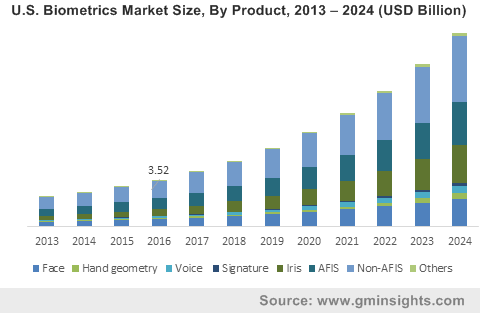 Global Market Insights, Inc., claims that biometrics market will exceed USD 50 billion by 2024, having been pegged at USD 12 billion in 2016. High acceptance of biometrics in various verticals such as mobile banking and other financial services has further favored the growth of biometrics market. As the cybercrimes and identification errors are captivating the industry verticals, there has been a significant upsurge in the adoption of biometrics to ensure data security and privacy. Lately, there has been a plethora of fraudulent cases and data breaches in the financial sector. JP Morgan Chase for instance was one of the major victim, where the hackers accessed the critical data of approximately 83 million customers. Such potential threats of data breach have led to greater demand for biometrics technologies in the banking & finance sectors. As per the report, biometrics industry share is set to gain lucrative avenues from banking and finance sector, projected to register a healthy growth rate of 22% from 2017-2024. Apart from this, biometrics industry is also likely to demonstrate noticeable growth in healthcare, transportation, consumer electronics, and defense services. In fact, the transportation application within biometrics market is estimated to be the highest revenue contributor in the coming seven years.
Get a Sample Copy of this Report@ https://www.gminsights.com/request-sample/detail/493
With the significant expansion of its vast application arena, it is quite evident that biometrics technology is gaining lot of popularity as it works on identification of individuals' biological information. This technology uses physiological and/or behavioral characteristics of people to authenticate their identity. As every individual is unique, this technology uses separate identifiers such as face recognition, fingerprint, palm veins, hand geometry, DNA, iris recognition, voice and retina. Many companies have adopted these techniques to improve the security features. For instance, Samsung and LG have incorporated iris scanners into their smartphones on a wider scale. The voice recognition technology is also seen gaining considerable traction in the mobile banking and commercial sector. The voice recognition segment of biometrics market is expected to register a CAGR of 22% over 2017-2024, claim estimates.
Over the coming years, biometrics industry is expected to witness several technological advancements that will make authentication more secure and convenient. Below mentioned are the three trends that will strongly influence the industry growth.
Smartphones
Mobile payment is touted as the future of financial transaction and is thus getting incorporated with biometrics to provide a strong security interface. Governments and businesses are vigorously looking for reliable authentication devices such as mobile biometrics to speed up human identification processing, in turn, providing a commendable impetus to biometrics market demand. Such technologies running on personal smartphones are sure to offer biometrics market the opportunity of clocking excellent growth rates in the ensuing years.
E-commerce
With the rapid growth of online shopping, online payment methods are slated to be subject to a lot of threats. The biometrics technology is expected to do wonders in this segment as accessing of user accounts through iris, facial recognition and fingerprints could go long way in ensuring a secure login than regular pins and credentials, validating the contribution of e-commerce in the growth of biometrics industry.
Internet of Things
One of the biggest biometrics market trends to watch for will be the adoption of this technology parallel to the massive expansion of IoT. IoT being the biggest emerging concept for both businesses and consumers undeniably requires a robust security spectrum to protect critical data. In response to this, in the coming years, the global biometrics market will witness a remarkable upsurge with the technology being integrated in a wide variety of IoT applications ranging from smart homes, banking, healthcare, and automotive.
With the advancements and evolution in the tech space, identity management and security are certain to be the top-notch priorities of the businesses. Taking into account this trend, it is unarguable that biometrics industry is set to witness a profound profitability quotient in the ensuing years.
Author Name :Ojaswita Kutepatil