Feed Acidifiers
Animal feed additives market, which is strongly characterized by the presence of established industry giants, has been witnessing phenomenal advancements in terms of feed quality and product diversification, over the recent years. The substantial upsurge in livestock breeding and rising global meat consumption are some of the important factors that have prompted companies to come up with new products and make considerable investments in R&D activities. Speaking along similar lines, it would be important to take note of an instance that provides a significant testimony to the aforesaid statements. PMI Nutritional Additives, a renowned animal feed additives industry player, recently made it to the headlines with the launch of Peloton, its novel yeast feed additive, which claims to maintain the rumen health and digestive efficacy of livestock. For the record, PMI's unique Peloton yeast feed additive is a thermal stable blend of the company's Fulfill feed additive and Saccharomyces cerevisiae yeast. This activated yeast has also been reported to facilitate microbial protein flow from rumen to lower gastral track, thus supporting the gut health and integrity. In effect, analysts deemed the introduction of Peloton to reinforce PMI's portfolio and further expand its research scope in launching such innovative products. Amidst a backdrop of such documented instances of product innovations & enhancements, it is quite overt for the animal feed additives industry to witness remarkable growth avenues in the ensuing years.
China Animal Feed Additives Market Size, By Product, 2016 & 2024 (USD Million)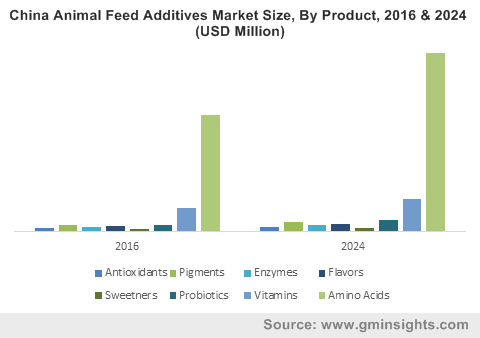 Estimates claim that there has been a subsequent surge in the demand for meat and meat products at a global level. In fact, statistical reports state that the global average meat consumption has surged to 41.90 kg per person per year, which is majorly driven by the poultry demand. As animal feed additives play a vital role in poultry diets to improve the overall integrity of lower gastrointestinal track of the livestock, the rising meat consumption is in turn working in the favor of expanding business scenarios. In fact, industry experts anticipate the animal feed additives market from the poultry application to generate a remarkable valuation of over USD 10 billion by 2024.
Speaking of the growing demand for nutritional additives from the poultry application, China is one of the most lucrative growth grounds for animal feed additives industry expansion. High livestock production and extensive animal breeding in the region has been identified as the two crucial factors fortifying the regional animal feed additives market demand. The increasing meat consumption in China has, in turn, prompted the regional industry players to incorporate additives for maintaining the quality of meat. According to reports, the meat consumption in China exceeded 50 kilo tons in 2016 and is further anticipated to surpass 60 kilo tons by 2024. With other countries, such as India, Malaysia, Thailand, and Indonesia following similar growth patterns with regard to massive livestock production, the animal feed additives market, across the Asia Pacific belt, is certain to account for above-average growth. It has been reported that in the year 2016, Asia Pacific witnessed highest feed production capacity, surpassing 350 million tons.
Get a Sample Copy of this Report:@  https://www.gminsights.com/request-sample/detail/144
It would be prudent to mention that the growing consumer demand across these continents have expanded the scope for animal feed additives market participants and have encouraged them to expand their global reach. According to research study, new product launches and M&As have been the most adopted strategy by the animal feed additives industry players. For instance, in a bid to strengthen its position in the global animal feed additives market, Coppens International recently unveiled its product breakthrough for aquatic feed additives. Elaborating further on this move, the company introduced several new algae products that replaced the use of fish oil and inorganic trace minerals in the additives. The new product range introduced by the company in the regional animal feed additives market comprised ForPlus, Bio-Mos, Bioplex, and Actigen, which are designed to strengthen gut integrity, promote good bacteria, and optimize overall fish health.
Taking into account the aforementioned trends, it is quite overt that the animal feed additives industry dynamics are majorly influenced by the rising meat consumption leading to further rise in livestock production. Moreover, given the changing food habits, it wouldn't be wrong to say that animal feed additives market size surge has been synonymous to growing appetite for protein rich food. However, this is not the only reason that is promoting the use of additives in animal feed. Industry experts also illustrates the growing concerns of disease outbreaks in livestock to be a crucial factor for incorporating additives in animal fodder. Bird flu, animal foot & mouth infections, and swine flu are some of the popular plagues that have taken the world by storm in past decade. In this scenario, proper care of animal health, while incorporating nutrition & antibiotics in animal feed, has been prevalent worldwide, in turn impacting animal healthcare market. Given the pivotal role that these additives play in boosting animal health and eliminating the toxic effect, the expansion of animal feed additives industry has been quite imperative. Indeed, there is satisfactory data that supports the growing animal feed additives market share, which according to reports, is claimed to attain a global valuation of USD 25 billion by 2024.
Author Name : Ojaswita Kutepatil
In an era of rising level of awareness and health consciousness among the global population, the aquafeed market share has recorded an unprecedented progression over the recent years. An overwhelming upsurge in the instances of lifestyle diseases such as diabetes, obesity, and other cardiovascular ailments has necessitated consumption of fish among a diverse set of populaces residing in varied geographical regions world over. This explains the escalating demand for fish since they are a rich source of omega-3 fatty acid and lean protein, which has, in turn, boosted the frequency of fish harvesting across the globe. In consequence, a marked uptick in fish intake invariably calls for their healthiness as well – a factor that would further contribute toward the global aquafeed industry share expansion in the ensuing years. The testament to the aforementioned statements is the estimate noted in a recent study undertaken by Global Market Insights, Inc., which claims that the overall aquafeed market share exceeded a valuation of around USD 80 billion in the year 2016.
Europe Aquafeed Market Size, By End-Use, 2016 & 2024, (USD Million)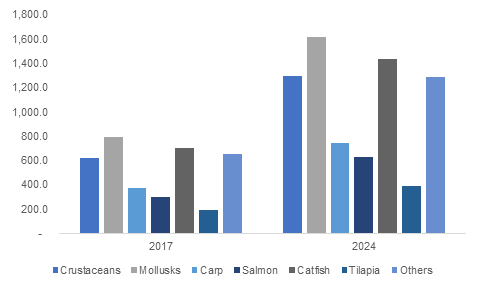 How Asia Pacific region has been making strong headways in the global aquafeed market 
Accounting for over 65 percent of the total global fish production, the Asia Pacific aquafeed market dominated the regional landscape in the year 2016. Furthermore, it would be prudent to mention that the APAC region is projected to witness massive demand for seafood in the forthcoming years owing to freshwater availability and ease of farming technology across the region. Moreover, rising disposable incomes coupled with ambient environmental conditions, inexpensive labor, and bountiful resource availability are a few factors that would stimulate the overall APAC aquafeed industry amplification in the next seven years. Following is a brief overview of how prominent Asian economies are emerging as the growth drivers of the overall APAC aquafeed market in the recent times:
India – As per the statistics published by the United Nation's Food and Agriculture Organization (FAO), India now acquires the second position globally in terms of annual fisheries and aquaculture production. The dominant standing of India in the global aquafeed industry can apparently be comprehended from the fact that the South Asian nation boasts of a coastline of about 7,517 km and a staggering 195,210 km of river and canal network which consists of 14 major rivers and 44 other medium to small rivers and streams. Needless to say, numerous aquafeed market giants have set their sights on India to fortify their presence in this highly combative business space. For instance, Cargill Inc. has recently inaugurated its first aquafeed production mill in Andhra Pradesh, India. The latest plant would reportedly triple the American conglomerate's aquafeed production capacity in the nation up to 90,000 tons per year. Apparently, the aforementioned declarations go on to demonstrate the endless growth opportunities awaiting the leading market participants in India's resurgent aquafeed industry.
Get a Sample Copy of this Report:@ https://www.gminsights.com/request-sample/detail/495
Australia – Amidst the league of preeminent countries in the region, Australia has been gradually acquiring a significant place in the APAC aquafeed industry. Over the past few years, a slew of major industry stakeholders have been investing massively to build large aquafeed production facilities in the nation. To cite an instance of the same, BioMar Australia has recently announced to construct a $56 million plant in the Tasmanian region, providing a significant boost to the local aquafeed market and the nation's burgeoning aquaculture industry. Reportedly, the facility would produce up to 110,000 tons of aquafeed products per annum. Hence, the growing interest of foremost market giants highlights an exceptionally bright picture of the overall aquafeed industry share expansion in Australia.
Concurrently, in a bid to retain their prominence in this ever-evolving and rapidly transforming business space, industry participants have been prioritizing consumer satisfaction in the past few years. Considering the aforementioned aspects, it is fairly evident that the leading market players would focus on enhancing their product quality through investments in capacity expansion plans and R&D activities, which would drive the growth potential of aquafeed industry over the estimated timespan. All in all, it is quite undeniable that the overall aquafeed market, which is expected to surpass a total consumption volume in excess of 115 million tons by 2024, would establish itself as one of most significant verticals of the swiftly progressing food, nutrition, and animal feed industry.
Author Name : Saif Ali Bepari