Feed Phytogenics Market
Increasing demand for high quality meat products, particularly in the economies of China, India and Brazil, is likely to boost feed phytogenics market, driven by the increased demand for livestock production. Phytogenics are known to have a wide range of biologically active properties, such as anti-inflammatory, antioxidative, anti-microbial and digestion-enhancement, beneficial in modern livestock production. These products are used to enhance the performance & health of livestock including ruminants, poultry, swine, and aquatic, basically for meat consumption, the upsurge in which will augment feed phytogenics industry.
U.S. Feed Phytogenics Market Size, By Product, 2017 & 2024, (USD Million)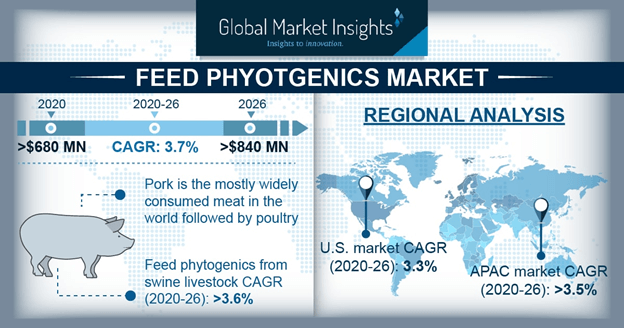 Reportedly, the meat sector has increased its investments lately so as to meet the surging demand for high protein meat products for health-conscious consumers, and has seemingly switched to ready-to-eat (RTE) meat products due to easy availability, hectic lifestyles, and rising innovations in meat processing technology. Reports suggest that in the 2015, the China's meat production accounted for 28.4% of the total meat production in the world, while the global meat production stood at 86.25 million tons. By adopting advanced meat processing technologies and phytogenic feed additives (PFAs), meat industry players are focusing on increasing their output yield, which would quite overtly prove to beneficial for feed phytogenics market.
Ideally, PFAs are used in the animal industry is to improve the feed quality as well as animal health and performance. The product is considered as a first alternative to AGP (antibiotic growth promotors), mainly due to its antioxidant, antimicrobial, and anti-inflammatory properties. Most reports speculate an optimistic growth in PFA promoting effects on reproduction of milk, egg, and meat. These products have found wide usage in dairy cow nutrition to enhance the technical properties of milk for cheese and butter production and play a critical role in reacting to a ruminant's complex digestive and metabolic system. These products also impart anti-oxidative and anti-inflammatory properties to the gastrointestinal tract for the survival of calves. Driven by these incredible benefits, feed phytogenics market is expected to traverse along a positive growth path in the years ahead.
Get a Sample Copy of this Report:@ https://www.gminsights.com/request-sample/detail/120
Surging essential oils demand to augment feed phytogenic market landscape
Essential oils (EOs) are widely used as PFAs, due to their strong aromatic features and bioactivity. On account of the volatile and reactive nature of EOs, their effectiveness in animals can be influenced by different conditions during production processes, storage of EOs, and conditions in the gastrointestinal tract of the animals. Evidence suggest that PFAs containing more volume of essential oils can minimize the environmental impact of livestock industry on the atmosphere by reducing emissions of ammonia from pig production, and methane from fermentation in the rumen. Moreover, these products can increase the absorption of amylase and other endogenous enzymes, further increasing the commercialization potential of EO-based feed phytogenics market.
The use of EO-based PFAs offers several benefits to producers, including enhanced animal performance, improved feed efficiency and reduced emissions. According to reports from the animal health and nutrition company, BIOMIN, the overall phytogenic feed additives sector alone is likely to become a billion-dollar industry by 2030. A report from Global Market Insights, Inc., claims essential oils-based feed phytogenics industry size to surpass USD 380 million by 2024.
China to step up as a major consumer in the Feed Phytogenics Market
China is one of the largest beef and sheep meat producers and consumers across the globe. In 2015, the country's sheep meat production was reported at 4.41 million tons, accounting around 30% of the world's total sheep meat production, while beef production was reported at 7 million tons, accounting for 10.4% of the global yield, eventually making China as the world's 3rd largest beef meat producer after Brazil and the United States.
Reportedly, steady domestic prices have attracted investment into cattle farming in the region. Experts suggest that the surge in purchases of meat products by Chinese consumers is expected to remain the main factor driving the China feed phytogenics market in the future. Indeed, China feed phytogenics market size, as per estimates, is forecast to exceed USD 50 million by 2024.
Highly appreciable benefits of feed phytogenics include, increased growth performance, digestion stimulation, increased feed intake, reduced diarrhea prevalence, improvement in reproductive system and feed efficiency. Quite overtly, the growing occurrence of diseases, rising consumption of meat and increasing healthcare regulations on the usage of antibiotics in animal feed will augment the growth of feed phytogenics market size.
Author Name : Mateen Dalal
Feed phytogenics market size is forecast to exceed 145 kilotons from 2015 to 2022, with growth projected at over 2.5%. Global Market Insights has announced the addition of their detailed report on these plant derivate products market. The report discusses in depth analysis of market trends, drivers, restraints, challenges, opportunities as well as the competitive landscape of the market. The report estimates the global market size of these natural growth promoters in terms of value.
View a summary of the "Feed Phytogenics Market Size, Industry Analysis Report" @ https://www.gminsights.com/industry-analysis/feed-phytogenics-market
The market is forecast to witness significant growth on account of its growing application in animal feed owing to the rising demand for meat over the projected time frame. These feed additives are natural growth promoters obtained from herbs, spices, and other plants. Increasing dependence on NGPs for livestock, including poultry, swine and cattle is anticipated to have the positive impact on the market growth.
Animal feed industry growth owing to increase in per capita meat consumption together with rising expenses for breed management is forecast to drive the NCPs market over the next few years. Rising fortification of phytogenics in bovine feed to add flavor and to stimulate high feed intake for growth and reproduction is also expected to further the market growth.
Get a Free Sample Copy of this Report @ https://www.gminsights.com/request-sample/detail/120
Essential oils is a major segment of this market. Growing demand for essential oils that play important role in improving animal performance is forecast to favor the market growth. Moreover, increasing R&D expenses in application of these products is expected to have positive impacts over the predicted time frame. Swine applications are also projected to witness moderate gain during the estimated period.
Key regions covered:
The report estimates the market of growth promoters in key markets of Europe, and Asia pacific region. Asia pacific region is expected to continue its dominance for meat consumption in the market.  Europe phytogenics market is likely to grow at a moderate rate over the next few years.
Key players in the market:
The report discusses the following key market players, their profiles and key strategies. Some of the key companies included in report are:
Bioamin
Delacon Biotechnik,
Pancosma SA
Nutricare Lifesciences
Silvestris
Nor-Feed Sud
TrueVet
Key Topics Covered in the report:
Market Definition for Feed Phytogenics along with restraints, drivers of the market
Analysis with competitive landscape and assessments on a regional scale
Recognition of factors influencing the market scenarios and key market players,company profiles and strategic activities.
Insights on prospective opportunities and challenges
Author Name : Dhananjay Punekar