Ferries
The global marine selective catalytic reduction systems market, in the recent years, has been witnessing strong investment trends by the major stakeholders, given the stringent environmental regulations in protecting human and aquatic life. Large amount of emissions pertaining to marine polluting substances and amendment of strict regulations regarding the same have in fact raised the bar for marine selective catalytic reduction systems industry players to bring in more advanced diesel engine designs that are capable of minimizing marine pollution. These SCR systems, designed to curtail nitrogen emissions, are thus gaining traction in the recent years and have significantly taken the marine industry by storm.
Europe Marine Selective Catalytic Reduction Systems Market Size, By Application, 2017 & 2024 (USD Million)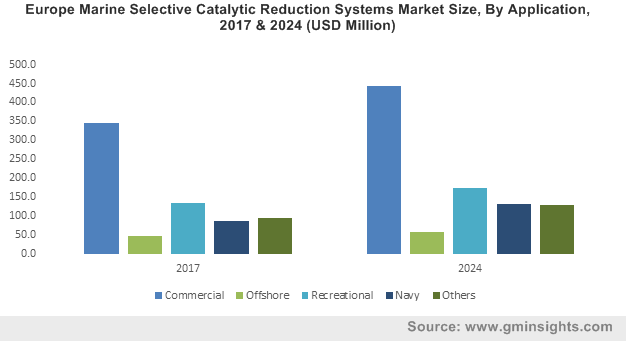 Introduction of IMO Tier III legislation to act as a major catalyst for rapid marine SCR systems market growth
An important factor which stood as a major growth promoter for the overall marine SCR systems industry is the enforcement of The Tier III NOx emissions regulations (IMO3) of the International Maritime Organization that came into power in 2016. According to reports, the recent IMO3 legislation has been forcing the engine manufactures to achieve a NOx reduction of more than 70% from Tier II for all the ships sailing in the NECA (NOx Emission Control Areas). The selective catalytic reduction technology in this regard has been gaining immense momentum as it was being able to operate as the standalone technology that reduced as much as 80% of NoX. The SCR system's compliance with the IMO3 has thus elevated the business landscape of global marine selective catalytic reduction systems market, and is further expected to proliferate across the coastal waters of U.S., Canada, and China – where the legislations are enacted more severely.
China to emerge as a lucrative investment hub
The Chinese Ministry of Transport, recently in July 2018, has published new requirements with a target to limit NOx emission for the second-hand imported & Chinese-flagged diesel engine vessels. According to the regulations these engines are required to comply with the IMO3 norms and will be applicable to vessels that are converted or imported for domestic trade after September 1 2018. These new NOx emission control requirements have paved the way for robust commercialization of SCR systems in China. Moreover, the rapid growth in the long-distance and international voyage and the rising inter-border trade activities has further fortified the regional product demand. In response to these mandatory protocols, China marine selective catalytic reduction systems market size is anticipated to register a CAGR of 3% over 2018-2024.
Get a Sample Copy of this Report:@ https://www.gminsights.com/request-sample/detail/2942
Further considering the geographical expanse, it is imperative to mention that, thriving on the cusp of fierce stringency in regulatory framework, the U.S. marine SCR systems industry is also expected to be one of the lucrative regions for business expansion. In addition, ongoing technological advancements in the commercial & recreational marine vessels and the presence of core industry manufactures in the country are foreseen to further complement the regional growth in the ensuing years.
Further speaking on the competitive scenario, it wouldn't be wrong to say that the sustainability and go-green trends are also vividly characterizing the marine industry vertical and impelling the prominent companies to adopt necessary market growth strategies for business proliferation. An apt instance standing as a substantiation to the aforesaid is that of Cummins Inc., that has recently introduced its new IMO3 certified QSK60 engine package that offers cleaner emissions. If reports are to be believed, the company has added selective catalytic reduction systems to meet the new emissions standards without impacting the fuel economy. Endorsed with similar product innovation and business expansion trends, several other industry players including Wärtsilä, Tenneco, DEC Marine, Mitsubishi, Hyundai, and ME Production are also seen ramping up their positions in the global marine selective catalytic reduction systems market.
All in all, it would be apt to quote that stringent regulatory protocols and highly innovative product development with technological advancements are to remain the two prominent drivers majorly shaping the business trends in the years ahead. In terms of remuneration, the global marine selective catalytic reduction systems market size is forecast to exceed a valuation of over USD 5 billion with annual installations surpassing 3,000 units by 2024.
Author Name : Ojaswita Kutepatil
The increasing requirement for quick, emission-free transport has been a major driver for water taxi market growth. Water transportation has been gaining more and more popularity lately, pertaining to its cost-effective and fuel-efficient benefits over conventional transportation. Having recognized the same, regional governments have been majorly investing in the tourism industry, generating lucrative opportunities for water taxi industry players. The deployment of water taxis in numerous public and private water bodies has indeed helped reduce vehicular traffic congestion in the city – a principal factor that has been extensively responsible for stimulating water taxi industry share.
U.S. Water Taxi Market, By Product, 2017 & 2024, (Units)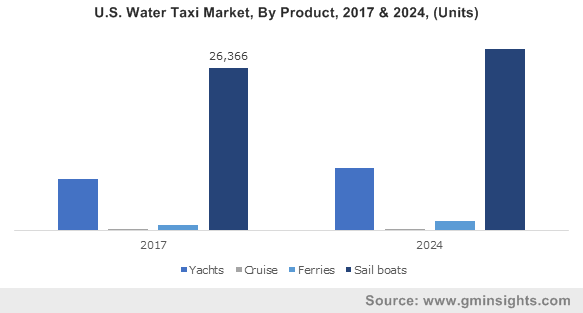 Recreational activities such as boating have taken on a diverse significance in recent times, on account of which numerous private companies are deploying water buses on large scale. This in consequence, has prompted the entry of new contenders in water taxi market and a slew of unique product launches. Say for example, the French startup SEABUBBLES has been testing its new electric hydrofoil water taxi – a battery powered water bus that reduces air drag and attains greater speed, in Switzerland for quite a while now. The company now looks forward to deploying electric boats for transportation in lakes and rivers across European countries. As this type of transit system generates lesser air as well as water pollution, the governments of the various countries are encouraging private and public service providers to deploy battery-operated and hybrid water taxis. These initiatives are likely to push hybrid water taxi market size, slated to grow at a CAGR of more than 5% over 2018-2024.
The increasing deployment of these water vehicles has generated profitable growth opportunities for water taxi industry firms. In order to achieve a dominant position across this vertical, most of the prominent biggies are focusing on the development of green boating systems that are driven by renewable energy. Though this transit system is clean and emission-free, in some cases, the speed factor of some of the green taxis have put a dampener on the overall product demand. In order to combat the same, companies have been constantly working enhancing product features and its capability. The recent trend of deploying lightweight and high-performance composite materials for boat manufacturing, for instance, has helped water taxi market firms develop innovative taxi designs. 3A Composites for example, post ten years of rigorous efforts, recently launched a sustainable water taxi that integrates the benefits provided by 3A Composites' AIREX® T92 PET foam with a special hull shape that aids waste reduction, ride quality, and fuel efficiency.
The Asian zone is expected to contribute commendably toward the growth of water taxi market, owing to the increasing involvement of private and public sectors in the deployment of water taxi services. For the record, merely a few months earlier, the Indian ride-hailing service provider OLA signed a MoU with the government of Assam to launch a water taxi service in the state. This project is most likely to strengthen the transportation network across North India. In addition, the mobile-based transportation system will help local government enhance the state's tourism prospects.
Get a Sample Copy of this Report@ https://www.gminsights.com/request-sample/detail/2510
In 2016, the government of India signed a deal with the Massachusetts Institute of Technology for developing ferry services across six major cities including Varanasi, Allahabad, Kolkata, Mumbai, Patna, and Haldia. The development of inland waterways services will thus help escalate cost-effective trading across the country. As of now, India uses only 3.5% of the available waterways for trading purposes, out of the existing 14,500 km of the waterway stretch. The increasing investments by the Indian government toward the deployment of ferry services across the country is poised to boost the regional water taxi market share, in turn benefiting the overall Asian topography to a marginal extent.
The competitive hierarchy of water taxi market is remnant of novel product development strategies and massive R&D programs. The emergence of battery operated lightweight boats for instance, has added a new growth dimension to water taxi industry. Another pivotal factor pushing the expansion of this vertical is the crucial role that governments play in promoting trading and tourism activities, focusing on bettering the economy of their respective countries. Aided by a favorable regulatory spectrum and the rising prominence of the green movement, water taxi market size is expected to cross the coveted USD 500 billion mark by the end of 2024.
Author Name : Sunil Hebbalkar