Fertigation
The global calcium nitrate market share is touted to soar high in the coming years primarily propelled by the increasing prominence of wastewater treatment across the globe coupled with growing healthcare & pollution control initiatives. As per estimations by the United Nations, the amount of wastewater generated yearly is about 1,500 km3, which is six times more than the water that exists in all the rivers across the world. Over the past decade, due to the rise in industrial pollution optimum management of wastewater has emerged as a major challenge for governments worldwide. According to the World Health Organization, unsafe or insufficient water, hygiene, and sanitation issues cause approximately 3.1% of all global deaths, and 3.7% of DALYs (Disability Adjusted Life Years) globally.
U.S. calcium nitrate market size, by grade, 2014 – 2025 (USD Million)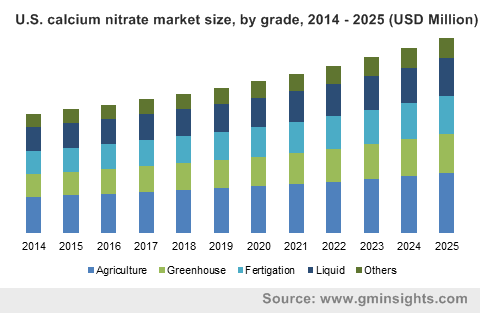 Calcium nitrate is extensively used in wastewater treatment facilities to minimize foul odors by up to 90 percent, by stopping the wastewater from becoming septic. The constant increase in clean water demand amid possible threats of biological contaminates has also been lending positive momentum to calcium nitrate market growth. Of late, the product apparently has also gained recognition in the solar power sector – it is used as molten salt in solar towers. As the energy sector expands further with renewable alternatives and solar power projects are anticipated to grow in number, the revenue graph of calcium nitrate market is anticipated to depict exponential growth.
Some of the key organizations having a significant foothold of the calcium nitrate market are Airedale Chemical, Vardhaman Fertilizers & Seeds Pvt. Ltd., Agrium Inc., Yara International ASA, Rural Liquid Fertilisers, Haifa Chemicals Ltd, and GFS Chemicals, Inc. These organizations, as is observed, have been working to expand their manufacturing capacities, geographical reach, and have also been introducing new business units, particularly across developing economies, such as the ones in the Asia Pacific where labor and property costs are economical. Citing an example of industrial expansion, in 2017, Haifa Chemicals Limited launched its new business subsidiary in Colombia called the Haifa Colombia SAS. The new facility reportedly provides plant nutrition solutions to distributors in the local periphery, helping the firm in establishing itself in the Colombia market.
Get a Sample Copy of this Report @ https://www.gminsights.com/request-sample/detail/848
A brief outline of the calcium nitrate market in accordance with the application spectrum has been outlined below:
Fertilizers
Calcium nitrate market size from fertilizers has been exponentially surging over the last few years due to increasing consumer efforts pertaining to improving yield quality and boosting profitability from agricultural trade. Some of the major contenders of the calcium nitrate fertilizer market have been constantly reinventing & innovating their crop nutrition portfolios to deliver increased crop yield and improved crop quality with minimum environmental impact.
Citing an instance, Yara, a fertilizer behemoth, is renown to offer an extensive collection of cutting-edge calcium nitrate based fertilizing solutions, called YaraLiva. The YaraLiva calcium nitrates employ quick-acting nitrate-N, in conjunction with strength-developing calcium, and the unconventional collaboration of these two nutrients fuels longer growth. Trees and plants treated with calcium nitrate fertilizers become naturally healthy and are less sensitive to growth stress. Acting proactively through sprout to harvest, these fertilizers enhance the appearance, strength, stature, glow, and size of the tuber, fruit, lettuce, seed, vegetable, or leaf being cultivated. In consequence, with calcium nitrate fertilizers, farmers can harvest high-value, healthy, and highly saleable produce. Considering the soaring demand for food worldwide, the requirement of these fertilizers is only bound to increase, which would help augment calcium nitrate market share from fertilizers in the years ahead.
Wastewater treatment chemicals
Wastewater plays host to a number of undesirable substances, some of which can prove to be extremely harmful if left untreated. Water has to be treated with appropriate processes & chemicals to remove solid suspended particles and avoid penetration of disease-causing virus, bacteria, and protozoa. The bacteria in untreated wastewater can undergo a chemical reaction to generate active sulphides, post which hydrogen molecules bond with these sulphides to create malodourous H2S gas, imparting an unbearable stench to wastewater.
When used in a treatment plant, calcium nitrate provides an alternate oxygen source that disrupts the development of H₂S gas. Reduced concentrations of H₂S entail less foul odor, lower corrosion of assets, and increased compliance of WHS (Work Health and Safety) regulations. Amidst growing water safety concerns, the rising implementation of calcium nitrate across water treatment facilities worldwide is projected to substantially elevate the industry growth in the coming years.
With the surging utilization of calcium nitrate across a plethora of applications in government, industrial, and agricultural sectors, it goes without saying that the commercialization graph of calcium nitrate industry will depict a commendable incline over the coming years. As per estimates, the overall calcium nitrate market size is projected to cross USD 12.6 billion by 2025.
Author Name :Nikita Chaurasia