Film
The advent of next generation automotive electronics paired with increased connectivity and mobility demand will propel electric capacitor market size over the forecast timeframe. Never-ending technological advancements in the consumer electronics industry, majorly in the smartphone segment, has encouraged industry players to develop more efficient devices. Increasing demand for consumer electronics fueled by rapid growth in urban population as well as gradually dropping capacitor prices will drive electric capacitor industry trends.
North America Electric Capacitor Market Size, By Voltage, 2018 & 2025 (USD Million)

Gradual reduction in overall production and maintenance costs along with limited barriers on import are some key factors that will transform the electronic components landscape worldwide. Increasing application in fields such as personal computing, transportation, renewable energy system, as well as electronic controls for industrial machinery and engines will expand electric capacitor industry scope. Developments in the automobile segment have resulted in the enhancement of air conditioners, airbag controls and automatic windows. Rising complexity and functionality of electronic devices in vehicles combined with surging desire for smart components will boost consumption of internal components.
Increased use of smartphones all over the world has influenced the demand for electric capacitors globally. According to estimates, over 5 billion people currently own mobile devices, more than half of which are smartphones and approximately 76% individuals across 18 developed economies own a smartphone, indicating the tremendous penetration of mobile phones. Deployment of latest technologies and features into smartphones has surged the popularity for these gadgets, which will invariably escalate revenue prospects for electric capacitor market from the consumer electronics segment.
Get a Sample Copy of this Report:@ https://www.gminsights.com/request-sample/detail/3824
Electric vehicle (EV) sales have exhibited robust growth in recent years, where China currently holds a major share of the EV market, with U.S. and Europe not too far behind. Inclination of consumers towards electric vehicles has increased significantly owing to its easy maintenance and lower repair costs, besides environmental benefits. According to International Energy Agency, almost 750,000 electric cars were sold across the world in 2018, and over 2 million electric vehicles are currently in operation. Rising awareness towards greener options for commute will fuel the demand for electric cars, strengthening electric capacitor industry outlook in China, Europe, and U.S.
With considerable advancements in television display technologies over the years, consumers across the globe are showing strong preference for 4K screens, which comprise 4 times as many on-screen pixels as compared with HDTVs. 4K television is anticipated to double in terms of sales in the U.S., to over 15 million units per year in coming years, owing to a growing adoption rate. Further, dropping manufacturing costs and rising affordability of 4K television devices, along with increased spending on consumer electronics will tremendously catapult electric capacitor market size.
Swiss technology giant ABB had recently been appointed to supply equipment for the Beijing-based Zhangbei high-voltage direct-current grid in China. The list of equipment supplied for the project included high-voltage capacitors, power semiconductor devices and various transformer components. The HVDC grid was designed by the State Grid Corporation of China and is considered to be the first of its kind in the world. Construction of similar mega projects worldwide will positively influence the electric capacitor market share, as capacitors play a crucial role in transmission and distribution of power.
Increasing federal initiatives to encourage the adoption of renewable energy systems coupled with growing efforts for the promotion of electric mobility will enhance electric capacitor industry prospects in the future. Ambitious government plans regarding emission control along with shifting trends towards energy-efficient technologies will push market revenues. Escalating investments in R&D paired with strategic mergers & acquisitions to expand production capacities will be a key tactic among industry players, in addition to material cost reduction and restructuring of various capacitors to achieve enhanced efficiency.
Author Name : Hrishikesh Kadam
Being one of the biggest beneficiaries of the developments in tissue bioengineering, polyglycolic acid market has garnered hefty proceeds in the medical sector. In fact, as per reliable estimates, the medical fraternity contributed to more than 60% of the overall polyglycolic acid market size in 2016. Widespread adoption of absorbable sutures has been a chief driver of the increasing demand for PGA from this sector. Reportedly, the global surgical suture market is already a billion-dollar space and is anticipated to witness remarkable growth in the ensuing years.
U.S. polyglycolic acid market size, by application, 2013 – 2024 (USD Billion)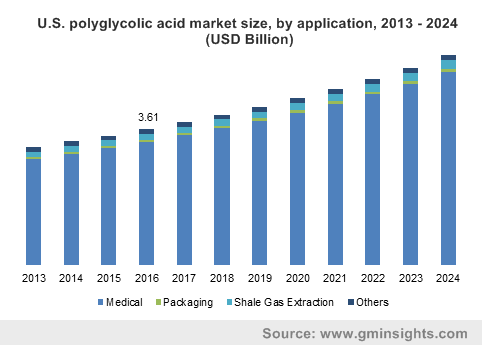 Elaborating further on the application arena of polyglycolic from medical space, tissue engineering, biodegradable bone graft polymers, transplantation procedures, cell culture, etc. are some of the renowned opportunistic areas generating a massive demand for PGA. Due to the biodegradable properties of PGA, it has been categorized as one of the most widely used biodegradable bone graft polymers. For the records, the global biodegradable bone graft polymers market is projected to witness a CAGR of 7.5% over 2017-2024.
Tissue engineering is also anticipated to provide a remarkable impetus to PGA market share, on grounds of the material being recognized as an outstanding support for tissue development. Speaking along similar lines, fiber form of PGA has been prominently used in the medical applications over the recent years, having held 40% of the overall polyglycolic market landscape in 2016.
Get a Sample Copy of this Report:@https://www.gminsights.com/request-sample/detail/2415
However, despite the medical applications holding a major chunk of polyglycolic industry size, the contributions of shale gas extraction and packaging domains has also been commendable. PGA has been widely adopted in shale gas extraction driven by its operational efficiency and cost reduction capabilities. In fact, as per a report by Global Market Insights, Inc. this sector is estimated to be catalogued as the fastest growing application of PGA market, with a target CAGR of 8% over 2017-2024.
In terms of geographical standards, North America stood as one of the biggest recipients of this application growth and led the overall PGA market in 2016. For the records, North America procured 60% of polyglycolic acid industry size in 2016, with U.S. as a chief revenue pocket. Allegedly, the United States, driven by its recorded shale gas production, has been classified as a prominent facilitator of the global energy change. As per the U.S. EIA, the country's natural gas consumption is estimated to reach 31.6 TcF by 2040. 56% of this growth is believed to be driven by upward development in shale gas production.
Europe is also forecast to stand tall in the regional hierarchy with an estimated annual growth rate of 8% over 2017-2024. The regional growth can be credited to the food packaging applications, which is predominantly focusing on recyclable and biodegradable solutions. Citing a relevant instance, RefuCoat, the EU-funded project, recently created quite a buzz in the regional polymer market landscape. Reportedly, the project aims at deploying high-performance coatings to develop completely recyclable food packaging endorsed with improved functionalities and gas barrier properties.  The move will provide a significant push to the Europe polyglycolic acid market trends, on grounds of the aforementioned hybrid coating comprising PGA and modified silica oxide as the key materials.
In this context, it is imperative to mention that the packaging applications have also been a prominent driver of global PGA industry trends, driven by the product's excellent biodegradability and flexural strength. PGA has seen a remarkable rise in its demand curve with its proven benefits over conventional plastics. As per estimates, 30% of the PGA industry application landscape was procured by packaging sector in 2016. Film form of PGA has been extensively used in packaging applications and is estimated to record a CAGR of 8.5% over 2017-2024.
All in all, the profitability matrix of PGA market is projected to remain high with the sustainability and biodegradability trends becoming mainstream. The competitive landscape is likely to be monopolistic, synonymous to that in 2016, with Kureha Corporation as the leading player. In terms of commercialization potential, global polyglycolic acid market is slated to surpass a revenue of USD 9 billion by 2024.
Author Name : Shikha Sinha