Firewall as a Service Market Trends
The number of cyber-crimes across the globe is sky-rocketing – a factor that has provided a substantial push to FWaaS market, an integral vertical of the network security landscape. According to recent news reports, roughly 2 billion data records around the globe were stolen or lost by cyber-attacks in the first half of 2017. The increasing complexity and sophistication of these attacks further paint a grim picture of today's network security landscape, in extension leading to Firewall as a Service (FWaaS) market emerging in rather a gigantic way. FWaaS industry is capitalizing on the back of ever-growing demand for network security and data protection. The maturation of Firewall as a Service (FWaaS) market can also be accredited to the increased utilization of the ever-expanding cloud computing and the regulatory guidelines being prescribed by the Governments around the world to protect critical data and information. Furthermore, the large enterprises are gradually realizing the significance of firewalls and are increasingly adopting the cloud-based firewalls to fortify their data. The prominent cloud firewall service providers and software vendors are collaborating to enhance the customized products and solutions to address the growing market-specific demand. As per a report compiled by Global Market Insight, Inc., Firewall as a Service market size is estimated to grow at a robust CAGR of over 25% from 2017 to 2024.
Firewall as a Service Market Size, By Application, 2016 & 2024 (USD Million)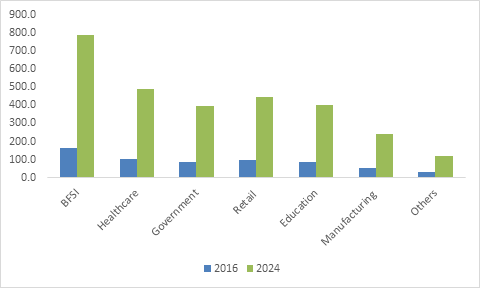 Some of the remarkable benefits of cloud-based firewall services include simplified management, better internal threat protection, comprehensive protection services, reduced cost of training the staff, improved threat perception, and enhanced disaster recovery. The BFSI sector stands to contribute immensely toward firewall as a service industry growth, as the most ferocious cyber-attacks are directed towards financial institutions. The BFSI application, as per the estimates, is contemplating a resilient and sturdy growth of over 22% CAGR from 2017 to 2024. The Governments across the globe are willingly joining hands with the firewall service providers to contain the burden of cyber thefts on the national exchequer, which is carving a profitable roadmap for the Firewall as a Service (FWaaS) market to reap huge benefits in the near future.
Get a Sample Copy of this Report @ https://www.gminsights.com/request-sample/detail/2125
The recent trend of the increasing collaboration of firewall service providers and pure software vendors is seen to be growing. These proactive and dynamic prospects are vividly underlining the competitive and strategic landscape of firewall as a service industry. To cite an instance, Tata Consultancy Services, a dominant Indian IT service provider, has recently teamed up with US-based security firm Palo Alto Networks to assist enterprises to reliably transfer applications and data to the public cloud infrastructure. The Global Security Operations Centres of TCS will be leveraged to keep a tab on the sophisticated and complex cyber-threats and ward off malicious cyber-attacks trying to inflict organizations. Furthermore, Firewall as a Service (FWaaS) market is striving to be a combative market as the leading players are continuing their efforts to integrate with cloud companies to cater to a wider range of customers.
As enterprises are willing to invest in upgrading and refining the cloud security and automation of firewalls, the firewall management software market will obtain a much-required boost. If the recent news reports are to be believed, the hackers are making a concerted effort to reverse-engineer devices and apps. A simple misconfiguration would expose a serious vulnerability in the network of any enterprise. The loopholes include downtime, irregular optimization of firewalls, and infringement of policy guidelines. In response, the firewall management softwares like the Next Generation Firewall (NGFW) is set to make a rather pronounced impact in the firewall as a service market, courtesy its multifunctional security potential.
Speaking of the regional distribution of firewall as a Service market, North America has the largest market size and is presumed to grow at a higher rate owing to its network security infrastructure, heightened awareness and the speedy adoption of latest cutting-edge cybersecurity technology. The Asia Pacific FWaaS market, which has the highest number of SME's, is expected to thrive in the coming few years as the increased awareness, security infrastructure and technology adoption acquire significance. In terms of global commercialization potential, Global Market Insights, Inc. estimates the firewall as a service industry to hit a revenue of USD 2.5 billion by 2024.
Author Name : Saif Ali Bepari