Fixed
Powered by the rapidly expanding automotive industry across myriad geographies, automotive brake caliper market has indeed gained tremendous popularity in recent times. The automotive sector is also rife with a plethora of highly unique innovations that have undeniably had an impact on this business sphere. Indeed, given the pivotal significance of braking systems, technological advancements form the crux of automotive brake caliper industry. Recently for example, Brembo unveiled an aesthetically revolutionary brake caliper at the 2018 NY Auto Show. Apparently, this product helped achieve substantial weight savings – around 400 g per wheel. Brembo's product launch is indicative of the fact that automotive brake caliper market will continue to be characterized by highly innovative solutions that would optimize performance and improve aesthetics.
U.S. Automotive Brake Caliper Market, By Vehicle, 2016 & 2024, (Million Units)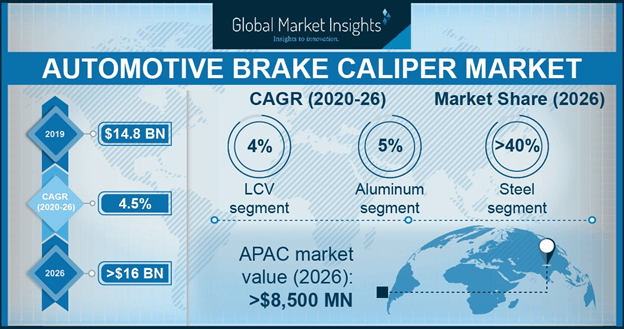 The automotive industry has registered an extremely appreciable CAGR in the Asia Pacific region since the last decade or so. This growth can be essentially credited to the rise of the middle-class populace with increasing disposable incomes and a growing inclination toward leading a more comfortable lifestyle. Due to the presence of affordable and efficient production facilities and increased rate of automobile production, Asia Pacific automotive brake caliper market is poised to grow by 3% over 2017-2024. China, India, Japan, and South Korea are projected to be the major contributors toward this regional market, powered by the enhanced automotive manufacturing technologies now prevalent across these economies.
Speaking along similar lines, the increasing demand for automobiles among the middle-class consumers has led to a significant requirement of passenger carrying vehicles. For instance, in 2017 alone, 73.46 million units of PCVs were sold – a marked increase of 1.08 million units. Driven by the increased consumer spending and the subsequent rise in vehicle production, automotive brake caliper market size from PCVs is expected to increase by 3% over 2017-2024.
Get a Sample Copy of this Report @ https://www.gminsights.com/request-sample/detail/2336
While PCVs take the cake in terms of popularity, it is prudent to mention that two-wheelers are also being increasingly preferred lately, especially in the emerging economies. Two wheelers offer a means of cost effective transportation and are the preferred choice not only in congested cities but also in remote locations. This would perpetually augment automotive brake caliper industry outlook in the ensuing years.
Stringent safety and environmental policies have encouraged technological advancements in the automotive brake caliper market of late. For instance, the French auto manufacturer Bugatti has brought forth a unique innovation in automotive brake caliper industry with the use of 3D printing to print titanium brake calipers. Incidentally, 3D printing of brake calipers helps in reducing the overall weight of the vehicle while maintaining torsional stiffness – a highly sought-after parameter in the automotive industry today. Traditional aluminum alloy brake calipers on Bugatti vehicles weigh 4.9 kg each, however, 3D printing of brake calipers makes each caliper weigh just 2.9 kg, which goes a long way in reducing overall vehicle weight and meeting environmental regulations.
Though 3D printing of brake calipers has not yet become a mainstream procedure owing to the time-consuming nature of the process, the concept has gained sufficient traction. Other methodologies for the reduction of caliper mass, improved styling and performance maintenance are also being researched currently to reduce particulates and carbon emission in the atmosphere.
The emergence of electric vehicles and hybrids is expected to add a new vertical to automotive brake caliper industry, as these vehicles will invariably use a whole new braking system that has little resemblance with the conventional braking system. With the introduction of the Tesla Model 3, electric passenger cars are poised to become the dominant trend for the future. It is rather overt that such cars are being designed to have only one paddle for moving or stopping the vehicle. While the brake system will not be made entirely obsolete, it is certain to undergo some highly innovative changes, that would certainly have an influence on automotive brake caliper market outlook.
Research & development programs are rampant across the automotive industry of late and are likely to majorly transform automotive brake caliper market trends. With the robust growth of automated technologies and the increasing requirement for better mobility, automakers are leaving no stone unturned to bring forth newer and enhanced brake systems. In consequence, this would have a commendable impact on automotive brake caliper market size, anticipated to cross $25 billion by 2024.
Author Name : Paroma Bhattacharya
Internet of things has brought a revolution of sorts in the security & surveillance landscape globally. IP camera industry, in this context, stands as a major beneficiary of this change. As per reliable estimates, in the year 2016, the global shipments for IP cameras surpassed 15 million units. Add to it, reliable sources affirm that in the year 2014, IP camera shipments in smart home exceeded 1.3 million units – data strongly attesting the role of IOT and connected infrastructure in the lucrative growth chart of IP camera industry.
UK IP camera market, by public/government application, 2019 & 2025 (USD Million)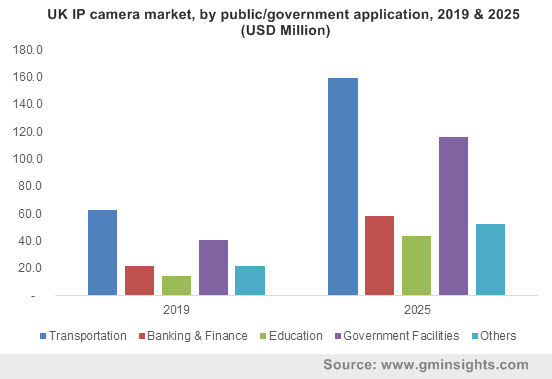 Reportedly, the smart home segment is anticipated to depict synonymous demand for networked cameras in the ensuing years with an estimated shipment of more than 20 million units by the end of 2019. Having said this, the growth prospects of IP camera market from residential applications is quite vividly huge. In fact, as per a report compiled by Global Market Insights, Inc. IP camera industry size from residential applications is estimated to register an appreciable CAGR over 2019-2025, driven by applications including the likes of home surveillance systems, access control, remote monitoring, intelligent building control, and HVAC management.
Elaborating further on the application portfolio of IP camera market, the domains spanning healthcare, retail, industrial, and real estate, transport, BFSI, and education have contributed immensely to the IP camera market proliferation. Backed by the falling price of these HD network cameras coupled the growing adoption of open standards, these high-resolution HD network cameras have phenomenally penetrated the commercial and governmental sectors.
In response to the opportunistic waves across principal application avenues, the competitive landscape of IP camera market is thriving with product innovations and developments, having pricing and technology upgradations as the center focus parameters. Not to mention, M&As and collaborative deals between security and technology players is emerging as a top-notch growth strategy, to sustain in this ferociously dynamic landscape.
Get a Sample Copy of this Report:@https://www.gminsights.com/request-sample/detail/2410
It is imperative to mention that Infrared cameras have stood as one of the major product segments of IP camera market and is expected to show significant growth trends in the forecast years. In fact, all the major product developments canopied under IP camera industry are hinged on technology interventions.
As per reliable estimates, the worldwide security technology and services market generated a revenue of more than USD 75 billion in 2016. Being on the forefront when it comes to technology appetite, the U.S. stood tall in the IP camera industry share battle in 2018, with North America accounting for 35% of the global IP camera market share.
Pelco, a subsidiary of Schneider Electric, is one such name which has created a buzz in the IP camera industry and has undeniably contributed immensely to the U.S. IP camera market landscape. The global surveillance solution leader recently announced its partnership with Ipsotek, UK headquartered video analytics leader, in a bid to bring strong solutions on board to combat security risks. For the record, Pelco plans to leverage Ipsotek's specialization in detecting behaviors in the real-time videos, thereby delivering alerts to operators and reducing false alarms.
In 2017, Pelco, with its collaboration with V5 Systems, expanded its Sarix Professional IP surveillance cameras reach to outdoor security markets, particularly in areas with no or low fixed power and communication facilities. The company is predominantly active in exploring the untapped opportunities in IP camera market space, on a global scale. The firm also made it to the headlines with its announcement of showcasing its innovative solutions at Intersec 2018. The solutions are deemed to address the Middle East and Africa regions particularly and will elaborate on Pelco's partnership with three reported industry magnates – Ipsotek, Gallagher Command Center, Ruckus Wireless.
Reportedly, Pelco, in January 2018 collaborated with Ruckus Wireless to integrate the latter's ICX switches and ZoneFlex access points (APs) with Pelco's IP Cameras and VMS in a bid to offer an upgraded version of IP video systems. Overtly, the firm will continue to be a major vendor for the U.S. and the global IP camera industry in the forecast years.
The regional battle in IP camera market is anticipated to take a turn in the ensuing years with Asia Pacific showing signs of being the next major investment hotbed for IP camera industry players. Smart city initiatives in the region is projected to be a major driver for the APAC IP camera market size, driven by huge demand for deployment of these networked cameras in the connected infrastructure.
From the recent product launches witnessed across this APAC, it is quite certain that the region is ready to give a major competition to the United States, with regard to the procurement of the revenue share. As per recent trends, India, China, Taiwan, South Korea, Australia are slated to be the chief revenue pockets likely to transform Asia Pacific IP camera market outlook.
In a recent turn of events encompassing IP camera market landscape, Digisol Systems, an India headquartered active networking market player announced the launch of its new Dome IP CCTV Camera dubbed as DG-SC6502SA. Reportedly, the camera is featured with a CMOS sensor and real time image processing hardware and is designed for office/home security and monitoring purposes.
Hanwha Group, one of the largest conglomerates in South Korea, under its subsidiary Hanwha Techwin America, the renowned supplier of analog and IP video surveillance solutions, recently declared the integration of VMS into the existing Hanwha IP Cameras. Reportedly, the WAVE VMS will enable the present Hanwha IP camera user base across a wide range of sectors like education and retail to utilize the utmost out of the advanced analytics features.
Gorilla Technology, the Taiwan based IoT and video intelligence provider recently announced its partnership with Airship, a renowned VMS service supplier, in a bid to create an integrated video intelligence management solution. The deal is anticipated to be an opportunistic one for the players operating in security industry verticals, particularly IP Camera, VMS, NVR, and SI. The deal, as speculated by the industry experts, is an apt blend of security and IoT merger.
With the increasing deployment of big data and IoT and the consequent large pool of data, the quest for deriving actionable insights is expected to proliferate massively. Undoubtedly with 'smart' trends penetrating both the government and private sectors, the advancements and security risks go hand in hand, in terms of growth. Amidst this scenario, analysts quote the IP camera market trends to be substantially profitable in the coming years, with a pool of demand from a varied range of sectors.
Backed by this drive toward real-time IP/network solutions, the global IP camera industry is slated to register a double-digit CAGR over 2019-2025. For the records, the market size will surpass USD 20 billion in 2025.
Author Name : Shikha Sinha
With evolving emphasis on location-based marketing in retail space, geofencing market has indeed gained a widespread recognition in the mainstream tech cosmos. Over the recent years, it has been observed that the share battle between online and offline business platforms is intensifying. As a result, bricks and mortar giants have been increasingly looking for ways to implement e-commerce alternatives, the fundamental factor that has impelled geofencing industry share. Quite comprehensible from the terminology, geofencing is a service that, via an app utilizes RFID or GPS technology to increase the virtual boundary around a particular geographic location. Apparently, the technology is being extensively deployed in retail stores nowadays in an attempt to enhance in-store consumer experience.  In fact, on grounds of its far-reaching acclaim, numerous tech behemoths have been trying their hands with the technology in recent years, attempting to bring forth a slew of innovative applications in geofencing market.
Geofencing Market Size, By Application, 2016 & 2024 (USD Million)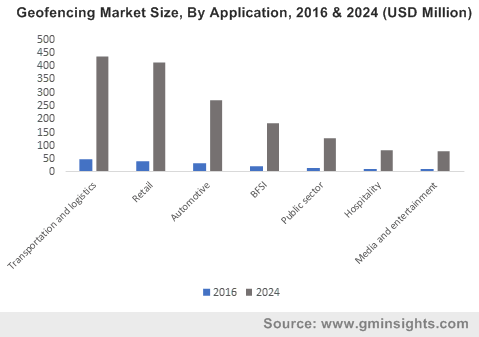 Unveiling geofencing market trends with reference to its application landscape:
American Eagle, one of the renowned clothing and accessories retailers, in the year before last, launched a groundbreaking reward scheme for its customers to encourage purchase. Reportedly, the U.S. headquartered company has utilized geofencing technology to create this app, which in a way is pushing consumers to add more items in their shopping carts to see what they can receive in return. Since the strategy compels the users to at least consider the items that might be otherwise left on the rail, the probability of more purchases undoubtedly increases. This absolutely innovative strategy applied by the American retail giant grabbed the headlines back then and has been stamped as a benchmark in geofencing market growth.
Get a Sample Copy of this Report:@ https://www.gminsights.com/request-sample/detail/222
2016 has indeed been a breakthrough year for geofencing market, with leading food giants striving hard to exploit the potentialities of this technology in their business model. McDonalds, for instance, had started incorporating geofencing service in its mobile app for optimizing the food preparation time. Sources claim, the fast food giant's decision of implementing this app comes in the wake up of long wait queues in front of McDonalds outlet and amidst the chances of receiving cold food. The geofencing based app designed by the company aptly detects when the customer gets closer to the counter and simultaneously alerts the staff to start preparing the order. Needless to mention, growing deployment of these kinds of innovative technologies have enhanced instore consumer experience, which by extension has stimulated geofencing market expansion.
The application matrix of geofencing industry is not just replete with retail domain, though it is undeniable this sector is a lucrative growth avenue for the entire business space.  Besides, retail space, geofencing market share stands to gain much from security and defense applications. Numerous companies participating in the business space have been creating a whole hog to bring about significant advancements in the capabilities of this solution with enhanced integration and accuracy functionalities. In this regard, China has recently made it to the headlines with the announcement of its decision of integrating geo-fencing based facial recognition system for security and surveillance in Xinjiang. Reportedly, these geofencing tools alert authorities when targeted people venture 300 meters beyond the designated safe area zone. These kinds of appreciable efforts undertaken by tech giants and governmental bodies toward promoting geofencing technology is certain to bring forth a plethora of opportunities for geofencing industry participants in the coming years. Validating the declaration is the estimate by Global Market Insights, Inc. that forecasts the global geofencing market to surpass a valuation of USD 1.7 billion by 2024.
Author Name : Satarupa De
One of the most swiftly expanding medical devices industry verticals, medical oxygen concentrators market, has been gaining a commendable traction, of late. In terms of commercialization, the fraternity enrolled its name in the billion-dollar businesses in 2017 with a registered market share of USD 1.3 billion. The growth has been primarily attributed to two major rationales – cumulative exposure to pollution and industry dust particles along with the increasing number of smoking individuals. The changing lifestyle pattern has led to a massive prevalence of chronic obstructive pulmonary diseases across the globe, driving the medical oxygen concentrators industry share.
U.S. Medical Oxygen Concentrators Market, By Product, 2013 – 2024 (USD Million)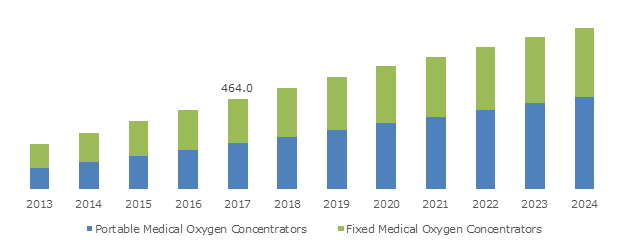 With growing awareness of COPD and the reduction of life expectancy it leads to, oxygen concentrators will be preferred habitually and gradually replace the short life oxygen cylinders. Reportedly, oxygen concentrators use filters to generate medicated oxygen from normal breathing air providing it a greater value in comparison to oxygen cylinders which store limited amount of oxygen. As per a report by Global Market Insights, Inc. the U.S. medical oxygen concentrators market was dominant with 88.1% share in 2017. This high number can be primarily attributed to the continuously varying lifestyle and subsequent increase in COPD cases regionally. Augmented production of smoke from manufacturing plants, lack of healthy routines, and the favorable healthcare policies are some of the other factors pushing the U.S. medical oxygen concentrators industry trends.
The European countries are also witnessing an upsurge in unhealthy food consumption and cigarette smoking. In fact, the increasing prevalence of COPD has also substantially impacted Germany medical oxygen concentrators market trends. The regional share is anticipated to grow at 6.9% CAGR over 2018-2024. Add to it, the incessant efforts by the regional government to curb pollution levels and create health awareness will further boost the Germany market outlook. U.K. is another chief revenue pocket for Europe medical oxygen concentrators market with an anticipated CAGR of 7% over 2018-2024.
Get a Sample Copy of this Report:@https://www.gminsights.com/request-sample/detail/449
The worldwide increase in the geriatric demography is yet another factor fueling the medical oxygen concentrators industry growth, given the high susceptibility of this population base to respiratory disorders. According to the World Health Organization, the global geriatric population (60 years or above) will nearly double from 900 million in 2015 to 2 billion in 2050. In this regard, the non-home care applications which include health rehabilitation centers and hospitals will witness substantial growth, driven by occupational lung diseases, harmful intake of substances and weak immunity among older patients. As per estimates, medical oxygen concentrators market share from non-home care applications will record a CAGR of 6.3% over the coming six years.
WHO statistics in addition to depicting the massive rise in geriatric population base also reveal that around 80% of the older population by 2050 would be living in low and middle-income economies. In fact, by 2050, around 120 million of this populace will be living in China alone. Another statistic by the United Nations states that nearly 2/3rd of the world's older people live in developing regions with the numbers growing faster than the developed economies. In 2015, Asia alone was home to 508 million people aged 60 or above, which is almost 56% of the global geriatric population. This figure is projected to go up to 60% in 2030, according to the UN. Not to mention, the aforementioned data vividly outlines the strong contendership Asia Pacific holds in the global medical oxygen concentrators market. China and Japan are touted as the major growth avenues for the APAC belt. While China procured a revenue of USD 70 million in 2017, Japan medical oxygen concentrators market held more than 40% of the APAC share in the same year.
All in all, medical oxygen concentrators industry, subject to humongous investments in recent years, has become highly competitive with manufacturers developing and improving products in a bid to capture sizable market share. Companies are also inclining towards mergers & acquisitions and regional expansion strategies to gain a competitive edge. Spearheading the market share battle are corporations such as Chart Industries, DeVilbiss Healthcare, Inogen, Inova labs, Philips Healthcare, etc.
Author Name : Pankaj Singh
Ezetap's recent acquisition of FortunePay is a vital indicator of the growth in (Point of Sale) POS Terminals market. Similar to the growth strategies adopted by most markets, mergers & acquisitions and novel product launches primarily form the strategy landscape of POS terminals industry as well. In June 2017, Bangalore based POS firm Ezetap had acquired FortunePay, an online payment & physical payment service provider to banks in India. This deal is anticipated to help Ezetap avail the latter's infrastructure and become a sole payment service provider for the traders in India. Earlier in June 2014, Ezetap had also collaborated with SBI (State Bank of India) to install 500,000 point of sale terminals across India over the coming five years. With more and more companies undertaking strategic tactics, POS terminals market is sure to carve out an appreciable growth map over 2018-2024.
UK POS terminals market, by application, 2017 & 2024 (USD Billion)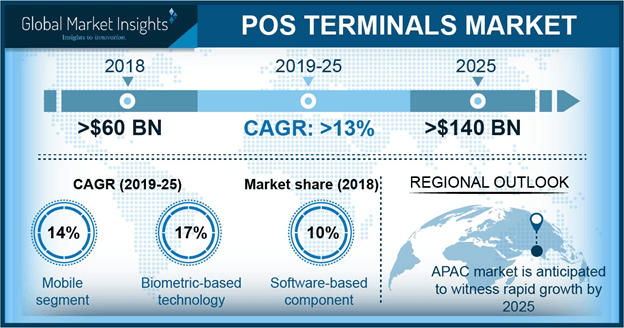 An outline of the POS terminals market trends in terms of contributions by the industry veterans:
In January 2017, Fujitsu, a Japanese multinational IT equipment & service firm, launched Fujitsu TP8TM, a family of retail POS terminals, which was developed to optimize and improve the online payment performance across supermarkets, department stores, drug stores, and mass merchant stores. The new product also enhances the shopping experience of the customers across retail stores through its exceptional modularity. These new product innovations are expected to result in the robust expansion of POS terminals market.
In February 2017, OMA Emirates Group, a UAE based payment service provider, purchased MobiSwipe, one of the leading mPOS service providers. The acquisition will help OMA to expand its service portfolio across APAC, Middle East, and East Europe. MobiSwipe permits traders to make use of smartphones and tablets as POS terminal devices to accept payments via debit or credit cards. In a vital breakthrough, MobiSwipe, now a part of the OMA Emirates Group, in April 2017, announced the setup of more than 50,000 mPOS terminals in India within nine months. This is an instance of how major firms have been taking key initiatives to promote cashless deals in the country and explore new business growth avenues across India (Point of Sale) POS terminals industry.
Get a Sample Copy of this Report@ https://www.gminsights.com/request-sample/detail/390
In May 2017, Mswipe, a startup firm in the  mPOS terminals industry,  formed a joint venture with PayU India, a digital payment service provider, to expand its online payment business through the purchase of the latter's offline merchant acquiring business. As per the reports from reliable sources, PayU had acquired more than 9000 offline traders across India, who, along with their point of sale business will be moved to Mswipe. Dealers transacting with Mswipe can now use PayU India's online payment options. According to expert opinions, the strategic alliance between the online payment service providers will benefit both in terms of revenue generation as well the consolidation of their positions in POS terminals market.
In July 2017, ScanSource Incorporation, a leading service provider of point-of-sale, barcode, networking, and data solutions, acquired POS Portal Incorporation, distributor & renter of POS devices, for USD 144.9 million to extend and improve its POS payment services across the globe. This is ScanSource's sixth acquisition since last three years, with its recent purchase being Intelisys, a technology service distributor and master agent of carrier, telecom, & cloud solutions, for USD 83.6 million in June 2017.
The same year also witnessed NEXTEP SYSTEMS, a provider of self-order POS services, form a strategic alliance with LevelUp, the largest mobile payment platform developed by Massachusetts-based startup firm SCVNGR. The alliance will enhance the service efficiency of both the firms by offering more effective and user-friendly online payment options. Speedy   self and mobile ordering operations, ensuring a seamless and personalized experience for the users are expected to spur the business expansion and ROI of both these firms, thereby providing a boost to POS terminals industry. Global Market Insights, Inc., claim POS terminals market share to surpass USD 125 billion by 2024.
POS terminals industry is an evolving business sector with big players investing heavily in R&D activities to develop new technologies and products for gaining competitive edge. It is more likely that rapid expansion of POS terminals market will encourage new service providers and manufacturers to enter the business further encouraging the existence of fierce competition in the industry.  VeriFone Systems Inc., Panasonic Corporation, Ingenico Group, PAX Technology Inc., and Toshiba Corporation are some of the major brands of POS terminals industry.
Author Name : Saipriya Iyer