Flameproofing
Sodium metasilicate pentahydrate market is gaining immense traction owing to proliferation in the global textile industry. Acknowledged for its fast dissolving capability, sodium metasilicate pentahydrate (SMP) is mainly used as a builder in soaps and detergents. SMP is preferred in liquid detergents due to its high-water solubility (36%). It is also a strong buffering agent which can avoid large changes in pH and can protect surfaces against corrosion. In addition, SMP can be used as hardening accelerator of cement slurry.
U.S. 29% Sodium Metasilicate Pentahydrate Market Size, 2018 & 2025, (Kilo Tons)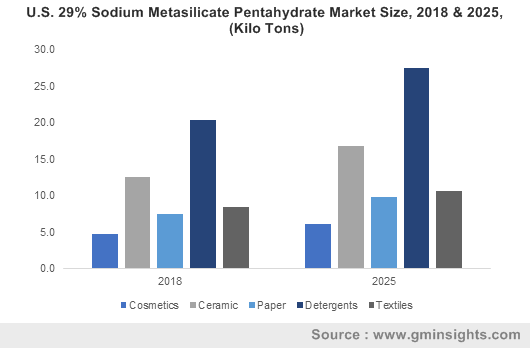 With rapid urbanization and increased standard of living, the demand for washing products, cosmetics, cleaning agents and construction materials has increased significantly in the past couple of years, supporting utilization of SMP. Significant technological advancements and developments of new cleaning products have enhanced the penetration of detergents in developing countries, boosting market share.
In the textile industry, SMP is used as a hydrogen peroxide (H2O2) stabilizer in cotton bleaching processes and jeans & stone washing. Being alkaline, the product used extensively to manufacture various types of detergents pertaining to its grease and oil removal and cleaning capability. It also has a detergent and buffering action which supports removal of oils, soil, and grease from cloth and works as a soil anti-re-deposition agent.
SMP finds growing application in laundry detergent which will stimulate market growth across the healthcare, hospitality and textile industries. Increasing disposable incomes and government regulations promoting hygiene in numerous manufacturing industries will further drive sodium metasilicate pentahydrate market share.
Get a Sample Copy of this Report:@ https://www.gminsights.com/request-sample/detail/3343
The U.S. Food and Drug Administration (FDA) has recognized SMP as safe for use in sanitizing solutions for food contact surfaces, denuding agent in boiler water, and as hog scald agent for hair removal. The product is also regulated by the Environmental Protection Agency (EPA) and Reregistration Eligibility Decision (RED) approved.
Proliferation in textile industry is anticipated to propel product demand in the coming years. For instance, the Indian textiles industry was estimated to reach US$ 250 billion by FY 2019. Whereas the country's overall textile exports, accounted at US$ 39.2 billion in 2018, was predicted to increase to US$ 82.00 billion by 2021, claims India Brand Equity Foundation (IBEF) reports.
Rapid surge in cement consumption will boost sodium metasilicate pentahydrate market size. SMP works as a connecting agent in the production of refractory cements and offers enhanced properties like hardness, mechanical and chemical resistance. It is used to protect components in high temperature manufacturing processes. SMP is also used as an additive to accelerate cement curing process and in the making of fire doors and wall partitions.
With growing application in the construction sector, sodium metasilicate pentahydrate market size will expand significantly over the years ahead. For instance, The ICE (Institution of Civil Engineers) claims that as per a new report 'Global Construction 2030', the volume of construction output is expected to grow by 85% to reach $15.5 trillion by 2030 worldwide, with countries including China, U.S. and India accounting for 57% of overall global growth. Shifting focus of government toward increasing infrastructure spending will accelerate market size.
Asia Pacific sodium metasilicate pentahydrate market size is expected to grow significantly owing to increased cement consumption in the residential & non-residential construction sector like development of metro projects across countries comprising India and China. The region's booming healthcare industry has also stimulated cement demand which is likely to accelerate market growth.
China's share in the global construction market is increasing marginally in recent years. Global Market Insights, Inc., claims that China 99% sodium metasilicate pentahydrate market share from flameproofing applications hit US$ 12.5 million in 2018. This will augment APAC industry size considerably.
India construction market is anticipated to grow almost twice as fast as China by 2030, providing new growth opportunities for APAC sodium metasilicate pentahydrate market players. Rapid growth in India's urban population will also escalate cement consumption in the coming years – the UN World Population Prospects 2019 claims India to have a population of 1.65 billion by 2059.
Sodium metasilicate pentahydrate is commonly used as a cleaning agent in dishwasher and laundry detergent. Rapidly growing textile and construction industries across economies like China and India have stimulated business outlook.
Reports from Global Market Insights, Inc, estimate sodium metasilicate pentahydrate market to exceed US$ 875 million by 2025.
Author Name : Mateen Dalal
This entry was posted in Bulk & Specialty Chemicals and tagged Cement, Ceramics, Chemical Production, Cosmetics, Detergents, Electroplating, Flameproofing, Metal Surface Treatment, Mineral Floatation, Oil & Drilling, Paper, Purity, Sodium Metasilicate Pentahydrate Market, Sodium Metasilicate Pentahydrate Market Size, Textiles, Washing Powder.