Fleet Management
Powered by a strict regulatory frame of reference formulated to control vehicular emissions, on-board diagnostics (OBD) aftermarket has emerged as a highly lucrative business sphere over the last few years. Lately, many regulatory bodies have established emission control facility centers to resolve the issues related to the effective working of OBD.  In the U.S. specifically, the National Center for Automotive Science & Technology has established the National OBD Clearinghouse for facilitating the understanding of the on-board diagnostics technology, for which U.S. Environmental Protection Agency (EPA) has even provided a grant. In order to comply with the Clean Air Act, EPA has been encouraging people to conduct vehicle maintenance and inspection that will ultimately control the vehicle emission. As of now, a majority of vehicles are incorporated with the OBD technology for meeting the national air quality standards.
Europe On-board Diagnostics (OBD) Aftermarket Share, By Application, 2017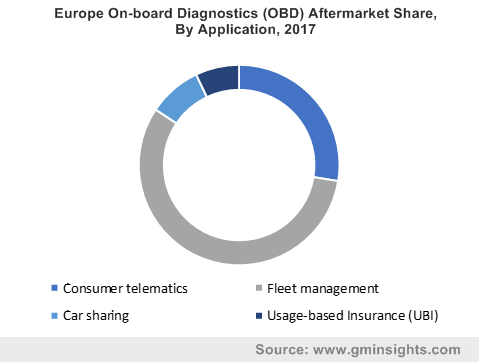 The OBD system is one of the integral parts of the electronic control unit (ECU) and is used for diagnosing and repairing vehicle subsystems and rectifying the malfunctions associated with the systems. The integrity of the emission control unit is maintained with the help of external tools that re-flash and re-configure the vehicle emission parameters. The increasing use of external vehicle diagnostic tools to maintain the shelf life of the vehicle is slated to propel on-board diagnostics (OBD) aftermarket considerably.
Taking into account the strict regulatory norms formulated to curb and monitor vehicle emissions, many diagnostic equipment providers are currently developing new OBD tool facility centers to check problems associated with the engine. For instance, in 2017, the leading suppliers of test equipment and diagnostic reporting for the automotive aftermarket, Innova Electronics Corp launched a modern on-board diagnostic tool line which is totally featured with its newly invented products that will be helpful for excellent diagnostic reporting.
Get a Sample Copy of this Report:@ https://www.gminsights.com/request-sample/detail/2839
The advent of a new range of technologies including cloud computing, Internet of Things (IoT), and smartphones have also had a remarkable influence on the on-board diagnostics aftermarket. In line with the recent product launches, many on-board diagnostics (OBD) aftermarket contenders have been developing new product portfolios comprising the modern technology aids. It has become very easy now for the vehicle owners to calibrate their vehicles' emission control unit. Recently, one of the leading players in on-board diagnostics aftermarket, Verizon has launched a next-generation aftermarket vehicle diagnostic service device that works just by plugging into vehicle's OBD computer port. As soon as it does, it connects to the OBD system of the vehicle and notifies the driver about any maintenance issue. In addition, Verizon has incorporated a smartphone software application as well as GPS technology that will help to resolve the mechanical issues in case of an emergency.
Though the government has mandated the deployment of vehicle health monitoring facilities, many vehicle owners are disabling and tampering on-board diagnostics and pollution control systems. They have also been tampering with laboratory test results and are bypassing emissions around monitoring devices. In U.S., the criminal office of the Environmental Protection Agency (EPA) and the Department of Justice (DOJ) in fact, had sued the employees of Rockwater Northeast LLC which provides operational services across oil and gas sector. The employees of this hydraulic fracturing firm had modified the OBD system and emission control unit of the company's heavy-duty diesel trucks. This strict stand taken by the regulatory bodies for the infringement of Clean Air act has depicted the significance regulations have on the North America on-board diagnostics aftermarket industry growth.
The significant benefits associated with the deployment of on-board diagnostics system to improve air quality through vehicle maintenance and inspection is slated to fuel the product demand across the globe. The installation of vehicle health inspection systems ultimately helps the owners to maintain the vehicle before it violates the air quality standard set by the government. In this regard, many vehicle owners have been implementing OBD systems to monitor and maintain their vehicles which will favorably stimulate on-board diagnostics aftermarket industry size over the years ahead. For the record, driven by a strict regulatory frame of reference, the overall on-board diagnostics (OBD) aftermarket will surpass revenue collection of USD 1.5 billion by the end of 2024.
Author Name : Sunil Hebbalkar
Vehicle tracking market, in the recent years, has been traversing along a rather lucrative growth path mainly on the cusp of the technological advancements that have taken the automotive industry by storm. The rising need to monitor vehicle movement and the growing awareness regarding the benefits of vehicle tracking in terms of safety are regarded as the key drivers impelling vehicle tracking industry growth. According to reports, this business sphere has been drawing tremendous remuneration with a growing number of companies investing heavily in vehicle tracking systems to better position their business operations.
U.S. Vehicle Tracking Market, By Vehicle, 2016 & 2024, (USD Million)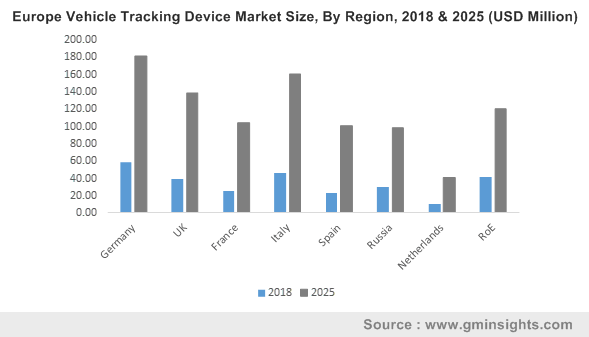 Speaking of the commercialization potential of this business space, analysts deem that having drawn close to USD 6 billion in terms of revenue in 2016, global vehicle tracking market, quite undeniably is set to be a profitable growth ground for potential stakeholders. It has also been observed that in tandem with the core industry participants, the automakers and governmental bodies have been joining forces to develop products and simultaneously commence promotional campaigning programs to encourage the masses to adopt vehicle tracking systems.
A very recent instance validating the authenticity of the aforementioned statement is that of the Roads and Transport Authority of Dubai mandating the installation of monitoring devices in all the brand new heavy vehicles that will be entering Dubai roads from the month of August. Reports reveal that the move comes on the heels of RTA's expansion of its vehicle tracking program that will also include more heavy vehicles weighing 2.5 tons and above. The program further requires all the heavy 20-year-old trucks to have a vehicle tracking device installed to monitor over speeding, traffic accidents, driving in prohibited timing or places, sudden braking, reckless driving and over accelerating.
Get a Sample Copy of this Report @ https://www.gminsights.com/request-sample/detail/193
Another significant instance depicting the involvement of government bodies in this business space is that of the Maharashtra local government body and Regional Transport Office (RTO) mandating the installation of intelligent transport systems that comprise panic buttons & a vehicle tracking system. According to reliable reports, more than 3.70 lakh existing vehicles will have to install these systems in the state – this would prove highly lucrative for the regional vehicle tracking industry.
It is prudent to mention that the demand for numerous vehicle types has a pivotal role to play in augmenting the revenue graph of vehicle tracking market. Say for instance, heavy-commercial vehicles have lately been gaining massive traction in this business sphere. As per report in fact, vehicle tracking market share from the heavy-commercial vehicles is likely to register a y-o-y growth of 12% over 2017-2024. This robust growth can be credited to the growing demand for passenger & goods transportation coupled with rising consumer interest in tracking fleet performance.
Further elaborating on the product trends, it has been observed that wired vehicle tracking systems are gaining considerable preference over their wireless counterparts. Analysts deem that the major factor contributing to the growth of wired vehicle tracking market is the cost effectiveness of the product over the wireless units. Moreover, perpetual innovations such as enhanced satellite view and mobile tracking have also been primarily fueling the product adoption, leading to vehicle tracking industry gaining renewed traction.
Connected car trends to propel multi-million-dollar opportunities in vehicle tracking market
With driverless and connected cars garnering mass momentum, vehicle tracking market is certain to amass extensive remuneration in the years to come, given that connected technologies are set to transform the way one commutes, interacts, and communicates with automobiles. Authentic sources in fact claim that the number of cars that will be equipped with embedded connectivity will rise by a whopping 300% over the next five years. In essence, the growing importance of security features and other advanced technologies that help reduce road accidents and fatalities are indeed likely to stimulate vehicle tracking industry share. It is estimated that by the end of 2024, the global vehicle tracking market will surpass USD 11 billion with more and more organizations beginning to dabble in this technology, taking advantage of the changing fleet management landscape.
It is prudent to mention that despite the significant initiatives, there has been an ongoing debate regarding the installation of tracking systems. Nonetheless, vehicle tracking market has been expected to gain exceptional proceeds in the ensuing years, specifically due the contribution of regional governments. That apart, the escalating deployment of the product speaks for itself, and is deemed to push this business space to exceptional heights. As per estimates, vehicle tracking market size will increase at a CAGR of 7% over 2017-2024.
Author Name : Ojaswita Kutepatil
With evolving emphasis on location-based marketing in retail space, geofencing market has indeed gained a widespread recognition in the mainstream tech cosmos. Over the recent years, it has been observed that the share battle between online and offline business platforms is intensifying. As a result, bricks and mortar giants have been increasingly looking for ways to implement e-commerce alternatives, the fundamental factor that has impelled geofencing industry share. Quite comprehensible from the terminology, geofencing is a service that, via an app utilizes RFID or GPS technology to increase the virtual boundary around a particular geographic location. Apparently, the technology is being extensively deployed in retail stores nowadays in an attempt to enhance in-store consumer experience.  In fact, on grounds of its far-reaching acclaim, numerous tech behemoths have been trying their hands with the technology in recent years, attempting to bring forth a slew of innovative applications in geofencing market.
Geofencing Market Size, By Application, 2016 & 2024 (USD Million)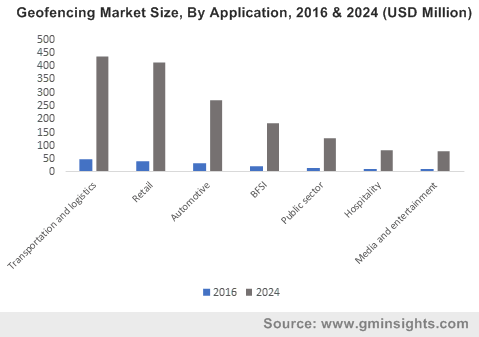 Unveiling geofencing market trends with reference to its application landscape:
American Eagle, one of the renowned clothing and accessories retailers, in the year before last, launched a groundbreaking reward scheme for its customers to encourage purchase. Reportedly, the U.S. headquartered company has utilized geofencing technology to create this app, which in a way is pushing consumers to add more items in their shopping carts to see what they can receive in return. Since the strategy compels the users to at least consider the items that might be otherwise left on the rail, the probability of more purchases undoubtedly increases. This absolutely innovative strategy applied by the American retail giant grabbed the headlines back then and has been stamped as a benchmark in geofencing market growth.
Get a Sample Copy of this Report:@ https://www.gminsights.com/request-sample/detail/222
2016 has indeed been a breakthrough year for geofencing market, with leading food giants striving hard to exploit the potentialities of this technology in their business model. McDonalds, for instance, had started incorporating geofencing service in its mobile app for optimizing the food preparation time. Sources claim, the fast food giant's decision of implementing this app comes in the wake up of long wait queues in front of McDonalds outlet and amidst the chances of receiving cold food. The geofencing based app designed by the company aptly detects when the customer gets closer to the counter and simultaneously alerts the staff to start preparing the order. Needless to mention, growing deployment of these kinds of innovative technologies have enhanced instore consumer experience, which by extension has stimulated geofencing market expansion.
The application matrix of geofencing industry is not just replete with retail domain, though it is undeniable this sector is a lucrative growth avenue for the entire business space.  Besides, retail space, geofencing market share stands to gain much from security and defense applications. Numerous companies participating in the business space have been creating a whole hog to bring about significant advancements in the capabilities of this solution with enhanced integration and accuracy functionalities. In this regard, China has recently made it to the headlines with the announcement of its decision of integrating geo-fencing based facial recognition system for security and surveillance in Xinjiang. Reportedly, these geofencing tools alert authorities when targeted people venture 300 meters beyond the designated safe area zone. These kinds of appreciable efforts undertaken by tech giants and governmental bodies toward promoting geofencing technology is certain to bring forth a plethora of opportunities for geofencing industry participants in the coming years. Validating the declaration is the estimate by Global Market Insights, Inc. that forecasts the global geofencing market to surpass a valuation of USD 1.7 billion by 2024.
Author Name : Satarupa De