Fleet Management
Growing number of technological developments in the field of communication has fueled cellular vehicle-to-everything (C-V2X) market expansion worldwide, with considerable investments in advanced hardware and software components. A surge in disposable incomes and easy availability of automobile finance have driven the sales of mid to high-end luxury vehicles and allowed manufacturers to build in innovative features like telematics, cellular vehicle tracking, automatic parking and driver assistance systems. Consistent growth in transportation and logistics services have warranted the demand for latest fleet management systems, advancing the scope of global C-V2X industry.
Europe Cellular Vehicle-to-Everything (C-V2X) Market Share, By Region, 2018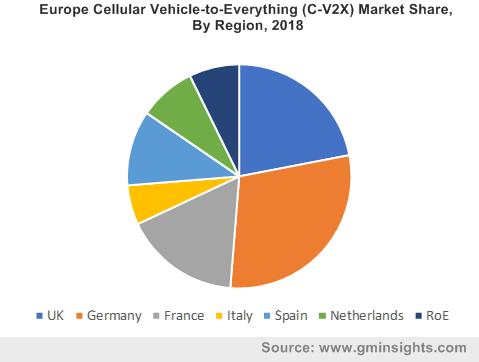 Enabling reliable and efficient connections between vehicles could implement co-operative driving to avoid traffic bottlenecks, accidents and allow smooth control of convoys. Vehicle to vehicle technology has reached a stage where a single platform can link multiple resources and help provide data for vehicle diagnostics and usage-based insurance, while powering advanced infotainment systems. Cellular vehicle tracking has become a norm amongst many large fleets, whether it is passenger transport or commercial goods movement.
Globally, 4G or LTE infrastructure has expanded tremendously and using the existing cellular infrastructure will lower the amount of new roadside components to be added. Deploying the established LTE networks will allow for cost-effective, dependable and easy communication at high speeds will significantly boost global C-V2X market share. It will also enhance line-of-sight of systems, facilitating communication over longer distances and improving the performance of GPS. With 5G networks on the way, upgrading existing LTE components would further propel adoption of vehicle to vehicle (V2V) or vehicle to network (V2N) communications.
Advanced driver assistance systems are being considered as an inevitable inclusion in future vehicles, with number of road accidents on the rise despite improvements in infrastructure and road safety awareness programs. C-V2X industry is poised to witness substantial revenues from collision avoidance application, to develop better V2V and vehicle to person (V2P) solutions. Reportedly, every year car accidents amount to nearly US$242 billion in economic costs across the U.S. Reducing the number of vehicle crashes is a priority among automakers and effective V2V solutions could help mitigate collision risks for drivers.
One of the world's leading auto manufacturers, Ford had indicated the lucrative future prospects existing for C-V2X industry last year when it began testing V2V communication system in the U.K. The aim of the experiments were to observe co-ordination between movement of cars for passing through intersections without having to stop, eliminating the need for traffic lights.  Although the vehicle had a human driver, the company is eyeing deployment of the system in self-driving cars as well.
Get a Sample Copy of this Report:@ https://www.gminsights.com/request-sample/detail/3383
The advent of hybrid and electric vehicles has produced immense growth opportunities for C-V2X industry, since these vehicles are dependent on the latest hardware components and communication technologies. Incorporating the most advanced chips and equipment, electric cars could easily communicate with each other for alerting about probable distress situations or roadside hazards. According to the International Energy Agency, a projected 125 million electric cars could be on the roads by 2030, signifying the vast potential of C-V2X market.
An important application area for V2V technologies are autofocus vehicles, which are fundamentally run by highly reliable, fast communication systems that have low latency. Several chip makers and auto manufacturers are attempting to enhance collision avoidance capabilities of driverless cars to ensure a safe product and to meet stringent regulatory requirements.
With the presence of many leading automotive companies and partnerships with global technology firms, Asia-Pacific C-V2X market can be expected to reign in enormous revenues over the coming years. In December 2018, a consortium comprised of automaker Nissan and companies like Qualcomm, Continental and Ericsson completed the first C-V2X testing in Japan using 5.8 GHz frequency for direct communication. Tests were conducted under various conditions and demonstrated the potential of not only V2V, but V2N and V2P communications.
Owing to remarkable achievements in deploying communication network equipment and integrating crucial V2V systems within vehicles, C-V2X market is slated to register a double digit growth from 2019 to 2025. Key players outlining the competitive dynamics of the industry include Autotalks, Bosch, Continental, Nokia, Qualcomm, Intel and Savari.
Author Name : Pankaj Singh
Powered by a strict regulatory frame of reference formulated to control vehicular emissions, on-board diagnostics (OBD) aftermarket has emerged as a highly lucrative business sphere over the last few years. Lately, many regulatory bodies have established emission control facility centers to resolve the issues related to the effective working of OBD.  In the U.S. specifically, the National Center for Automotive Science & Technology has established the National OBD Clearinghouse for facilitating the understanding of the on-board diagnostics technology, for which U.S. Environmental Protection Agency (EPA) has even provided a grant. In order to comply with the Clean Air Act, EPA has been encouraging people to conduct vehicle maintenance and inspection that will ultimately control the vehicle emission. As of now, a majority of vehicles are incorporated with the OBD technology for meeting the national air quality standards.
Europe On-board Diagnostics (OBD) Aftermarket Share, By Application, 2017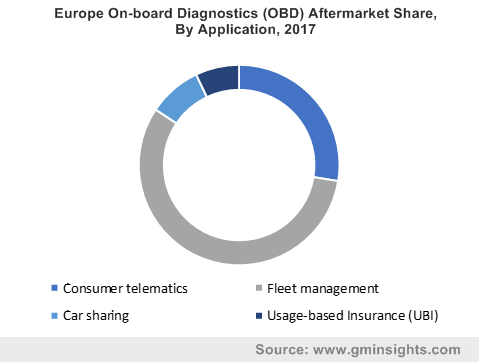 The OBD system is one of the integral parts of the electronic control unit (ECU) and is used for diagnosing and repairing vehicle subsystems and rectifying the malfunctions associated with the systems. The integrity of the emission control unit is maintained with the help of external tools that re-flash and re-configure the vehicle emission parameters. The increasing use of external vehicle diagnostic tools to maintain the shelf life of the vehicle is slated to propel on-board diagnostics (OBD) aftermarket considerably.
Taking into account the strict regulatory norms formulated to curb and monitor vehicle emissions, many diagnostic equipment providers are currently developing new OBD tool facility centers to check problems associated with the engine. For instance, in 2017, the leading suppliers of test equipment and diagnostic reporting for the automotive aftermarket, Innova Electronics Corp launched a modern on-board diagnostic tool line which is totally featured with its newly invented products that will be helpful for excellent diagnostic reporting.
Get a Sample Copy of this Report:@ https://www.gminsights.com/request-sample/detail/2839
The advent of a new range of technologies including cloud computing, Internet of Things (IoT), and smartphones have also had a remarkable influence on the on-board diagnostics aftermarket. In line with the recent product launches, many on-board diagnostics (OBD) aftermarket contenders have been developing new product portfolios comprising the modern technology aids. It has become very easy now for the vehicle owners to calibrate their vehicles' emission control unit. Recently, one of the leading players in on-board diagnostics aftermarket, Verizon has launched a next-generation aftermarket vehicle diagnostic service device that works just by plugging into vehicle's OBD computer port. As soon as it does, it connects to the OBD system of the vehicle and notifies the driver about any maintenance issue. In addition, Verizon has incorporated a smartphone software application as well as GPS technology that will help to resolve the mechanical issues in case of an emergency.
Though the government has mandated the deployment of vehicle health monitoring facilities, many vehicle owners are disabling and tampering on-board diagnostics and pollution control systems. They have also been tampering with laboratory test results and are bypassing emissions around monitoring devices. In U.S., the criminal office of the Environmental Protection Agency (EPA) and the Department of Justice (DOJ) in fact, had sued the employees of Rockwater Northeast LLC which provides operational services across oil and gas sector. The employees of this hydraulic fracturing firm had modified the OBD system and emission control unit of the company's heavy-duty diesel trucks. This strict stand taken by the regulatory bodies for the infringement of Clean Air act has depicted the significance regulations have on the North America on-board diagnostics aftermarket industry growth.
The significant benefits associated with the deployment of on-board diagnostics system to improve air quality through vehicle maintenance and inspection is slated to fuel the product demand across the globe. The installation of vehicle health inspection systems ultimately helps the owners to maintain the vehicle before it violates the air quality standard set by the government. In this regard, many vehicle owners have been implementing OBD systems to monitor and maintain their vehicles which will favorably stimulate on-board diagnostics aftermarket industry size over the years ahead. For the record, driven by a strict regulatory frame of reference, the overall on-board diagnostics (OBD) aftermarket will surpass revenue collection of USD 1.5 billion by the end of 2024.
Author Name : Sunil Hebbalkar
With evolving emphasis on location-based marketing in retail space, geofencing market has indeed gained a widespread recognition in the mainstream tech cosmos. Over the recent years, it has been observed that the share battle between online and offline business platforms is intensifying. As a result, bricks and mortar giants have been increasingly looking for ways to implement e-commerce alternatives, the fundamental factor that has impelled geofencing industry share. Quite comprehensible from the terminology, geofencing is a service that, via an app utilizes RFID or GPS technology to increase the virtual boundary around a particular geographic location. Apparently, the technology is being extensively deployed in retail stores nowadays in an attempt to enhance in-store consumer experience.  In fact, on grounds of its far-reaching acclaim, numerous tech behemoths have been trying their hands with the technology in recent years, attempting to bring forth a slew of innovative applications in geofencing market.
Geofencing Market Size, By Application, 2016 & 2024 (USD Million)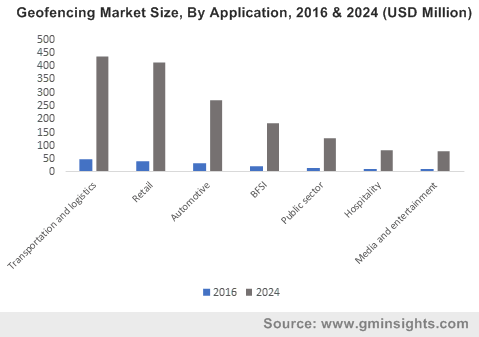 Unveiling geofencing market trends with reference to its application landscape:
American Eagle, one of the renowned clothing and accessories retailers, in the year before last, launched a groundbreaking reward scheme for its customers to encourage purchase. Reportedly, the U.S. headquartered company has utilized geofencing technology to create this app, which in a way is pushing consumers to add more items in their shopping carts to see what they can receive in return. Since the strategy compels the users to at least consider the items that might be otherwise left on the rail, the probability of more purchases undoubtedly increases. This absolutely innovative strategy applied by the American retail giant grabbed the headlines back then and has been stamped as a benchmark in geofencing market growth.
Get a Sample Copy of this Report:@ https://www.gminsights.com/request-sample/detail/222
2016 has indeed been a breakthrough year for geofencing market, with leading food giants striving hard to exploit the potentialities of this technology in their business model. McDonalds, for instance, had started incorporating geofencing service in its mobile app for optimizing the food preparation time. Sources claim, the fast food giant's decision of implementing this app comes in the wake up of long wait queues in front of McDonalds outlet and amidst the chances of receiving cold food. The geofencing based app designed by the company aptly detects when the customer gets closer to the counter and simultaneously alerts the staff to start preparing the order. Needless to mention, growing deployment of these kinds of innovative technologies have enhanced instore consumer experience, which by extension has stimulated geofencing market expansion.
The application matrix of geofencing industry is not just replete with retail domain, though it is undeniable this sector is a lucrative growth avenue for the entire business space.  Besides, retail space, geofencing market share stands to gain much from security and defense applications. Numerous companies participating in the business space have been creating a whole hog to bring about significant advancements in the capabilities of this solution with enhanced integration and accuracy functionalities. In this regard, China has recently made it to the headlines with the announcement of its decision of integrating geo-fencing based facial recognition system for security and surveillance in Xinjiang. Reportedly, these geofencing tools alert authorities when targeted people venture 300 meters beyond the designated safe area zone. These kinds of appreciable efforts undertaken by tech giants and governmental bodies toward promoting geofencing technology is certain to bring forth a plethora of opportunities for geofencing industry participants in the coming years. Validating the declaration is the estimate by Global Market Insights, Inc. that forecasts the global geofencing market to surpass a valuation of USD 1.7 billion by 2024.
Author Name : Satarupa De