Flow Battery
The global solar energy storage market size is expanding at an unprecedented pace owing to the increased adoption of renewable energy sources by various sectors of the economy to replace the traditional forms of energy usage. Additionally, numerous initiatives of businesses and government agencies to explore sustainable and efficient power sources and their storage has contributed to the enhancement of solar energy storage market share.
Global Solar Energy Storage Market Size, 2018 – 2025 (USD Million)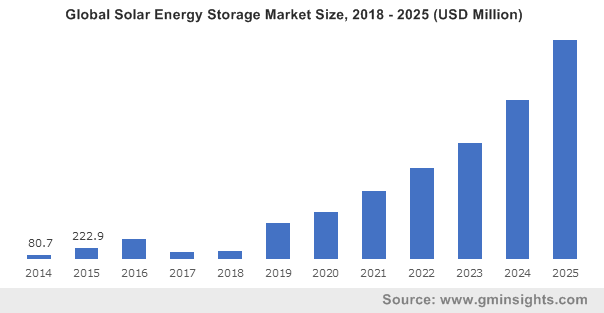 The demand for electric batteries to reduce the fuel cost has also witnessed a considerable growth mainly due to the proliferation of electric vehicles, which has driven companies to integrate storage units that are performance oriented. Consequentially, the usage of lithium ion battery storage systems across various business verticals is increasing. Apparently, these batteries are gradually replacing their substitutes for solar storage in grid connection.
The Li-ion batteries require low maintenance and do not require scheduled recycling. Their self-discharge technique is less as compared to other batteries making them well suited for modern fuel gauge applications. Several automotive companies are preferring Li-ion batteries, for instance, Toyota has deployed solar rooftops at its facilities and aims to explore synergies with lithium ion batteries. These module-based batteries will be provided with stationary storage for solar energy which may reduce the cost of energy storage. The need to store solar energy for further use by way of charging the electric vehicles will propel solar energy storage market outlook over the forecast years.
Get a Sample Copy of this Report:@ https://www.gminsights.com/request-sample/detail/3507
In recent times, the implementation of roof top solar systems across residential and commercial spaces has fueled the product demand. For instance, India's Ministry of New and Renewable Energy, under its National Solar Mission – aims to achieve 40-GW worth of power through solar rooftops by the year 2022. Owing to numerous advantages of rooftop solar panels such as cost savings, reduced carbon footprints, and relatively lower maintenance cost, several builders of residential or commercial establishments are installing solar rooftops. The need to store solar energy across these establishments is contributing to the overall solar energy storage industry share.
Speaking in terms of regional growth, Asia Pacific solar energy storage market share has witnessed a commendable expansion over the last few years owing to several government policies directed toward increasing the use of renewable sources of energy in these countries. Additionally, due to the increase in industrial sector, the builders/establishment owners are resorting to renewable sources for electricity due to its cost effectiveness and easy maintenance.
According to a study by India Brand Equity Foundation, the installed renewable power generation capacity in India recorded a CAGR of 19.78% between the year 2014 and 2018. Similarly, in order to boost the adoption of solar energy, the government is levying tax credits to people who install solar panels for commercial or residential purposes. In fact, according to the Ministry of New and Renewable Energy, the government pays 30% of the installation cost as a subsidy.
Apart from India, China has emerged as a leading producer, installer, and exporter of renewable energies like solar and wind power along with related technologies like electric vehicles and batteries. As of 2016, China has over 15,000 renewable energy patents and has a clear lead in terms of underlying technology. According to the National Energy Administration (NEA), in the first quarter of 2019, China added 5.2 GW of solar power capacity driven by new project launches in northern and eastern part of the country.
Large scale solar projects are being constructed across China and the country is venturing into the production of electric vehicles rapidly, with the government spending over USD 60 billion in the last decade to steer the electric cars industry by restricting the licenses for gas powered vehicles. Thus, the growing production of solar energy to fulfil the demand of solar infused products across China is propelling the APAC solar energy storage market size.
Owing to an increase in realization among the nations regarding climate change and its impact, there has been a considerable shift towards the adaption of renewable energy sources. Hence, with the rise in usage of natural source of energy like solar power there arises a need for storage in order to facilitate continuous usage.
Similarly, the adaption of solar power ranging from the production of electricity to its usage in electric cars has further steered solar energy storage industry trends. Several investments from major companies like Samsung, LG Chem, BMW, Maxwell Technologies, Primus Power and others have eased the availability of efficient storage solutions and created future opportunities in the sector. According to a report by Global Market Insights Inc., solar energy storage market is estimated to exceed an annual installation of 3 GW by 2025.
Author Name : Shreshtha Dhatrak
With grid connected battery storage systems getting into the mainstream power supply, stationary battery storage market is forecast to witness an upswing in the coming years. Energy storage has served as an interface between intermittent renewable power and the benefits of all time reliable, clean resilient energy supply. Utilities around the world are intrigued by the storage potential to address other needs such as releasing congestion and smoothening out power variations that occur even in renewable energy generation. One of the profound factors that is likely to act in favor of stationary battery storage industry augmentation is the unprecedented demand for electricity across the world. With the increasing global initiatives toward greenhouse gas emission abatement, a portion of the upcoming power generation should come from renewable sources.
Germany Stationary Battery Storage Market Size, By Battery, 2018 & 2030 (USD Billion)

Statistics claim, stationary battery storage market valuation is forecast to take a giant leap in the coming years in terms of revenue collection, with a target value of USD 170 billion by 2030. The industry landscape is quite regulatory driven, given that the system deployment has some profound environmental impact. The stringent regulatory framework and the economic structure that needs to be abided by at various stages in energy storage systems deployments determines the competitiveness of the stationary battery storage industry landscape.
Product differentiation is one of the prime strategies adopted by the stationary battery storage industry giants to sustain their position. For instance, Tesla's lithium ion based battery storage products, 'Powerwall' is indeed a breakthrough in the industry. Recently, the American automaker has launched the upgraded version of the storage solution, Powerwall 2 of in South Australia, to mitigate the problem of increasing blackouts in the continent. Some of the other biggies involved in stationary battery storage market include Hitachi Maxell, Koninklijke Philips, Valence Technology, A123 Systems, and Exide Technologies.
Get a Sample Copy of this Report@ https://www.gminsights.com/request-sample/detail/1892
With energy crisis issue coming on board across various geographies across the world, stationary battery storage market is subsequently gaining a renewed traction. Battery technology, especially lithium ion based models have been gaining a remarkable attention of late and have progressed the furthest. Lithium ion batteries have extensively deployed in automotive and consumer electronics sectors over the recent years. As per estimates, lithium ion battery market is forecast to exceed a revenue of USD 60 billion by 2024. The growth scale certainly signals the commercialization of lithium ion based stationary battery storage market as well. Recently, in the first quarter of the year, Tesla has launched a grid connected lithium ion battery plant of 129 MWh in South Australia, which is claimed to be the world's biggest battery storage plant. In addition, lithium ion batteries falling price trends are also expected to act in favor of stationary battery storage market expansion.
Responding to the environmental call, there has been a massive upsurge in the upgradation of conventional grid network model and refurbishment projects. This positive trend is certain to drive stationary battery storage industry share in the coming years. In fact, surveys claim that emerging nations with swiftly developing residential establishments will turn out profitable for the market growth. Frequent grid failures and power discrepancies are thus pushing the demand for stationary battery storage market from the UPS sector.
China, as per market experts, will prove to be a lucrative business ground for stationary battery storage market investors. A plethora of factors that can be placed behind this forecast include extensive commercialization, growing regional population coupled with surging demand for power, and Chinese government's huge investment in grid upgradation. For instance, in 2017 China had decided to spend approximately USD 360 billion on renewable power technologies such as wind and solar by 2020. China Energy Storage Alliance (CNESA) in their recent report has forecast that the country will undergo a chain of trends in the coming years, pertaining to the energy industry, which undoubtedly will leave a perpetual impact on the regional stationary battery storage industry.
The U.S. belt has quite actively responded to the rising environmental needs, owing to which the region is forecast to be a potential business avenue for stationary battery storage industry. Driven by the refurbishment of current electrical networks as well as the launch of sustainable building codes and standards, the United States has been touted to emerge as a viable revenue pocket for this business space.
Another major driving force of the U.S. stationary battery storage industry is the increasing power consumption along with the pivotal upsurge in infrastructure development investments. In addition, the launch of highly favorable policies for the development of large scale energy storage projects will also augment the regional industry landscape. Say for instance, in the year 2017, December, the NY government declared numerous regulations targeted toward an energy storage deployment target of 1,500 MW by 2025.
Though stationary battery storage industry is forecast to penetrate most of the emerging nations across the world, the growth curve will vary significantly on a global level. A large number of factors that are underlining this growth variation as per region include regulatory landscape, grid infrastructure, supply framework, population demographics, and energy demand. However, keeping into consideration the aforementioned aspects, stationary battery storage industry is set to exhibit a lucrative road map in the coming time frame, with a remarkable annual growth rate over 2019-2030.
Author Name : Saipriya Iyer