Flue Gas Desulfurization Systems Market Analysis
As nations worldwide are imposing strict emission norms over industries, flue gas desulfurization systems market size will witness exponential growth over the coming years. Indeed, sulfur dioxide (SO2) gas represents a key air pollutant that can severely degrade air quality. Coal-fired power plants are the main contributors of this lethal gas in the atmosphere, and in high volumes SO2 could have an adverse effect on human health as well as on the environment by causing increased cases of acid rains.
North America Flue Gas Desulfurization (FGD) Systems Market, By Technology, 2018 & 2025 (USD Million)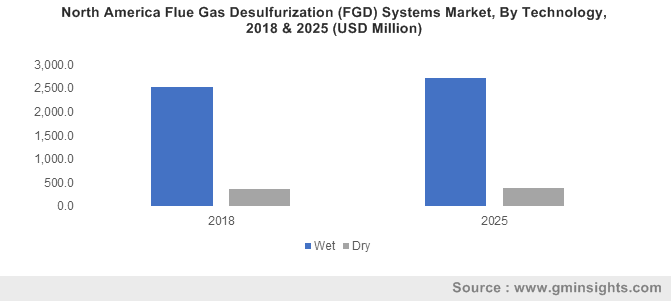 With stringent emission norms, industries are increasingly incorporating air quality control systems such as flue gas desulfurization (FGD) to lower sulfur dioxide content from emissions produced via various procedures involved in these businesses. Reports suggest that flue gas desulfurization technology can remove up to 98% of the sulfur gases from smokestacks and in some cases, produce commercial products with the residue.
With a surge in power consumption, several countries are investing actively in their thermal power generation sector which will foster flue gas desulfurization systems market size in the coming years. For instance, in 2019, India's Cabinet Committee on Economic Affairs cleared the proposal for investing Rs 10,439.09 crore for the 1320 MW Buxar Thermal Power Project in Bihar and an Rs 11,089.42 crore investment for the 1320 MW Khurja Super Thermal Power Plant in Uttar Pradesh and the Madhya Pradesh based Amelia Coal Mine. Additionally, nations worldwide are focusing more on maintaining their ambient air quality index thus enhancing flue gas desulfurization systems market growth.
Key trends that will help expand the flue gas desulfurization systems industry size:
Increased demand for wet flue gas desulfurization systems in coal-fired plants:
Notably, wet flue gas desulfurization technology has been one of the most used SO2 reduction systems in coal-fired power plants, utilities, paper mills, and chemical factories. This method mainly involves the use of lime or limestone as a reagent owing to its acidic gas removing capability. In fact, over 90% of all U.S. flue gas desulfurization (FGD) systems use lime or limestone and this trend is likely to continue into the next phase of mandated reduction in SO2 emissions from coal-fired power plants.
Get a Sample Copy of this Report:@ https://www.gminsights.com/request-sample/detail/3345
With growing demand, many flue gas desulfurization systems industry players worldwide are also focusing on developing more advanced wet flue gas desulfurization (WFGD) systems to enhance their system's offering. For instance, General Electric has introduced a steam power systems WFGD-Open Spray Tower (OST) that offers lower power consumption and has smaller dimensions compared to its previous model, offering close to zero emissions.
Additionally, in 2018, the company had announced the completion of its first wet flue gas desulphurization (WFGD) unit at power giant National Thermal Power Corp's 500 MW Super Thermal Power project in Madhya Pradesh, India. Similar advancements are expected to boost wet flue gas desulfurization segment growth, in turn supplementing flue gas desulfurization systems market size.
Flue gas desulfurization systems market to register significant proceeds from the expansion of power generation sector in APAC
Reportedly, India ranks third among the world's largest emitters of greenhouse gases (GHGs), following China and the U.S. The country's energy sector comprises electricity production, manufacturing industries, transport sector and fugitive emissions that have contributed to around 71% of its total GHG emission. However, compliance with the new emission norms could lead to retrofitting of existing thermal power plants with auxiliaries SOx and NOx emissions control systems like Flue Gas Desulfurization (FGD).
For instance, the Central Electricity Authority (CEA) recently identified about 300 operational units, totaling about 120 GW, wherein flue gas desulfurization needs to be installed in a phased manner by 2022. The initiative is anticipated to entail an investment of about Rs 50,000 crore, that would provide a considerable boost for flue gas desulfurization systems industry.
Moreover, to comply with the emission standards, power producers will require to make significant investments for installing pollution control technologies, creating an industry opportunity worth around Rs 2500 billion for the pollution control equipment industry, over the next 15 years, claims the Federation of Indian Chambers of Commerce and Industry (FICCI) reports.
Citing a recent investment, in 2018, India's power major National Thermal Power Corp. (NTPC) offered a Rs 567 crore order to EPC player Reliance Infrastructure to build an FGD plant at its 1500 MW (500 MW x 3) power plant in Haryana. Investments such as these validate that sheer growth prospects in the region for FGD and in turn for flue gas desulfurization systems market size.
Flue gas desulfurization system is used to remove oxides of sulfur from power plants emission and other industrial processes that burn coal to produce steam for process heating and electricity generation. Though the world is increasingly veering towards the use of renewable energy resources, recent findings show that over the last five years, the World Bank has actually increased its investments in fossil fuels. Yet as the threat of global warming is too real to be ignored, stringent emissions norms are anticipated to augment the global flue gas desulfurization systems industry size in the forthcoming years.
Author Name : Mateen Dalal