Foldable Display Market
Global foldable display market size is poised to experience commendable growth in the forecast time duration owing to rising user preference towards the latest trends, development of bendable displays, and growing adoption of breakthrough technologies. Innovation in nanotechnology screen films gradually transforming the mobile and electronics sector and introducing foldable display technology represents the continuous efforts put into the development of smartphones. Surging interest in the product and its capabilities  will create substantial business scope for display manufacturing companies and developers worldwide, propelling foldable display industry outlook.
Asia Pacific foldable display market, country, 2025 (USD Million)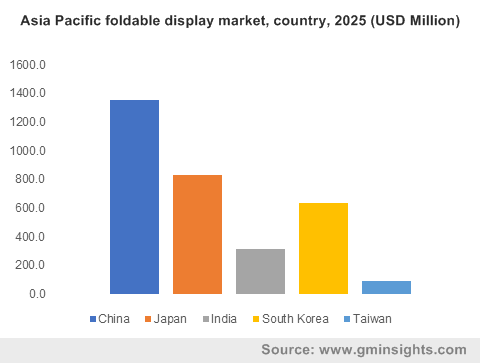 In terms of advancing innovative information technology, mobile features today cannot be ignored as only better camera quality and sharper screens may not be enough to improve customer experience and influence their purchase decisions. Companies like Apple, Royole and Samsung are adopting new ways to attract phone buyers. With the advent of the foldable display technology, there is a considerable rise in competition among companies to launch related devices earlier than the other. Huawei and Lenovo are working thoroughly on this technology as well, giving rise to new forms of smartphones and tablets.
Recently in March 2019, Google had grabbed the headlines for filing a patent for a Z-fold technology that could bend without smashing or breaking apart. Unveiling its own foldable smartphone technology in May the same year, Apple had won a patent for a foldable screen that could be used for iPhones and its other products in the next few years, as  the US Patent and Trademark Office granted Apple a patent for its foldable device. As more such initiatives are undertaken by global tech giants to offer new set of technological devices for customers, foldable display market will gain immense traction in the near future.
Get a Sample Copy of this Report:@ https://www.gminsights.com/request-sample/detail/3084
In the past seven years, China's Royole, a worldwide manufacturer of advanced flexible sensors, flexible displays, and smart devices has raised around $1 billion to develop and market flexible displays and sensors. In fact, the company engages in production of sample devices that sport malleable displays, out of which some are already launched in the market while some are still in progress stage or ready-to-launch phase. It is believed that this technological trend will influence growth for foldable display industry size globally.
Lenovo has unveiled an early preview of its foldable display laptop product line which will be a part of ThinkPad X1 portfolio of the company. With this device, which one can use as a two in one, users would be able to carry as a tablet and then can use a Bluetooth keyboard for turning it into a laptop device. It would comprise of a suite of pioneering technologies, from 5G technology to the latest in display offerings, for customers who want to experience a completely new way of using a device for communication, professional and entertainment purposes.
Amongst the more prominent examples highlighting the progress of foldable display market trends, is the recent launch of Samsung's foldable phone, Galaxy Fold which had been announced in both a 4G LTE and 5G version. Along with this, Samsung has plans to launch this device in Europe to boost its market presence. Although the device has met considerable backlash due to some issues regarding the display, consistent efforts to improve the technology will help boost the quality of products and expand foldable display industry share.
Smartphone penetration in the U.S. has increased dramatically owing to the high disposable incomes of people and adoption of novel technological evolutions. The smartphone sector of the U.S. is considered to be one of the biggest in the world with the presence of key players like Microsoft and Apple, which are on the verge of incorporating foldable displays in some of their upcoming products. Existing chipmakers in the region and close relations with major manufacturers in Asia-Pacific will broadly outline the development path of North America foldable display market over the projected period.
The smartphone and electronic segment represents a continuously increasing customer inclination towards advanced technological offerings, even in many emerging economies, demonstrating a wide target base for foldable display industry. Most of the electronics manufacturers seem to be investing massively in the development of the smartest and most user-friendly gadgets to provide experiences like never before. Reports estimate that global foldable display market will hit annual revenues of over USD 18 billion by 2025.
Author Name : Deeksha Pant