Food & Beverage
​Enhanced productivity and the ability to facilitate manufacturers an optimal supply chain has propelled assembly machine market size significantly. Both manual and automated assembly lines improve productivity, efficiency and quality of manufacturing while reducing labor costs and cycle time. Major application segments like packaging, aerospace, pharmaceutical, military/defense and electronics have proliferated through the deployment of suitable machines on production lines, stimulating technological development.Government initiatives designed to improve a nation's economic status will substantial drive assembly machine industry forecast, for instance in India which has initiated 'Make in India', an effort to help expand manufacturing businesses in the country. The Indian government is pushing for the share of manufacturing segment to increase up to 25% of GDP by the year 2025 from the 16% in 2018.
Manufacturing units across developing economies will be adopting Industry 4.0 technologies like artificial intelligence, machine learning and robotics to transform operations with the help of semi or fully-automated assembly machinery for achieving cost efficiencies without quality compromises.
Need for automatic and semi-automatic assembly machines
Semi-automated assembly machines will be witnessing a major growth in forthcoming years owing to a steady increase in the production of new and greener automobiles, that will in turn stimulate the demand for automotive components like radiators made on use semi-automatic assembly lines.
TQC Automation & Test Solution offers semi-automatic assembly machines in order to allow a manufacturer to test automotive radiators and enable quality control. Semi-automatic machines are essentially preferred over manual machines owing to the time saving functions. These machines are mostly used by small or medium enterprises for improving the manufacturing process under decent budget, while raising productivity and reducing the operational costs.
Get a Sample Copy of this Report:@ https://www.gminsights.com/request-sample/detail/4287
Fully automatic assembly machines will gain favorable traction and influence the business outlook due to use of smart technologies with the combination of cyber-physical systems that help factories become much more productive and energy-efficient. Automated assembly machines eliminate concerns for manual handling entirely and increases output in less time, fostering assembly machine market share globally.
Expansion of automobile and cosmetic manufacturing sectors
Major advances in the robotics technology have initiated the deployment of robotic automation in the automotive segment. Across automotive component plants, assembly machines comprising robots like high speed Delta machines help assemble small components such as motors and pumps. Car assembly involves windshield installation as well as wheel mounting that require automated assembling.
The European Union produced 19.2 million motor vehicles in 2018, which account for around 20% of the total motor vehicle production globally in the year. Companies in the region use advanced technologies for the manufacturing of automotive parts, considerably fueling Europe assembly machine industry size.
With regards to cosmetics packaging applications, equipment like pump priming and leakage testing machines, thin shape lipstick tube assembling machine, finish assembling machines and high-speed mascara bottling equipment run successfully in several multi-national companies. Several such automatic assembly machinery are imported by manufacturers based in Italy, United States, Switzerland and France that have helped the users to enhance their efficiency.
Surging consciousness among people about personal care and perception of beauty standards have increased the demand for cosmetics. Japan is one of the leading markets for beauty products and generated a revenue worth USD 36 billion in the year 2017.
Impact of growing demand in Asia Pacific region
Asia pacific region accounted for nearly 40% of global assembly machine market share in 2018, with countries like India and China reportedly looking to achieve lower manufacturing costs along with less technically skilled labor. Rapid digitization in the region has helped manufacturers expand and scale businesses economically.
Several countries have initiated Industry 4.0 projects for the improvement of manufacturing sectors, including Thailand, Malaysia and Indonesia, each having their own economic agendas.
Companies like Norwalt Design Inc., Hindustan Automation, FANUC Corporation, Kawasaki Heavy Industries Ltd, Humard Automation SA, Haumiller, Extol, Intec Automation and Bystronic Maschinen AG are some of the prominent equipment manufacturers comprising the competitive hierarchy of global assembly machine market.
Players are extensively involved in collaborations and look to acquire other companies to expand their portfolio. For instance, ABB had recently entered into a partnership with Cochin Shipyard, a government owned shipping corporation of India, to be able to provide automated assembly solutions.
Author Name : Riya Yadav
Increased product demand from pharmaceutical and textile industries will drive bleached linter cellulose market growth in the forecast years. Bleach linter cellulose is a high viscosity substance made primarily from cotton linters. Compared to wood cellulose, cotton linters offer significant advantages like higher purity, higher brightness, and a lower content of hemi-celluloses. These characteristics make purified linters cellulose an ideal raw material for manufacturing high-quality products like tissue, gazes, high-quality paper for bank notes, nitrocellulose and cellulose ethers.
U.S. Bleach Linter Cellulose Market size, By Application, 2014-2025 (USD Million)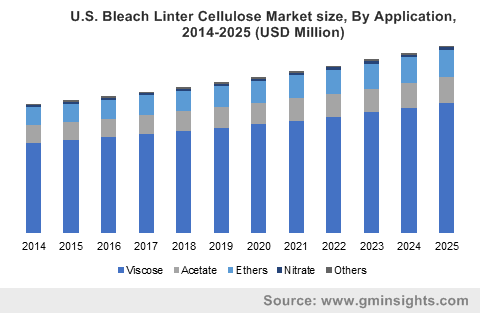 Increasing investments and rapid technological advancements are likely to expand bleached linter cellulose market size over the forecast period. For instance, in 2019, the GRETE project that aims to improve the existing wood-to-textile value chains by developing breakthroughs and increase production of man-made cellulose fibers in Europe was granted EUR 2.6 million by the Bio-based Industries Joint Undertaking (BBI JU). Swiftly growing food industry across developing nations is also anticipated to foster industry trends.
Based on application, it would be apt to state that cellulose ether will accrue a significant proportion od bleached linter cellulose market share over the coming years. Cellulose ethers are often used as viscosifiers, suspending agents, thickeners, binders, protective colloids, film formers, and stabilizers in industries like food, drilling, textile, building, ceramics, detergent, and cosmetics.
Increasing use of cellulose ethers like carboxymethylcellulose (CMC) and methylcellulose (MC) will drive industry outlook. For example, in the construction industry, CMC is used in cement and other building material compositions owing to its hydrophilic and stabilizing properties.
Get a Sample Copy of this Report:@ https://www.gminsights.com/request-sample/detail/3858
Supportive government strategies and investments in the construction sector will positively supplement cellulose ether segment in the coming years. For instance, according to European Construction Sector Observatory (ECSO) 2018, the UK government plans to deliver 400,000 affordable housing units by 2020-2021, financed through a new EUR 2.7 billion Housing Infrastructure Fund.
Growing demand for personal care and pharmaceutical products is likely to drive bleached linter cellulose market growth by 2025. In personal care industry, bleached linter cellulose is used to thicken and stabilize cosmetics and improve their moisturizing effects. Cellulose ether, pertaining to its characteristics like high glass transition temperatures, limited crystallinity, high chemical & photochemical stability, solubility, hydrogen bonding capability, and low toxicity is used widely in the pharmaceutical sector. Colored cellulose ether products can also be decolorized or bleached to attain an increased whiteness.
Growing use of cellulose ether in various medicinal drug formulations will accelerate product demand. For instance, methyl cellulose (MC) can be used for thickening, suspending, and achieving emulsion stability of liquid pharmaceuticals, and for film coating materials of low viscosity aqueous solution.
Ethyl cellulose (EC) can be used as the binder of tablets, as film coating material, or as the matrix material for developing various types of matrix sustained-release tablets. With growing application of cellulose ether and ethyl cellulose, bleached linter cellulose market will witness commendable proceeds from the personal care and pharmaceutical sector over the coming years.
Asia-Pacific bleached linter cellulose market is anticipated to record gains of over 3.5% in the forecast period. Availability of low cost raw materials in countries like India and China will supplement industry growth. In addition, surging demand from end-user industries like textile, food, pharmaceutical and personal care due to improving socio-economic trends will expand market size.
According to IBEF, India's pharmaceutical industry is expected to reach US $55 billion by 2020. Whereas the country's textiles industry is estimated to reach US$ 250 billion in 2019. With rapid proliferation in such key sectors, the Asia-Pacific bleached linter cellulose market is estimated to witness new growth opportunities over the forecast period.
Bleach linter cellulose is high viscosity cellulose made from cotton linters. Being non-toxic, odorless in nature and easy-absorbent, bleach linter cellulose can effectively be used in industries like food, ceramics, detergent, and cosmetics. Rising product penetration in the textile, personal care and pharmaceutical industries will majorly drive global bleached linter cellulose market growth. Global Market Insights, Inc., estimates bleached linter cellulose market size to reach US $1.3 billion by 2025.
Author Name : Mateen Dalal
The escalating growth of compressor oil market can be attributed to the high-performance lubrication benefits provided by the product. Its properties such as excellent oxidation performance, resistance to rust and corrosion, wear protection, foam control, and rapid water separation expands the product's area of usage to manufacturing, power generation, automobile, mining etc., augmenting compressor oil market share.
U.S. Compressor Oil Market Revenue, By End-use (USD Million)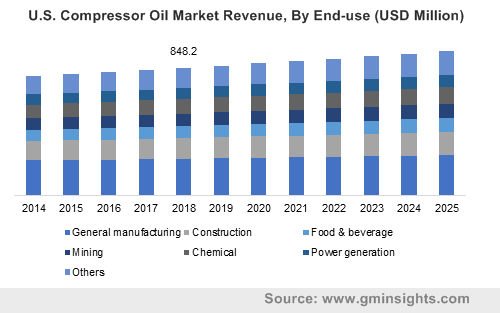 The revenue portfolio of compressor oil market is likely to gain traction owing to expansive product demand from mining applications in particular. The product finds usage in a number of portable compressors that are massively deployed for operations such as vertical drilling, soil nails, rock bolting, shotcreting, anchoring, grouting, and more, given the necessity for smooth compressor operations.
The rising efforts to enhance mining capacity will drive compressor oil market share. The National Mineral Development Corporation (NMDC) for example, last year, announced that it plans to increase the iron ore production capacity to 50 million tons by 2019-20, by forming a joint venture with Chhattisgarh Mineral Development Corporation (CMDC) named NCL. Compressor oil market will gain a fair advantage from mining sector via such operational tactics in the coming years.
In addition to mining, automotive sector is the world's biggest consumer of lubricants. Apparently, automobile and truck engines consume close to 20 million tons per year, which is about half of total lubricant use. In 2018, approximately 95,706,293 motor vehicles were manufactured in the world and the figure is expected to grow substantially in the years ahead. As the production rate of automobile depicts a rise, compressor oil demand will also increase simultaneously, thereby propelling compressor oil market size.
Get a Sample Copy of this Report @ https://www.gminsights.com/request-sample/detail/2557
Regionally speaking, APAC holds the largest share in compressor oil market owing to the significant presence of various industry players and their efforts to expand their reach worldwide. Recently, independent lubricant manufacturer Fuchs Petrolhub made it to the headlines for opening a plant in the Wujiang district of Suzhou, China. The facility's production portfolio is inclusive of numerous industrial and automotive oils, rolling oils, and metalworking fluids. The 80,000 m² plant has been constructed with an investment of around EUR 46 million with a capacity of 100,000 tons in phase 1. The rising efforts by industry contenders to enhance production capacity will augment China compressor oil market.
Another country that will consolidate its stance in APAC compressor oil industry is India, the growth of which is supported by the expansion plans of industry giants. In 2017, BASF India Ltd., a subsidiary of BASF SE, had apparently launched a new technical lab for lubricant and fuel solutions at its Innovation Campus Asia Pacific. The facility was developed with the intention to deliver modern lubricant formulations and high-performance fluids for industrial and automotive applications.
As more and more major companies invest huge amounts to improve their footprints, APAC compressor oil market size will rise significantly over the coming years. Regional expansions by the key players will also push the growth graph of global compressor oil market in the times to come.
The demand for compressor oil will increase due to the rising production of compression equipment. Recently, Atlas Copco made it to the headlines for launching a new high-efficiency oil-injected screw compressor. These next-generation compressors are particularly well suited for metal processing, power plants and mining applications. Innovations pertaining to screw compressors will also augment rotary screw compressor oil market size, slated to exceed $3.5 billion by 2025.
Compression equipment producing companies have been undertaking various other strategies to increase their customer base. For instance, the compression equipment manufacturing company Gardner Denver Holdings, Inc. has announced that it has signed a definitive agreement with Ingersoll-Rand plc to combine Ingersoll Rand's industrial segment with the company. The merger will expand margins through increased efficiencies and allocate capital effectively, accelerating strategic priorities of both the companies. Such moves by leading companies will contribute to the growth of compression oil industry share.
Many oil giants reportedly follow collaborative strategies to expand their business and increase their footprints worldwide. For example, American multinational oil and gas giant ExxonMobil, owns around 37 oil refineries in almost 21 countries, and has recently announced that it has proceeded with an oil development plan in Bajo del Choique-La Invernada block of Argentina. The project is anticipated to produce around 55,000 oil-equivalent barrels a day within next 5 years. Such strategic moves by the oil majors are backing the growth graph of compressor oil market.
Governments worldwide have been planning to increase mining facilities to increase mining production, which will help enhance compressor oil market outlook substantially. With rising number of industry leaders undertaking strategic efforts to expand business reach and product demand increasing across myriad applications, compressor oil market share will increase majorly in the years to come.
Author Name : Anchal Solanki
Rapid industrialization and technology developments transforming the global manufacturing sector have enabled smart factory market to emerge as a highly lucrative investment avenue over the forthcoming years. Several advancements in the field of automation, communications and computing power have turned intelligent manufacturing facilities into a feasible reality. Today, several manufacturers are looking to bring more efficiencies in production process while gaining the ability to supply a wider range of products to consumers, driving the expansion of smart factory industry.
U.S. smart factory market, by application, 2018 & 2025 (USD Million)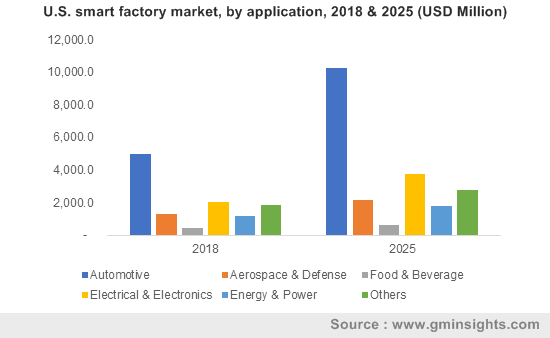 Manufacturers require their production lines and operational processes to be integrated as well as flexible to adapt and enable quick configuration changes to lessen lead times. This helps them to retain a competitive edge in a constantly evolving segment. Smart factories have the ability to address these needs without compromising on quality and safety, positioning the industry in a favorable spot to experience business growth. Not only is building smarter facilities by investing in Internet of Things (IoT) is a massive undertaking, it is also a key component in promoting efficient scalability in the era of Industry 4.0.
Factories that leverage smart manufacturing technology offer a number of benefits to manufacturers including increased productivity, enhanced efficiency and long-term cost savings. Growing awareness of modern manufacturing technologies owing to these advantages will reinforce global smart factory market share. Although high initial investment in smart factories are keeping small to medium sized enterprises at bay, expected rise in affordability of the technologies in the next few years would open up the landscape for these businesses, fueling the adoption of solutions offered by smart factory industry players.
Get a Sample Copy of this Report:@ https://www.gminsights.com/request-sample/detail/1436
The automotive industry is expected to emerge as a prominent growth avenue for the smart factory market over the forecast timeframe. In 2016, multinational automobile company Audi unveiled its Smart Factory 2035 vision in which it envisioned a facility without any assembly lines, instead deploying intelligent, flexible and modern production stations.
Last year, the company had already implemented the proposed vision to manufacture electric motors, wherein vehicle assembly takes place at a production station with automobile components being transported between stations by driverless systems that are controlled by smart IT control systems.
Through this production method, Audi estimates that the factory can produce approximately 400 electric drives with just 100 employees. Audi's initiative offers a proof of the benefits in establishing a smart factory. Several key industry players are expected to follow suit and make investments in their own visions regarding advanced manufacturing plants, significantly boosting smart factory market outlook.
The global food & beverage segment will certainly emerge as a major revenue contributor for smart factory industry due to consistent demand for packaged and frozen food products. A large global population base, that is estimated to hit 9 billion by 2050, tightening regulatory demands around food safety & quality and environmental concerns, as the food & beverage sector consumes 5% of the world's energy, are putting immense pressure on profit margins of producers.
Food and beverage product manufacturers are increasingly looking towards new ways to build flexibility into the inventory management and production process. Adoption of data integration, automation, analytics, energy sourcing and simulation could help companies in transforming their existing factories into intelligent manufacturing facilities to better handle these challenges without severely impacting company margins.
In terms of the regional spectrum, Europe is expected to retain its position as a lucrative market player over the projected period. In fact, Europe accounted for over $25 billion of the global smart factory market share in 2018. The region is home to a number of global automotive firms and according to the European Automobile Manufacturers Association, Europe automobile sector brings in over €90.3 billion in the form of trade surplus. Moreover, the industry is the biggest private investor for R&D in Europe, investing approximately €54 billion annually.
With growing adoption of automation technologies in the food & beverage and automotive sectors, smart factories will undoubtedly become a common trend among large and medium enterprises in the imminent future. Global Market Insights, Inc., has estimated that global smart factory market share will exceed $155 billion in annual remunerations by 2025.
Author Name : Akshay Kedari
Increasing consumption of various consumer and industrial products has led to a steady expansion of the global benzalkonium chloride market, in conjunction with the surge in disposable incomes of the working class population. The compound is effective as a disinfectant and preservative across food & beverage, pharmaceutical and chemical applications, being extensively found in nasal and ophthalmic medicines. Benzalkonium chloride is usually deployed as an antibacterial agent and surfactant in several household products like hand wash and hand wipes, along with personal care products and ointments. An augmented demand for such everyday products worldwide owing to rising population and higher consumer spending will reinforce the position of the benzalkonium chloride industry over the next few years.
U.S. Benzalkonium Chloride Market Size, By Application, 2018 & 2025, (Kilo Tons)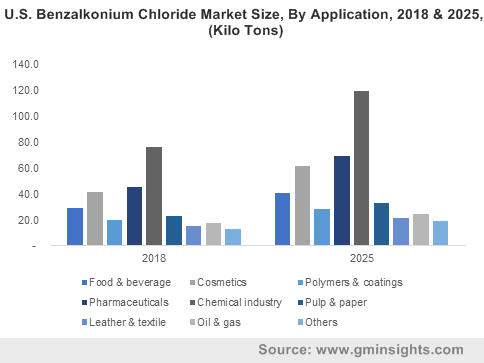 Essentially, the pharmaceutical and cosmetic segments represent two key business verticals where the compound has made a significant impact. It helps preserve the efficacy of medicines while the antimicrobial activities help protect make-up products from disintegrating and increase their quality. Subsequently, consistent consumption of cosmetics and pharmaceuticals will offer considerable momentum to the benzalkonium chloride market throughout various regions. The size of the global pharmaceutical sector is projected to reach US$1.43 trillion by 2020 itself, suggesting vast opportunities for the industry. Narrowing the market potential in terms of using benzalkonium chloride as preservative in eye drops, Bayer and Regeneron's ophthalmic drug Eylea alone had recorded sales of around US$6 billion in 2017.
Expounding the scope of the benzalkonium chloride industry in the food and beverage sector
In essence, the food and beverages industry require suitable disinfecting and sanitizing chemicals for food contact surfaces, to ensure bacteria and other microorganisms are eliminated and the product is not spoilt while in transit or before consumption. Quaternary ammonium compounds such as benzalkonium chloride can counter a wide range of microbes and are applied in appropriate quantities by food producers. The constantly growing demand for packaged food and bottled drinks has made it necessary to tackle all possible threats to health safety and food shelf life, bringing in substantial proceeds for the benzalkonium chloride market. Several reported cases of food-related diseases has notably spurred businesses, government agencies and research organizations to address likely health risks posed by various food-grade chemicals.
Get a Sample Copy of this Report:@ https://www.gminsights.com/request-sample/detail/3233
Referring to a study undertaken by the University of Veterinary Medicine, Vienna, certain strains of gram-positive Listeria seem to be resistant to quaternary ammonium compounds, including benzalkonium chloride disinfectants, and display quite low sensitivity to them. An estimated 47.8 million cases of foodborne illnesses care recorded in the U.S. every year, indicating the enormous need for enhancing food safety. Europe also witnesses nearly 23 million people suffering due to the intake of unsafe food annually, according to WHO. The benzalkonium chloride market is slated to accrue remarkable gains over the forecast timespan from accelerated efforts by food manufacturers to adopt effective sanitizing and disinfecting practices.
Within the beverage industry, compounds can be used for cleaning milking equipment, bulk tanks and other surfaces that come in contact with organic milk or similar products. Milk and other dairy offerings are witnessing consistent rise in demand and producers are required to clean and sanitize any equipment, storage tanks and packaging before utilization. Benzalkonium chloride products are also available as sanitizers for PET as well as glass bottles in which numerous beverages are sold. As evident, the beverages segment is bound to provide significant revenue prospects to the benzalkonium chloride industry.
In a nutshell, a number of critical applications in the food and beverages segment will fuel the development of the global benzalkonium chloride market, which is anticipated to surpass billion dollar valuation by 2025. Prominent companies outlining the competitive dynamics of the industry include  Dishman group, Jinshan Jingwei Chemical, Manav Aktteva Biopharma LLP, Merck Millipore and Novo Nordisk.
Author Name : Pankaj Singh
A highly profitable vertical of the expanding construction space, conveyor belt market stands tall in terms of revenue in today's industrial cosmos. With the global populace growing consistently by the day and improving economic conditions, the commercialization prospects of food & beverages industry has observed quite an incline. As conveyor belts have become an integral part of any typical F&B production facility, it goes without saying that the expansion of the F&B space will help conveyer belt industry chart out a lucrative growth path in the years ahead.
U.S. Conveyor Belt Market Size, by Product, 2014 – 2025 (USD Million)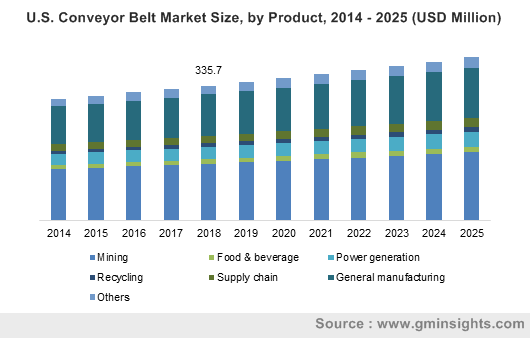 According to Cushman & Wakefield, the world's food & beverage industry has witnessed healthy growth over the previous decade and is expected to grow further in the years ahead. In fact, the lure of food is expected to become a crucial motivator behind the construction of public spaces such as shopping centers & parks experiencing substantial footfall on a daily basis.
Meanwhile, the adoption of conveyor belts across the world's mining sector is on the cusp of witnessing a complete overhaul as the industry undergoes a digital transformation in an attempt to move itself beyond stagnant growth and deliver exceptional value to the shareholders, the customers as well as the environment. Driven by technological advancements and given the product's ability to boost production by a substantial margin while also cutting down labor costs, the conveyor belt industry is expected to consolidate itself as the backbone of the world's manufacturing sector, mainly characterized by mass production.

Impact of the expanding food & beverage industry on the conveyor belt market
According to the Franchise India Holdings Limited, the economic growth experienced by developing nations such as India, Brazil, Russia & China is bringing significant changes to the regional meal consumption landscape. An increasing preference toward packaged food purchase has been observed, thereby providing a lucrative growth opportunity to the conveyor belt market players.
The Drivers: Urbanization is being highlighted as a key driver promoting the expansion of the F&B industry. The populace across the developing nations are immigrating to emerging cities in search for better opportunities, which is making a conspicuous change on their lifestyles & eating habits.
Most of the population sprawled across urban locales seem to often struggle to find the time, or the energy required to preparing their own meals & beverages from scratch at home, which increasingly pushes them towards packaged food & beverages. This consequently leads to the F&B sphere experiencing an exponential growth, bringing about renewed prospects to the global conveyor belt market.
Get a Sample Copy of this Report:@ https://www.gminsights.com/request-sample/detail/3267

The Numbers: According to the World Economic Forum, as the global population rises to 9.7 billion by 2050, it is estimated that humanity would require 70% more food than it is consumed today. With a majority of the aforementioned population slated to live in urban areas, packaged food & beverages would be accounting for a significant chunk of the meal requirements, ensuring an abundant source of growth for the global conveyor belt market.
The Projection: The packaged processed food industry of India alone is estimated to be worth somewhere between $10.87 billion to 13.05 billion. With rapid urbanization and the subsequent rise in the population migrating to cities, the conveyor belt market share from F&B applications is expected to witness a CAGR of more than 4.5% over 2019-2025.
Impact of the mining sector's digital transformation on the conveyor belt market
Initially, the mining industry used conveyor belts that were quite rudimentary & durable to keep up with the taxing conditions in a mine. Ironically, these taxing work environments were exactly why conveyor belts previously struggled to foray further in the mining industry.
The Impact: The influx of substantially high-grade technological advancements have made it possible for conveyor belts to be used on a large scale in the mining sector. Digital technologies are expected to enable the market foray beyond its current stance through automation, operational hardware & robotics.
The Numbers: The World Economic Forum estimates that the digitalization of the mining industry would be bringing in more than $425 million of value to the sector by 2025.
The Projection: The growing demands from mining operations, coupled with the digital transformation of the industry, are expected to provide the conveyor belt market the footing it requires to attract more investments over the upcoming years.
Driven by the digitalization of the mining industry and the expansion of the F&B space, the global conveyor belt market is expected to command significant growth in the years to come. In fact, a Global Market Insights, Inc., report estimates that the conveyor belt market size would be surpassing the $5 billion renumeration mark by 2025.
Author Name : Akshay Kedari
The increasing intensity of climate change and the subsequent issue of water scarcity have led to zero liquid discharge systems market gaining substantial significance. Indeed, the system has become an integral component of numerous industrial sectors, consolidating the market into a lucrative investment ground.
U.S. Zero Liquid Discharge Systems Market Size, by End-user, 2014 – 2025 (USD Million)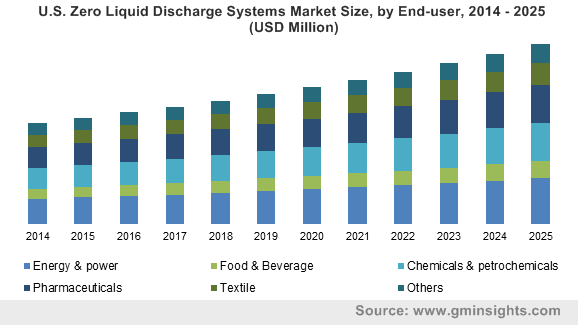 According to a research by the World Resources Institute, climate change is rampant, turning the world's hottest regions even hotter. Meanwhile, as the planet warms, clouds are moving away towards the poles from the equator, further depriving equatorial regions such as Central America, sub-Saharan Africa and the Middle East of rainwater. According to the United Nation's UN Water, the issue of water scarcity is being further exacerbated as rapidly expanding urban areas are placing heavy pressure on water resources nearby, further straining the relationship between water demand & world development.
As these challenges continue to proliferate across the globe, the zero liquid discharge (ZLD) process of water treatment is expected to witness a substantial rise in adoption rates. With more and more enterprises looking to purify & recycle wastewater to dampen their impact on the environment, ZLD systems industry is expected to garner commendable traction ahead..
Role of Europe's environment protection directives on ZLD systems market
In 2018, the European Commission proposed new rules to promote and facilitate water reuse across the European Union for agricultural irrigation. These steps were introduced with the sole purpose of alleviating the pressure of water demands on natural water sources.
The Numbers: According to a recent infographic posted by the European Commission, the challenge currently grips approximately 11% of the European population, severely impacting over 17% of the European Union's territory.
Get a Sample Copy of this Report @ https://www.gminsights.com/request-sample/detail/1961
Moreover, the challenge of water scarcity is no longer confined to a select number of regions across Europe and has started to rapidly become a major concern across the EU. In fact, water scarcity & stress is slated to affect approximately 50% of Europe's river basins by 2030.
The Potential: The European Commission has identified that the EU needs to manage its water resources in a more efficient manner and an effective way to achieve that efficiency is to treat recycled water from ZLD systems as an alternative water supply source. In 2018, the Europe ZLD systems market raised over $1.5 billion in revenues, having treated more than 40,000 million m3 of waste water, however, the continent only reuses 964 million m3 of the treated wastewater.
The potential for additional uptake is quite massive, as the region could reuse more than six times the volume of recycled water that is used currently, presenting a substantial opportunity for the growth of the regional ZLD systems market.
Impact of APAC's developing economies on ZLD systems market
The Asia Pacific is home to a majority of the earth's population & houses two of the world's fastest growing economies; China & India. Apart from these two countries, the region is also home a number of developing nations.
According to a report by China Water Risk (CWR), the adoption of ZLD systems in China is being fueled by the unlikeliest of factors – the nation's thermal power air pollution reduction process, which produces complex and extremely hard to treat wastewater as a byproduct. Moreover, unless a power plant is air cooled, water is by far the most prominently used cooling solution in China, which accounts for approximately 70% to 80% of wastewater volumes.
Driven by such copious availability of waste water, ZLD systems are gaining considerable traction across many industrial sectors across the nation, providing further growth opportunities for the regional ZLD systems market players.
According a report by Global Market Insights, Inc., propelled by severe environmental challenges and the ongoing economic development of several nations like India and China, the global ZLD systems market is projected to surpass the $9 billion renumeration mark by 2025.
Author Name : Akshay Kedari
The global epoxidized soybean oil (ESBO) market, in the years to come, is estimated to register significant growth prospects, attributed to the product's vast end user landscape. Epoxidized soybean oil is commonly used as a plasticizer and heat stabilizer in several food contact materials, particularly in vinyl chloride or PVC films and gaskets. Currently, the product's immense popularity can be primarily credited to the enforcement of stringent regulations against the use of phthalate stabilizers.
U.S. Epoxidized Soybean Oil Market Size, By End-Use, 2017 & 2024, (Kilo Tons)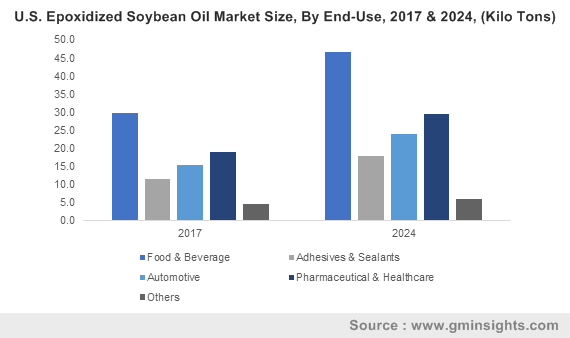 Speaking of which, phthalates are a group of synthetic chemicals that are extensively used in several consumer products that include medical devices, building materials, packaging and children's toys and childcare products made from polyvinyl chloride (PVC). Lately, the chemical has been identified as a developmental and reproductive toxicant. Moreover, the US EPA classified DEHP and BBP as possible human carcinogens respectively. Epoxidized soya bean oil serves as the perfect alternative against phthalates in order to build plasticizers and heat stabilizers, thereby propelling ESBO market size.
The rapid emergence of biocompatible lubricants due to stringent regulations applicable to mineral-oil-based lubricants and their non-biodegradable toxic wastes may also impact the epoxidized soybean market positively. Before hitting the market, vegetable lubricants made from vegetable oil are required to overcome some poor performance characteristics like thermal and oxidative instabilities. This helps demonstrate the improved performance of epoxidized soybean oil in certain high-temperature lubricant applications.
Get a Sample Copy of this Report:@ https://www.gminsights.com/request-sample/detail/1723
The problems associated with vegetable oils like poor oxidization and low-temperature properties can be enhanced by attributing functional groups at the sites of unsaturation occurred due to chemical modifications. In several countries, about 40 percent of a lubricant can be lost to the environment and with rising petrol prices, development of new industrial products from soybean seem economically feasible. Although soybean oil shows superior lubricity, vegetable-oil-based lubricants possess a weaker oxidative stability and flow under low temperatures but by attaching some functional groups at the site of unsaturation these problems can be resolved. The fact that vegetable-oil properties can be improved for lubrication through functionalization methods will drive the epoxidized soybean oil market in the years to come, as they are deployed as industrial lubricants.
The epoxidized soybean oil market may witness significant growth in Europe, driven by highly developed countries such as France and Germany, that boast of an expanding regional food and beverage industry. Incidentally, in 2017 the Committee for Social-Economic Analysis backed a proposal by the European Chemicals Agency and Denmark to limit the use of four phthalates namely BBP, DEHP, DBP and DIBP in articles comprising plasticized materials. In 2018, The European Environmental Bureau and CHEM Trust sent a letter to EU Member State representatives on the REACH Committee bringing to attention that the restriction excludes the use of phthalates in food contact materials even though maximum exposure to DEHP comes from food.
The restriction of phthalates from FCMs is likely to encourage the use of epoxidized soybean oils for creating gaskets of glass jars and on food and beverage can coatings, that would eventually augment the epoxidized soybean oil market.
The transesterification of epoxidized soybean oil often helps in preparing epoxidized methyl esters Transesterification is achieved within 10 minutes at 50 degree Celsius without losing epoxide function. Epoxidized methyl esters characterize a renewable substrate that is readily turned into fuels, surfactants, additives and other industrial products. Therefore, the transesterification process can increase the availability of epoxidized methyl esters and endorse the development of new bio-based products, impelling the growth of epoxidized soybean oil industry.
The epoxidized soybean oil market is indeed slated to record commendable gains attributed to the product usage as a raw material for various applications including polyol replacements, functional fluids, fuel additives, and agricultural and pharmaceutical molecules. Owing to its high molecular weight, the product can resist volatilization, extraction, and migration and act as a polymeric plasticizer. Driven by its widespread demand credited to its highly beneficial characteristics, the global epoxidized soybean market is anticipated to exceed $650 million by the year 2024.
Author Name : Krithika Krishnan