Food & Beverages
Pertaining to the surging importance of soybean pertaining to its many medicinal benefits, soy chemicals market has emerged as one of the most profitable spheres of the healthcare cosmos. Experts assert that the consumption of soy can lead to a reduction in cardiovascular diseases, breast cancer, as well as cosmetic and dermatological problems. In addition, soy injections help patients with diabetes mellitus to improve metabolism. Considering the nutritional benefits of soy, most of the nutritionists have been encouraging the consumption of soy and its food derivatives that has resulted in the demand upsurge for soy-based drugs and food products on a large scale. On these grounds, several medical companies have been developing soybean oil-based medicines, providing a push to soy chemicals market trends.
U.S. Soy Polyols Market Size, By Application, 2017 & 2024, (Kilo Tons)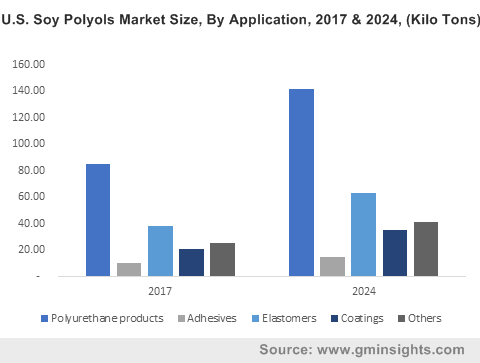 Nowadays, several restaurants and food companies have been making tall claims about having incorporated heart-healthy oils in their products such as dressings, bottled oils, baked goods, snacks, and dips to attract more consumers who have been trying to reduce the inclusion of saturated fat in their diet. The U.S. is one of the largest producers of soybean, accounting for more than 30 percent of worldwide production.  In America, soybean is one of the most used ingredients owing to its health potential. In this regard, the U.S. Food and Drug Administration (FDA) has been providing suitable support to pharmacies and biomedical companies that have been involved in the development of soybean oil-based medicines for reducing the risks associated with coronary heart disease and cancer.
Get a Sample Copy of this Report:@ https://www.gminsights.com/request-sample/detail/2973
Recently, the agribusiness and food ingredient company, Bunge North America received an approval from the U.S. FDA for its claim related to the consumption of soybean oil and its connection to coronary heart diseases. With its versatile portfolio, Bunge is continuously striving to disseminate the importance of soybean oil and its health benefits. Moreover, facilitated with in-depth scientific and clinical research, Bunge is looking forward to strengthening its business with strategic acquisitions and joint ventures. The growing North America soy chemicals industry is slated to generate such attractive business opportunities for players such as Bunge over the years ahead. Indeed, driven primarily by Canada, U.S., and Mexico, North America soy chemicals market, claim estimates, will register a CAGR of more than 5% over 2018-2024.
In order to target the leading consumers of soybean and its food products, globally renowned companies have been establishing suitable partnerships to commercialize their activities by reducing import costs. Validating the aforementioned fact, on February 2018, Cargill and Archer Daniels Midland company formed a JV to supply soybean meal and oil across Egypt. This JV has also acquired the crush plant of the Egypt based oil company located in Borg Al-Arab. In addition, Cargill also has been investing to expand its daily crush capacity from 3000 metric tons to 6000 metric tons with which it will decrease the soybean meal imports in Egypt. This strategy will help Cargill to expand its business across Egypt and North Africa to enhance its customer base by supplying affordable, safe, and healthy food. With the adoption of such business tactics, the players in the soy chemicals market are aiming to utilize their existing facilities and infrastructure in order to meet the growing regional product demand.
The increasing popularity of soybean oil and its byproducts among the manufacturers of consumer and industrial products over petroleum and other hazardous ingredients is slated to stimulate the industry trends over the years ahead. In addition to medicinal usage, the deployment of soybean products for manufacturing coatings, plastics, solvents, adhesives, rubber, and lubricants will also have a positive influence on business growth. Driven by the rising number of facility expansions, soy chemicals market size is anticipated to be pegged at USD 44.5 billion by the end of 2024.
Author Name : Sunil Hebbalkar
With the increased popularity of the attractive fragrance of citrus fruits, especially oranges in personal care products, dipentene market has registered considerable expansion lately. Dipentene or limonene is the colorless liquid hydrocarbon that adds the distinct citric flavor and fragrance in many processed foods, beverages and cosmetic formulations of hygiene and personal care products. Owing to the versatile characteristics of limonene, dipentene market is expected to cater to a widespread range of applications – indeed, the product even finds deployment as an alternative to mainstream pesticides.
U.S. Dipentene Market Size, By End-user, 2013 – 2024 (USD Million)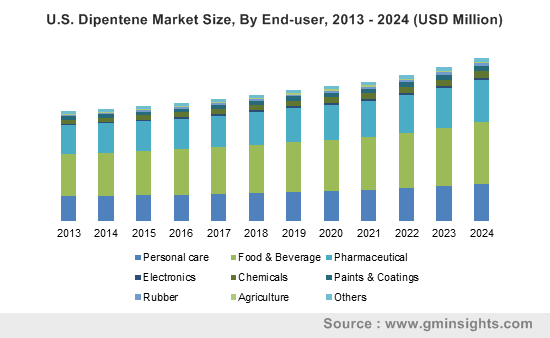 Limonene market has also been expanding rapidly on the grounds of the fact that the product is an alternate solvent to replace petroleum-based ones in several industrial applications such as paints and coatings where VOC emission and low biodegradability of solvents has become a major cause of concern for the wellbeing of the planet.
Global cosmetics and personal care industry statistics clearly point out that the said industry has been earning record revenue as beauty and self-care to preserve a youthful appearance is becoming one of the chief concerns for consumers all over the world. International beauty product companies that offer superior quality products as compared to local products have gained a commendable portion of the cosmetics and personal care industry in emerging nations as income levels of such nations continue to rise. Since limonene is expansively used in beauty products to add a freshening citrus odor, dipentene market is expected to garner major profits in Asia Pacific where the cosmetic market size is projected to surpass USD 126 billion by 2020 and where multinational companies are rapidly establishing a significant foothold. In fact, Asia Pacific has been forecast to be the fastest growing region in the limonene market over 2018-2024.
Get a Sample Copy of this Report:@ https://www.gminsights.com/request-sample/detail/2526
It will be prudent to mention here that dipentene, due to its colorless constitution and fresh, natural fragrance is used in various health care and cosmetic products like suntan products, bath products, cleansers, aftershave lotions, bubble baths, eye shadows, haircare products, lipsticks, perfumes, moisturizers and shampoos.
Rising levels of income is playing a subtler role in the growth of the limonene market as with more disposable income, consumers are opting for more effective ingredients in their products rather than cheaper ones. Manufacturers are therefore touting their products for greater efficiency rather than competitively pricing them which is adding to the enhanced inflow of revenue into the dipentene market. Diversification of distribution channels for cosmetic brands such as online shopping, vending machines, television infomercials, spas and home shopping are adding impetus to cosmetics market and consequently boosting growth of limonene industry.
Dipentene market will diversify its growth avenues beyond the cosmetic industry as research has found that chemicals obtained from orange peel could be utilized as a means of breaking the modern world's reliance on crude oil by being the building blocks in products ranging from plastics to paracetamol. Due to various adverse environmental effects, global industries had been trying to cut down on their dependence on the chemicals and materials that are obtained from fossil fuels, which are rapidly diminishing. As the world is increasing its focus on the development of renewable chemicals from an assortment of sustainable resources such as sugarcane and fatty acids in the production of biofuels, essential oils obtained from waste citrus peels have rapidly come to the forefront as a source that is being investigated with real zest as limonene shares many similarities with the chemicals obtained from fossil fuels.
Though limonene has been recognized as an important component of a bio-based chemical industry it will take the limonene industry considerable time to become a fully commercial means of plastics or polymer production. Issues hindering limonene market include the lack of reliable and greener supply of limonene. As research and development programs exert appreciable focus in bringing petroleum alternatives to the market, it is expected that dipentene industry will massively profit from such endeavors.
Author Name : Paroma Bhattacharya
Powered by a rather lucrative application prospect in agricultural and pharmaceutical domains, magnesium phosphate market has witnessed remarkable proceeds over the recent years. Testament of the fact is the billion-dollar valuation pegged by the market in 2017.  A large credit of this goes to the technological advancements in medicinal sector that has significantly upscaled the product utilization as a DNA carrier in modern drugs. Moreover, extensive utilization of fused magnesium phosphate in fertilizers and water treatment applications has further boosted overall magnesium phosphate industry demand. For the records, the typical nutrient content in fused magnesium phosphate fertilizers is almost 20%, that gives it a competitive edge over other synthetic fertilizers. With the growing necessity of maintaining an optimum phosphorous content in soil, magnesium phosphate industry stands to gain immensely from fertilizer applications over the ensuing years.
North America Magnesium Phosphate Market, By Product, 2017 & 2024, (Kilotons)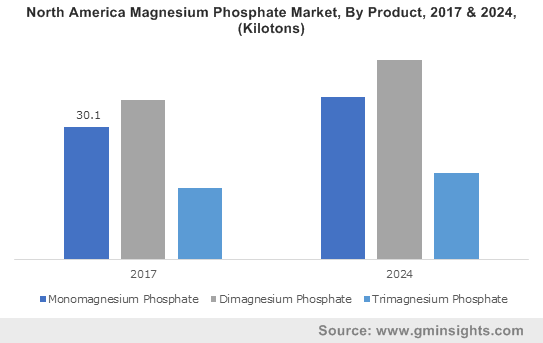 Nutritional deficiency, of late, has become a subject of discussion in the field of medical science, having been claimed as an important determinant triggering widespread epidemic of chronic diseases. Magnesium being a vital component of the nutrition chain has generated a substantial momentum in terms of its demand graph worldwide, particularly in the pharmaceutical space. The ongoing research programmes focusing on the harmful impact of magnesium deficiency and the subsequent requirement for magnesium repletion have created a considerable product demand worldwide.
As per reliable studies, magnesium deficiency has been cited as a root cause of many of the mental and physical ailments, driven by which magnesium phosphate market has strongly established its stance in the pharmaceutical sector. Magnesium is claimed to be fourth common mineral in human anatomy after calcium, sodium, and potassium and is involved as a cofactor in over 300 enzyme systems. The product is highly necessary for effective biomedical functioning of multiple metabolic pathways. Significant advancements in biomedical sector, particularly in the field of osteoporosis and arthrodesis, have also allowed magnesium phosphate industry to collect copious monetary benefits, given the product's extensive deployment in bone graft substitutes.
Get a Sample Copy of this Report @ https://www.gminsights.com/request-sample/detail/2707
As per a recent review by American Osteopathic Association, optimum magnesium level has been cited as an important prerequisite for Vitamin D in the body to be metabolized. According to the study, Vitamin D supplement can increase a person's phosphate and calcium level which may lead to vascular calcification, if the magnesium level in the body is not high enough. It has been also affirmed by the scientists that optimum magnesium level requires less vitamin D supplementation for achieving sufficient Vitamin D levels.  Not to mention, these kinds of research projects have substantially boosted the penetration of magnesium phosphate market in clinical healthcare.
Regionally, the magnesium phosphate market drift has been quite commendable across the United States, with heavy applications in pharmaceutical sector. The increasing geriatric population base which has been heavily spending in orthopaedics and dental care has been one of the vital contributors to the regional magnesium phosphate market growth. As per the estimates by CDC, arthritis incidence in the United States is estimated to surpass 78.4 million by 2040. With U.S. at the growth front, overall North America magnesium phosphate industry procured 15% of the global share in 2017 and is estimated to register a CAGR of 3% over 2018-2024.
Despite encompassing such a lucrative end-use landscape, one of the major challenges being faced by the market players is the supply demand gap in the business model. Historically, magnesium phosphate is manufactured by melting serpentine rock and phosphate rock together. Now, uneven geographical distribution of these phosphate rock reserves is somewhat hampering the production rate across some of the regions, while the increasing product demand is prompting manufacturers to go for substitute development alternatives. However, in a bid to combat the production challenge, companies are heavily investing in R&D projects to bring forth innovative approach in the production process.
All in all, with the shifting governmental as well as consumer focus toward healthy lifestyles, magnesium phosphate industry demand is poised to uptick considerably. What remains to be seen is how the emerging economies such as India and China exhibit progressions pertaining to the magnesium phosphate demand graph. The favorable socio-economic conditions in these geographies is certainly going to push the magnesium phosphate market demand, particularly in the food and agriculture sectors.  As per a market assessment report by Global Market Insights, Inc. APAC magnesium phosphate industry, led by China and India, is forecast to exceed USD 700 million by 2024.
Author Name : Satarupa De
Glass Packaging Market has been undergoing a plethora of changes over the recent years with regards to innovations, enhanced branding, and unconventional packaging formats. Glass being 100% recyclable, is one of the most trusted and proven packaging solutions related to health, taste, and sustainability. In fact, statistics claim that glass is the only extensively used food packaging material that have been granted with the highest standard certification, 'GRAS' (as a recognized safe material) by the Food and Drug Administration.  The impermeable and chemically unreactive characteristics of glass materials is further enhancing the application scope of glass material packaging industry across various domains, pharmaceutical and alcoholic beverages being at the pinnacle.  As per a recent market speculation put forward by Global Market Insights, Inc., global glass packaging industry will surpass a valuation of USD 65 billion by the end of 2024, with an estimated CAGR of 4.5% over 2017-2024.
U.S. glass packaging market size, by application, 2013 – 2024 (USD Million)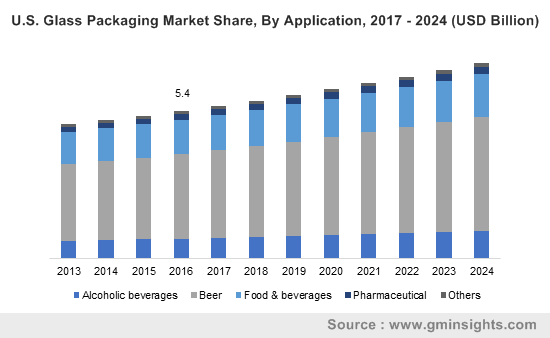 Worldwide, glass packaging industry is fragmented with leading six companies representing only 30% of the revenue share. In this competitive scenario, it has been observed that industry biggies are adopting mergers and acquisitions and strategic collaborations to sustain their geographical presence.  Companies are continuously trying to expand their production capacities by incorporating innovative products that are highly customized. Some of the renowned names in glass packaging market are Saint-Gobain, Owens-Illinois Inc, Gerresheimer AG, Vetropack Holding AG, Hindustan National Glass (HNG), Ardagh Group S.A., Piramal, Stölzle-Oberglas GmbH and Nihon Yamamura Glass Co., Ltd.
Glass packaging market Trends | Pharmaceutical sector
Pharmaceutical sector is one of the most outpacing domains actively driving glass packaging industry commercialization. The prime factor that can be credited for the market proliferation is the unprecedented rate of innovations outlining the business landscape. One such breakthrough is Corning's revolutionary pharmaceutical glass packaging solution, Valor Glass. As it is proclaimed, Valor Glass offers superior strength, enhanced chemical durability, chemical resistance, assuring better protection of the drugs. Recently Corning and Stevanato Group have entered a strategic partnership focusing on merchandizing Corning's Valor Glass to the glass packaging market.  Another instance of such collaborations which is expected to be a potential boost for the overall industry dynamics from pharmaceutical applications is the business alliance between Merck, Corning, and Pfizer over Valor Glass packaging. Keeping into consideration the chain of positive disruptive trends, it is certain that pharmaceutical sector will contribute a significant portion toward the global glass packaging industry in the coming years, with a projected CAGR of over 4% over 2017-2024.
Get a Sample Copy of this Report@ https://www.gminsights.com/request-sample/detail/1988
Glass packaging market trends | Alcoholic beverage & beer sector
Having acquired a major portion of the glass packaging market share in past years, alcoholic beverage and beer sector emerged to be another profitable domain thriving the business landscape. The rising consumption of beer especially across APAC belt can be primarily attributed for the market revenue.  In this regard, it is prudent to note that Asia Pacific almost represented 40% of the glass packaging industry in 2016. Increasing disposable incomes, a significant influence of the westernized lifestyles, and reduced cost of beers across some of the regions have acted in favor of the market growth. In fact, as per statistics, consumption of beer in Mexico and Vietnam have experienced an increase of around 6.5% and 7.5% respectively over the period of 2014-2015. Glass packaging is widely adopted for alcoholic beverages and beers, subject to its sustainability, non-permeability, and negligible chemical reaction rate which allows it to be best fit for long term preservation.
The industry is faced by several challenges, the prime being the rising popularity of plastic packaging which has observed rapid advancements in recent years. The linear growth curve of plastic packaging market can be attributed to some of its adhered benefits like easy transportation, cost effectiveness, durability, and aesthetic features. However, with increasing consumer preference for sustainable packaging materials having a high grade environmental viability, glass packing market is forecast to witness an appreciable growth in the years ahead.
Author Name : Satarupa De