Food
In the recent times, sodium acetate market has witnessed a rather lucrative commercialization prospects owing to its extensive application across numerous business verticals including food processing, leather and textile, and pharmaceuticals. Prominently utilized as a food preservative, sodium acetate has further found widespread usage as a neutralizing agent, diuretic agent, and buffering & pickling agent across various end-use domains –  a factor that has contributed significantly toward sodium acetate industry share augmentation. Moreover, rapid industrialization and enormous FDI investment in emerging nations across the globe has spurred the growth potential of the aforementioned industry verticals, which has, in turn, driven the sodium acetate market size expansion.
U.S. Sodium Acetate Market Size, by Product, 2013 – 2024 (USD Million)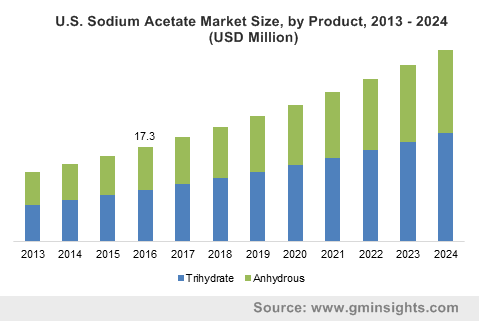 Food processing sector to emerge as a prominent end-user of sodium acetate industry
Owing to its excellent food preservation qualities, sodium acetate has been increasingly preferred by food processing industry over the past decade, which has proved to be quite beneficial for the overall sodium acetate market. The widescale applicability of this chemical can be attributed to the massive rise in the consumption of canned food items subject to fast-paced lifestyles and a drastic variation in dietary habits across developed and developing countries. This has, in consequence, provided a significant boost to the growth potential of sodium acetate industry. Apparently, sodium acetate is being utilized as an acid regulator to prevent the growth of harmful bacteria in canned meat, vegetables, and fruit. Furthermore, it would be prudent to mention that the addition of sodium acetate during the canning and drying procedures not only desists bacterial growth but also extends the shelf life of the product.
Get a Sample Copy of this Report:@https://www.gminsights.com/request-sample/detail/2408
Concurrently, sodium acetate market has found a major foothold in the global dairy sector, as the chemical is being utilized as an emulsifier and preservative in numerous dairy products. Apart from being widely used in condensed milk, sour cream, buttermilk, whey-based yogurts and drinks, sodium acetate has emerged as a preferred preservative in cheese preparations such as processed cheese, ripened cheese, cheese analogues, and processed cheese. In view of the rapid advancement of the global dairy sector, the growing prominence of sodium acetate as a preservative in the overall dairy industry is likely to impel the sodium acetate market size expansion.
Thus, the rising significance of sodium acetate in the global food processing sector can be validated from the aforementioned declarations. In fact, as per the research report compiled by Global Market Insights, Inc., food processing vertical accounted for more than USD 26 million of the revenue share of the total sodium acetate industry size in the year 2016.
The Asia Pacific region has indeed established itself as a profitable growth terrain for sodium acetate market stakeholders, as the expansion of numerous end-use verticals in this region has been much more pronounced when compared to other developing economies. For instance, sodium acetate is regarded as one of the most popular preservatives in Japan with the total demand for the chemical, as per reliable sources, being a humongous 3,500 tonnes. Apparently, such statistics demonstrate the necessity of sodium acetate across various verticals in the Asia Pacific region. For the record, Asia Pacific sodium acetate industry is estimated to have apportioned more than 55% of the total revenue share of this business space in 2016.
Elaborating further, it is quite imperative to mention that this multimillion-dollar business sphere is set to exhibit robust growth rate over the forthcoming years owing to the humongous deployment potential of sodium acetate – right from modest domestic uses to intricate chemical and industrial applications. In addition to this, the leading sodium acetate industry participants have been investing massively in vital research and development activities to strengthen their position in this swiftly emerging bulk and specialty chemicals vertical. Apparently, considering the aforementioned aspects, it quite undeniable that the sodium acetate market growth prospects appear to be substantially profitable in the ensuing years, with a target revenue of USD 220 million by 2024.
Author Name : Saif Ali Bepari
Sodium silicate market, an inherent vertical of the specialty chemicals space, has already established its name in the billion-dollar league, owing to the extensive demand of the chemical compound across myriad end-use domains. Pertaining to the product's low cost and ease of use, it has been deployed as a detergent, adhesive, cleaning compound, cement ingredient, binder, coagulating agent, and anticorrosive agent in numerous sectors, propelling sodium silicate market size. Indeed, the compound's widespread and almost all-encompassing presence has facilitated sodium silicate industry to maintain a steady growth graph. The compound is also used as a catalyst, thus generating another profitable growth avenue for sodium silicate market. With continuous research and development programs being conducted to expand the area of application of the compound, it is certain that sodium silicate industry will continue to uphold its profitable position over 2017-2024.Detergents are one of the prime application arenas of sodium silicate industry since decades. This chemical compound is rather to incorporate into the detergent paste and helps in maintaining the viscosity and desired density of the detergent. The product is highly effective in removing spots, neutralizing acidic stains, dispersing proteins and suspending greasy particles in the wash liquid, thus impelling sodium silicate industry size from the detergent manufacturing sector.
U.S. Sodium Silicate Market Size, by Application, 2013 – 2024 (USD Million)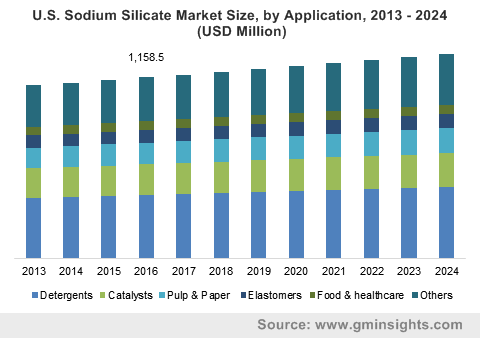 It has been observed that among the varied uses of sodium silicate, the compound is known to efficiently function as a good adhesive. The subsequent deployment of this product as an adhesive has led to a major impetus in the growth graph of sodium silicate market. Sodium silicate adhesives have the inherent ability to easily expand and make contact, forming a rigid layer that is permanent, resistant to tears, and even possesses the capacity to withstand water and heat. The compatibility of sodium silicate adhesives on a varied range of substances like paper, metal and wood besides other materials, has spurred the sodium silicate market share further.
Get a Sample Copy of this Report:@ https://www.gminsights.com/request-sample/detail/2396
Of late, sodium silicate has found extensive application as an effective catalyst for the synthesis of biodiesels that have gained popularity as a sustainable fuel. Currently, amidst the backdrop of a scenario where the lookout for alternative fuel sources has become a race against time, manufacturing biodiesels through the transesterification of organic materials has become rather commonplace. In a bid to simplify the process, sodium silicate is used as an effective catalyst, thereby stimulating sodium silicate industry outlook. The ease of procuring the chemical compound has reinforced its position as a catalyst in the transesterification process. As biodiesels will continue to attain increased application in energy generation and alternative fuel source, sodium silicate market trends will continue to witness a dynamic transformation in the ensuing years.
Sodium silicate is used widely in other application domains such as water treatment, casting, coating, textiles, agglomeration, chemical injection, paper treatment and more. In consequence, this would prove to be a rather beneficial for the commercialization graph of sodium silicate market over the next few years. With numerous chemical companies working toward expanding the application scope of this compound, in addition to innumerable research & development programs being conducted to unearth further prospective product uses, sodium silicate market has been forecast to garner commendable profits over 2017-2024.
Author Name : Paroma Bhattacharya
The escalating scientific and commercial interest in xylitol is making the global xylitol industry an appealing commercialization proposition. The growing health consciousness among people has directly influenced the business landscape of the global xylitol market. Its properties of being used as a low-calorie substitute for traditional sweeteners is assisting its penetration across a myriad range of sectors such as personal care, food, pharmaceuticals, confectionary, and nutraceuticals. In addition, the rising healthcare expenditure, which has been indeed addressed as a global concern is further providing a significant impetus to the overall xylitol industry space. The U.S. is one of the prominent countries facing the healthcare costs burden profoundly. The trends depict that obesity is one of the leading causes of this rising expenditure, being the source of several other ailments such as diabetes, cardiac disorders, physical disabilities, etc. According to WHO, globally over 2.8 million people die from obesity and the consequent ailments on an annual basis.
U.S. Xylitol Market size, by application, 2013-2023 (Kilo Tons)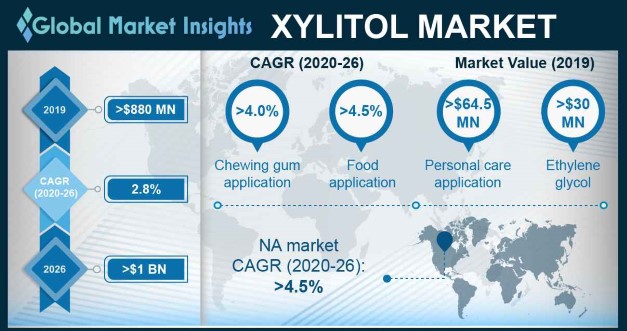 To combat the rising concerns regarding healthcare expenditure as well as to ensure sound health of the global population base, xylitol market has observed massive gains over the recent years. Xylitol has become a prominent name in the overall polyol industry space and had attained a remarkable revenue of USD 750 million in 2015. Through consumption via medicines and food, xylitol serves as a major solution to the issues related to obesity. This has subsequently enhanced the application portfolio of xylitol industry in the food and pharmaceutical sectors. As per the estimates, xylitol market size from food applications is estimated to register the highest CAGR of 7% over the period of 2016-2023.
Get a Sample Copy of this Report @ https://www.gminsights.com/request-sample/detail/795
Owing to the medicinal properties, chewing gum applications led the overall landscape with a revenue record of over USD 450 million in 2015. The growth can be credited to the ability of xylitol based chewing gums to prevent dry mouth, tooth decays, and cavity progressions. As per the estimates, xylitol market share from chewing gum applications is estimated to record a CAGR of 6% over the timeframe of 2016-2024. Personal care industry is also one of the prominent contributors toward the overall xylitol market share. This application is poised to witness a substantial growth rate over the coming years, driven by its usage in fluoride tablets, mouthwash, and toothpaste.
The swift economic development and the rapid urbanization is significantly influencing the global landscape of the xylitol industry. Below are the regional trends pertaining to this market:
The U.S. xylitol industry is expected to surpass a revenue of USD 350 million by 2023. The food applications in this region are likely to drive the product demand with a CAGR of 5.4% over the period of 2016-2023.
Germany market is estimated to witness substantial growth over the coming seven years having held a revenue of USD 65 million in 2015. Chewing gum application is likely to drive the regional demand.
China is estimated to be the major avenue for the overall xylitol industry growth over 2016-2023, with a target market size of 25 kilo tons by 2023. The huge regional confectionary base worth USD 9.5 billion is the major factor boosting the market trends.
France market is estimated to grow at an annual rate of 5.5% over the coming six years, driven by the rising obese and diabetic patient base.
Brazil personal care application is projected to exceed a revenue margin of USD 1.7 million by 2023.
The industry is consolidated with the top four players- Futaste Pharmaceutical, Danisco (DuPont), Yucheng Lujian Biological Technology Co. Ltd., and Hangzhou Shouxing Biological Technology Co. Ltd. sharing 40% of the overall business space. With a strong production base in China, the region has become a prominent export destination. Pricing is one of the chief parameters ruling the competitive scenario.
Despite the industry growth restraints including- tight raw material (corncob) supply and product substitute threat through the replacement by other sugar polyols such as sorbitol, maltol, and mannitol, the xylitol industry will sustain its valuation in the coming years with the diversified application spectrum across the end-use sectors. Global Market Insights, Inc. estimates the xylitol market to surpass a revenue of USD 1 billion by 2023.
Author Name :Shikha Sinha
With potentially growing interest in the improvement of digestive health through supplements, prebiotics market size has indeed observed a striking ascent in the last few years. Vital foods that have long since been a natural source for prebiotics, have now witnessed a decline in consumption, plausibly on account of the changing lifestyle habits. In consequence, this paradigm shift in meal consumption has manifested itself in the form of obesity, Alzheimer's, diabetes, cancer and myriad other diseases that are now widespread across the globe. Amidst this scenario, the importance of prebiotics that act as a type of fertilizer to the beneficial bacteria already present in the gut has been doubly stressed upon, which has indeed also had a major impact on the popularity of prebiotics industry. Prebiotics are naturally present in foods like leeks, onions, garlic, bananas, wheat grain, yogurt and biscuits. However, prebiotics are being added to an expanding array of food products that can be as varied as puddings to frozen chicken, owing to which prebiotics market has been gaining increased momentum since the last few years.
North America Prebiotics Market Size, By Ingredients, 2016 & 2024 (USD Million)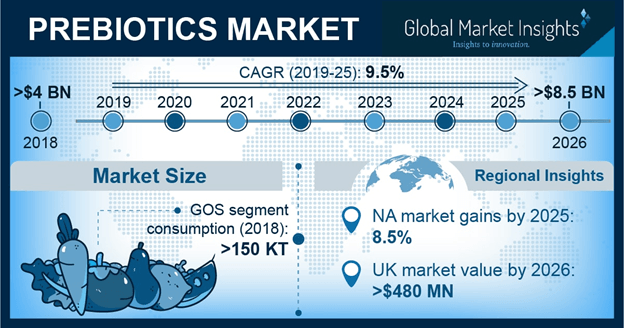 It is prudent to mention that prebiotics industry is also being propelled by the globally growing awareness about health and immunity, in tandem with – ironically, the rising demand for probiotics. These products provide improved gastrointestinal health to the host when administered in measured amounts. However, they are also very delicate and can often be rendered ineffective by stomach acids and heat even before they are digested, on account of which prebiotics are required to strengthen the functioning of probiotics. Currently, despite the probiotic industry having sustained for a longer duration, prebiotics market seems to be growing faster as prebiotics alone can contribute much as far as the improvement of gastrointestinal health and immunity is concerned, as opposed to probiotics that cannot function unaided. The fact that the gastrointestinal tract has different immunity functions as compared to the rest of the body has not been fully appreciated until recently. However, with the support of the medical community, this fact is now being emphasized that the gastrointestinal tract contains more than 80% of the antibody producing cells of the body. Consequently, prebiotics market has begun to witness unprecedented demand as consumers are paying more attention to maintain gastrointestinal health. Digestive immunity had long been considered vulnerable in infants and aging people. However, the growing health conscious population of all ages are now adopting various means of boosting digestive health thus stimulating the prebiotics industry.
Get a Sample Copy of this Report:@ https://www.gminsights.com/request-sample/detail/410
One of the most lucrative end-use domains of prebiotics market is the F&B sector. The rise in lifestyle diseases like diabetes and obesity, especially in Europe and the US has increased awareness among the regional and global populace, enabling them to have a renewed look at their diet. Subsequently, this changed outlook has augmented prebiotics market size from the sub-verticals of the F&B sector. Say for instance, subject to the increased demand of fermented meat owing to its effectiveness in improving fiber functionality, it has been forecast that prebiotic industry share from fermented meat applications will witness a CAGR of 13% over 2017-2024. Speaking along similar lines, prebiotics market has also found potential growth avenues through the animal feed sector. With the restriction of use of antibiotics and growth hormones in animal feed, use of prebiotics in the same has gained momentum as prebiotics enhance metabolism and enhance the overall health of livestock.
Gaining consumer confidence would be one of the many challenges faced by prebiotics market players. The concept of prebiotics has not become as popular as the concept of probiotics so far, and a large percentage of consumers are not only skeptical, but also refusing to compromise on appetizing products for the sake of healthy eating. However, as the digestive and immunity enhancing qualities of prebiotics are increasingly coming to light, it is estimated that the prebiotics market will witness exponential growth in the years ahead. As per estimates, prebiotics industry size will cross USD 8.5 billion by 2024, from a valuation of USD 3.5 billion in 2016.
Author Name : Paroma Bhattacharya
Rampant application of carotenoids across food & beverages, cosmetics, pharmaceuticals, and animal feed industries has fueled carotenoids market size. According to Global Market Insights, Inc., "Global carotenoids market share is projected to surpass USD 300 million by 2024." Heavy use of carotenoids in the nutraceutical industry, owing to its positive effect on immune & cardiovascular system are expected to boost the carotenoids industry trends over the coming years. Higher spending on medical & healthcare insurance services along with the growing life expectancy of aging population is further expected to stimulate the global industry size over the next few years. Carotenoids act as a main precursor for amino acids in animal feeds and possess anti-oxidative characteristics, further enhancing its demand across animal feed additives market.
U.S. Carotenoids Market size, by product, 2015 & 2024 (USD Million)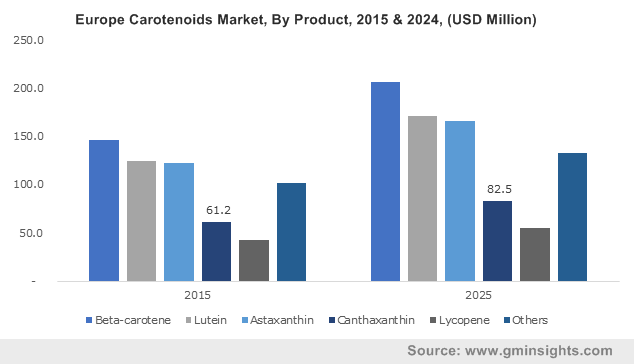 Major carotenoids products comprise lycopene, beta-carotene, astaxanthin, lutein, and canthaxanthin. Beta-carotene industry size worth USD 40 million in 2015, is forecast to register an annual growth rate of 4% over the coming seven years. Heavy product demand can be attributed to its increasing usage as an essential ingredient in diets, to avoid ailments pertaining to the eyes, heart, and skin. Canthaxanthin, which contributed towards nearly 10% of the global carotenoids market share in 2015, is projected to witness a high surge over the next few years due to rising consumer preference for bakery items, snacks, breakfast cereals, fruits, and baby ingredients. Moreover, its extensive usage across cosmetics industry due to its anti-tanning properties will further stimulate the product demand over the coming years.
Get a Sample Copy of this Report:@ https://www.gminsights.com/request-sample/detail/855
Lutein is another major carotenoid product, forecast to witness a substantial growth in the near future. The growth will primarily be driven by its high demand across pharmaceuticals, food, dietary supplements, nutraceuticals, and animal feed applications. Lycopene industry worth USD 15 million in 2015, is expected to grow considerably over the next few years due to its high application in cosmetics and pharmaceuticals sectors.
Shifting focus of consumers towards natural products has pushed growth of natural carotenoids market. Natural carotenoids industry size is expected to register a CAGR of 4% over the period of 2016-2024. The other prominent extraction of carotenoids is from the synthetic sources. Synthetic carotenoids market dominated the source landscape with a market value of USD 190 million in 2015. Low production cost and easy availability of synthetic resources will boost its industry share over the forecast timeframe.
Carotenoids market size in food & beverage sector is anticipated to grow substantially over the forecast period, owing to its large-scale application as food additives globally. Animal feed sector, which accounted for nearly 30% of the overall carotenoids market share in terms of volume, is projected to grow considerably over the coming years. The growth can be credited to its high nutrient content and improved taste. Growing consumer preference towards healthy meat appearance is expected to boost the carotenoids industry growth.
LATAM carotenoids market is expected to witness a considerable growth over 2016-2024, owing to changing lifestyles, rise in per capita income, and high consumer awareness about the benefits of product use. Argentina, Peru, Brazil, and Chile are expected to be the key growth drivers of the region.
Europe carotenoids industry will witness a substantial surge over the coming years due to the rapidly expanding food sector along with heavy product use as food coloring agent. Russia, Germany, Italy, and France are likely to be the key revenue pockets of the region.
Middle East & Africa carotenoids market is projected to witness a significant growth over the next few years, owing to rise in the aging population as well as high demand for the product across health supplements sector.
Market players will try to enhance their share by adopting business strategies such as product differentiation and high R& D investments. Key carotenoids industry players include Cyanotech Corporation, Allied Biotech Corporation, Chr. Hansen, Divis Laboratories Limited, D.D. Williamson, and Naturex Company.
Author Name : Dhananjay Punekar
Owing to the extensive product application across dietary supplements & functional food industries, probiotics market is being increasingly referred to as one of the most promising business verticals around the globe. The rising significance of functional foods can be aptly attributed to the fact that these food additives are gradually and steadily acquiring a prominent position in the dietary profile of a sizeable number of health-conscious consumers. It goes without saying that this trend has, in turn, created a host of lucrative growth avenues for the leading probiotics industry participants which would eventually stimulate this business space.
Of late, the awareness among customers pertaining to the health benefits that can be derived from the consumption of probiotics products has been steadily increasing, augmenting probiotics market trends. While interpreting the future growth prospects of the overall probiotics industry space, it is quite imperative to bear in mind that the total valuation of this business arena stood at an impressive USD 40 billion in 2017, as per a report compiled by Global Market Insights, Inc.
U.S. Probiotics Market Size, By End-Use, 2017 & 2024 (Kilo Tons)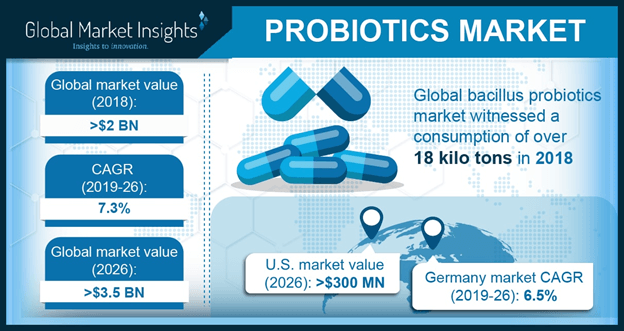 Global probiotics market has also been gaining traction due to a marked increase in the utilization of probiotic strains in various food applications. These probiotic strains, which predominantly include lactobacilli and bifidobacterial, actively develop resistance to bile, antimicrobial, and acid production, boosting the digestive and immune system, subsequently improving the overall human health. Citing an instance to highlight the rising prevalence of probiotic strains, the foremost probiotics industry giant, DuPont Danisco has recently claimed that the food products consisting of HN019, the firm's Bifidobacterium lactis strain, have been recognized as Food with Function Claims by the Consumer Affairs Agency of the Government of Japan. Dietary supplements, drinkable yogurts, and other food products containing HN019 as an ingredient are said to enhance microflora and improve digestive health by addressing intestinal ailments.
HN019 is also being considered as the first Bifidobacterium lactis strain that has ensured a probiotic manufacturer to establish a health claim on the product. Apparently, the recent instances of recognizing the health benefits of probiotic products will enable consumers to make more informed decisions, consequentially having far-reaching implications on the growth potential of probiotics market.
Get a Sample Copy of this Report:@ https://www.gminsights.com/request-sample/detail/418
To complement the aforementioned statements, the global probiotics industry has been witnessing a marked increase in research activities which has further expanded the market size of this business space. Strong clinical evidences have been apparently emerging which have offered new insights into the efficacy and effectiveness of the existing food products in probiotics industry in treating mental ailments and neurological diseases.
As per reliable sources, a few researchers and doctoral candidates would present the results of pilot studies at the upcoming IPA World Congress + Probiota 2018, which would demonstrate the tolerability
Author Name : Saif Ali Bepari