Form
The expansive consumer spending has encouraged rapid industrialization around the world, fueling the sodium hydrosulfide market size, with increased manufacturing activities giving rise to environmental concerns. Sodium hydrogen sulfide, chemically known as NaHS, has been found to be critical in treating industrial waste and is utilized for effective wastewater treatment to remove heavy metal contamination. Important uses in the leather tanning, chemical processing and mining sectors have been driving the sodium hydrosulfide market growth for many years. However, it is expected that industrial cleaning and waste management would be a considerable revenue source in the near future, owing to the escalating need to prevent river and soil pollution.
U.S. Sodium Hydrosulfide Market Size, By Application, 2017 & 2024, (Kilo Tons)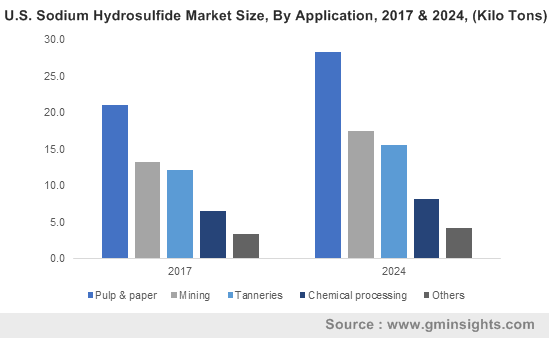 Individual heavy metals like nickel or chromium can be released from wastewater through precipitation process, an application that has transformed the sodium hydrosulfide industry tremendously. NaHS has gradually earned the position of an affordable alternative for water treatment in metal, glass, printing and ceramic industries. These industries generate large amounts of waste and if it reaches nearby lands or water bodies, it could end up polluting the ecosystem. As companies will look to adopt efficient treatment systems for managing their waste, with environmental agencies imposing stringent rules, the sodium hydrosulfide market is expected to garner immense momentum going forward.
In essence, meeting regulatory requirements and enhancing the overall community health can be a major driver for the sodium hydrosulfide industry. Asia-Pacific (APAC), in particular, would be needing a greater number of industrial and sewage waste treatment solutions over the next few years, as the region is immensely populated and promises to exhibit an incredible industrialization rate. It is estimated that over 2 billion people would be added to the world population before 2050, with a majority people living in APAC and creating enormous demand for food, consumables and automobiles.
Get a Sample Copy of this Report:@ https://www.gminsights.com/request-sample/detail/3004
A key source of heavy metal contamination in industrial waste is the automobile and associated segments such as glass and battery. Flat glass is commonly utilized across the automotive and construction industries as it can be easily adapted to doors, windows, mirrors, among other parts. Apparently, glass manufacturing and processing requires high purity water and various types of wastewater is generated from mirror production, polishing plants, and other areas. This waste mostly contains several pollutants, including heavy metals, indicating the need for water treatment and a lucrative potential for the APAC sodium hydrosulfide market.
Reports predict that by 2025, construction sector would be one of the biggest contributors to the global industrial output, accounting for nearly 13.5% share. China, India and Indonesia would be among the top seven countries in the world that will be responsible for up to 72% of the projected growth, underscoring the massive opportunities in APAC over the forecast period.  The region will also witness growing automobile production, a segment which also entails the progress of the glass production industry. Subsequently, the sodium hydrosulfide industry will take advantage of the mounting demand for glass and other products that release hazardous wastewater during production.
Worldwide, the speedy recovery of the chemical sector and the rising exports of specialty chemicals has also bolstered the sodium hydrosulfide industry, as NaHS is extensively used for chemical processing by manufacturers. APAC is a well-known chemicals market and China is the main driver of chemicals demand around the globe. In 2016, China had also exported chemicals worth more than USD 54.29 billion, demonstrating its prowess the critical segment, establishing itself as a viable target for the sodium hydrosulfide market.
On the whole, the accelerated growth of chemical, automobile and construction industries in APAC region will certainly propel the use of NaHS across the application spectrum, supported by the consistent demand for metals, paper and leather goods world over. Comprising key industry participants like AkzoNobel, Cayman, Genesis Energy, Henan Tianshui Chemical, Merck, Solvay and TCI Chemical, the sodium hydrosulfide market revenue is anticipated to surpass USD 350 million globally by 2024.
Author Name : Pankaj Singh
Being one of the biggest beneficiaries of the developments in tissue bioengineering, polyglycolic acid market has garnered hefty proceeds in the medical sector. In fact, as per reliable estimates, the medical fraternity contributed to more than 60% of the overall polyglycolic acid market size in 2016. Widespread adoption of absorbable sutures has been a chief driver of the increasing demand for PGA from this sector. Reportedly, the global surgical suture market is already a billion-dollar space and is anticipated to witness remarkable growth in the ensuing years.
U.S. polyglycolic acid market size, by application, 2013 – 2024 (USD Billion)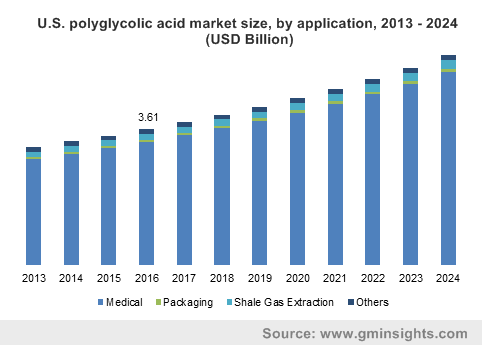 Elaborating further on the application arena of polyglycolic from medical space, tissue engineering, biodegradable bone graft polymers, transplantation procedures, cell culture, etc. are some of the renowned opportunistic areas generating a massive demand for PGA. Due to the biodegradable properties of PGA, it has been categorized as one of the most widely used biodegradable bone graft polymers. For the records, the global biodegradable bone graft polymers market is projected to witness a CAGR of 7.5% over 2017-2024.
Tissue engineering is also anticipated to provide a remarkable impetus to PGA market share, on grounds of the material being recognized as an outstanding support for tissue development. Speaking along similar lines, fiber form of PGA has been prominently used in the medical applications over the recent years, having held 40% of the overall polyglycolic market landscape in 2016.
Get a Sample Copy of this Report:@https://www.gminsights.com/request-sample/detail/2415
However, despite the medical applications holding a major chunk of polyglycolic industry size, the contributions of shale gas extraction and packaging domains has also been commendable. PGA has been widely adopted in shale gas extraction driven by its operational efficiency and cost reduction capabilities. In fact, as per a report by Global Market Insights, Inc. this sector is estimated to be catalogued as the fastest growing application of PGA market, with a target CAGR of 8% over 2017-2024.
In terms of geographical standards, North America stood as one of the biggest recipients of this application growth and led the overall PGA market in 2016. For the records, North America procured 60% of polyglycolic acid industry size in 2016, with U.S. as a chief revenue pocket. Allegedly, the United States, driven by its recorded shale gas production, has been classified as a prominent facilitator of the global energy change. As per the U.S. EIA, the country's natural gas consumption is estimated to reach 31.6 TcF by 2040. 56% of this growth is believed to be driven by upward development in shale gas production.
Europe is also forecast to stand tall in the regional hierarchy with an estimated annual growth rate of 8% over 2017-2024. The regional growth can be credited to the food packaging applications, which is predominantly focusing on recyclable and biodegradable solutions. Citing a relevant instance, RefuCoat, the EU-funded project, recently created quite a buzz in the regional polymer market landscape. Reportedly, the project aims at deploying high-performance coatings to develop completely recyclable food packaging endorsed with improved functionalities and gas barrier properties.  The move will provide a significant push to the Europe polyglycolic acid market trends, on grounds of the aforementioned hybrid coating comprising PGA and modified silica oxide as the key materials.
In this context, it is imperative to mention that the packaging applications have also been a prominent driver of global PGA industry trends, driven by the product's excellent biodegradability and flexural strength. PGA has seen a remarkable rise in its demand curve with its proven benefits over conventional plastics. As per estimates, 30% of the PGA industry application landscape was procured by packaging sector in 2016. Film form of PGA has been extensively used in packaging applications and is estimated to record a CAGR of 8.5% over 2017-2024.
All in all, the profitability matrix of PGA market is projected to remain high with the sustainability and biodegradability trends becoming mainstream. The competitive landscape is likely to be monopolistic, synonymous to that in 2016, with Kureha Corporation as the leading player. In terms of commercialization potential, global polyglycolic acid market is slated to surpass a revenue of USD 9 billion by 2024.
Author Name : Shikha Sinha